Contents
---
Agni-Jaala: tale of a lost child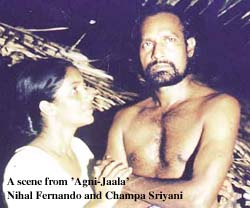 'Agni-Jaala' is a single episode teledrama that is due to be telecast over Swaranavahini on Avurudu day, April 12 at 6.00p.m.

Its cast include Nihal Fernando, Champa Sriyani, Ranjani Rajmohan, Mervyn Mahesan and Upali Selvanayagam. Child artiste Asiri Dias is also cast in a mini role. The camera work is by Marceline Perera, while Udeni Jayawardene has done the editing.

R. Samarakoon has set the musical score for the teledrama, while Herbert Weerasinghe has done the script writing. Agni-Jaala has been directed by veteran Director Milton Jayawardene.

The single episode teledrama is woven round a family that has become a victim in a border village where terrorism is at its height. The family has been forced to live with the sound of gunfire and bombs.

One particular night, the village was rent by gunfire forcing all its families to flee and spend the night in surrounding jungle areas. It was pitch dark and they spend the night in fear of their lives. The Army located in bunkers close by, come to know of the Tiger attack and rush to the village to provide safety to the villagers.

By then they find that most of the belongings of the villagers have been ransacked by the tigers. The men in the forces protect the men and women of the village and take them to safer areas.

But a child has been left out by those evacuated and the mother of the destitute child informs the Army about the loss of her child.

The sorrowing mother is determined not to leave the child alone in the village, but vows to stay until the child is found. Meanwhile the child strays away and funds her way to a Tamil village outside the jungle confines. The villagers here are fisherfolk and fishing is their main occupation.

The lost child is being brought up by a Tamil family. The rest of the story revolves around the Tamil family and the Sinhala family and the fate they share, subsequent to the Sinhala child being brought up by the Tamil family. See it all on 12th April at 6.00 p.m. over Swarnavahini.

---
Sathmahala: story of changing times
By Poorna Rodrigo
At a time teledrames have been woven around much hackneyed themes, a noteworthy effort has been made by Kalasoori Sathischandra Edirisinghe to present something tangible and intellectual through his upcoming teledrama "Sathmahala".

The teledrama is based on a novel written by well known playwright Ranjit Dharmakeerthi. Mr. Edirisinghe said that the novel caught his fancy and imagination. However when asked regarding his intention of developing it into a drama he initially did not consent to the idea fearing that it might spoil his story. Yet Mr. Dharmakeerthi said that once he saw the story he was 'fully convinced that justice has been done to his novel at its best'.

The story revolves around an aristocratic Kandyan family caught behind the convention and the new socio economic trends, said Mr. Edirisinghe at a press conference.

Loku Nilame (Sathischandra Edirisinghe) the chieftan of the Amunugoda Walauwa situated adjacent to the Rose Valley Tea Estate has three daughters, Navaratne Menike (Damayanthi Fonseka), Sumeda (Yashoda Wimaladharama), Thamari (Paboda Sandeepani) and son Tikiri Bandara (Channa Perera).

Following university education Sumedha becomes a school teacher and falls in love with Hemantha (Sriyantha Mendis) teaching in the same school. In spite of their match not being to the liking of Loku Nilame and Tikiri Bandara she marries him and goes to live in Kurunegala.

Meanwhile all the efforts taken by them to give in marriage the eldest daughter on proposals by match makers turn out to be futile as caste and title become barriers. When Thamari goes to reside at her sister's house in Kurunegala for further education her attitudes get gradually changed through the interaction with the educated society.

As the estate economy continues to thrive villagers who become helpless amidst financial difficulties get drawn into work in the estate. In consequence it becomes difficult to find poor villagers to do cultivation work of the Walauwa.

After a long time Navaratne Menike is given in marriage to a lazy jobless man in a rural Walauwa - a marriage which is successful only in the eyes of Loku Nilame. Meanwhile Thamari gets married obstinately when she comes to know about her father's plans to give her in marriage to another belonging to the Walauwa clan. Tikiri Bandara in an attempt to preserve the declining nobility of their family is all determined to become a lawyer.

With the socio economic transition the drama depict in a very vivid and a realistic manner how the feudal family system crumbles. There is one question that it poses as to whether human beings have to change with the environment they live by or can they still cling on to the tradition and convention in spite of everything.

Apart from the experienced artistes Mr. Edirisinghe has tried to give the young actresses like Nayani Maheshika and Paboda Sandeepani too a chance to show their talents through his drama. He stressed that he always make it a point to "bring the young to the limelight", through his creations.

The tele-drama which is produced and directed by the stage and screen actor Sathischandra Edirisinghe will be telecast over Swarnavahini at 8.30 p.m. on Sunday

---
Piyananda Thera blazes a new trail
By Susitha R. Fernando.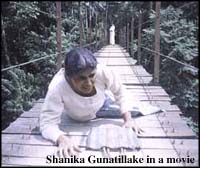 According to Lord Buddha middle path is the way to 'Nirvana', the power of a well balanced and concentrated mind, diverted from restlessness and anxiety and worldly attractions. One would say the sole responsibility and the duty of the Buddhist monk is to direct the masses towards this religious ideology.

When preaching alone cannot change the hearts of the people, a monk has decided to introduce a new way to bring the message of Lord Buddha through popular media. Katuwana Piyananda Thera, popularly known as an artist has done an experiment by giving life to the pictures he had already created with his painting brush.

With the single episode teledrama "Rupantharaya", 'a modern Theri Song', Piyananda Thera will introduce himself to the world of teledrama notwithstanding his popularity as an artist.

Born in Mulkirigala, Hambantota he was interested in drawing when he was just six years. Having obtained an 'A' pass in the G.C.E. Advanced Level examination the 'Sivura' saffron robe itself was a barrier to continue his university education on the subject he loved. This did not discourage the burning interest of the Thera to become an artist one day.

Piyananda Thera who was more interested in nature, drawing has held exhibitions in more than twenty countries.

Piyananda Thera, in the meantime then began to toy with the idea of doing a teledrama. But many setbacks kept him waiting to make his dream a reality.

The monk was determined to bring his message of 'Dhamma' to the restless world with the video camera as well as his paint brush.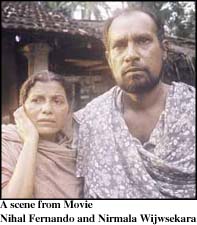 "Rupantharaya" is a story woven around an unforgettable insurgency period during which thousands of youth were massacred, making a black mark in the history of this country. The teledrama tells the sorrowful end of a father and a mother who were hoping for the return of their daughter. The two parents representing thousands of parents undergoing similar experience, depict the picture of the helpless state of those who have nobody to tell of their misery.
When asked why he chose this theme for his teledrama Piyananda Thera said, " My home town is in South of the country where the insurgency affected us very badly. What we experienced living in south was something unforgettable. We had to undergo the most kumaltous period,".
Speaking on the future the Thera said he got an invitation to hold an exhibition in America. He also hopes to do a teledrama on a historical theme soon.
The cast in the drama is Nihal Fernando, Bandula Withanage, Nirmala Wijesekara, Janak Premalal, Wini Wettasinghe and Shanika Gunatillake.

---
Jetwing Hotels 'commended'
At the recently concluded Green Globe 21 Achievement Awards 2000, Jetwing Hotels were honoured with a "Commendation" award for their environmental programme implemented at all Jetwing Hotels.

The awards ceremony was held at ITB Berlin on March 15, 2000 and Ruan Samarasinghe the Executive Director Jetwing Hotels collected the award on behalf of the company.

Green Globe established in 1994, as a direct response to the 1992 Rio Earth Summit, is a unique global environmental management and certification scheme dedicated to the World's Travel & Tourism Industry, working with communities, companies and consumers to promote sustainability in tourism through sound environmental management practices.

The Green Globe membership programme is based on the 13 principles of Agenda 21 for the tourism industry. These principles are used as the judging criteria for the awards.

Thirteen principles of Agenda 21 for the tourism industry are:

1. Waste minimization, re-use and recycling; 2 Energy efficiency, conservation and management; 3. Management of fresh water resources; 4. Waste-water management; 5. Hazardous substances; 6. Transport; 7. Land-use planning and management; 8. Involving staff, customers and communities in environmental issues; 9. Design of environmentally sensitive products; 10. Partnerships for sustainable development; 11. Protection of air quality; 12. Noise control; and 13. Environmentally sensitive purchasing policy.

The winners were assessed on their environmental performance against each of the 13 Agenda 21 areas which have been defined for the tourism industry by the World Travel & Tourism Council, World Tourism Organization and the Earth Council.

In February 2000 in London, Jetwing Hotels were awarded a Highly Commended award under the Long Haul Category in the British Airways "Tourism for Tomorrow Awards 1999" - this was in addition to winning the "Most Environmentally Conscious Hotel Group" at last year EIBTM 99. (European Incentive Business Travel Mart) Greening of Business Tourism Awards in Switzerland.

'The companywide implementation of an environmental programme in all Jetwing Hotels are based on Agenda 21 for Travel & Tourism Industry and is co-ordinated by a team of 15 people including a board member' a spokesman for 'Jetwing' said.

---
'Patricia' to dance her way through Lanka
By Sanath Weerasuriya

Garcia Patricia Martinez, a popular 'Flamenco' dancer from Germany will be in Sri Lanka for a series of performances in Colombo and other leading hotels a round the country.

Patricia Martinez is a very popular artiste in Europe and this will be her maiden visit to Asia.

She will be in Sri Lanka on April 10 (tomorrow) and will perform at the curtain raiser show at the Trans Asia at 10.00 p.m. and 11.30 p.m. on the same date at the 'Library'.

Patricia will be in Wadduwa performing at 'Blue Waters' Hotel at 10.30 p.m. on April 11 and at Grand Hotel Nuwara Eliya on the following day at 10.30 p.m.

Performance at Hotel Citadel in Kandy will be on April 14 at 10.00 p.m. and the duel performance at Habarana Lodge and Village, will be on April 15 at 10.00 p.m. respectively.

She will be in Kalutara on April 19 and April 20 performing at Royal Palm Beach Hotel and at Tangerine at 10.30 p.m. on both days.

Patricia will perform at Bentota Beach Hotel on April 22 at 10.00 p.m. and she will be in Colombo on April 23 for her Farewell performance at 'Cascade' of Hotel Lanka Oberoi at 6.30 p.m.

Patricia will leave Sri Lanka on April 24.

Her performances in Sri Lanka includes three types of dances. Namely 'Flamenco', 'Carribean' and 'Hip Hop'.

'Sanger Gitana', 'Zapateado', 'Rumba Espanbola', Savillanas, 'Farruca', 'Tanguillo', 'Ramba Espanola' are some of the dance items that come under 'Flamenco.'

The Sri Lankan tour of Patricia Martinez is organised and co-ordinated by Dunstan Kelaart.

Particia Martinez is the youngest of three children. She started "Flamenco' at the age of 4.

At the age of 6 she joined the Flamenco school. Her tea-cher was one of the famous Flamenco dancers Paco Goya.

After Paco she was then trained by the famous Alberto Alarcoin.

Patricia took part in Seminars with famous dancers like Javier Baron, Carmen Ladesma and Coucha Vargas. Her idol is the famous Flamenco dancer Joaquin Cortes.

In 1999, she had 54 appearances around Europe. Her dream is to get her diploma in Flamenco at the famous Flamenco Academy in Madrid. She has won many awards including the Golds at 'Spanish Dancing Competition in 1996', 'Dance Festival in Aachen' in 1995, Greve-nbr-oich Festival in 1993 and Flamenco Festival in Koni-gswinter in 1990, where she won a silver medal.

Also she has performed at 'Santa Marini' Festival in Spain, Grevenbroich and Festival of Dances in different cities in Germany in the period of 1997 and 1998. Patricia Martinez will perform free at the Preethipura Home for Retarded and Disabled children in Hendala on April 16 and at Ranaviru Sevena in Ragama on April 17.