---
Sheet-anchor Kaluwitharana
By Dr. Baptist Croos, F.S.C
Kalu may be diminutive, but a spirited bundle of dynamite exploding with electrifying elegance when he is in the right frame of mind, pulverising the attack of the opposition with his powerful pulls, fantastic fours and sensational sixes which are a delight to watch. When he is at the wicket, the spirit of the game is revived; spectators sit up in expectation to enjoy his belligerent batting; fielders become alert, bowlers change their tacticts; the captain calculates setting traps and the commentator's voice is invigorated; it becomes loud and clear.

There is definitely excitement when he is around. He hooks, cuts, glances, drives, hammers in all directions with poise and power. Sometimes he over-does it and can be imprudent but the swashbuckling thrills and spills he provides are a part of his inimitable style. In fact, Kalu becomes the cynosure of all eyes when he is geared up for the onslaught. With his orthodox and unorthodox batting, he lambasts any type of bowling, tearing it into shreds. However, very often, the spectators are disappointed because Kalu's out-bursts are short-lived.

His wizardry wicket-keeping has no parallel in the history of Sri Lankan cricket. He has the amazing record for the most number of stumpings in One-Day Internationals and he is very proud of his brilliant achievement. When he is behind the stumps, Kalu is almost like the captain; cheering, encouraging, appealing, yelling, challenging at times, thus incurring the displeasure and warnings of the umpires - but he means well; he wants his team to perform and win; that is his only goal. His astounding acrobatics, gymnastic gimmicks and classy catches are worth recording and preserving for posterity.

Kalu suddenly shot into prominence with his partner, our dashing Captain Sanath Jayasuriya, prior to the 1996 World Cup. The cricket-loving Australians were highly enthused and enthralled by the innovative style of the Sri Lankan opening pair, Sanath and Kalu, in all their One Day Internationals. Their explosive and power-packed opening partnership made history and was the talk of the town. With his sterling qualities and also his idiosyncrasies he caught the vivid imagination of the famous cricket commentator Tony Greig, who propelled "little'' Kalu into the International cricket firmament.

He has had his share of woes and worries alright, when he was left out of the team on a couple of occasions because of a few failures or through injury. Well, the implacable Kalu didn't mind. He knew he had capabilities but not the consistency; he had style but not the synergy to do things effectively. Nonetheless he wanted to prove his mettle that he could be entrusted with responsibility. He made up his mind to give his best. Luckily the selectors pinned their faith and confidence on him. He convincingly measured up to their expectations, and has now become an integral part of the team.

Whenever the star-batsmen flop, Kalu is there to make up for them. He doesn't mind the critics; his sole intention is to play the game in style and provide the fireworks plus entertainment for the spectators. Whenever counted on he rises to the occasion, thrashing and smashing, often crashing at the crease and naturally "run-out" is the verdict. Several times he has been out for a duck, but neither is he bothered nor discouraged. He knows that failures and frustrations are part of the essential ingredients for exciting cricket.

Kalu has the right temperament for cricket. He is agile and alert, famous for his quick - silver stumpings. He is cheerful and smiles when things aren't rosy. He encourages the fielders and bowlers to show their colours when they are not up to the mark. He is the Captain's pride; an indispensable choice for any match. To put Kalu in a nutshell, he is the sheet-anchor of the Sri Lankan team.

---
Radeesha makes it to Olympics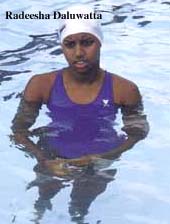 Radeesha Daluwatta proved in no uncertain terms that her choice for the Olympics was no doubt sealed inspite of having to face a trial on May 11 and 22 with the National Amateur Aquatic Sports Union (NAASU) bowing down to pressure.

Her timing in the 100 metres freestyle at the 25th Pentathalon of 1 minute 6.10 seconds was her personal best, improving on the SAF Games bronze medal timing of 1 minute 6.93 seconds an improvement of 0.83 seconds.

Redeesha won all her events with a total of 11 minutes 20.77 seconds, she achieved her win in the 100 metres butterfly 1 minute 16.30 seconds, 100 metres freestyle 1 minute 6.10 seconds, 100 metres backstroke 1 minute 17.82 seconds, 100 metres breaststroke 1 minute 38.05 seconds.

Radeesha of Colombo International School finished on top followed by her schoolmate Theeshana Ratnasekera and Zoe Sandya Veera of Anula Vidyalaya, Nugegoda, Arun Karunaratne of Elizabeth Moir International School emerged the men's open champion while Radeesha was open women's champion.

The other age group winners were:

Boys -

Under 19 - Thanura Abeywardena (S.Thomas'),

Under 16 - A.Rajasingham (Otters),

Under 14 - Esiri Kankanage (Royal),

Under 12 - Manjith Thamanaegama, (S.Thomas'),

Under 10 - Hesan Bandara Unambuwa (Dharmaraja).

Girls -

Under 19 - Ruvika Fernando (Mahamaya),

Under 16 - Dilanthi Ranaweera (Mahamaya),

Under 14 - Chizuru Fukudu (Rainbow),

Under 12 - Udari Mendis (Mahamaya),

Under 10 - Miniruwani Samarakoon (Hillwood).

---
The mystery of swing
There is no greater sight in the game of cricket than to watch a top class fast bowler in full flight. However, pace alone can never be a quick man's main weapon throughout a career. He has to learn the tricks of the trade - mainly how to swing the ball. When you go through the list - Courtney Walsh, Kapil Dev, Richard Hadlee, Ian Botham, Malcolm Marshall, Fred Trueman, Dennis Lillee, Michael Holding, Imran Khan, Joel Garner and the present mob, Allan Donald, Wasim Akram, Waqar Younis, Glenn McGrath, Darren Gough, Chris Cairns, Shaun Pollock, Javagal Srinath, Chaminda Vaas, they all trouble batsmen with movement of the ball in the air and off the pitch.

In the beginning there was no swing. When the very original cricket balls were manufactured in the Garden of England around 1750, the underarm deliveries could not be made to swing significantly at such a low trajectory and pace. The balls too were crudely finished that swing was a long way away from being discovered.

It is said that it was in the very late stages of the nineteenth century that conventional swing on a regular basis was seen. A name coined with this early swing bowling is that of Yorkshireman George Hirst.

The art of deceiving batsmen in this fashion became embedded in the game after the first world war. Bowlers had to unearth ways of removing batsmen as batting technique developed. The game has always been weighted in favour of the batsmen, so the bowlers have to grind along to counterattack.

Test cricket reached a stage when boring draws were witnessed with batsmen dominating and making huge scores. As the game developed captains began to shy away from making bold declarations. So the inevitable draws saw vast crowds drawing away from watching the game and getting attracted to more exciting pastimes.

This gave birth to one-day cricket. This new toy brought back the much needed "new blood" into the game. As this form of cricket gradually began to swallow the traditional game, the administrators began to wake up. The advise to groundsmen and curators became clear. Prepare pitches that will assist the bowlers. Now there are many test matches that produce a result in three or four days.

Of course the bowlers also have played their part. With heaps of cricket being played from a junior level lower order batsmen have ample opportunity to develop. This has made it harder for teams to be dismissed. The mastering of swing bowling, both in the air and off the pitch, the resurgence of leg spin bowling and the evolution of reverse-swing has been the counterpunch delivered by the bowlers.

Swing bowling was completely mastered from the late nineteen forties. Alec Bedser, Ray Lindwall and Keith Miller led the way for a vast number of others to follow.

Look back at some of the bowling strategies that have been knocked back over the years. The first ploy was Donglas Jardine's Englishmen attacking the Aussies with short -pitched deliveries around the body. This was termed " bodyline". It was banished by introducing field-placing restrictions behind the batting crease on the leg side.

Then the no-ball rule was changed, preventing a bowler from overstepping the batting crease, thereby preventing the quicker bowlers from dragging the back foot and getting an advantage of delivering from a shorter distance. This was soon followed by covering pitches completely. From batting on wet, sticky pitches, now play does not commence should there be even a small wet patch on the playing area. More recently the number of short-pitched deliveries were restricted and in fact banned in the one day game. So, the new invention was to be reverse swing. It cannot be really called new because a few individual bowlers have been known to have tried it out successfully over the past many years. The original bowlers who did spread this discovery were Dennis Lillee, Safraz Nawaz and Imran Khan.

If reverse is not an inexact science, it does not have an exact history either, as it has always tended to be a cloak-and-dagger subject, to the extent of being associated with ball tempering. It has though evolved in the same way that all other bowling techniques have evolved.

More on the subject next week.

---
Sri Lankan hospitality
My Police Memories
By S. Sivendran
(Retd. Snr. Supdt. of Police)
During my training period at the Metropolitan Police Training School I was pleasantly surprised to see a Sri Lankan girl working with the civilian staff of the institution. One day I met her and introduced myself and she introduced herself as Mrs. Theivendran from Sri Lanka and the sister of Inspector Krishnathasan of the Sri Lanka Police. After that we struck up a friendship and one day she and her husband invited me to their house for a vegetarian lunch.
Half way through my training period Donald Mendis an Assistant Superintendant of Police from Sri Lanka and a very good friend of mine, arrived at the Metropolitan Police Training School on September 10 to attend a lecturers' training course. Donald was the Chief Lecturer at the Police Training School at Kalutara. On the first day of his arrival I took him for a dinner to the house of Mr. Chelliah who was a former Radio Officer in the Sri Lanka Police. His two sons C. Nirmalendran played rugger for St. Peter's College and Havelocks and the other Indra Chelliah played rugger for S. Thomas' College Mt. Lavinia and for the Havelocks team in 1967, captained by Gamini Fernando in the Clifford Cup Final against the Police team captained by me. They too had migrated and were with their father and joined us for dinner.
I met several other Sri Lankans living in London during my stay. One of the first to contact me was Richard Abraham a former St. Peter's and Havelocks rugby player who was staying at Colindale, very close to the Metropolitan Police Training School. One evening whilst I was in the TV room the gate security informed me that I had a visitor and I found it was Richard Abraham who had come to see me with another Peterite Dan Warnakulasuirya whom I knew very well at St. Peter's. Richard took me home where there was a birthday party for one D.D.N. Selvadurai a retired Excise Superintendent whose family was well known in the tennis circles in Sri Lanka. Richard was married to one from the same family. The following week Richard and his wife took me to Dan Warnakula-suriya's house at Luton in Bedfordshire where I found that Dan's wife was a schoolgirl when I was a sub inspector at Mirihana and her sister was married to a friend of mine Margie Perera who worked for Photo Cinex. They lived near Christian College, Kotte and I used to be a frequent visitor to their house enjoying their meals.
Another day when I was at the Seven Sisters Tube Station waiting to be picked up by my friend W.S. Pathirana who was a Solicitor in London, one young man walked up to me and asked me whether I was Sivendran and when I answered him in the affirmative he introduced himself as Collin Fernando an old Peterite and brother of Hugh Fernando who was my classmate at St. Peter's. Collin was married to an Irish girl. He also informed me that my good friend Reggie Somasunderam who captained St. John's College, Nugegoda and later played for Tamil Union was also living in the area and gave me his telephone number. Reggie was a charming lad when he was young and lived down Peterson Lane, Wellawatte where I too lived during my school days and we were great chums. When I went to Pathirana's house I telephoned Reggie who was delighted and he promptly arrived at Pathi's house along with his friend Don Wheetly an old Thomian who was owning a Greyhound Racing Business sporting a Benz car with another Sri Lankan Alex St. John who was the rock-n-roll champion of Sri Lanka partnered by his wife Lorraine who was the sister of L.P. Ernest a former tennis champion of Sri Lanka and Ashley Gunasekera. That afternoon they took me to a pub where a Sri Lankan band was playing and I was introduced to the band and that afternoon it was a great welcome celebration to me by the band with all the Golden Oldies of Sri Lanka. Thereafter Reggie and his wife Lorraine entertained me during the weekends. Reggie had a charming daughter and two sons.
One evening when I went to the pub close to the Colindale Tube Station to play a game of Billiards I found Juni Cader a former Thomain and CR&FC rugby player against whom I have played several rugby games in Sri Lanka playing Billiards. Juni and I spent the evening happily and thereafter the following week Juni picked me from the Training School and entertained me to dinner at his house. Another Sri Lankan whom I met at the Colindale Pub later was Ranjan Padmaperuma formerly of Nugegoda.
Another evening I had a call to the Training School from Roy Selladorai who was formerly an Inspector in Sri Lanka who was living with his wife Rathi and three daughters in East Finchley and he invited me to spend the weekend with them. Richard Abraham drove me to their house and dropped me where I enjoyed a pleasant weekend. I met SI Gavin Peiris and his family too at his residence.
At Golders Green where most of the affluent Jews stay I met one Alistair Thambinayagam and his wife who were managing a hotel owned by a Jew. They too invited me on several occasions and I spent enjoyable evenings with them.
Asoka Jayasuriya was another who regularly visited me at the school and took me out. I knew him from his young days when he was living at Nugegoda with his mother and two sisters. His father was a doctor living down Ferry Road, Matara and I visited this place whenever I went to Kataragama. Asoka in London was staying in a flat along with his Welsh girlfriend Lyn and I spent several evenings with them.
H.K. Mahendran my classmate at St. Peter's College lived with his English wife at Harrow on the Hill and I visited them very often and visited Castle, the pub close to his house and met several of his friends who are all English and enjoyed their company. The famous Nottingham Hill Carnival and Parade which is conducted by the West Indians with their loud music was held on August 27 with all the pomp and pageantry and this was a Bank Holiday. I went for this with H.K., his wife and another friend Alex Lovell, his wife and sister and enjoyed the whole day.
These outings during weekends were refreshing as we had to sit for exams every two weeks which involved a lot of studies.
(To be continued....)

---
Rugby at Seeduwa, some valuable tips
By Bernie Wijesekera
The inaugural junior all-Island rugby tournament organised by the Western Province RFU, where 48 schools scrummed down for the first time at the Sri Pangnananda College grounds in Seeduwa proved a success despite the inclement weather. The young 'uns taking to competitive rugby for the first time showed tremendous enthusiasm.

The schools that took part in this beautiful sport showed much promise which augurs well for the future of sports - especially the schools drawn from the suburbs.

Seeing was believing. Its a spacious venue, but needs re-development, situated within the precincts of Raddoluwa housing complex.

The Seeduwa-Katunayake Council should take notice and help develop this ground and give that much needed encouragement for the promotion of this sport.

The WPRFU should be commended for taking the sport at grassroots level and that too among the less affluent schools where they would be able to harness hidden talent.

At present the game has hit a low ebb despite much talk . This was evident with Sri Lanka's performances at the recent international contests.

If they can't plan and organise with a better infrastructure then they must bow out gracefully and make way for others than hanging on.

Fazal Mahmud, the deputy president of the WPRFU, who watched the tournament, agrees that that there were some well-built lads among the participants. They should be put into a higher level of special coaching camp (all found).

Fazal said that their next venture will be at Pannipitiya next month. St. Anthony's Wattala and Dharmaloka, Kelaniya stole the limelight. There should be continuity and the lads should be encouraged to further improve their skills.

The two technical officers attached to the district Basil Rodrigo and former army winger M.P. Ameradasa have done a good job with their charges. If this sport has made an impact among the beginners it attributes to their personal interest. M.W. Mudannayake the co-ordinator, with the other offficals did a reasonably good job with the available facilities. The chief M. Hafez Nisham, (the Accountant) said his firm was happy to sponsor this first junior rugby tournament that too at grassroot level, succesfully organised by the WPRFU. This is the first time that Genesis and Basics (Pvt) Ltd. has embarked in promoting sport - and will continue to do so in the future too he added.

Results: Under-15 semi-finals (cup) St. Anthony's Wattala bt. President's College (Maharagama); Kalutara M.V bt. Piyaratna (Padukka). Final Kalutara M.V. and St.Anthony's (jt. champs.) 10-all. Plate - Vidyawardena bt. Amandoluwa; Sri Pangnananda 'A' bt. Udammita V. Final Vidyawardena bt. Sri Pangnananda 'A' 5-0. Bowl- Final Dharmaloka, Kelaniya bt. Sir Baron Jayatilleke (Col.); Under- 19 (Cup) Final: St. Anthonys Wattala bt Gurukula M. V Kelaniya 10-5; Plate (semi-finals) Sri Pangnananda W/O Jothiratana M.V. (Seeduwa); St. Anthony's Wattala bt. Udammita MV. Final: St. Anthony's bt. Sri Pangnananda 5-0. Bowl-Final: Dharmaloka Kelaniya, bt De La Salle 10-5.

Under- 11 Final (Cup): Vijaya M.V Peliyagoda bt. Homagama M. V 10-5. Plate- Final: Dharmaloka bt. Vidyawardena M. V. Bowl-Final St. Anthony's Wattala bt. Sir Baron Jayatilleke M. V.