---
DHAKA, Saturday, A blazing Michael Bevan produced one of the most amazing performances in limited over cricket to lift the Rest of the World XI from virtual defeat to the brink of an extraordinary victory - but he fell just two runs short in a sensational match that produced more than 640 runs.

Replying the imposing total of 321 for nine by the Asian XI, the Rest of the World appeared to be in a hopeless position with more than 100 runs required from the last ten overs and only bowlers to support Bevan. But the big hitting Australian supported by Andrew Caddick produced a blistering array of strokes and nearly achieved the impossible. With two overs to go the World XI still needed more than 30 runs but Bevan kept on pounding till it came to seven runs in the last two balls. In a cliff-hanger situation Caddick was run out when going for the second run in the fifth ball leaving Bevan to get six for victory and five for a tie in the last ball. He almost made it but got only four ... just a run short of what would have been a glorious haven for Bevan.

Sachin Tendulkar and Sourav Ganguly, captains of India past and present, took centre stage for Asia with a stand of 114 in their day-night match against the Rest of the World.

The second wicket partnership between Tendulkar, who stroked 80, and Ganguly, with 67, spurred Asia to 320 for nine off their 50 overs.Tendulkar faced 77 deliveries and hit 11 fours before being caught by West Indian Franklyn Rose at long-on off the left-arm spin of Phil Tufnell, who had missed a return catch from the former Indian skipper on 70. Ganguly, who also survived a return chance to the England slow bowler, on 37, fell in similar fashion to Tendulkar after hitting six fours and three sixes.

Aravinda de Silva (39), Moin Khan (34) and Ajay Jadeja (28) were the other main scorers for the Asian side. South African paceman Nantie Hayward, who made the initial breakthrough by removing Sanath Jaysuriya for 12, finished with the best figures of three for 39.

The game is the highlight of a week of events in Bangladesh and other parts of the world organised by the International Cricket Council (ICC) to promote the sport on a global basis.

SCOREBOARD

Asia XI

S.T. Jayasuriya c Bevan b Hayward 12

S.R. Tendulkar c Rose b Tufnell 80

S.C. Ganguly c Rose b Tufnell 67

P.A.de Silva c Gilchrist b Bevan 39

A. Jadeja c Johnson b Waugh 28

Abdur Razzaq b Waugh 3

Moin Khan c & b Hayward 34

Wasim Akram b Hayward 15

A. Kumble not out 14

C Vaas run out (Waugh/Hayward) 0

M. Muralitharan not out 0

Extras (lb 9, w 16, nb 3) 28

Total (9 wickets, 50 overs) 321

Bowling: Caddick 4-0-27-0, Hayward 7-0-39-3 (1nb, 1w), Rose 6-0 -44-0 (1nb, 1w), Cairns 4-0-22-0 (1w), Tufnell 9-0-68-2 (2w), Klusener 4-0-22-0 (1w), Bevan 10-0-61-1 (1nb, 6w), Waugh 6-0-28-2

World XI

N.C Johnson c Jadeja b Wasim Akram 2

M.E. Waugh c & b Vaas 28

J.H. Kallis lbw b Kumble 27

M.G Bevan not out 185

C.L. Cairns c & b Muralitharan 8

L. Klusener c Jayasuriya b Muralitharan 16

A.C. Gilchrist b Abdur Razzaq 1

F.A.Rose lbw b Abdur Razzaq 7

A.R. Caddick run out (sub [RR Singh]) 23

M. Hayward not out 0

Extras (b 5, lb 13, w 2, nb 2) 22

Total (8 wickets, 50 overs) 319

Bowling: Wasim Akram 5-1-27-1, Vaas 10-1-57-1, Abdur Razzaq 10-0-68-2 (2nb,1w), Kumble 9-0-59-1 (1w), Muralitharan 9-1-45-2, Tendulkar 7-0-45-0.
---
By Bernie Wijesekera
After being led 3-0, the CH&FC back division got their act together to open their season with a hard-fought win over gritty Police SC in the inter-club 'A' Division league match by 19 points (2 goals, a try) to 12 (a try and two penalty goals) at Maitland Crescent last evening. It was a lack-lustre first half where both teams failed to move the ball, indulging in aimless kicking.
In this half the robust Police 'eight' dominated with their ferocious approach. If the 'blue shirts' had a player who could have crossed the CH line, it would have been quite a different story. CH despite much of the good ball flowing their way, failed to make it good.
After the turn around, the CH back division co-ordinated better which resulted in three tries. The first in the 13th minute, off a scrum five metres out. The ball changed hands for Ajith Upawansa to roll over for a corner flag, unconverted try 5-3.
At this stage Police centre Samaranayake was sent to the 'sin-bin' for unwarranted play.
The second try was scored in the 27th minute. CH scored again off a five-yard scrum. Centre Manjula Damith crashed over the line.
Fullback Nalin Dissanayake arrowed with precision 12-3.
Sudesh Dissanayake put over the second penalty for the Police to make it 12-6. CH went further ahead off a short-tap close to the line. Scrum-half Milinda Jayasinghe side-stepped to touch under the posts. Dissanayake added the extra points: 19-6.
During the dying moments of the game Police forwards did well to score a pushover try through Welagedera which went unconverted: 19-12.
Referee Dilroy Fernando.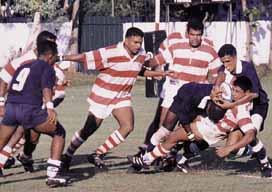 ON THAT BALL. The familiar rugby cry is back again. This tense moment in the CH-Police encounter was taken by Dunstan Wickremaratne yesterday. CH won 19-12.
---
DHAKA, April 8 (Reuters) - Jagmohan Dalmiya, president of the International Cricket Council, said on Saturday allegations of match-fixing by four South African players would be probed once the ICC had been officially informed.
"We still don't know about the charges except through some allegations in newspapers," Dalmiya said in a television interview at Dhaka stadium during a match between Asia and a Rest of the World team.
"The matter is not in our hands now. When it comes...we will look into it," he said.
"We would then co-operate with the police to investigate the allegation."
South African captain Hansie Cronje and three players, Herschelle Gibbs, Pieter Strydom and Nicky Boje, were charged by Indian police on Friday with match-fixing during a one-day series between India and South Africa in India in March. India beat South Africa 3-2 in the series.
Cronje and his team mates have strenuously denied the allegations.
Police in Delhi said an Indian businessmen had been arrested and appeared in court on Friday when he was remanded in custody.