LTTE strategy becomes clearer and clearer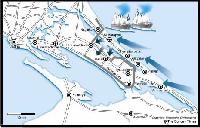 The mood at the Operations Room at the Security Forces Headquarters, Jaffna, was tense. Security forces top brass sat around a room where large maps and charts adorned the walls. Projectors and other gadgetry lay neatly lined up for use when required.
In an adjoining room, men from the Army, Navy, Air Force and Police sat in front of radio sets. Officers who oversee their actions hovered around, picking up the information that flows from the battlefields of Elephant Pass. Periodically they rushed to brief the top brass on the latest updates. Otherwise they were busy feeding orders from the senior staff to those in the battlefield.
Suddenly, the mood last Sunday turned upbeat. There was great excitement among all those who heard the news – Balraj, LTTE's "Task Force Commander" was trapped with a group of his hard core fighters on a part of the A-9 (Jaffna–Kandy) highway they had seized. This was after troops had surrounded one part of the captured highway. Now, those at the Operations Room were waiting for news of the final account of that saga, that Balraj was killed or the better news that he was captured with his comrades.
As exclusively reported in these columns (Situation Report – April 2, 2000), Balraj led some 450 LTTE cadres across the narrow lagoon from Nagerkovil and seized a Censored stretch of the Main Supply Route (MSR) from Muhamalai to Pallai. They also blasted a bridge in the area.
This phase of the assault, as reported last week, came soon after two other LTTE groups over-ran defences at the so-called Vathirayan Box — a rectangular stretch that juts inland between the coastal villages of Mulliyan and Vannankulam. A Sea Tiger group led by Birendran Master landed in the Nagerkovil coast by boats to attack the northern sector of this box shaped area. Another group led by Theepan (Military Wing leader for Kilinochchi), which advanced past the Chundikulam sanctuary moved from south of the boxed area. It was thereafter that Balraj and his men moved through the coast to Nagerkovil to cross the narrow lagoon and seize a part of A-9 highway.
Balraj was trapped after troops of the 533 and 534 Brigades surrounded a stretch of the A-9 highway seized by the LTTE. Troops fought bitter gun battles whilst Sri Lanka Air Force Mi-24 helicopter gun-ships fired at LTTE positions. These positions were also pounded by artillery and mortar fire. Heavy fighting raged. Tiger guerrillas offered fierce resistance and paved the way for Balraj to slip out of the area. A support group from a Reserve Force under Military wing leader Kannan had also been rushed to the area to help Balraj.
When the encounter ended, one Main Battle Tank (MBT), two T63-Mark II Armoured Personnel Carriers and two locally built Unicorn armoured vehicles were destroyed by Tiger guerrilla Rocket Propelled Grenade (RPG) attacks. The LTTE said in a statement issued from its "International Secretariat" in London that they have "
The three security forces commanders – Lt Gen. Srilal Weerasooriya (Army), Vice Admiral Cecil Tissera (Navy) and Air Marshal Jayalath Weerakoddy (Air Force) – who were ordered by President Chandrika Bandaranaike Kumaratunga to remain in Jaffna until the situation is brought under control, kept close tabs on the fighting from the Operations Room. The three were closely co-ordinating the operational planning and execution of various tasks.
LTTE's latest attacks on defence positions at Elephant Pass beginning March 26 thwarted a major security forces offensive. Originally the operation was planned for the same day but had been delayed until March 28 due to logistical reasons.
Security forces attention in the past two weeks has been focused on evicting the LTTE from areas they have captured since their March 26 offensive. Earlier, when LTTE's "Operation Oyatha Alaikal" on Elephant Pass defences began on December 11, last year. The LTTE established a beach-head at Vettilaikerny, the coastal supply landing area and radar point and seized the strategic Paranthan junction. In the latest attacks, that came after a two week lull, they have captured the "Vathirayan box" and initially, a
Censored
stretch of the A-9 highway between Muhamalai and Pallai.
Security forces have given priority consideration to evicting the Tiger guerrillas from holding an A-9 highway area thus impeding the movement of supplies, casualties and re-inforcements. An alternative route the troops are now using via Kilali, Kachchai and Chavakachcheri has turned out to be hazardous. In addition to artillery and mortar fire from the stretch of the A-9 highway they are occupying, Tiger guerrillas are firing artillery and mortars. In addition infiltrated cadres have also fired RPGs (Rocket Propelled Grenades) at convoy movements.
Last Tuesday, Wednesday and Thursday have turned out to be the bloodiest battles between troops and Tiger guerrillas. Holding patterns on the ground changed hour by hour as one tried to dislodge the other from their positions. At one point, troops had driven wedges at three different areas along the four kilometre stretch. By Friday, the LTTE had not only fought back to establish
.
Earlier, they seized the stretch between Muhamalai to Pallai.
Their thrust northwards, towards Eluthumaduwal, seems to unfold, if not fully, at least partially, what appears to be the aims of the LTTE. East of Eluthumaduwal, across the thin lagoon, they have positioned themselves at Nagerkovil. However, heavily fortified security forces positions have stalled their advance further northwards. Yet, the LTTE has made attempts to advance along the A-9 highway beyond Eluthumaduwal towards Mirusuvil and Kodikamam, described as the main gateway to the Jaffna peninsula. This attempt is with artillery and mortar fire support from Thanankilappu (south west of Chavakachcheri) and Pooneryn.
Is the LTTE attempting to cut off Jaffna from Elephant Pass through the general areas of Navatkuli, Chavakachcheri, Kodikamam, Mirusuvil and Nagerkovil ? Senior Army officials do not rule out the possibility though some believe there may be what they call "other surprises and shocks." But none is in doubt that a cohesive LTTE plan has been put in place, in what they have termed "Year of War," both to isolate Elephant Pass and seize control of the Jaffna peninsula. This is not only through the latest wave of attacks at Elephant Pass but also by attempts to cut off the only two links to the north – by air and by sea.
In this regard, the Sri Lanka Navy suffered one of its worst losses last Friday night. Two Dvora Fast Attack Craft (463 built in Israel and 493 by the Colombo Dockyard in Colombo) were on patrol off the coast of Nagerkovil. Soon after dusk, one of the craft had come nearly 600 metres from the shore when it was attacked.
Tiger guerrillas, Navy officials suspect, used a Recoiless Gun (RCL -106 mm) mounted on a truck. The FAC caught fire and began to drift towards the shore when the second Dvora, (the locally built one) moved in to help. It also caught fire after being hit by an RCL, they said. The first Dvora was destroyed and sank. This FAC is said to have had highly sophisticated thermal imager and electronic systems on board.
The second one, which was immobilised, drifted towards the shore but was stuck in a sand bank, hardly 50 metres away from the shore.
One officer (additional) and 18 seamen from both FACs have been rescued. At least 12 including the two Captains – Lieutenant Commander W.D.C.W. Wijerupa (P 463) and Lt. Cmdr. A.N. Wijepura (P 469) are feared dead.
Within four hours of the incident, the LTTE "International Secretariat" in London put out a press release on the incident. This is what it said:
"Two Israeli made Dvora gunboats belonging to the Sri Lanka Navy were destroyed by the Sea Tigers off the east coast of Vadamarachi today. The incident occurred near Nagar Kovil around 6.30 p.m.
"A convoy of Dvora boats patrolling the seas off Vadamarachi East came into confrontation with the Sea Tigers this evening. The Sea Tiger gunboats engaged the flotilla of Sri Lankan naval vessels while the coastal artillery units also targeted the Dvora boats. Two Dvora boats received direct hits from artillery bombardment, caught fire and sank. Several Sri Lankan Navy personnel were killed in the incident.
"Following the incident a sea battle raged and continued for several hours."
Navy which not only has to police the north eastern waters but also escort food and troop convoys to the north from Trincomalee – easily the main mode of transport to north in the absence of a land based route. Tiger guerrillas have also made attempts to step up attacks in the Trincomalee area and trigger incidents on the main supply route to this north eastern port city which the LTTE declares as the capital of a so-called Eelam.
Intelligence reports also spoke of attempts by LTTE to trigger off incidents in the City during the Sinhala-Hindu festival season. Similar attacks were also being planned in the Trincomalee area, they said.
Last Wednesday, Tiger guerrillas launched a claymore mine attack on a state run transport board bus carrying Navy sailors. The incident at Kithuluthuwa, near Kantale, left three civilians and a Chief Petty Officer of the Sri Lanka Navy dead. The dead included the driver, conductor and Terrance de Costa, Captain of Ceylon Shipping Corporation's "Lanka Muditha."
Ironically he had completed his tour of duty only last week, said his farewells to friends and colleagues in Jaffna and hoped to fly from there to Colombo. Flights, however, had been grounded after an AN 24 aircraft crashed at Talawa. Hence he had board a ship from Jaffna to Trincomalee. From there he took the ill fated bus.
On Wednesday Trincomalee was also plunged in darkness and residents left with no water after guerrillas damaged a power pylon and disrupted electricity supply. They were restored the next day.
Kithuluthuwa, along the Habarana – Trincomalee Road, was the scene of a gory massacre on April 17, 1987. A group of nearly 40 Tiger guerrillas halted six vehicles, robbed the occupants and shot dead 122. A further 40 were wounded.
A week before the claymore mine explosion at Kithulutuhuwa, Navy personnel had unearthed another claymore mine at Palampattaru.
The crash of the Anotonov 24 aircraft on March 30 killing all 40 passengers on board, it has now come to light, was the result of an attack by a Surface to Air Missile (SAM). According to highly placed security sources, there was evidence to confirm that the AN 24 was hit by a missile. The matter is now being further probed by a three member team from Ukraine and a team of Air Force officials.
The AN 24 crash at Talawa, ahead of Anuradhapura, led to the deaths of 24 soldiers, 11 Navy personnel, 1 Policemen, two Ukranian pilots and two crew members. The aircraft belonging to Lionair was on lease to the Sri Lanka Air Force.
The armed forces chiefs and their respective senior officials have been meeting regularly in the past several days at the Security Forces Headquarters in Palaly to assess the security situation. Not all the sessions, as one source explained, have been smooth.
These developments also saw some changes. Brigadier Gamini Hettiaratchi, officiating General Officer Commanding (GOC) of the Army's 53 Division was moved out as GOC of 22 Division headquartered at Trincomalee. Major General Sisira Wijesuriya from there has taken over as GOC of the 53 Division. The Commanding Officer of the Air Mobile Brigade, Colonel Roshan Silva, has also been replaced.
The three armed forces chiefs have returned to the City for short breaks. First to return was Air Force Commander Air Marshal Jayalath Weerakoddy on Wednesday. He was followed the next day by Army Commander, Lt. Gen. Srilal Weerasooriya and Navy Commander, Vice Admiral Cecil Tissera.
On Thursday, Lt. Gen. Weerasooriya briefed President Chandrika Bandaranaike Kumaratunga on the prevailing security situation in Jaffna/Elephant Pass and set out the requirements the Army needed urgently. His return also made it possible for him to be the guest of honour at the Army's annual Seva Vanitha Avurudhu Pola yesterday – one of many ceremonial events Lt. Gen. Weerasooriya usually did not miss. The Chief Guest yesterday was Ramani Ratwatte, wife of Deputy Defence Minister Anuruddha Ratwatte, who has been conspicuous by his absence in the north in the past two weeks. The armed forces chiefs are expected to return to Jaffna in the coming week.
Despite her heavy schedule which included peace talks with the United National Party, President Chandrika Bandaranaike Kumaratunga, has continued to keep a close tab on developments in the north. In the past few days she is known to have sought news on developments at hours past midnight.
With the absence of the Army Commander, Chief of Staff (Major General Lionel Balagalle), the Deputy Chief of Staff, Major General Janaka Perera, has been overseeing official matters at Army headquarters. Early this week he briefed a senior British Army official on the prevailing security situation in Sri Lanka.
Major General John Reith, Assistant Chief of Defence Staff (Policy) in the UK visited Sri Lanka on a two and half days familiarisation tour. This is the first time in many years that a high ranking British General has visited Sri Lanka. The ex para regiment General also paid a visit to the Army Staff College at Batalanda.
Since the LTTE launched "Operation Oyatha Alaikal" on the Elephant Pass defences beginning December 11, last year, until April 3, this year, a total of 16 officers and 361 soldiers have been killed. A further 144 officers and 4254 soldiers have been wounded whilst four officers and 159 soldiers have been declared Missing in Action.
Since the fresh attacks began on March 26, seven officers and 114 soldiers have been killed. A further 49 officers and 796 soldiers have been wounded in action whilst two officers and 59 are declared Missing in Action.
Details of LTTE casualties were sketchy. According to radio intercepts, at least 141 Tiger guerrillas have been identified by name as being killed since March 26. Army officials claimed that more than 300 LTTE cadres had been killed during this period. Media visits to the battle area are banned and independent verification of claims by both parties is not possible.
The ongoing phase of "Operation Ceaseless Waves" though focused on the Jaffna peninsula in general and Elephant Pass in particular is accompanied with other widespread harassing operations, as was seen this week in Trincomalee and Kithuluthuwa.
The threat of suicide bombing in Colombo and the threat to telecom, power infrastructures and other economic targets continue. In combination these operations are designed to commit the armed forces into maximum deployment so as to deny them the advantage of concentrating their effort against the LTTE in the north.
With a limited force structure the LTTE have to retain their freedom to concentrate their effort to gain localised superiority of men and material to overwhelm the armed forces at a given point of attack. This is just what they did in the Wanni operation of Ceaseless Waves Three and what they are striving to do in Elephant Pass.
To overwhelm Elephant Pass in the manner of Mullaitivu is unlikely. Its defences are spread over a wide area in terrain friendly to the defender. Its proximity to Palaly facilitates quick response offensive air support as well as logistic supply by air even though that is an expensive and limited alternative.
Yet, the threat to Elephant Pass is that it is liable to be isolated if the land and sea lines of communication to it are cut off. This is precisely what seems to be the strategy of the LTTE as it was in 1991 when the LTTE siege of Elephant Pass was relieved by an assault landing at Vettilaikerny.
The vow to re-capture Jaffna this year, the Year of War, as declared by the LTTE, depends on the outcome of the struggle at Elephant Pass. It is too large a position to be bypassed. At the same time, a proactive strategy by the Army could lock the LTTE into a situation from which it would be difficult to retract without slur.
(Note: Some statements allowed by the Censor last week have been deleted this week.)