---
Horana under stormy clouds
The Securities and Exchange Commission (SEC) is examining a complaint against Horana Plantations Ltd (HPL), alleging that the company has spent Rs. 4 mn as legal fees, which has not been disclosed in the company's financial statements. The legal fees were said to have been paid on court cases against two estate superintendents (C A N Jayasuriya and D N Aluwihara) over a period of several years.
The complaint was made by C A N Jayasuriya, Senior Superintendent Eildon Estate who was terminated from office and later re-instated following a court ruling. HPL has appealed. HPL also dismissed D N Aluwihara who was later re-instated.
SEC officials said that the Commission first needs to confirm with HPL whether they had paid such a sum and as to why the amount was not disclosed. "We will then consider whether we are satisfied with the company's answers before we initiate an investigation," SEC said.
Mr. C A N Jayasuriya in his complaint to the SEC further alleges that the re-constituted board of HPL, continues to mortgage the crops, in advance to the brokers, drawing on 75 percent of their valuations thereof, at exorbitant interest rates to raise working capital.
The complaint also says that, HPL's suppliers' payments remain unsettled. The complaint says that the company has issued over 500 cheques that have bounced. Workers' gratuities have not been paid and EPF and ETF payments are in arrears. Plantation Housing Trust's funds allocated through foreign funding agencies are rolled into working capital. HPL is resorting to delayed manure applications and that too in plain urea. This results not only crop drop, but encourages low resistance of the tea bush, in the long run, which have further adverse repercussions on the plantations.
However, a HPL official dismissed Jayasuriya's claims.
He said that the Rs. 4 mn spent on legal fees is not a material interest as it was paid over a long period of time and there was no need for disclosure.
The company advanced its crops to a broker during the difficult period when unauthorised transfers were made during a certain period when HPL went through a cash flow problem.
"It's a common practice in the industry and not illegal," the official said.
HPL also denied allegations of using Plantation Housing Trust's funds for working capital.
He also said that HPL was never behind in their manuring process and all agricultural practices were maintained. Presently, HPL records high yields of over 1,800 kilos per hectare for tea. HPL also hopes to break even this year.
Jayasuriya says that as a proxy holder, he tried to bring these irregularities during HPL's AGM last Monday.
The board had permitted Jayasuriya to proceed with his narration and stopped him midway, when the company's secretary said that Jayasuriya's proxy says that he can represent and vote but cannot speak at an AGM.
Jayasuriya had subsequently written to the Company's Registrar asking them to quash the AGM's proceedings.
He says that the word 'represents' means that he is entitled to act or speak. Therefore, under section 133 (1) of the Companies Act, he is entitled to speak at the AGM.
---
No more puffs in the media
Anti- tobacco lobbyists cautiously welcomed Ceylon Tobacco Company's (CTC) initiatives for a self imposed code of conduct for their marketing activities. They said that the code was not a piece of legislation and there was no authority (except CTC) to monitor it.
CTC, which considers itself as a 'responsible company in an industry seen as controversial', said that it was discontinuing advertising of tobacco products and brand names on billboards, in the print, broadcast and cinema media with immediate effect. The company would also cease to sponsor sporting events with immediate effect.
However, advertising will continue at store level, where cigarettes are sold. CTC will also continue to undertake corporate advertising and sponsorship.
The salient features of the code include, confining cigarette sales to those over 18 years, restricting sampling to adult smokers and publish nicotine and tar levels on cigarette packs within 12 months. The company will continue to comply with the existing legal requirements of displaying health warnings.
At present, the government has no permanent policy to regulate tobacco and alcohol promotional activities. The proposed ban on tobacco and alcohol promotions was gazetted but is yet to be tabled in parliament.
There is also speculation that the government will introduce wholesale/retail licences to cigarette dealers as a measure to help curb the tobacco addiction.
---
Nutcracker Automated!
Coconuts are being driven nuts by the world's declining demand for the nut's by-products. Production of its main by product coconut oil has declined from the decade's high of 516 million nuts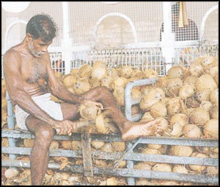 in 1995 to 334 million nuts in 1998 inspite of a consistent population increase. Industry officials attribute the drop to a shift in consumer preferences from coconut oil to oils claimed to contain less or no cholesterol, often by western lobbies in an attempt to promote widespread use of vegetable and soy oils produced by them.
Oil exports especially have slipped a long way from a 1989 level of 29.6 million kilos to 2.6 million kilos in 1998.
Officials from the Investment Services Bureau in the northwestern province said that around 50 per cent of their oil mills had shut down as a result. As one of the largest coconut and allied products producing province, Wayamba businessmen are innovating and producing non-traditional products to supplement the loss of the coconut oil market.
Surprisingly, the demand for non-traditional products such as coir brushes and shell ornaments are on the rise. Officials said the market was growing and had the potential to absorb new innovative products. They said the local market too was slowly absorbing non-traditional products.
In addition, the Central Banks Annual Report for 1998 states that the method used in domestic consumption of fresh nuts resulted in considerable wastage. Therefore officials said that steps were being taken to promote ready-made products. Multi national companies like Nestles have already introduced instant coconut milk products into the local market.
In addition, it is understood that organisations involved in the coconut industry are taking steps to exploit the coconut further. Already, every part of the coconut palm has a use. Officials said that with the help of modern science and machinery new coconut based products were coming out every so often. In addition, the use of coconut in confectioneries is also growing with the growing demand for those products.
Officials said that all this would make certain that the coconut industry had a long and illustrious lifetime. However, they added that businesses involved in the industry needed to understand the market and evolve to grow tall as a coconut tree.
Wherever the future of the industry lies, the fundamentals remain unchanged, i.e; the nut has to be cracked for use. And here too automation has crept in with new machinery that is used to crack nuts and produce many new products.
---
WB help to beef up watchdogs
The Public Enterprise Reform Commission (PERC) has sought the World Bank's help to hire experts to beef up regulatory bodies.
With many state owned enterprises that have substantial market power being privatised, PERC is making efforts to strengthen regulators.
Establishing a regulatory framework is one thing, but getting the right people to run it is another, PERC Director General, Mano Tittawella said. "Like what we did for TRC [where a Sri Lankan expat was brought in to head the telecom regulator], we will need outside help to get these regulators off and running," Tittawella told the Sunday Times Business.
PERC hopes to set up regulators for ports, power, water, insurance and the posts sectors.
The World Bank had earlier agreed to give assistance to fund regulatory bodies for sectors like posts, ports, power and insurance sectors. The World Bank has already funded the strengthening of the Telecommunications Regulatory Commission (TRC), by helping the transformation from a government department to an independent commission, though the efforts have proved less than successful in the gas sector.
Presently, the World Bank is helping to revise the TRC Act to strengthen it further, a top World Bank official said.
The official said that the Bank has already helped define the Ports regulator, which was incorporated into the P&O agreement last year. Under the World Bank funded ports efficiency improvement project, a Ports Competition Commission is to be set up.
The regulator will come under the Ports Ministry's purview and will be accountable to parliament. The regulator will have jurisdiction over all port participants, to ensure equality among all operators, prevent anti-competitive practices and monitor port tariffs.
All regulators will be set up using the TRC model. The postal regulator is to be established under a postal reform project to convert the postal department into a corporation. Under the proposed reforms, some services will be open to private competition.
While the exact role of the postal regulator is still murky, postal authorities say that they will be looking at price flexibility, competition policy and monopoly in the postal sector and the provision of a universal service.
---
Economic recovery in the first quarter of 2000?
The question in everyone's mind is whether the economy is on a path of recovery this year. Will the country achieve an economic growth of around 5 per cent this year. This has been the average rate of economic growth for recent years, which did not face severe external or internal shocks. No conclusive evidence can be adduced for a recovery at this time owing to the statistical data not being available. Government sources would like to believe that there is a recovery. In fact the Budget presented in February predicted a growth of 5 per cent for the year. This is a rise in growth of around 1 per cent from the growth estimated for last year. Private sector sources have also anticipated such a recovery. Whether the latter has recourse to their own sources of information and data or whether they largely accept data of government sources is not very clear. Anyway the general consensus is that the economy is recovering from its poor performance last year.
There has been a continuous improvement in the economy from the low level of achievement in the first quarter of 1999,when the growth rate was only 2.7 per cent. In the next two quarters the economy grew at 3 per cent and 3.4 per cent , respectively. The fourth quarter's performance is estimated at around 5 per cent. It is this recovery that is expected to continue into this year.
The main factor responsible for the recovery has been the improved performance of export industry. Most of our industrial exports suffered badly at the beginning of last year as the demand for our industrial exports had declined owing to lesser international demand, on the one hand, and the decreased competitiveness of our products internationally, on the other hand.
The recovery in industrial production in the last quarter appears to have continued into 2000.Industrial exports were about 14 per cent more in January this year compared to the poor performance of January last year. Agricultural exports too rose by nearly 13 per cent in January compared to the performance in January 1999.This was mainly due to a significant rise in international prices of tea. These two developments in particular were responsible for a rise in total exports by 12.6 per cent in January.
There are in fact some better signs of economic recovery. The import statistics of the country disclose signs of industrial recovery. Early last year imports of raw materials and capital goods began to decline. This was a clear signal of a slowing down in industrial production. In contrast in January this year there are clear signs of increased industrial activity in the import statistics. Intermediate goods imports have increased by as much as 34 per cent and capital goods imports have risen by a massive 74 per cent in the first month of this year compared to January last year. This augurs well for the economy as the increased imports of these items are indicators of higher production in the short run and beyond.
While the increased imports would strain the balance of payments immediately through an adverse trade balance, this would tend to be offset with increased exports later.
The improvement in tea prices and a slight upward movement in rubber prices are the other two favourable developments of the economy. Our economic recovery would also be supported by the upturn in the global economy. Yet we must not fail to recognise that the resurgent nations of South East Asia through further improvements in their productivity could continue to pose a serious threat to our exports. Industrialists must continue to improve their products, reduce costs of production and search relentlessly for new market opportunities. A trade dependent economy such as ours must face the harsh realities of the international market place ,diversify our industrial production, shift to products where we could be more efficient and improve our production processes and management to ensure a competitive advantage. There is no easy path to economic recovery.
---
Investors - what makes them tick?
By Dinali Goonewardene
Casino or market place for raising capital? Depends on who is cut in on the deal and why. People on the outside wonder who is behind a deal and who the movers and the shakers really are.
Players in this market could range from fly by night retailers to foreign institutional investors with 5-10 year time horizons. High net worth individuals like East West owner Nahil Wijesuriya moves markets when in the mood while stock brokers complain that conservative government funds could use a mood swing. Corporates pursuing strategic investments have increasingly left the bourse in disarray. And out of sight, out of mind certainly does not describe unit trusts - the lurking local institutional investor.
But what makes them tick? What signals them to converge on the market and when do they bid a hasty retreat?
"Markets punish or reward you and that's exciting. There is no getting away from your decision," Portfolio Manager, Namal, Prabodha Samarasekera said. "That's what makes me tick," he said. The unit trust management company which operates Ceybank Unit Trust and the Century Fund applies a contrary style of management. "When the whole market is selling we buy and that takes guts, " Chief Executive Officer, The Unit Trust Management Company, Dheerendra Abeyaratna said. "Fund managers need to have a lot of confidence," he added.
Funds managed by this company exceed Rs.900 mn and any other ploy would result in the company just chasing stocks as a bull run would not see large quantities selling at cheap prices.
Stock brokers are unimpressed by the unit trust industry. Unit trusts depend on foreign buyers for direction and keep asking us whether foreigners are buying, they say. " We don't just front run foreigners. We've been well ahead of foreigners in getting in and out of the market. We might ask if the EPF or ETF is buying. We don't keep our eyes shut we look at what others do," Samarasekera defends his industry. "Our fund managers look at the depth of the market. The quantities offered by the second and third seller are known to the broker and this indicates the upside or downside to the market," Dheerendra Abeyaratna said. The fundamental thinking of a team is driven by a similar philosophy but the stocks chosen may be different, Samarasekera said. Namal's style involves investing in undervalued companies where the current market price of the stock fails to reflect the underlying value of the company. A medium to long term time horizon is considered.
In contrast, most retailers interviewed said they favoured stocks whose prices fluctuated with the precondition that they came cheap. Below Rs.50 was an average most seemed to be interested in. However the low stakes have not prevented retailers from stamping their mark on the bourse.
The Colombo stock market reached its pinnacle in 1999 when investors placed their bets in the run up to the elections. "We look at the screen at the stock exchange and when prices are changing we follow," Mr. W V K Surasinghe a retired investor from Matara said. I'm a buddhist so I don't buy Bairaha Farms , Grain Elevators or companies dealing in liquor, he said. "Sometimes I hold stocks for years but in other cases like Vanik and Blue Diamonds just for a day,"
Mr.Jayantha Nissanka who is unemployed and spends most of his time tracking his portfolio in Matara said. Ever wondered about retailers obsession with plantation stocks? "These stocks are not like Blue Diamonds their backed by lands. And when there is a tea auction, we anticipate price fluctuations," said a retailer who wished to remain anonymous.
"I buy large blocks when they are available in the market and I'll get out any time I can make 15 per cent," Nahil Wijesuriya said. Wijesuriya is a high net worth individual who has invested a hundred million rupees, through various companies in the ailing Colombo bourse. The blue chips are where the numbers are, he said when pressed for a sectoral preference. I buy in and ask the awkward questions and give the management a hard time, said Wijesuriya explaining his motivation. "And then there is change and the company becomes more effective," he said. A high net worth individual who wished to remain anonymous said his favourite stock was John Keells Holdings, but he prefers conglomerates anyway.
My portfolio includes stocks for the medium term long term and short term and reflects different risks and returns, he said. Supply and demand, atmosphere and sentiment play a key role in enticing him to the market "I started playing the market when I was fifteen and my father had a portfolio of plantation stocks," said another high networth individual who preferred to remain anonymous. "I played the market for fifteen years , stopped for a while and now trade daily," he said.
Even if the company fails you win, he says describing his strategy. "I buy shares where the share price reflects a small fraction of the asset value of the company. Since I don't use borrowed funds to invest there is no time frame or cost involved.
I just hold on. Small cap companies are take over targets and once taken over the take over price will represent the asset value, " he added. High net worth individuals are astute businessman with an ear to the ground. They operate partly on intuition and partly on heard instinct. But they know their onions. Where do emotions figure in this equation? "The only thing I did emotionally was buying Kandy Hotels. Because I'm from Kandy. And we're losing money. That was the worst investment-done on emotion," said Wijesuriya.
And I'll let you in on a secret. Wijesuriya is not the only investor with an Achilles heel. "The big boss of the foreign fund management companies like to handle Sri Lanka," said a broker who preferred to remain anonymous.
"They love the beaches and Nuwara-Eliya. They keep the investments and don't do any thing with it. So they can come and visit," he said. But don't let this fool you. This is one of the smartest segments that play the market. "I pick stocks opportunistically, world wide, based on valuations and the attractiveness of prospects," Fund Manager, Amit Wadhwaney said. The fund is a small global fund in which Wadhwaney makes the investment decision and does the trading. "I tend to be a buyer when there is much pessimism and a seller when there is optimism," Wadhwaney said.
Foreign Institutional Investors (FII) invest in the short to medium term in fundamentally sound stocks and consider the political and economic climate as well as government fiscal and monetary policy. FII's may invest regionally, expecting a higher risk and return in emerging markets and lower risk and return in more developed markets. Alternatively FII's may be index funds with a benchmark like the Morgan Stanley Capital Index (MSCI).
They typically study five stocks- blue chips. After weighting the company according to its market capitalization index funds invest proportionately in the chosen countries and stocks. They invest money every month or quarter and may choose to sell and cash in if the market has out performed, while stocking up on shares in markets that have under performed.
Although FII's play a dominant role in the Sri Lankan stock market today, the players with the potential to rock the market are right here in this sunny isle.
The government institutional investors include the Employers Trust Fund, Employees Provident Fund, Insurance Corporation and the National Insurance Corporation. These captive sources as they are popularly termed have chosen to invest just a minute percentage of their funds in the equity market. And earned a lot of flak from the stock broker in the process.
ETF has an investment committee that must approve the investment decision. Decision making is thus a lengthy process which is not suited to a stock market," brokers said. You have to work backwards with them. You can never convince them that a particular stock is a good buy. They decide what they want and then you look around for the stock, they said. We consider an investment horizon of less than one year and invest in stocks which provide a regular income, Deputy General Manager Finance, National Insurance Corporation, Gamini Peiris said. The National Insurance Corporation is permitted to invest 5 per cent of its general insurance and life insurance funds in the market. A fund of approximately Rs.40 -Rs.50 mn. We study broker research and ask brokers whether others are buying, Peiris countered. Which sets us wondering where all that research done by broking houses ends up.
"I have a chat with my broker before investing," Nahil Wijesuriya said casually. Just a chat ??! I have a look at price volume charts to check the ease with which I can exit, Wijesuriya elaborates. If large volumes have been traded historically, that signifies there is interest in the market, he said. Others who depends on asset values rely on the company's accounts, especially the balance sheet. FII's are another breed of investors who study broker research in addition to their own research. Active foreign fund managers visit company's at least once a year in the process of researching.
Most people find it difficult to understand the annual report and dislike attending the annual general meeting, Head of the Matara Investors' Association, Mr S M P Sisiradasa said. We look at the research but don't accept it as gospel, said Jayantha Nissanka.
Our research is better, we look at the trading screen. Besides, once we bought Vanik on a broker recommendation and Matara lost out, he said.
Unit trusts beg to differ. They use broker research in addition to their own research of companies, sometimes just for comparison. We study the stock market in relation to country risk and political and economic situation and then study the sectors," Prabodha Samarasekera said. The sectors may benefit from thrust industries or government policy and then we look at specific companies, he said. The Unit Trust Management Company studies broker research to monitor market views and to make comparisons with their own research in order to find why differences exist.
Which brings us back to our original question when do you deal these players out of the game? When the going gets tough. Not so fast for the unit trust industry.
These funds are prevented from disposing of stocks which were deteriorating in value as this would result in a capital loss which would prevent them from paying out dividends to unit holders according to accounting regulations. However the rules are now being revamped to facilitate a disposal of stocks performing poorly and pay dividends.
Unit trusts also move out of the market when it is over valued or there is a requirement for cash to pay unit holders. Or when they have discovered another bargain.
In early 1998 most foreign funds left Sri Lanka. After 1996, emerging markets which had once been hot now left FII's cold. Mature markets were more enticing and the political situation in Sri Lanka did not help. And then there was nuclear testing in Pakistan and India. Reason enough to get the hell out of the region. Internal conflicts within funds have also caused an outflow of funds in the past.
When the Sri Lanka Regent Fund (SRF) bought 30 per cent of the Sri Lanka Growth Fund (SGF) it spelt trouble for Sri Lanka. The Growth Fund which was a close ended fund was converted to an open ended fund in which share holders could redeem stocks and the fund would have to pay out cash to accommodate these redemptions. The Growth fund was subsequently forced to sell its shares in the Sri Lankan market in order to realise cash to pay its stock holders.
But not for retailers the complications which vex these institutional investors. "I sell if I can make a profit . I also sell when I can't make a profit to buy other shares which are on the rise," Jayantha Nissanka said. "If there is an upward price movement we know some inside information has leaked out in Colombo. But Colombo's secrets remain in Colombo. By the time it gets here it is no longer a secret. That is the story of Matara," he said regretfully. Most retailers interviewed seem to believe insider dealing is rampant in the market.
That is not what bothers Nahil Wijesuriya who buys the large blocks. "Insider dealing is very difficult to define. Most directors of companies are also large share holders .
Some one trades and suddenly it has become insider dealing, " he said. " Four times a year there are quarterly reports and before and after that you cannot trade. If a company is active there is always something happening and all this is inside information. This is very unfair," he added.
Most institutional investors interviewed believed insider dealings did not affect the local market much, except Dheerendra Abeyaratna. "In some cases you clearly see information being leaked out. Prices go up and then a bonus is announced," he said.
"The more information you provide and if you are the first to inform you are going to get the deal,"said a broker. "If I have price sensitive information, I get the deal," he said. However investors discount this claim. There are a lot of stories floating around and they are not all true.
The Colombo Stock Exchange (CSE) has 237 companies listed and has a market capitalisation of approximately Us$1.4 bn. Average daily turnover is US$ 772,00and 313,710 CDS accounts have been opened at the CSE. In comparison the Karachchi Stock Exchange which has a market capitalisation of US$ 6.23 bn has 767 companies listed on it. The Dhaka Stock Exchange has a market capitalisation of approximately US$ 957 mn and 204 companies are listed on it. Average daily turnover in Dhaka is US$ 960,000.
Of the 38,000 companies registered with the Companies Registar only 237 are listed on the CSE and approximately 80 are traded daily.
Illiquidity has plagued this rather shallow market. Investors in the Sri Lankan market may have a plethora of strategies to beat the market but their flair is restricted by the market in which they operate.
---
Express Cargo from Ceylon Carriers
Ceylon Carriers Ltd has launched the express cargo system which bills customers according to the weight or volume of packages transported instead of the distance carried. "We will consolidate numerous orders to carry cargo and carry it at the same time in order to make a profit," Chairman, Ceylon Carriers Ltd, Rohan Nanayakkara told The Sunay Times Business. A two-acre warehousing complex and a fleet of vehicles maintained by the company facilitate this process.
"We started the system in India in collaboration with our partners there and it was very successful, which is why we are introducing the system here," Nanayakkara said. The company will povide a fixed time transport service between any two destinations but will not transport hazardous cargo. While cargo will be accepted any time of day or night a minimum charge of Rs. 5 per kg will be levied. The service is available to manufacturers, wholesalers, distributors, hotels, marketing and plantation companies.
The system of levying charges for cargo transported according to weight and volumes has been adopted in most western countries. Ceylon Carriers is a family owned company, which was established in 1945. It is linked to 180 trucking companies abroad.
---
Where's the creativity?
Most agencies vying for recognition as the very best creative talent in the local industry won SLIM Advertising awards but creativity had a slim chance of winning an award, or so it seemed. The new award ceremony improved for the new millennium seemed to need many more improvements. While this was the general sentiment, most were also concerned with the partiality of the panel of judges.
For starters, it is amazing that an individual (professional or otherwise) could rule impartially on any matter that he or she has a vested interest in. In this case judges from the agencies battling it out for the awards.
One of the organising committee members, Ravi Bamunusinghe said that the nine judges were chosen from nominations made by the industry for their exposure and experiences in their respective fields. He said that since the judges were well recognised professionals, he believed that they would have maintained their professionalism in their ruling.
He added that the rules and regulations governing the event were drawn up by top level marketers during the past year, but said that any new event would have shortcomings.
However, most industry officials who did not want to be named, suggested that the committee include representatives from the public to judge. Another suggestion was to exhibit the nominations prior to the event and let interested individuals vote for their favourites. In terms of creativity, most officials said that the event lacked it. They said they were under the impression that entries were evaluated for their creativity.
Mr. Bamunusinghe said that entries were judged for their impact and effictiveness. He said that the impact took creativity into consideration.
It was suggested that the awards ceremony be called Marketing Awards instead of Advertising Awards since they felt that some very creative advertisements were not even in the finals. However, some agreed that there should be a balance between both factors but still felt that the recent ceremony lacked creativity in terms of judgement and the event itself.
They said that having seen the local agencies organise the many ceremonies throughout the year for their clients, the ad awards seemed humdrum.
---
Internet offer from Celltel
Celletel Lanka Ltd. is offering a free internet connection with 50 hours of free surfing. The service is open to anyone who requests the service via e-mail.
"There are no strings attached, no conditions and no hidden charges," Celltel's Chief Executive Officer Michael Schluter says in a news release.
A unique feature of the offer is its convenience. Anyone who e-mails Celltel on free@celltelnet.lk will receive the company's Celltel net Internet service by return e-mail, and the programme will guide the recipient for installation. A service telephone number is also provided for assistance if required, the release says.
"There are no agreements to sign, no visits to our office, no complicated installations", the release adds. The person requesting the facility does not need to move from his or her PC to get the service installed and running.
People who do not have an e-mail account, may also obtain the same facility by visiting the Celltel office and picking up a diskette at Rs 250, the release says.
The objective of the promotion, is to establish Celltel as the most innovative, exciting and service-oriented ISP in the country.
On completion of the trial period, when users have surfed the internet for 50 hours, they have the option of continuing with the service at the most attractive prices in Sri Lanka - for example for Rs. 500 a subscriber receives 6-12 hours free surfing.
---
Mind your business
By Business bug
What will they think of next
It's well and good to woo the villager with a savings book at the sub-post office but in the highly competitive banking sector those strategies will not work in these days of IT.
Already a few private banks in the country offer online banking and surveys have revealed it is an advantage in attracting the corporate customers.
That is why one major state bank has come up with an ambitious plan to go on line- hopefully, by the end of the year. It will be worth the high cost of the initial investment, they feel_
Competition the spoiler
And, talking of IT, the competition that first prevailed between the cellular networks appears to have spilled over to Internet service providers.
The pioneers were the market leaders at one time but their share is being steadily eroded by newcomers offering more attractive packages. This had led to some concerns and calls for a monitoring authority. But the powers that be are not interested, those in the trade say.
So, there will be no such body for the moment and the watchdog that supervises the telephone lines have been asked to look after this sector as well.
Terror is the way to go
And who said that terrorist attacks were bad for business? Well, certainly not the insurance industry.
The last such attack at Borella hit mostly professionals on their way home from work and this appears to have touched a raw nerve. Almost all the players in the insurance industry have reported a high demand for terrorism cover in the aftermath of the blast and one company has already decided to aggressively market its anti-terrorism policies in the media_