The duo believe in faith
Bernie Wijesekera reporting from Pakistan
Sri Lanka cricket team under Sanath Jayasuriya has a great following for their exploits on and off the field among the avid Pakistani fans here.
Marvan Atapattu, the mild-mannered willow wielder from Matara and the "Moratuwa mauler", the little dynamo Romesh Kaluwitharane are among them, who have won much admiration. Marvan plays a straight bat sans frills and has helped the Lankan cause todate, thus maintaining his consistency. He is highly commended by the knowledgeable cricketing circles including the media. He made 119 (not out) in the first match, plus a 57 in the second match despite confronted by a stomach upset. Undoubtedly was the mainspring in the Sri Lanka batting line up.
Marvan, in the mould of former England skipper and opener Rev. David Shephard commands respect all round. No frowning even at times when at the receiving end. Respects authority. For both Marvan and 'Kalu', simplicity is their code word. Following the duo closely on this tour was able to know more about their inner feelings. Both believe in Faith and Karma. Religion is a way of life, so is cricket - the great leveller. Romesh is a Christian with a Bible beside him. Whilst Marvan, a Buddhist, apparently with a Christian background. Marvan tormented by a tummy upset with hands clasped (for a better tomorrow) in their key match against Pakistan, at Gujaranwala. Both performed well to help the Lankan cause. Romesh, after an indifferent first match batted well and stood up well behind the sticks. Both are senior players and have performed excellently to uplift Sri Lanka's image.
But in some quarters they may be ignored. But still they take it in the correct spirit. As form is temporary, but class is permanent even after they retired from the game.
The duo could be compared to S. Africa's Jonty Rhodes, Hansie Cronje and Shaun Pollock. They too believe in faith which helped them in their hour of need. With their abundant maturity they believe in these four words - peace and harmony, honesty and integrity. Marvan proved recently in the last two words in Zimbabwe. He was given excess money in the Man of the Match award.
But promptly returned it as money was not everything in life. This scribe in conversation quipped, one should not forget their parents even if they go places in life. 'Kalu' agreed and speaking with emotion said, 'my mother is not in her best of health at present. But I am doing my best to look after her'. Look, it's far better to give a single flower when the parents are alive than a bouquet of Red Roses, when they are gone. Both were dumb-founded and agreed. "Truth is the greatest Religion?"
---
Wushu team for Shaolin Temple
A six member Wushu delegation from the Hai Deng Wushu Foundation of Sri Lanka left for the People's Republic of China on a scholarship recently for higher studies in Wushu offered by the Shaocin Hai Dend Wushu High School.
They will train under Sifu Wang Quan Yi, a famous Shaolin Temple coach and a highly ranked Wushu master in China with more than 70 gold and silver medals to his credit.
The team comprises Manel Dharmakeerthie (President and chief executive director of Hai Deng Wushu Foundation, Leel Roshan Dharmapriya, Victor Siyamabalangoda, Kithsiri Subasinghe, Eranga Weerasinghe and Chaminda Kalum Prasanna.
The team will undergo very special training in world famous martial art school "The Shaolin Temple" in Henan Province.
---
Indrani, Namal win races
Indrani Sriyalatha and Namal Ratnayake won the open women's and men's Historic City Run in Polonnaruwa conducted by the Lanka Lions Sports club.
Indrani Sriyalatha won the 6 kilometre women's race in 27 minutes 45 seconds followed by Anusha Nimali Karunanayake (29.44), Damayanthi Herath (30.20), Chathurika Kumari Seneviratne (30.50), Chathurika Dilrukshi Senanayake (30.51). Namal Ratnayake finished the men's 12 kilometre run in 40 minutes 5 seconds followed by Kumara Weerasuriya (40.58), Upul Perera (41.13), K.M.C. Kalulandara (41.22), Indik Pethum Kumara (41.58). Chaminda Rohana, Bandaranayake won the boys' under 12 kilometre run in a time of 42 minutes 36 seconds followed by. A. A. K. Chandrasiri (44.31), Chathura Buddhika Weerasekera (44.42), Gamini Karunarathna (45.36), Pradeep Indika Kumara (45.42).
---
Umpiring in Pakistan; Adequate
The umpiring in the just concluded cricket series between Pakistan and Sri Lanka is adequate rather than for a few hiccups where both teams suffered. Even at home there were some bad decisions given by the local umpires - even an official in the tour management agreed. You need two hands to clap. But credit must be given where its due. Ather Zeadi, the Pakistani umpire from Lahore did an excellent job in the First Test at Pindi. Apparently Ather hasn't played first class cricket, but acted without fear or favour. He is a member of the Grid international panel and billed to officiate next month in the West Indies-Zimbabwe series in the Caribbean. He commands much respect and was not bothered as to who won, or lost. Being a Pakistani, he even had the edge over the neutral umpire. If he continues the good work he could be another Dickie Bird, of course coming from the sub-continent.
---
Interim Board should continue
By Edither G. Perera (Retired Superintendent of Prisons)
Sri Lankan cricket reached its pinnacle in 1996, with the victory at the World Cup finals at the Gadaffi Stadium in Lahore, defeating the over-confident Australians. There were several administrators of cricket e.g. late Gamini Dissanayake, Tyronne Fernando and Ana Punchihewa and senior cricketers of the calibre of Arjuna, Aravinda, Sanath and many others who were responsible for this success.
Nevertheless, after this victory, complacency set in and the cricketers did not perform up to their potential. Therefore the performances were below par, contributing to several defeats, which led to the debacle in the World Cup in 1999 and failed even to qualify for the super league. The premature exit of Dave Whatmore, the coach, contributed to the deterioration in the performance of the team. The victory in the 1996 World Cup swelled the coffers of the Cricket Board and getting elected to its prestigious posts were very attractive. This led to acrimonious campaigning prior to elections, leading to a gamut of vices, akin to a political election. This culminated in the 1999 election, where thuggery was rampant.
Mr. Clifford Ratwatte filed action in Court, alleging that the voting had been rigged and the Court issued an injunction on the Office Bearers, nullifying their functions, until final determination by Court.
This created a void in the Board of Control and the Minister for Sports appointed an Interim Board, comprising Rienzie Wijetillake, Chairman, Michael Tissera, S. Skandakumar, Sidat Wettimuni and Asantha de Mel. This Board consists of men with professional experience, integrity and implicit commitment to the game. The Minister selected the correct personnel.
In a very brief period, they turned the fortunes of the game from ignominious defeats to creditable victories. What we lacked earlier, in retaining the seniors, irrespective of performance, was changed. Selection depended on the participation and performance in the domestic tournament. With a long term development plan, youth are given adequate opportunities to prove themselves. The bold decision to recall Dave Whatmore as coach has already paid dividends. Suitable managers were selected to maintain discipline and performance in the team. Above all this Interim Board with a leading banker at the helm brought about financial discipline and ensured that accounts were audited by reputed accountants and brought about transparency by circulating the audit reports to relevant officials. During this period we defeated Australia, Zimbabwe and Pakistan in all three One-Day Internationals. It was evident that there was unity and the morale was high amongst all players. The fielding was world class.
It is unfortunate that, when we are riding on the crest of a wave, that due to a misunderstanding, the members of the Interim Board have contemplated to tender their resignations. However, we commend the prompt intervention of the President to solve this impasse. Moreover, we appreciate the magnanimous gesture of the Minister of Sports for apologising in the larger interest of cricket. All's well that ends well.
Considering the invaluable service rendered by the Interim Board in so short a period, I strongly recommend that elections be suspended and this Interim Board, consisting of such eminent personalities in the field of cricket, be permitted to serve for another two years. The administration of cricket in Sri Lanka will be in safe hands.
---
Flashback to Sydney 1932
It was the final Test of the infamous bodyline series. By the time this Test was played, bitter feelings over the game that Jardine was playing bitterly entrenched.
England started batting late on the second day, and lost her second wicket when Sutcliffe was out. Everyone wondered who would come out as England's nightwatchman. Hammond had already come in at the fall of Jardine's wicket. After a short delay, Harold Larwood came striding out. He certainly did not feel too happy at the prospect of facing the Australian bowlers at that time of the day, and Australia thought that it would take them long to give him his return ticket. The light was fading and the Australian attack was right on top. As he took guard, he turned to Oldfield and said, "Bert, I wish Mr. Jardine had sent someone else instead." But playing with an immaculate straight bat he defied the attack and played out time.
The next morning the Australians had the spectacle of seeing Larwood back at the crease, a confident smile on his face. The wicket was now playing true and with excellent batting Larwood reached 98. Then in a flash, came one of those dramatic moments that make cricket such a facinating game. Larwood in a tearing hurry to reach his hundred, jumped out to hit P.K. Lee over long-on. Alas, owing to Larwood failing to get it in the middle of the bat it went spinning off the bottom edge to mid-on. And Bert Ironmonger happened to be the fieldsman at mid-on. As the ball from Larwood's bat whirled up the Australians groaned inwardly, because they knew that Ironmonger would - as usual - drop it. Because in this match, he had already put down almost half a dozen chances. In fact all the chances that had come his way. But to the astonishment of everyone, and the utter amazement of Ironmonger himself - his brief nerve - racking juggling ended with the ball between his fingers. And Larwood was out just 2 runs short of a well deserved century. And to cap it all, Ironmonger's reaction to his success was extraordinary at the catch itself. At that time, a firm was giving prize money for feats on the field, including £1 for every catch taken. Ironmonger finding the ball stuck between his fingers, let out a yell that would have been heard all over Australia. "Whoopee! I've won a quid! I've won a quid!"
Bruce Maurice
---
Ananda favoured to win over Nalanda
By Saif Izzadeen
Ananda go out favourites when they take on Nalanda in their 71st Battle of the Maroons cricket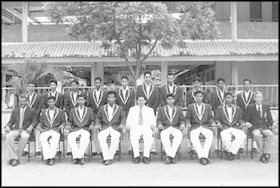 encounter at the SSC grounds on March 25 and 26 next Saturday and Sunday. Ananda is led by the left-hander and Sri Lanka youth player Thilina Kandambi while the Campbell Place school is led by Mevan Porage. Ananda during the season scored four wins, which were against Prince of Wales, Dharmasoka, Zahira and Dharmaraja. Overall Ananda played 18 matches and the rest of the 14 matches ending in draws.
Ananda will open their batting with Dinusha Bandara and Lakshan Fernando. Both are capable of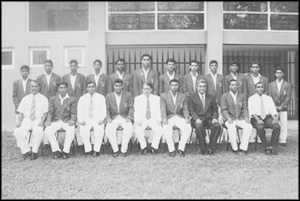 getting Ananda to a solid start.
The rest of the batting line-up comprises Yohan Wickremage, Thilina Kandambi, Muthumudaliage Pushpakumara and Eshan Abeysinghe The bowling will be in the hands Akalanka Ganegama and Sanjaya Bandara. The spin department will be handled by Kasun Fernando who has taken over 92 wickets and will be going all out reach the milestone of 100 wickets in this annual encounter. Muthumudaliage Pushpakumara will bowl off spinners and has taken over 28 wickets.
---
Arnold joins The 99 Club
Russell Arnold became the first Sri Lankan to score 99 runs in a Test and became the 53rd batsman to achieve this feat in a Test, seven batsmen have achieved this feat twice. Therefore Arnold's feat is the 60th instance in this rare achievement and failure.
The seven batsmen who scored 99 on two occasions are, Englishmen M. J. K. Smith , G. Boycott, M. Atherton, Australian G. Blewett, West Indian R. B. Richardson, New Zealander J. G. Wright and Pakistan's Salim Malik. It is strange to note that except for Blewett, all have captained their respective countries.
Out of the members of this 99 club, two have scored their runs on their dedut. They are: A. G. Chipperfield of Australia and R. J. Christiani of West Indies.
South African B. Mitchell is the oldest in this group to score 99 at 40 years while New Zealand's J. E. F. Beck is the youngest at 19.
Englishmen N. W. D. Yardley and M. D. Moxon, New Zealander J. E. F. Beck and D. N. Patel, Pakistan's Maqsood Ahmed, India's R. F. Surti are the only unfortunate members of this club never to reach the century mark during their career. Although England's Alex Tudor and former Zimbabwe captain A. D. Campbell have not reached the century mark, they have a very good chance of doing so in the future.
G. Boycott is the only member of this club to follow his 99 with a century. He scored 99 and 112 at Port of Spain in 1973 -74.
In 1972 - 73 at Karachi, during the 3rd Test between Pakistan and England, 3 batsmen Majid Khan, Mustaq Mohamed and Dennis Amiss were out for 99. A very rare occurence.
The full list of the 99 club members are given below.
England
1. H. Sutcliffe vs SA - 1927 - 28 Cape Town 2. E Paynter vs A - 1938 Lord's 3. N. W. D. Yardley vs SA - 1947 Nottingham 4. M. J. K. Smith vs SA - 1960 Lord's 5. M. J. K. Smith vs P - 1961-62 Lahore 6. E. R. Dexter vs A - 1962-63 Brisbane 7. D. L. Amiss vs P - 1972 -74 Karachi 8. G. Boycott vs WI - 1973-74 Port of Spain 9. G. Boycott vs A - 1979 -80 Perth 10. G. Gooch vs A - 1979-80 Melbourne 11. M. D. Moxon vs NZ - 1987-88 Auckland 12. M. A. Atherton vs A - 1993 Lord's 13. M. A. Atherton vs SA - 1994 Leeds 14. A. Tudor vs NZ - 1999 - Birmingham
Australia
1. C. - Hill vs E - 1901-02 Melbourne 2. C. G. Macartney vs E - 1912 Lord's 3. A. G. Chipperfield vs E - 1934 Nottingham 4. W. A. Brown vs I - 1947-48 Melbourne 5. K. R. Miller vs E - 1950-51 Adelaide 6. A. R. Morris vs SA - 1952-53 Melbourne 7. C. C. Mc Donald vs SA - 1957-58 Cape Town 8. R. M. Cowper vs E - 1965-66 Melbourne 9. I. M. Chappell vs I - 1969-70 Calcutta 10. R. Edward vs E - 1975 - Lord's 11. K. J. Hughes vs E - 1979-80 Perth 12. D. M. Jones vs NZ - 1989-90 Perth 13. M. Waugh vs E - 1993 Lord's 14. M. Slater vs NZ - 1993-94 Perth 15. S. Waugh vs E - 1994-95 Perth 16. G. Blewett vs WI - 1996-97 Adelaide 17. G. Blewett vs NZ - 1997-98 Hobart
South Africa
1. A. Faulkner vs E - 1909-10 Cape Town 2. B. Mitchell vs E - 1948-49 Port Elizabeth 3. T. L. Goddard vs E - 1960 Oval
West Indies
1. R. J. Christiani vs E - 1947-48 Bridgetown 2. A. F. Rae vs NZ - 1951-52 Auckland 3. R. B. Kanhai vs I - 1958-59 Madras 4. M. L. C. Foster vs I - 1970-71 Port of Spain 5. R. B. Richardson vs I - 1988-89 Port of Spain 6. R. B. Richardson vs A - 1990-91 Bridgetown
By M.L. Fernando
(Continued next week.)
---
Kingswood-Dharmaraja: No killer punch
By Aubrey Kuruppu
Will Kingswood's over four decade wait for a Big Match Victory be rewarded or will Dharmaraja's near 20 year quest for a win be realised? That is the question that cricketers, Old boys and supporters ask as this 94th encounter commences at the Asgiriya Stadium on March 24.
Barring something totally unexpected and sensational, that optimism will surely be out of place. Neither side looks capable of beating the other over two days of cricket. If anything, the Rajans look the better equipped team but that slight superiority will be difficult to translate into victory.
Dharmaraja has played 13 matches this season and obtained a first innings lead on eight occasions, while drawing all the games. Kingswood played 14 games, lost to the Josephians and drew the rest.
The Lake View school led by an allrounder who is presently at the peak of his powers, Asanka Marapana who bowls, bats and throws left handed has enjoyed a tremendous season, scoring three centuries and picking up more than 40 wickets.
He is a batsman who likes to play his shots. He bowls a useful leg-break and fields very well indeed. He is obviously the prime threat to the boys from Randles Hill.
Deputy Nuwan Ekanayake has also been quite successful, getting over five hundred runs and picking up around 25 wickets with his off-cutters. Haresh Ratnayake and Muditha Wijekoon, left handed and right handed respectively, form a sound opening pair. The former, in particular, has had a good run with the bat, making over 600 runs, with a hundred against Maliyadeva thrown in for good measure Kaduruwewa and Wickremaratne can also help swell the score. The Rajan batting is their lesser worry.
Dharmaraja has run up some impressive totals but has found that it is unable to dismiss the other side twice. Not only does the bowling lack penetration, the Rajan fielding (a recent "traditional" weakness) also has let them down. Wickremaratne and Jayasundera share the new ball. For spin they have Marapana and an assortment of off-spinners.
Playing second fiddle as it were to the Rajans is no new situation to the Kingswood lads. When it comes to the crunch they have a habit of digging deep into their reserves of talent and coming up with something special. Kingswood's batsmen sell their wickets dearly.
Fourth year player, Malith Mallawaarchchi leads Kingswood - A hard-hitting right hander and an off-spinner, he has another string to his bow, being a very good fielder. His top score is 81 against St. Benedicts.
Thushara Madanayake, last year's captain, carries a lot of responsibility. He is Kingswood's version of their rival skipper. A tidy off-spinner and a competent left hand bat, Madanayake's contributions will be eagerly looked forward to.
The Seneviratnes - Chamara and Vajira - are two other important performers. The former who is a technically correct player has good temperament. He also bowls right arm leg-breaks. Wattegedera, a left handed opening bat and seamer and Rameez (the sole century-maker) bolster the batting. Rameez likes to play his shots. The Kingswood bowling looks a little limited, seamer Mousoon, who is quite accurate, will have to be at his best, and he will be called upon to do a lot of bowling.
Dharmaraja has won on 31 occasions, Kingswood on 19 while 43 matches have ended in draws. Come the evening of the 25th and the likelihood is that the last statistic would have gone up by one.
Dharmaraja (from) Asanka Marapana (Capt) Nuwan Ekanayake, Chamila Kaduruwewa, Damith Ariyadasa, Haresh Ratnayake, Anuradha Jayasundara, Nirmal Wickremaratne, Muditha Wijekoon, Kanishka Weerasuriya, Sandun Wijeratne, Chintaka Weerasinghe, Amal Silva, W. Seneviratne, V. Liyanage, C. Thoradeniya, M. Herath.
Coach - Ananda Wijesekera.
Kingswood (from) Malith Mallawaarachchi (Capt), Vajira Seneviratne, Thushara Madanayake, Chamara Seneviratne, Milinda Wattegedera, Mohamed Rameez, R. Mousoon, Buddhika Ekanayake, R. Marasinghe, W. Hettiarachchi, B. Katudeniya, R. Liyanage, V. Dharmaratne, M. Karunatilleka, A. Bandara
Coach - Gamini Debehapuwa
---
DS and Bens are evenly balanced
By S.M.D.Sirisena
The sixth big match between D.S.Senanayaka and St. Benedict's will be played on March 25 and 26 at the Premadasa Stadium.
It will be difficult to predict the result of this game as both teams are evenly balanced and are unbeaten as well as all their matches have ended in draws.
Aggressive Malinda Gajanayaka is one of the finest batsmen in schools who has even captained the Sri Lanka Under 19 team for Youth World Cup. He has also toured South Africa (1998), India (1998), and England (1997). He missed several inter-school matches due to his commitments in the Youth World Cup this year. He is a sixth year coloursman and has scored over 500 runs with an unbeaten 114 against St. Joseph's. In the1998 big match he scored 120.
His deputy Nalin Pradeep toured England in 1996 with the Sri Lanka under 15 team. In the current season he has scored over 500 runs. V.B.Vinod who is the wicketkeeper has 30 victims. Kanchana Goonawardana and Nadeeka Wickramasingha, Taridu Liyanaarachchi, Udesh Tissera are the batsmen to look out for.
Opening the attack will be Pankaja Rajahetti and Taridu Perera. The other medium pacers in the side are Udesh Tissera and Ranjula Sumen .
Right arm off spinner Pubudu Liyanaarachchi, who has taken 49 wickets is the most successful bowler in the Borella camp. His best figures of 5 for 18 against Prince of Wales. (match haul of 9 for 52.) He also knocked a half century against St.Sebastian's. The other spinners to watch out are Milinda de Silva, Kanchana Goonawardana and Amila Dharmapriya. St. Benedict's are led by fifth-year-colourman Shahane Perera. Perera is a fine left arm spinner. His best figures are 6 for 48 against De Mazenod. His deputy is fourth year player Malka Fernando who is also a right arm off spinner. He has taken 28 wickets so far.
Opening batsman G.M.Teeban has scored over 750 runs and has 126 against Dharmapala. He is also the stumper of the side and has accounted for 38 victims. The other opening batsman is Asanka Wickramasekara. He sored an unbeaten 53 against Kingswood.
The Kotahena camp batting line-up is headed by Mohamed Ajmeer. Ajmeer scored over 750 runs including four half centuries. He scored 93 and 68 against St.Joseph's, he was the first Bens batsman to score twin half centuries against St. Joseph's. Suranga Fernando has also passed the 750 run mark and has scored an unbeaten 109 against St. Anne's. He also took 42 wickets. His best figurs are 4 for 18 against St Peter's. Allrounder Jeremy Saverimutupillai who bowls right arm leg spinners has also been among the wickets and has taken 38 wickets so far. Rushan Munasinghe is the other opening bowler of the side. He scored 85 against S.Thomas' and 70 against St.Sebastian's.
D.S.Senanayaka College: (from) Malintha Gajanayaka (Captain). Nalin Pradeep (Vice Captain), D.B.Vinod. Kanchana Goonawardana, Nadeeka Wickramasingha, Milinda de Silva, Udesh Tissera, Pasidu Liyanaarachchi, Pankaja Rajahetti, Taridu Perera, Amila Dharmapriya, Ranjula Sumin, Indunil Abeywickarama, Ishan Amarasingha, Sudira Zoysa, Dinosha Bandara. Coach : Mr.Louis.
St. Benedict's College: (from) Shahane Perera (Captain), Malka Fernando(Vice Captain) , G.M.Teeban. Asanka Wickramasekara, Susith Eranda, Suranga Fernando, Rushan Munasingha, Virosh Fernando, J.A,.Priyantha, Mohamed Ajmeer, Jeremy Saverimuthupillai, Mahes Perera, Shanon Rodrigo, Lahiru Jayampathy, Lasantha Perera, Ashok Ramachandran, Gishan de Silva. CoachUdayananda Perera.
---
A legend then, now & forever
By Annesley Ferreira
When Bud Greenspan took Jesse Owens to Berlin in 1962 to film the documentary "Jesse Owens returns to Berlin" Jesse insisted that Greenspan invite Kai Long, the son of the German long jump champion, Luz Long. He reports that Jesse befriended Luz during the 1936 Berlin Olympic Games where he was the hero of the games. Jesse's Berlin winnings of four gold medals - in the100 metres 10.3 or (jointly held the WR at 10.2), 200 metres 20.7 or, long jump 26-5 1/2 or and leading the 4 x 100 metres relay team 39.8 WR have long been etched in the Pantheon of track's milestones.
Jesse told Bud "I wouldn't have won the long jump if it wasn't for Luz Long - in the qualifying round we had three attempts to make it to the final, but I fouled twice. I was scared stiff that I would blow it on my third and last attempt to qualify and not make it to the final. Then Luz Long came over to me and in broken English said 'Jesse, let make a suggestion. I will place my towel a foot before the foul line and you can use that for your take-off. You should then qualify easily."
Jesse took this advice and since the qualifying distance was three feet less than the distance Jesse normally leaped, he easily qualified and went on to defeat the German champion and win the gold in a new Olympic Games record."
"It was so gracious of him," Jesse recalled solemnly to Greenspan. ':After my victory was secure, Luz was the first to congratulate me, and walked arm-in-arm right in front of Herr Hitler's box. Hitler must have gone crazy watching us embrace. I told Luz that we would meet again some day. But that never happened. I never saw him again, for Luz was killed in World War II. I never had a chance to really thank him for his great sportsmanship when I needed help. That's why I wanted you to invite his son, Kai to the filming. I wanted to let him know what a great man his father was."
There is a myth that Adolf Hitler snubbed Jesse after winning the 100 dash and refused to meet him, though Hitler had personally congratulated three earlier medal winners. Although Owens received tickertape parades in New York and Cleveland, his own president - Franklin D. Roosevelt snubbed him and did not invite him to the White House or send a congratulatory message.
Jesse was born James Cleveland Owens on September 12, 1913, in a small town of Oakville, Alabama, and was the tenth and last child of a sharecropper, Henry Owens and his wife Emma.
At the big 10 meet in Ann Arbor, Michigan, on May 25, 1935, was his most stunning day of records in the sport's history - steamrolling six world records in four events. Starting with the 100 yards dash in 9.4 (tied theWR) long jump 26.8l/4 (remained unbroken for more than 25 years), 220 yards (credit for the 200 metres) 20.3 and the 220 low hurdles 22.6 (credit for the 200 metres low hurdles-now a discontinued event).
The deluge of financial offers that flooded after his Berlin success, signing a few, led to the powerful president of United States Olympic Committee, Avery Brundage (who went on to head the Iternational Olympic Committee), suspended Owens for violating the Amateur Rules. In order to make a living, Owens resorted to racing against a horse in Cuba and moved through a wide range of jobs.
When the voting came for the Amateur Athletic Union's (of the United States) prestigious annual award for the nation's top amateur athlete many ignored Jesse's suspension and voted (1013 points) only to be edged by Decathlete Glenn Morris who totalled 1106 points. Cast in a role of a ''patriotic black athelete, the American public rediscovered Owens." In the 60s Jesse clashed with the new generation of more outspoken militant blacks that led to representing the USOC in dealing with black athletes soon after 1968 Mexico City Olympics.
"By the mid-60s, a 30-year smoking habit had chased him down. He was diagnosed with lung cancer in late '79 and died on March 13, 1980 at the age of 66 in Tuscon, Arizona. Cordon Nelson wrote in his book 'Track's Greatest Champions' ' he accomplished more in two years than any other athelete . . . or in one week . . . or in one hour."
Courtesy Olympian, Track & Field News. In association with C. Vijitha Fernando, DWSF
---
Radella Hill Climb on April 10
The annual Radella Hill Climb will be held on April 10 where a good number of racing cars and bikes will be seen in action.
The Sri Lanka Association of Racing Drivers And Riders (SLARDAR) the organising body will be compelled to limit the number of competitors on a first come first serve basis as more entries are expected.
Entries are already open and will close on March 27 at the SLARDAR Office at 128, Third Floor, High Level Road, Nugegoda.
Past Captains
Cricket Captains of yesteryear were honoured at the Royal-Thomian 121st 'Battle of the Blues', at SSC Grounds. They were accorded a parade of honour where 57 Captains participated. On the vehicle are Channa Gunasekara, Vernon Prins, Ryle de Soysa and Gamini Salgado. Thomian skipper of 1923, Arty Lankatilleke is presented with a pennant by the Chairman of the Organising Committee Dias Jayasinghe. Pix by - Dunstan Wickremaratne
American Jessie Owens shattered Hitler's Aryan ideals by taking the 100 metres, 200 metres and long jump, and leading the US 4000- metres relay team to victory before a partisan Nazi crowd in Berlin