Malagamuwa is king of the track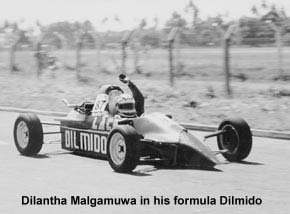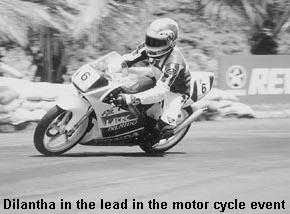 Dilantha Malagamuwa won six events to create a record at the first ever Caltex Ruhunu Millennium Run 2000 organised by the Ruhunu Motor Sports Club in conjunction with the Upcountry Motor Sports Club and the Motor Racing Association and worked off at the Free Trade Zone Circuit at Koggala last Sunday.
It was really a remarkable performance by Dilantha Malagamuwa who flew down from Japan to win three motor cycle events two modified car events and the Formula event.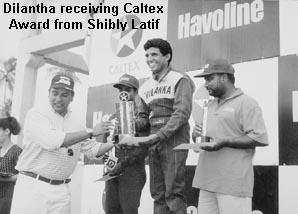 Organisers said Malagamuwa's feat would go down in the annals of motor racing in Sri Lanka as a unique achievement. Malagamuwa's best effort was put in for modified cars over 1665 cc when he got the better of the promising track star Arvinda Premadasa before the latter lost control of his vehicle and went off the course. He had to pull out of the race. Both drivers were behind the wheel of a Subaru Imprezza.
The six events won by Malagamuwa all received top billing and classed as the best in their categories.
---
Kaushalya stars in Trinity-Antonian
The 84th Trinity-Antonian 'big' match at Katugastota petered out into a tame affair.
Much interest was centred on the performance of Kaushalya Weeraratne who struck a dominating 68 with a couple of sixes thrown in for good measure. He also had a match-bag 7 for 90.
Trinity battedwith determination to reach 200 for 9 at which point the closure was applied. The Antonians batted with a bit more freedom in their second knock and paid the price, sliding to 119 for 8 at the close.
Skipper Nizam Muthukudu and Basnayake helped to swell the score with some useful 20s.
Trinity off spinner Selvakumar cashed in on the situation to grab four for 34 for match figures of 7 for 127. The late start on day one prevented a result, but in truth neither side was positive enough.
St. Anthony's - 235 for 7 (Samson Burke 82, Tyrone de Silva 49; K. Weeraratne 4 for 50, S. Selvakumar 3 for 93) and 119 for 8 (N. Nizam 24, S. Basnayake 26 n.o, S. Muthukuda 29; K. Weeraratne 3 for 40, S. Selvakumar 4 for 34)
Trinity - 35 for 1 overnight contd - 200 for 9 dec. (S. Chandran 22, M. Rajaratne12, K. Navaratne 68, D. Rodrigo 28, M. Zaman 18 n.o; Lahiru Fonseka 4 for 27, NafeezNizam 3 for 43, P. Ranawaka 2 for 34) - Aubrey Kuruppu.
By S.M.D. Sirisena.
The Battle of the Golds 'big' match between Prince of Wales, and St.Sebastians College in the Golden Jubilee encounter ended in a tame draw at the De Soyza Stadium Moratuwa yesterday.
The Cambrians resuming at their overnight 40 for 2, declared at 166 for 7 with skipper Pubudu Ranaweera leading the way, with a fine 85.
Batting a second time Sebs were placed at 120 for 8 at close.
Pubudu Ranaweera was picked as the Man Of The Match while Yohan Gunasekera was chosen as the best batsman.
St.Sebastian's - 162 & 120/8 at close.(S. Perera 16, L Fernando 31, M Fernando 25, Pubudu Ranaweera 4/32)
Prince of Wales - 166/7 wkts dec. (Pubudu Ranaweera 51,Janaka Gunarathne 43,S Wijerathne 25; L. Fernando 2/28)
---
In Brief
Antonian Walk
Soon after 84th annual cricket encounter between Trinity College, Kandy and St. Anthony's College, Katugastota, St. Anthony's College will parade on Kandy roads to inaugurate 5 year period of preparation for the 150th anniversary of the college in 2004.
The Antonian Walk will take place on 12th March 2000 from Mahaiyawa grounds to the college. The old boys, parents and students are expected to attend this function with banners, proclaiming college history and peace slogans. Two primary school bands will be on attendance.
The millennium walk will be concluded with a cultural show at the college hall. This cultural show is arranged by the Sinhala Cultural Society, Tamil Cultural Society, Eastern and Western Music Societies, Karnatic music and Eastern dancing group and the English literary circle of St. Anthony's College. We have invited Mr. Rukantha Gunathilaka, Mr. Chandana Sooriyabandara and Mr. Stanley Pieris, old boys of the college to grace this occasion to honour their alma mater.
Otter Tennis on March 17
The Otter Aquatic Club 54th open ranking tennis championships sponsored by Master Divers and co-sponsored by Union Assurance will be held at its club courts from March 17 to 26.
This year two more junior events will be held increasing it to nine. Some of the matches will be played under floodlights.
The events to be held are, men's singles and doubles, women's singles and mixed doubles, boys and girls under 12 and singles and veterans over 55 doubles.
Entries will close on Wednesday March 15, with the draw taking place the same day in the presence of Referee E. Pararajasingham. Rohan de Silva won the men's singles last year with Anuskha Rajiah winning the women's singles last year and Jayendra Wijeyesekera and Renouk Wijemanne winning the men's doubles. Cash prizes will be awarded to the winners in the open events.
Indian women to play six games
A strong team of Indian women cricketers will arrive in Sri Lanka next week to play six limited over matches against major constituent clubs of the Women's Cricket Association of Sri Lanka beginning March 25.
The Indian team will comprise four Test players who will play for the Indians in the Women's World Cup in New Zealand this year.
The President of the Women's Cricket Association of Sri Lanka, Mrs. Gwen Herat said, "We have made avail the opportunity for clubs to flex their individual muscles when they take on a foreign team at club level. This will give the WCASL the opportunity to get a clearer picture of our girls."
The tour schedule is as follows: March 27 - India XI vs Slimline SC at the SSC grounds; March 29 - Colts CC vs India XI at the Colts Grounds, Havelock Park; March 30 - India XI vs Colombo Young Women's XI at the Shalika Grounds, Narahenpita; April 1 - India XI vs Colts at the Colts Grounds, Havelock Park; April 2 - India XI vs Slimline SC at the Colts Grounds, Havelock Park; April 4 - India XI vs Puttalam District XI at the Sir Albert Peiris Stadium, Wennappuwa.
---
Dias and Perera take McBrides Trophy
Partially reliable reports have it that Michael Dias and K.K.U. Perera combined superbly, physically and financially to throw a massive party to celebrate their all conquering victory in the McBrides foursomes concluded just recently.
In their matches they started with good fortune when the piping hot favourites Chutti Munsoor and Ron Bake Iman gave them a walk over and smiling all the way the two of them smashed their way through Ajanta Mylvaganam and 'Joe boy' Perera 5/4.
Dias and Perera expected tough competition from Alain Gyi and Chula Amerasinghe but Dias with some exceptional strokes at vital stages managed to hold Gyi and Amerasinghe and tame them for a while and eventually settle for a 3 and 2 victory.
Gyi a great loser entertained the quartet at the posh Flower Drum Restaurant which belongs to his father.
Shiran de Soysa and Fritzroy Gunasekera were the next victims beaten 2 and 1 by a much improved performance by Doc Perera who was excellent off the tees. In this game Dias was astonishingly good on the greens. Dias and Perera were so enthralled with this victory that they were seen congratulating each other dozen of times that evening over Scotland's best.
Old Waltz swing
The next match was worthy of a final when the young much fancied duo Laksiri Dias and Jehan de Saram teed off against the Perera and Dias combination who had shown much promise throughout the tournament winning 4 matches in style against convincing opponents. Perera was aggressive and his 'old waltz' swing was almost free of error while Dias the elegant left hander was quite unruffled playing bold shots and his ball responding with obedience.
Young duo beaten
De Mel and De Saram both young stars in their charity gave the older pair a fair slice of strokes which they grabbed miserly. De Mel was reckless and when they went 1 up De Saram became extravagant.
They smelt victory even before the first tee and there was no one to disagree as they went piling smashing shots to shatter the old couple.
Eventually the slow and steady pair crawled through to get all square on the 18th. The 19th was nerve shattering and while Dias and Perera settled for measured slow and conservative shots the young duo paid the price for being flamboyant to go one down and present the McBrides Trophy to Michael Dias and K.K.U. Perera who both got silly entertaining each other in a great spirit of victory and mutual admiration.
---
Antonians stun Kurunegala
By Jatila Karawita
Anthonians SC with a superb all round team effort stunned much fancied Kurunegela YCC by 3 runs in their Premier League Limited over match at Welegedera Stadium yesterday.
The home side chasing a moderate score of 117 to win, were shot out for 114 in 38.4 overs with the Anthonians SC four pronged attack of C Samarasinghe (2/20),C. Silva (2/11), M. Alwis (2/12), and S.K. Silva (2/11) doing the damage respectively.
Earlier P. Siriwardene( 43), and S. K. Silva (22) were the notable scorers as Anthonians mustered 117 runs in their innings,with former Sri Lanka off spinner Ranjith Madurasinghe claiming excellent figures of 6 for 29.
But Madurasinghe's fine performance with the ball was all in vain, as the visitors came from behind to pip the Rock Capital team to the post in fine style.
Anthonians SC - 117 all out in 39.2 overs.(P Siriwardene 43, S K Silva 22, Ranjith Madurasinghe 6/29,Ruwan
Kariyawasam 2/11)
Kurunegela YCC - 114 all out in 38.4 overs.(Ruwan Kariyawasam 31, Ranjith Madurasinghe 22, C Samarasinghe 2/20, C Silva 2/11, M Alwis 2/12, S K Silva 2/11).
Panadura upset NCC
Panadura SC surprised favourites NCC, when they beat them by 34 runs in their Premier League limited over game at NCC grounds yesterday.
Chasing Panadura SC 199 to win, NCC were skittled out for 165 in 46.4 overs, with Susantha Pradeep ( 3/35), and Indika Amithakeerthi ( 3/40), being the two match winners for the visitors.
For the home side Nuwan Kalpage top scored with 57 while Pradeep Hewage made 50.
Chanaka Perera with a solid knock of 47 held Panadura SC batting together while Amila Perera chipped in with a useful 36.
Panadura SC - 199 all out in 49.3 overs. (Indika Amithakeerthi 19,Charitha Buddhika 23,Chamara Silva 16, Amila Perera 36, Chanaka Perera 47; Rumesh Rathnayake 2/33, Malinga Bandara 3/43)
NCC - 165 all out in 46.4 overs. (Pradeep Hewage 50, Nuwan Kalpage 57, Rumesh Rathnayake 15; Charitha Buddhika 2/34, Susantha Pradeep 3/35, Indika Amithakeerthi 3/40)
Galle triumph
Galle CC registered an exciting 4 wicket win over BRC in another turn up for the books, in their Premier League limited over match at BRC grounds yesterday.
Chasing 147 to win the visitors romped home at 149 for 6 in 48 overs with in form batsman Pasan Wanasinghe leading their run chase cracking 45,while D Sudarshana made 26.
Manoj Mendis with 61 top scored for the BRC and Viraj Perera with figures of 4/27 bowled best for Galle CC.
BRC - 147 all out in 47.5 overs. (Manoj Mendis 61, Sajeewa De Silva 11 n.o.,Viraj Perera 4/27,Pasan Wanasinghe 2/31,Gamini Perera 2/17)
Galle CC - 149/6 in 48 overs. (Dhammika Sudarshana 26,Pasan Wanasinghe 45, Saman Fonseka 22, Duminda Wickramasinghe 17 n.o; Malinda Warnapura 3/33)
Colts trounce CCC
Premier League Inter-Club champions Colts CC trounced CCC by 84 runs in a Premier League limited over encounter at Havelock Park yesterday.
A terrific opening stand of 221 between Dulip amaraweera (106),and Chaminda Mendis (119), steered Colts CC to a match winning total of 295 for 2 in their 50 overs.
They then restricted CCC to 211 for 9 in their 50 overs thanks to some spirited out-cricket by the home side.
For the visitors H Botheju top scored with 43.
Colts CC - 295/2 wkts in 50 overs. (Dulip Samaraweera 106, Chaminda Mendis 119, Sajith Fernando 38)
CCC - 211/9 wkts in 50 overs.
(M.Van Dort 42, Anushka Polonnowita 18, Hemantha Botheju 43,
Romesh Fernando 15, C Liyanage 16 n.o., Eric Upashantha 2/27,
Sajith Fernando 2/24).
Moors rout Bloomfield
Moors SC routed Bloomfield by 9 wickets in a one-sided Premier League limited over match at Reid Avenue yesterday.
Chasing 81 to win the Braybrooke Place club cruised to their target in only 15.5 overs making 83 for 1 with Ashan Ranaweera scoring an unbeaten 34.
Bloomfield - 81 all out in 41.5 overs. (Pubudu Dassanayake 12, Sanjaya Rodrigo 12, Sajika Abeynayake 10, Shanuka Disanayake 10, K Jayasiri 3/9, Rasika Priyadarshana 2/10)
Moors SC -83/1 in 15.5 overs. (Ashan Ranaweera 34 n.o.,D Vitharana 29 n.o., Heshan Thilakarathne 19)
Easy for Sebastianites
Sebastianites crushed Matara SC by 132 runs in another lop-sided Premier League limited over match at St.Sebastian's College grounds Moratuwa yesterday.
Sebs defending a score of 214, bowled out Matara SC for 82 with medium Pacer Sudeep Pradeep being the wrecker with figures of 3 for 14.
Earlier 100 run ninth wicket stand between Nalin Wijesinghe (79), and Dinusha Fernando (42), enabled the hosts to put-up a competitive score on the board, having been precariously placed at 80 for 8 at one stage.
Sebastianites - 214 all out in 49.1 overs. (Prasanna Jayawardene 16, Sajeewa De Silva 21 n.o., Nalin Wijesinghe 79, Dinusha Fernando 42, C palliyage 2/19,V Chinthaka 3/32,S M Ramzan 3/39)
Matara SC - 82 all out in 33.2 overs.(N. Tharanga 16, S. M. Ramzan 13, Dinusha Fernando 2/9,Sajeewa De Silva 2/17,Sudeep Perera 3/14,Nissanka Silva 2/23)
Police on top
Police SC downed Singha SC by 4 wickets in another Premier League limited over fixture at Police Park yesterday.
Chasing a paltry Singha SC score of 99 to win, the law enforcement officers cantered home at 100 for 6 in 37 .5 overs with A Priyantha making 25.
Singha SC - 99 all out in 39.4 overs. (N Sampath 26, C Sanjeewa 16, M Kumara 15,D Gunawardene 3/19, S Wijerathne 3/14, V Ranaweera 2/20, A Priyantha 2/12)
Police SC -100/6 wkts in 37.5 overs.(A. Priyantha 25, D Gunawardene 23 n.o, L Jayakody 10, Ravindra Wimalasiri 11; N R C K Guruge 2/27)
---
Bowlers dominate Australia - NZ Test
New Zealand spin bowler Daniel Vettori took his fourth five-wicket haul in Test cricket to help dismiss Australia for 214 on the first day of the first test in Auckland on Saturday.
But in reply, New Zealand were struggling at 26 for four at the close of play.
New Zealand got the start they wanted when opening batsman Michael Slater was bowled by Chris Cairns for five, leaving a ball which clipped the off stump bail with the score at 10.
Justin Langer scored a rapid 46 off 47 balls before he was stumped by Parore off the bowling of Wiseman.
Blewett, Steve Waugh and Damien Martyn were all dismissed for 17, Waugh to fine diving catch by Craig Spearman in the slips off Vettori's bowling.
Mark Waugh top-scored for Australia with 72 not out, but ran out of partners when McGrath became Vettori's fifth victim and last man out for eight.
Waugh hit six fours and one six in his innings, knocking up his 38th test half-century in the process.
Vettori took five for 62 with his left-arm orthodox spin and off-spinner Paul Wiseman chipped in with three for 49 in overcast conditions on a wicket taking turn and moving off the seam.
New Zealand's innings got off to an inauspicious start when Glenn McGrath took the wicket of opener Matt Horne, caught by Greg Blewett for three.
Shane Warne, coming in at first change, showed his danger immediately, having Mathew Sinclair lbw for eight off his second delivery.
Scores: Australia 214 (S.Waugh 72 not out; Vettori 5-62), New Zealand 26-4 (Spearman 12; Lee 2-0).
---
Richmond hold Wesley
By Leonard Ratnayake
An unbeaten 34 runs by Manoj Chaturanga brought Richmond College enabled them to hold Wesley to a draw in their inter-school encounter at Campbell Park last evening.
Set to make 155 runs in 21 overs to win, the visitors were in trouble in the 12th over having lost six wickets for 43 runs. Chaturanga who hit six boundaries in his unbeaten 34 runs batted with Omesh Wijesiriwardena who was on seven, to see their team last the remaining nine overs without losing wickets.
Wesley College - 177 all out in 68 overs (D. Medegedera 52, F. Maharoof 41, P.Chandrasekera 15 not out; M. Faizer 14/3, T. Wickramasuriya 43/3, M. Chaturanga 25/2, O. Wijesiriwardena 32/2) and 161 for 5 dec (R. Wijetunga 74, D. Medagedera 18; O. Sumathipala 4 for 55)
Richmond College - 184/4 decl. in 55.4 overs (Dilan Bahar 42, O. Wijesiriwardena 38, T. Wickramasuriya 22, Weerawarna Saraj 20.
C. Sumathipala 18/3, R. Kanakasaby 19/2, P. Chandrasekera 69/2) and 71 for 6 at close (M. Chaturanga 34, W. Saraj 34; Subian Faizer 3 for 24, F. Maharoof 2 for 9)
---
Talduwa Rally Cross on specially designed track
The Motor Racing Association has earned itself a name for staging motor sports events with a challenge to the competitors and to bring out the best in talent, skill and endurance.
Yet again they have got together with the Lions Club of Avisawella to stage the Talduwa Rally Cross 2000 around the picturesque KV Club of Talduwa, formerly a horse racing track and Rugby grounds.
The track designed by Bri Ponnambalam, Ravi Iddamalgoda and Richard de Soysa consists of three different terrain tarmac (carpeted), gravel and grass.
This unique combination will be a challenge and test of nerves for the drivers being a 2.2 km. track.
This track by far will be the most fascinating in design, concept and actual performance and will, from a spectator's point, as well be the best off road track in Sri Lanka.
Easily the widest race track with most parts of the being 40 ft wide which will allow drivers the comfort of maximum safety as well as an opportunity to come out with a spectacular display of driving.
Skilled supercross drivers in the calibre of Pradeep Jayewar-dena, Dilantha Malagamuwa who created history in Koggala by wining all six events, Aravinda Premadasa, Romani De Silva, Dinesh Deheragoda, Shanaka Ambrose and evergreen Rohan De Silva are blued to baptise the newly designed race track.
Elaborate arrangements are being made and over 100,000 spectators are expected at the rally.
MRA in its quest to further motor sports events in Sri Lanka has organized this Rally Cross to provide maximum pleasure to the competitor and a breathtaking spectacle for motor sports enthusiasts.
---
Rover pinpoints.........
What a turn around?
A leading official who was critical of a person holding high office and who even went to the extent of lodging a complaint of assault to the police, has taken a complete turn-around.
He is now demanding that the Committee looking after these affairs has treated him shabbily and not made payment accordingly. At what price one can only guess.
What a relief
It was a relief to have a change of commentators on the ongoing cricket series between Sri Lanka and Pakistan especially in the second Test where ball-by-ball commentaries are beng given by a popular Radio Station.
The words describing the run of play was horrible to say the least and some say that he did not know how to explain himself. What a mess!
Written off?
Amounts totalling Rs. 82,500.00 and Rs. 23,553.85 have been written off in a balance statement of a popular sport in 1993 and 1994. These amounts were under the names of two employed by the Sports Ministry.
One of them is to contest the post of president of his sport, where time will tell the outcome as he does not know English!
The other who was to contest him, is better qualified, has been told to come as a vice president with the assurance that he will be nominated to hold office in the Asian Body.
No support
The fixtures of the ongoing Inter Club Division I knock-out tournament, was released to The Sunday Times and Midweek Mirror, half way through the tournament, that too after several reminders. Not done, as it is they who want publicity not us.
Coach saved?
In other countries the coach whose pupil is caught whilst taking drugs who has been taken to task and suspended, but in Sri Lanka it is the other way about. This is the case on the Susanthika Jayasinghe issue. What double standards!
Stumped?
The Cricket Board umpires have on a circular been instructed to send their bio-data every year with paper cuttings attached. Who is to blame for this mess, why bio-data every year? Crazy or what!
Where is the Head?
Much publicity was given to the presentation of mementos from the National Olympic Committee to their heads of state of member countries.
Why was the President of the NOC Hemasiri Fernando absent on this occasion while unwanted persons were present.
How is this promotion?
Basketball National Champions Mercantile BA had to spend the full day sitting in the railway track when they had to go to Kalutara to play against Puttalam BA in the preliminary round match. Mercantile BA arrived at Kalutara in the morning to play the match but the organisers SLBF failed to inform Puttalam BA in time to be present at the venue in the morning. Puttalam BA ultimately arrived at the venue in the evening. Who takes responsibility for this promotion?
SL Air Force has lodged a written protest to SLBF against the step-motherly treatment given to them by the Organising Committee of the 1999 Nationals. This is understood to be for arranging matches for morning and evening for SL Air Force teams while other teams were given matches only in the evenings. Is this Promotion.?
SL Air Force has lodged a written protest to SLBF against appointing un-qualified referees to officiate in the matches played by them, while there are FIBA qualified referees without matches to officiate. How is this Promotion?
SLBF-AGM
Rover is informed by reliable sources that interested persons in the SLBF are trying to elect the President and Secretary who are not qualified and/or eligible to hold office in terms of the sports law. Why not elect people who have represented the country and done yeomen service for Basketball to the post of President and Secretary? Will the Minister of Sports turn a blind eye for this type of violation of the Sports Law?
Why is the Vice President responsible for the present crises and the low standard of the game trying to become the Assistant Secretary of the SLBF? Is it because he can meddle more easily with monies of the federation and earn for this living? Will the Ministry of Sports Officials get themselves elected this year too in order to go for the NOC? What promotion have they done for Basketball?
Deadly game
Youth cricket coach Carlton Bernadus is once again at the receiving end of a deadly game of neck-cutting, Rover Iearns. A highly qualified coach, he was set to go with the team for the Youth World Cup in South Africa two years ago, but was chopped at the last minute to accommodate somebody's man. He was then put in charge of coaching the youth side for the last World Cup in Sri Lanka in January this year. But when the tournament drew near he was demoted and made the assistant to D.S. de Silva. Now with a youth tour of England scheduled for June this year, somebody wants to knock Bernadus out again. Enough is enough. It's time the guardians of the game take stock of the plight of Bernadus who along with De Silva guided the Sri Lanka youth side to the final of the 2000 Youth World Cup. Why separate the pair.