Her achievements, her grievances
Professionals, farmers, actresses and housewives gather at Temple Trees to celebrate International Women's Day
By Kumudini Hettiarachchi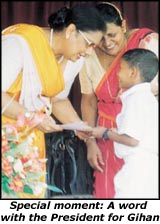 A pat on the head and a few questions, and that little chap from Eheliyagoda was the most privileged male among those scattered around, with a few even on the dais looking on somewhat sheepishly. Apart from that it was the women who took centrestage last Wednesday.
Women, women and more women, young, middle-aged and old..........they had come from far and near, from remote border villages and Colombo 7, professionals and actresses, office workers, service personnel and humble housewives to celebrate International Women's Day in the garden at Temple Trees. There were more than a thousand, some still grieving over the 'disappearance' of their loved ones during the 1988-89 period and looking for succour and justice and others with varied problems, which they hoped the 'First Lady' of the land could redress.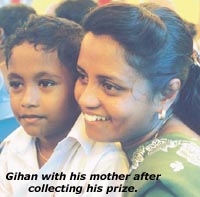 But for Gihan Maduranga Wickrematileke, 8, it was a moment of glory among all the women. His poster on the theme, 'Women are the lifeline of the nation', depicting a woman, a savings till, a mammoty and a sheaf of paddy, indicating that money would flow out of the till, until women were fully integrated into the development scheme of Sri Lanka, had won a prize, in addition to which he also got that special smile from President Chandrika Kumaratunga, a pat on the head and a few questions about where he attended school. He was too shy to tell us what else she asked him, when we spoke to him, seated on his mother's lap. He would however, talk about it when he goes back to the Eheliyagoda Primary School and hopefully when he grows to be a young man treat the womenfolk as equals.
A little while later, still clutching his certificate and prize he was fast asleep, for he and his parents had left home at the crack of dawn to participate in these celebrations.
While the speeches dealt with what Sri Lankan women had achieved and should strive to achieve, the occasion was a good opportunity for I.D. Ariyawathie of Unagalpalatha in Karandeniya, a winner in a home-garden competition, to present a grievance to the Head of State.
Ariyawathie, a mother of two daughters who grows vegetables in her home garden, faces the most basic of problems of rural women in Sri Lanka . Water. As her husband is ill, she has to carry all the water required for irrigating her plot from the well at the bottom of the garden.
She can't ask her two schoolgoing girls, who are 13 and seven, to draw water and lug the heavy buckets. So she does it herself, but it's backbreaking. Her hopes lie with the President along with her 'petition' and photographs of the vegetable crop, which she handed over to her when accepting her prize. 'Janadi-pathi thumiya pintura diha hondata baluwa,' (The President looked at the pictures closely), Ariyawathie smiles proudly.
It was a different kind of satisfaction for Gamage Sita Kumari from Borella. Hereafter she will not have to pay Rs. 200 to the person from whom she had hired the three-wheeler which helped her earn her rice and curry.
Now she owns a trishaw and only has to settle a small loan every month, under an assistance scheme drawn up by the Ministry of Women's Affairs and David Pieris and C o. Ltd.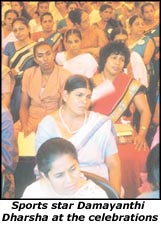 Thrilled about the strange coincidence which led to this happy day, she said that one day she had the ministry's secretary as a passenger. When she explained her plight he promised to do something about it and now she has her own trishaw.
She has a word of advice for Sri Lankan women, 'Work with the men, for then only can we gain equality.' Kumari who plies her trishaw near D.S. Senanayake Vidyalaya says she has had no problems with the men, in fact they've 'been very helpful'.
The afternoon wore on with dances, songs, awards of excellence, prizes for various competitions and also apologies from the President for her inability to accommodate her 'guests' in Temple Trees and explanations why she could not attend the celebrations outside as done before 'due to security reasons'.
As the women became restless about 'getting late to go home', the celebrations climaxed with applause, humming and toe-tapping to the popular song 'Rajina mamai ape rajye' (I'm the queen of our land). Then came the special announcement from the President that seeing the difficulty women faced when coming to Colombo from remote areas, she would set apart some monies from the President's Fund to set up a women's hostel.