---
Sri Lankan girl stars in U.K's Millennium Dome celebrations
Behold herů
By Neville De Silva, in London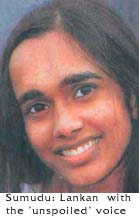 The millions of viewers worldwide who watched Britain ring down the curtain on the old millennium and welcome the new as Big Ben struck midnight, could not have missed the slim, dark haired, casually dressed girl who was one of two soloists to sing John Tavener's "A New Beginning". The song which made its world premiere that night of nights, was the piece de resistance of the musical side of an extravaganza, the like of which Britain had never seen before.
Sri Lankans, wherever they were, would have felt a huge tug at their heartstrings, for this soloist who made centre stage singing before the Queen, the prime minister and England's glitterati-not to mention some 60 million viewers around the globe- was 20-year-old Sumudu Jayatilaka.
She was selected from among several hundreds of singers in Britain to symbolise in song the spirit of the new millennium. Doubtless there were other touching moments during the BBC's 27-hour live programme "2000 Today" which tracked the dawn from the South Pacific to the South Pole and brought to the world, history-making events this century. The simple but dignified figure of Nelson Mandela handing over power to his chosen successor, added a touch of common humanity to a heroic and larger than life personality.
But to thousands of Sri Lankans even this peaceful transfer of power by one of the towering political figures of the 20th century would have paled in significance emotionally, at the recognition that a fellow national was the cynosure of millions on a momentous occasion celebrating a landmark in the history of man.
The analogy with Mandela is not without point. For all his years of tragic suffering if Nelson Mandela represented a personality that was pure, simple and visionary, then Sumudu Jayatilaka's rendition of John Tavener's choral work had the unsophisticated freshness and simplicity that indeed suggested a new beginning as Mandela was for South Africa.
But to think that she might have missed what was surely the performance of her lifetime might have made others withdraw into mood of hateful recrimination.
But this 20-year-old medical student seems to take it in her stride. When I spoke to her a couple of days after the performance on her return from Sheffield University to her parent's home in Scunthorpe, she dismissed what might have been a missed opportunity, laughingly.
Sumudu is a rounded musi cian and would have been one professionally had she not been persuaded to follow in the parental path. Her father Haritha Jayatilaka is a paediatrician and her mother a psychiatrist. Both work at the Scunthorpe General Hospital in the north of England. Her elder sister Nadi is a fourth year medical student also at Sheffield University.
But Sumudu seems to know how to divide her time between studies and music. When she has free time such as the university vacations, she is the vocalist with the National Youth Jazz Orchestra. She is not only a singer but plays several instruments including the piano, flute and violin and has acted locally in several well known musicals such as the "Sound of Music". Scant wonder then that for a couple of years she carried away the title of the most promising musician in Scunthorpe.
But her crowning moment to sing at the Dome ushering in the next thousand years almost slipped out of her grasp. Sumudu had been recommended to Paul Daniel, music director of the English National Opera and joint music director with Jools Holland of the Dome opening celebration.
She was asked to come to Leeds for an auditioning. But her car had been broken into the previous day. "I telephoned them and said I could not make it because of what had happened. So I didn't go."
Some days later the music director had contacted her. Though he had auditioned many, apparently he still had not found anyone whom he liked. Hence the summons to Sumudu to come to London for an audition. She was given one and immediately selected.
"I didn't believe it at the start. But when he did contact me again, I was certain," she laughs with a tinkle in her voice.
The other soloist was a 13-year-old boy David Wigram who has been a member of his church choir in St. Albans since he was six and has sung as a soloist with the Royal Philharmonic Orchestra and in opera.
"Their voices are absolutely simple and uncomplicated, naive in the best sense of the word. Both have the unspoiled voice of a child which can carry a message of hope," Paul Daniel was quoted by The Daily Telegraph as saying before the celebrations.
Sumudu's father Dr. Haritha Jayatilaka is naturally proud of his daughter's musical prowess over the years. His youngest daughter Samantha appears to be taking after her sister.
What is not generally known is that 16-year old Samantha, head girl in her school, also sang at the millennium celebrations and was seen on television. She is a member of the Scunthorpe Co-operative Junior Choir, one of the groups selected to provide singers for the 400-strong choir backing the two soloists rendering John Tavener's composition.
Dr. Jayatilaka says that Sumudu's voice was never trained because music teachers said she had a natural voice. His wife Damayanthi and he have encouraged the development of their musical talents and the fact that two of the girls were selected to sing in the millennium celebrations at the Dome is proof enough.
The son of Mr. and Mrs. D.N. Jayatilaka of Waragoda, Kelaniya, Haritha came to Britain in 1977. Daughter Sumudu was born in March 1979 in Barnsley, Yorkshire. His wife Damayanthi Jayasekera, the daughter of the late Mr. and Mrs. J.S Jayasekera of Wijaya Niwasa, Peradeniya did her degree at the picturesque University at Peradeniya.
Both were invited to see and hear their two daughters perform. Naturally, as any parent would be, they were excited at being able to be at the celebrations.
It speaks for the quality of Sumudu's voice that she gave such an electrifying performance after just one singing rehearsal with the other soloist.
Did she feel nervous walking down to the centre of the stage at that critical moment?
"Not really," says Sumudu. They had rehearsed that a few times. "Anyway I was not nervous because walking down to the centre past so many others makes it easier."
In any case she has been on stage many times before, though certainly not in front of such an audience.
In the next few days she will be leaving to sing at a jazz festival in New Orleans. She is an aficionado of traditional jazz and so is going to the place where it all began. Her favourite is Louis "Satchmo" Armstrong. I'm not surprised. When I told her that one of Armstrong's trombonists and I had got acquainted nearly 30 years ago in Honolulu, she was as excited as a child. Wanted to know who he was and whether I had met the great man Louis himself.
Among her other favourites are Ella Fitzgerald and "old blue eyes", Frankie-boy Sinatra.Of the better known in more recent times it is Stevie Wonder, virtually her musical god and guru. "Have you met him," she asks.
Not personally, I said, but I've watched one of the recordings at Motown recording company in Detroit owned by Sam Gardy and his sister. She goes ga-ga again. Even over the telephone, her unpretentious enthusiasm is unmistakable.