The teams to watch
The bookies have already begun handing out odds which in a way heralds the start of the World Cup. Australia and South Africa are already the favourites. But then the bookies have been proved wrong in many a previous tournament....
With the odds already out, World Cup 1999 is going to be a punter's delight. According to William Hill and Ladbroke, two of the leading bookies in the world, the ultimate winner could either be Australia or South Africa. However, a majority of the bookies have put the Australians as the hot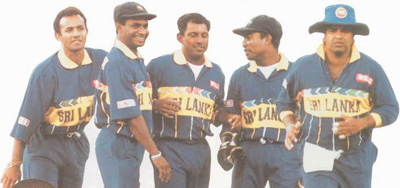 favourites.
They are serving odds of 3/1 for an Australia win. Which should come as no surprise to anyone as, in the last couple of years, they have shown their true worth by winning one-day internationals against all the teams in the world. The only time they were defeated in the last two years was by India both in India and in Sharjah in 1998.
Unlike India and Sharjah, the World Cup is going to be a different ball game altogether for the Australians. For one, the pitches in England are very different from the pitches in the sub-continent. And secondly, the Aussies led by a strategist like Steve Waugh would surely give their very best in such a pivotal championship.
The Australians have reached the finals thrice and annexed the World Cup in 1987. They have won 22 of the total 37 matches they have played in the tournament.
But it is not going to be a cakewalk. The Australians are beset with problems. For one, they are an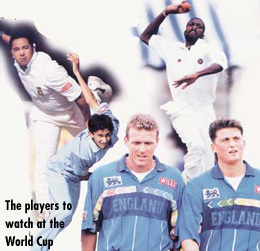 ageing team and a majority of their members are in their mid-thirties which puts them in danger of injuries.
Though on paper their batting is one of the strongest in the world, in reality it sometimes doesn't prove very reliable. Adam Gilchrist the opening left-handed batsman and wicket keeper who replaced Ian Healy, still looks like a man who needs more experience. Mark Waugh can be the downfall of any opposing team. The problem is if his batting fails even once, it takes him a long time to get his nerves back in place.
But apart from these two, Australia have a lot to fall back upon in the batting department specially upon Ricky Ponting and Michael Bevan. Besides this there are fine all-rounders like Darren Lehmann, Tom Moody and their redoubtable skipper Steve Waugh who can chip in splendidly with the bat and ball.
The bowling spearheads, Glenn McGrath and Damien Fleming are in fine nick and so is off spinner Gavin Robertson and the world's greatest contemporary leg spinner, Shane Warne.
If their batting, bowling and fielding comes up trumps, the Australians are the most likely champions who'll walk away with the trophy which they missed so narrowly in 1996 handing it over on a platter to Sri Lanka because of their lacklustre fielding. But this time under a shrewd captain like Steve Waugh, they will surely give the opposing teams some sleepless nights.
So will the South Africans. That's because over the last few years they have been ranked the No. 1 team in One-Day International (ODI) cricket as they have won over 80 percent of all the games they have played. However, despite their reputation in the two World Cup tournaments they have played after their cricket exile ended, bad luck and nerves have done them in at both the ties. In 1992 they reached the semi-final stage and were all set to win against England in Sydney needing 22 runs in 13 balls when it started to rain. When the weather cleared a 'weird' law set them a target of getting 22 runs in one ball. The match went to England.
In the 1996 tie, they lost the quarter-finals to an out-of-form West Indies which had been defeated even by Kenya. Experts put it as a case of nerves and trying too hard to win the Cup.
But this time the Springboks mean business and bookmakers are giving them 5-2 odds of winning the Cup. That's because the side comprises three of the greatest contemporary batsmen in the world - Jacques Kallis, Gary Kirsten and Darren Cullinan. They will be supported by formidable all-rounders like Shaun Pollock, Lance Klussner, Jonty Rhodes, Mike Reidle and skipper Hanse Cronje. The bowling is spearheaded by tornadoes like Allan Donald and Shaun Pollock with spin support coming from Paul Adams. Pat Symcox who has announced his retirement will be sorely missed. The outfield will be manned by the world's best fielders — Jonty Rhodes and Herschelle Gibbs.
What worries most opposing teams is the fact that the South Africans can bat almost upto the number 10 slot. And they operate as a cohesive team each chipping in his bit. Eleven players and each one a champion.
Hosts England vainly wish that the same could be said about them. The fact is that in Group A England too will be battling for a place in the top three. And if their luck holds they could be up there with South Africa and any of the three teams — India, Sri Lanka or Zimbabwe.
As hosts, England should have a lot going for them. And their run of luck in the Carlton and United One Day Internationals should act as morale boosters as they have beaten both Australia and Sri Lanka.
It cannot be denied that the Englishmen are looking hard at their cricket and have replaced a number of players who lost the recent Ashes to Australia with those more attuned to the one-day game. So, players like Mark Ramprakash, Nasser Hussain, Mark Butcher and Jack Russell have been replaced with Angus Fraser, Graham Thorpe, Ian Austin and Robert Croft who are expected to give the hosts an advantage.
But will they be able to provide the winning advantage to England which is the third fancied team with 4-1 odds? Most experts, still don't give England a chance to lift the Cup as they feel that they have an average bowling line-up and their fielding is in a shambles. They must hold the world record for dropping catches and they are not prone to throw themselves at the ball racing to the boundary.
The English batting too is not at its peak. They will be depending heavily on players like Alec Stewart, Nick Knight, Graeme Hick and Neil Fairbrother to shore up decent scores. Though Darren Gough and Headley can rip through opposition teams it is the fielding which is going to let England down the most.
If England are to make it to the "Super Six", they'll need their top and middle order to bat consistently. But it will certainly be a struggle for them to make the "Super Six" in Group A.
Unlike the Englishmen, Pakistan, on paper, Iook a formidable side with bowlers like Wasim Akram, Shoaib Akhtar and Saqlain Mushtaq and batsmen like Saeed Anwar, Shahid Afridi, Inzamam-ul-Haq and ljaz Ahmed. However, the recent allegations of match-fixing and betting have put the entire team on the backfoot.
The frequent changes in team set-up too, have taken a toll. All this may have affected the team morale for a while but in recent tournaments Pakistan has shown that they are still a talented team and a force to be reckoned with. Theoretically players like Saeed Anwar, Shahid Afridi, Inzamam-ul-Haq and Yousouf Youhana are world beaters but when it comes to the crunch, their talent may prove ephemeral. In the last one year the Pakistanis have been defeated by Australia 3-0 and scraped through against Zimbabwe 2-1 (and then lost the Test series l-O). Which is why they are placed fourth on the list of fancied teams to win the Cup and bookmakers are giving them 6-1 odds.
If the Pakistanis do not look like potential champions, neither do title defenders Sri Lanka. Poor fielding is the main source of worry for the boys from the Emerald Isle. Bookmakers seem to have lost confidence in the team and have put them down to number five with odds of 8-1.
That's because the Sri Lankans are not the same team as they were in 1996. In fact they are an ageing team and star players like Sanath Jayasuriya, Arvinda De Silva and skipper Arjuna Ranatunga are well past their prime. The 1996 World Cup was different. The Sri Lankans made the world sit up with their performance. For a country which had won only four matches in the earlier five World Cups, it was a Herculean task to yank the trophy out of the hands of fearsome contenders like Australia, South Africa and Pakistan.
Those were the days the Lankans played to a game plan of scoring almost 10 runs an over in the first 15 overs. However, all that seems well past them. Most of the teams in the world are by now familiar with their tactics and go all out to prevent the initial onslaught.
The fact is that ever since the last World Cup the team's fortunes have taken a tail-spin. Their top batsmen are no longer capable of firing missiles from their bats. Jayasuriya has had a series of physical and personal problems and looks unable to really concentrate on the game. Kaluwitharna has not had a big innings in a long while and Atapattu is at best chancy.
The result is that the pressure falls on the middle order comprising Ranatunga and De Silva. And they too are not in the same top form as they were in their last World Cup outing. The bowling too is in a shambles. Spearhead bowler Muttiah Muralitharan is currently in the eye of a storm for allegations of 'throwing' for which Ranatunga in anger almost conceded the match to Australia in February.
However, the one big point in favour of the Lankans is that they all rally around skipper Ranatunga whose prestige has gone up in their eyes when he got into a spot with umpire Darrel Hair in Australia over Muralitharan's bowling. And if by a miracle they do manage to win the Cup it would be a thanksgiving to their captain who they know deserves to retire on a high note. But to achieve that would mean a huge turnaround in the attitude and form of their players. Which may be too late.
The same holds true for India.In the subcontinent the Indians are a formidable team with arguably the strongest batting line-up in the world. But that cannot be said of them when they play overseas.
Once the team migrates from its familiar pitches in India and Sharjah, there is instant trouble. Look at the resuIts in 1998. The Indians lost to Pakistan in Toronto, Zimbabwe in Zimbabwe and to New Zealand in New Zealand.
The bowlers too seem to falter on overseas pitches. Both Srinath and Agarkar are menacing at home and Kumble too can spin into world records but once they are on unfamiliar territory they all seem to falter.
However, what can be said in favour of the Indians is that in the last few years they have played more ODls than any other team in the world and they should be well prepared for the World Cup.
On paper the batting side is one of the best in the world. But given Tendulkar's recent back problems and skipper Azharuddin's indifferent form and lacklustre captaincy, the burden is likely to fall on batsmen like Sadagopan Ramesh, Rahul Dravid, Ajay Jadeja, Robin Singh and Saurav Ganguly.
In the bowling department Srinath's shoulder had been playing up again and Agarkar has just recovered from a leg injury. Though Kumble is in top form after that 10-wicket haul in the Delhi Test against Pakistan, he can sometimes become curiously ineffective on other playing fields.
Bitter as it is, it seems highly improbable that the Indians can re-produce their 1983 magic unless by some divine intervention their bowling and batting comes good. Which explains why the top bookmakers in the world have pegged India way behind Australia, South Africa, England, Pakistan and Sri Lanka, at 9-1 odds.
If India and Sri Lanka are looking jaded, the West Indians are simply down and out. Gone are the days of the seventies and the early eighties when they were the world beaters with a battery of some of the most fearsome bowlers and a batting line-up which rivalled the best in the world. Today the Windies are virtually push-overs in a tournament like the World Cup. They only have Curtley Ambrose and Courtney Walsh left of their once-feared pace attack.
But it is the batting line-up which is causing immense worry to the selectors. Skipper Brian Lara seems to have once again struck form after a long bad patch and the only other batsmen the team can depend upon are Carl Hooper and Chanderpaul. And in the bowling department they only have Curtly Ambrose to fall back on as other speedsters like Nixon McLean and Mervyn Dillon look simply quite out of depth.
The trouble with the team is that it does not fight like a unit. There are too many divisions, too many rifts and both spirit and morale seem to be running low. Which is why the two-time winners and odds-on favourites of the seventies and eighties have been hammered down to the number seven slot with 20-1 odds.
With Australia and Pakistan virtually assured berth in the 'Super Six' and Bangladesh and Scotland not serious contenders, the West Indies at best will battle for the third spot in Group B with New Zealand.
But New Zealand may not be an easy team to take on as far as the demoralised West Indies go. The Kiwis are already looking like a team which means business. On a good day Craig McMillan, Roger Twose and Chris Cairns can make New Zealand look like a side to reckon with.
Like their batting, the New Zealanders may not be outstanding in the fielding department but they are a handy lot. They may not have brilliant fielders like Jonty Rhodes or Mohammad Azharuddin but they mean business and they take catches, make stops and aim right at the wicket.
However, a chink in the Kiwi armour is their bowling. Apart from Chris Cairns and Chris Harris, all the other bowlers leave a lot to be desired. And though Simon Doull, Dion Nash, Gavin Larsen and Daniel Vettori all have the potential it is taking its time blossoming. But notwithstanding the fact that the bookies are giving them 66-1 odds, the Kiwis will surely give battle for the third position in Group B against the West Indians and possibly win.
Like the New Zealand team, if the boys from Zimbabwe get going they could pose some serious upsets in the tournament. It is no secret that Zimbabwe are a rejuevenated cricket team. In the past year, they have shown that they are no longer the babies of the tournament which they were in the last World Cups.
A look at their past one year record would showcase their emerging status in the one-day game. They have beaten India, Pakistan and Sri Lanka with their superior fielding which is looking almost the best in the world.
Their batting too has gained immense stature with players like Neil Johnson, Andy Flower, Murray Goodwin and Paul Strang being supported with cameos by Alistair Campbell and Grant Flower.
However, it is the bowling attack that Zimbabwe will have to worry about. Though Neil Johnson, Paul Strang, Eddo Brandes and Heath Streak keep pegging at the middle stump, they are not penetrative enough to threaten batsmen of the calibre of Sachin Tendulkar, Jacques Kallis or Steve Waugh.
However, despite this chink, and despite the fact they have been given odds of 500-1, the Zimbabwe team knows they are in with a chance and have the mental capability of causing an upset and entering the "Super Six".
"They can knock the ball around but for them it is difficult to get wickets," says an expert.
What Zimbabwe was in the 1996 World Cup, Kenya is to the 1999 tournament. They have just begun playing serious cricket and till now were happy being the leading team against countries like Holland, Bangladesh and the UAE.
But to their credit must go the fact that they have won a one-day international against India in Bangladesh in 1998. And the win they cherish most is against the West Indies in the 1996 World Cup.
As a new team Kenya has a clutch of good batsmen in Maurice Odumbe, Hittesh Modi, Steve Tikolo and Deepak Chudasama who are supported by Ravindu Shah and Kennedy Otieno all of whom can push up a total of around 200.

---
Gilchrist has makings of a Sanath
By Bernie Wijesekera
Adam Gilchrist, the left-handed batsman, who created a new dimension in the Aussie one-day squad as a dashing opener, is in the mould of a Sanath Jayasuriya. He has come to stay with his pinch hitting.

"Gilly", will be an added attraction in the on-going World Cup with his dashing selection of strokes that had the opposing bowlers and fielders running for shelter.

He came into the one-day squad after his exploits in the Mercantile Mutual Championship with his performances with the blade for W. Australia. He replaced Ian Healy as the gloveman for the one-day series (World Series) against South Africa in the 1997 Carlton and United series. In the second final at the SCG, Adam came of age as a one-day batsman. He clubbed 100 off 104 balls as an opener and changed the momentum with his carefree hitting. It was Ian Healy, who was first to phone and congratulate him - the man, who superseded him in coloured clothing for Australia.

According to Gilchrist, Healy was the first to congratulate him, when he got the first call-up for the one-dayers in the 1997 summer.

That's typical of Ian Healy, a fine gentleman, though he plays hard on the field - all forgotten after the game.

Predicts

Since then he has sprinted by over 1000 one-day runs and has played a vital role for the Aussie cause along with Mark Waugh - opening the Aussie innings.

His opening partner Mark Waugh, says that he predicts Gilchrist 'to outscore and outhit' Sri Lanka's dashing Sanath Jayasuriya.

As predicted by Mark, Gilchrist starred in the last World Series held Down Under between Sri Lanka, England and Australia. He cracked 154 against the defending world champions Sri Lanka at the MCG to the buzz of 'Go Adam Go' which was also a record for the Aussies in the short game and at the MCG.

Like Sanath Jayasuriya, Gilchrist piled on the boundaries in characteristic style as he did against Allan Donald with three fours in five balls at the SCG in the 1997 summer.

With his fireworks he swelled his fan club further with his heroics in the last triangular, where the Aussies emerged champions winning the best of the three finals two-nil against England. According to Ian Chappel, Sanath Jayasuriya has built his fame and reputation as an exciting one-day batsman. The humble cricketer from down South, believes in simplicity in life as every thing in life is temporary. Form is temporary, but class is permanent.

Comprising

The foundation for his success was the fine Test century - 112 he made against the Aussies at the Adelaide Oval in January 1996. He played a composed knock in the second innings. It was not a one-day knock, but the Aussie bowlers comprising McGrath, Paul Reifell, Steve Waugh and Shane Warne made him grind for the runs. The Lankans only hope was to draw the match.

Well, I will rate this as the best knock even surpassing the 348 he made against India, in Colombo. Since then runs began to flow like the Mahaweli waters.

In the 1996 World Cup he became the 'Slasher Sanath' and with 'Thumper Stumper "Kalu" piled on unbelievable figures in the first 15 overs.

This laid the platform for Sri Lanka to chase big targets and they did chasing 271 against India in Delhi. Sanath and 'Kalu' slogged 50 runs in four overs. Sri Lanka won the match comfortably and set the pattern for the World Cup. Sri Lanka won the final beating Australia in Lahore.

Since then Sri Lanka has failed to maintain consistency and Sanath and 'Kalu', too have failed to give those thrill-a-minute starts.

Opponents

Jaysuriya, by every standard, is a modest bloke, who never brags about. But now his batting, too has become rusty and has lost the same flair that made him the most feared batsman in the one-day scene. Apparently the opponents, may have found a ploy to curb his rush for strokes in the early part of the innings (15 overs).

International greats like Sunil Gavaskar, Tony Greig and Ravi Shastri all three were clapping in the dressing room for Jayasuriya, after his exploits in Singapore with a scintillating innings at the Singapore Cricket Club grounds. Ian Chappel, too joined in the applause. This was back in 1994-'95 when Sanath with only one century at international level, running as a 100 metre sprinter but now running marathons at a sprinter's pace.

It seems that Gilchrist has taken over the mantle from Jayasuriya, if one went by his recent deeds with the willow in the overs game. Even if Gilchrist fails to make an impact the Aussies have the resources to be concerned in the finish as they have an allround combination. They have others to rally around in the likes of Mark and Steve Waugh, Ricky Ponting, Michael Bevan, Tom Moody and Darren Lehmann. All have a tremendous strike rate to prop the batting, plus a bowling armour to exploit the unpredictable pitches in England unlike in the sub-continent.

But Sri Lanka skipper Arjuna Ranatunga, is a hard master, with his own performances when the chips are down. With Arjuna, in the driving seat it's no let up against whatever odds. If the Lankan players are determined to achieve their objective then nothing is impossible. A bad day is a bad day. Poor bowling is poor bowling. No excuses. Just try harder and do better next time.

Then if you still fail then you are not found wanting. That's part of the game and take up in the correct spirit and live for another day to fight. That's what this great game of character building is all about - played by 22 flannelled fools.

---
Indika a talented cricketer
By Saif Izzadeen
Indika de Saram could be described as one of the most unluckiest cricketers in Sri Lanka due to the fact that although he had performed really well his talents had gone unnoticed.

De Saram in an interview with The Sunday Times spoke about his personal life and about cricket.

Indika de Saram and Sanath Jayasuriya share a comman bond as they are both from Matara and are very aggressive in their batting.

Indika de Saram was one time described as the ideal replacement for Aravinda de Silva. His batting talents is ample proof of this.

De Saram took up cricket with the help of his father Gamini de Saram and his uncle Keerthi de Saram both of whom had played for St. Thomas' Matara. With the help of his father and uncle Indika began to pursue the sport at the age of 9.

When asked to elaborate how is father helped him he said "Because St. Thomas' Matara is a very poor school my father had to buy me the cricket equipment I needed. He was behind me every step of the way which has helped me to reach this level.

De Saram first played for the St. Thomas' Matara under 11 side. Then he played for the under 13, 15, 17 and 19 cricket teams.. He captained his school in all age groups.

"My unforgettable moment in cricket was when I made 304 against Devananda College Ambalangoda in an under 19 inter school game which included 19 boundaries and 25 sixes. This knock is still a record in inter school cricket in Sri Lanka" was what Indika said when asked to tell about his most unforgettable moment in cricket.

After playing for his school Indika began to play club cricket for Tamil Union. When asked to elaborate how his talent was spotted he said "When I came after the under 19 tour of Malaysia Skandakumar of Tamil Union told me to come and play for Tamil Union. This is the way I began to play club cricket.

After playing club cricket for Tamil Union for four years he crossed over to Colts Cricket Club. He is playing with the Havelock town Club from last year.

Indika de Saram has also played provincial cricket. His best performance was when he made a swashbuckling 227 for Western Province against North Western Province.

The stylish and the aggressive right hander first played in an international game for Sri Lanka 'B' against Pakistan 'B' in Pakistan. After this he played for Sri Lanka Colts Xl against a full Australian side..

In this match he made 69 runs in 38 balls. This knock included seven sixes. Then he represented the Sri Lanka Board Xl against South Africa.

The 26 year old Saram has also played against West Indies 'A' for Sri Lanka A. In a four day unofficial Test match against West Indies 'A' at Matara his home town he made a dazzling unbeaten 106.

De Saram has also played in the Hong Kong Cricket sixes. He has also gone to the SAARC Cricket Cup tournament with the Sri Lanka 'A' team.

In these international matches some of the bowlers he had to face were Glen MacGrath(Australia), Allan Donald(South Africa) and Cameroon Cuffy(West Indies). Out of these bowlers the most difficult bowler he had to face was Allan Donald of South Africa.

Although he has performed well he has not been able to find a place in the Sri Lanka senior team.

When asked from Indika who will win the on-going World Cup in England he had this to say"I like to see Sri Lanka winning. My second bet is on Pakistan

This is a very sad situation and the sooner Indika's talent is recognized the better for Sri Lanka cricket.

With players such as Aravinda De Silva, Arjuna Ranatunga, Roshan Mahanama retiring from cricket Indika De Saram must be an automatic choice.

Indika de Saram's favourtie cricketers are Arjuna Ranatunga and Aravinda de Silva of Sri Lanka. From the international cricket he likes Vivian Richards the former captain of the West Indies.

Other than cricket Indika de Saram is a good athlete as well.

He used to participate in the schools sports meet in the following events: the Juvelin, Putt Shot and the Discuss Throw. He had been selected for the first place in these events.

When asked from Indika why didn't he pursue athletics he said "I was really interested in cricket and because of this I couldn't concentrate on athletics".

Indika was first employed at Nawaloka Group. He is presently working at the Access Group of companies. He had a special word of thanks to former President of the Board of Control for Cricket in Sri Lanka Upali Dharmadasa for helping him to get the job in Nawaloka.

When asked to name the vehicle he is using he said I drive a Serena. De Saram's favourite food is rice and curry.

There is a saying that there is a woman behind every successful man and Indika is one of them.

He has a very special person in his life. Her name is Gayathri. She helps him in cricket and also gives him the necessary encouragement.

Indika said he likes to thank his parents, Sumal Perera and Major G.W.S.de Silva as all of them have given good support to Indika to reach this level in cricket.

When asked to tell what his ambitions are Indika said my only dream is to play for Sri Lanka one day.

---
The World Cup stands staring in the eyes - World Cup 1999
By Ramesh Joseph
The Jayasuriya's the Tendulkars, the Laras, the Waughs, the Akrams are expected already to change the latest editions of the record books. There are few others who are not as distinguished but may well get known by the time the champions are called out.

Sri Lanka may be in the news these days for reasons other than their on-field exploits but they still have some exciting cricketers. Apart from star attractions like Aravinda de Silva and Sanath Jayasuriya the world champions have one classy batsman in Marvan Atapattu. He is not as flamboyant as de Silva or Jayasuriya but carries all the attributes to prosper in demanding conditions.

Bowlers would do anything for his wicket. Punters delight to see him as they could almost sense the predestined. But it has been a complete turn around for him now, his 132 at Lord's in the last year's finals of Emirates Cup was the first century by a Sri Lankan against England. In a one-day international after an inauspicious introduction to his career it was almost unbelievable to see him clock 178 runs at 89.00 in three innings and go on to bag the Man of the Series award.

Playing with principally back and across movement he was equally effective of either foot. What he did to his credlt was to play as much as possible and was not averse to play horizontal bat strokes. English media, usually hard bent on undermining the achievements of Asians, enjoyed his stroke play, his backfoot off-drive being peerless. He also exhibited good cricketing common sense when he stood out of the crease to negate whatever swing the bowlers were getting.

Batting at number three, Marvan Atapattu holds the pivotal position in this strong Sri Lankan batting rank. And with their opening batsmen playing more of 'hit and miss' game Sri Lanka will need his services to repeat 1996.

It is often said and believed that there is only one man who brings gaiety to India. One has to admit, rather grudgingly, that there are strong grounds for it. Here again India will rely on Sachin Tendulkar to bring back 1983. But they just cannot ignore the presence of Rahul Dravid now. That he is designed for the big stage was never in doubt, even if some of the past selectors thought otherwise.

Almost etched and branded as a Test player, Dravid had plenty to show on his New Zealand trip. It was just a matter of time before he had his bat do the talking. And it did! One hundred and two fifties in five outings, add to that Tendulkar failure. Patch it up with bowler-friendly conditions, number three slot belongs to Rahul Dravid.

He comes from that grade of batsmen who are just one good stroke away from hitttng the purple patch. That is to say, even if he is struggling, he boasts of the necessary skills to come out on top, for he can survive to flower later.

With deft wrists and soft hands to drill the gaps he is an ideal one-drop batsman for India. The only thing to be worked on is his judgement to take singles for rotating the strike. Batting at one- drop means that he will have to bat either with Tendulkar or Ganguly to start with. In both instances, running between the wickets will have to be from the top drawer. When Tendulkar is on song he hogs the strike and it is up to the batsmen on the other end to feed him with that. On the other hand Ganguly does not scale 10/10 in running between the wickets. It is all the more than sure while going for tight singles.

A good judge of running between the wickets will take his anticipation a notch up when he turns out to field in the ring. If he can acquire this aptitude, India will no longer be a one-man wagon.

With white ball and English conditions seam bowlers are already flexing arms to cast their shadow on the mega event. In all possibilities they will have their scores settled. At the same time spinners cannot be deleted from the equation altogether. It is trundlers who cleverly change the pace who can be expected to spin their web.

Off-spin was slowly being done away in the crash bang of limited overs cricket. Batsmen could almost leisurely work the ball with the spin, certainly helped by restrictions on the leg-side field. May be it can be put down to lack of skill to bowl a good floater. With mind of an analyst to go with Pakistani aggression, Saqlain Mushtaq enjoys the tag of best off-spinner in the world these days. Plus he is well-versed with English conditions which will help him in making necessary adjustments.

There may be headliners like Wasim Akram, Waqar Younis or Inzamam and Anwar in Pakistan outfit but Saqlain Mustaq will be equally important to corner glory. With an incredible average of 19.10 in limited over internationals Saqlain has reason to smile. His wicket taking delivery being the one that holds its line or the one that goes away has brought him four wickets in a game 11 times. His ability to bowl drifters gives him advantage against tailenders in the end overs as the natural inclination is to hit bottom-hand dominated strokes on leg-side. Top order batsmen may be able to hit through the off-side but it is something to ask for the lower order to follow suit.

He may not turn the ball much but has complete control over the flight. Intelligent bowler that he is, uses the width of the crease very skilfully. The only grey area seems to be the one when he confronts the left-handed batsmen. Simply because his wicket taking ball spins in to the left-handers which can be negotiated with some ease. If that can be worked out, Wasim Akram will be a happy man.

It would be hard to rule out England from the contention. With home conditions and some real match winners in Alec Stewart, Graeme Hick and Darren Gough, England are capable of doing it in the last World Cup of this century. One man, a very private one though, has the ability to be the toast of the nation. Neil Fairbrother is showing very positive signals as he has lent solidity to the England middle order.

After being out in wilderness for sometime, the left-hander is back with a bang, scoring heavily on the fast and bouncy tracks of Australia. His strength lies in the way he paces his innings. His ability to pierce the field and exemplary running between the wickets make him an ideal batsman in a crisis. His ability to play well in the lower order is a plus. Not only that he has this uncanny efficacy to chip over the infield. But also when it comes to hard-hitting, he is not found wanting. When it comes to playing the spinners, he relies particularly on the sweep.

An extremely good fielder in the circle, he scores a decent percentage of direct hits. England can certainly bank on him to deliver during the World Cup.

Australia are regarded as one of the strongest contenders for the title. With big names like Waugh brothers, Shane Warne, Michael Bevan and Glen McGrath Australia are looking positively towards the repeat of 1987. Apart from these big guns they have Damien Fleming in the line-up who can prove to be a potential match-winner.

Fleming has come a long way to be a part of this extremely talented Australian outfit. His stock delivery, the outswinger, has left many a batsman stunned. With heavy English atmosphere and white ball, his ability to move the ball both ways can prove menacing for the batsman. Fleming is fortunate to have some excellent set of fielders to latch on to whatever offered.

A very economical run-up and action will make sure that his 60th delivery is equally fast and effective as his first. A fine exponent of reverse swing, Fleming also practices clever change of pace to catch the batsman off guard. Keeping in mind the inclination of the batsmen to come on the front foot his late swing and change of pace can wreak havoc on them.

With all these skills, he has enough in him to complement McGrath and Warne.

New Zealand's best moment in the World Cup came when they won seven matches on the trot in the 1992 edition played Down Under.

Their flirtation with fantasy ended when they were done by Pakistan in the semis. For some reason they have not been able to deliver in crunch situations. After Martin Crowe there seems to be no match-winner in their ranks. Chris Cairns,Stephen Fleming and Craig McMillan are some names which are crucial for New Zealand to do well.

Apart from the flair of these three, there is Chris Harris who on his day can prove to be a winner with slow rolling leg breaks bowled from a wrong-footed fast action, Harris does not give anything to hit.

It is often his brisk run up to the wicket and fast bowling action which leaves the batsman non-plussed. Most batsmen commit themselves too soon on the front foot only to find that the ball is still in its trajectory and after pitching it has come in rather than spin away.

He is equally effective with a bat in his hand. Often he has led his side out of the woods with sterling performances. The southpaw manoeuvres his innings clinically and can open his shoulders quite effectively. Coming low down the order, Harris is an extremely good runner between the wickets. His fielding exploits need no introduction. Guarding at point, Harris saves good chunk of runs for his side and effects direct hits with some regularity.

The player who shapes up as the crucial factor in South African batting is Gary Kirsten, as it is he whom the other players like to bat around. The thing about the current South African team is that these guys are not easy to beat. Their strength being solid and dependable. Gary Kirsten seems to have a calming influence on his partners and scores runs without too much fuss with a well organized game. Their fielding is again sure and reliable, but without the reliance of Rhodes.

All these men have often stood in the shadow of their more celebrated teammates but given the will to perform on world stage they might make a name for themselves, come World Cup.

Daryll Cullinan is capable of dominating an attack with a full array of shots coupled with excellent timing. Particularly strong through the cover region, with an excellent pull shot off the quickies.

---
History to repeat itself
The "Great Scorer" writes that in 1996, the exclusive official travel Agent in Sri Lanka
For Wills Cricket World Cup '96 was
George Steuarts Travel International Limited
The Winner - Sri Lanka
He also observes that the
exclusive official travel agent in Sri Lanka
for ICC Cricket World Cup '99 is again
George Steuarts Travel International Limited
He then asks " will history also repeat itself
on the playing fields?"
We confidently say
It can!
Good Luck Sri Lanka
George Steuarts Travel International Limited,
"Steuart House"
No. 45, Janadhipathi Mawatha, Colombo 1.

---
England sent on a leather hunt
By Bruce Maurice
The West Indies now had a lead of 223 and Worrell could easily have put England in again and finished the game in 3 days. But this to the glory of 32,000 people who were locked inside Headingly that day, he decided not to do it. Instead he batted again and turned the Test into something like a Caribbean Carnival. Setting out at virtually 223 for no wicket, they put their heads down and aspirated to 229 in just 211 minutes. It was like a summer storm of spectacular destruction. They lost Hunte and McMorris for 20. But from now on the West Indian batting express was on the rails and very soon it was to amount to the most savage assault that Headingly had seen since the thirties when Bradman made it a habit of never making less than 300 there. Kanhai was all improvised brilliance. Butcher since the first time at Lords, in utter command. Their shots burst around Headingly like star-shells against an England attack that was totally bankrupt. They did not have a clue as to where to bowl next.

Kanhai was off with a six and a four in one over from Dexter. Butcher turned Trueman hard off his toes for 2 fours. Lock came on for Dexter and Kanhai now on the rampage swept him also for 2 fours. Shackleton on for Trueman and in his first over Butcher smashed him for 2 boundaries on the off-side. In the next over Kanhai leapt down the wicket, hit Lock straight back over his head and brought up the 50 partnership in only 29 minutes: Ten minutes later Kanhai was out for 46 and he and Butcher had put on 65 runs. But Kanhai's going did not lift the scourge off the English attack. With Sobers' arrival, Butcher's shots now had the venom of vengeance in them and England were toiling on in a great unloved loneliness. As a contest this Test was by now utterly one sided and spectators had waited the whole summer to see the Windies bat like this. Dexter had five men in a straight line down the covers in a desperate effort to stop the cascade but it made no difference to Butcher. He smashed two fours through that wall of humanity before anyone could bat an eyelid and then to relieve the monotony pulled the next ball to square-leg for 4. Few balls later he crashed Lock for another boundary and raced to his fifty in a shade under the hour. At lunch the West Indies were 126 for 3 and in the 20 overs that England had bowled that morning only one had been a maiden.

But after lunch the storm had passed. The second ball was swept for four and Titmus put the brakes on by bowling the second maiden of the innings. Butcher could not recapture his timing of the morning and now it was Sobers' turn to keep the crowd leaping out of their seats. And the scoreboard was still banking up an increasingly hopeless deficit against England. Then all of a sudden the West Indies decided they had used the England bowlers and fielders, long enough for bayonet practice. Butcher threw his wicket away after making 78. A few balls later Sobers followed when Titmus had him caught at slip for 54. At 212 Griffith hit Shackleton over mid-wicket for a colossal six. But Gibbs' spinning fingers were by now itching and Lock came back to get him first ball.

So England were left exactly 2 days, 2 hours and 2 minutes to make 453 for a win. And all the clarion calls, Henry V to a wartime Churchill could not have saved them. When England went in, everybody must have been clueless as to what the West Indies were upto now. Hall and Griffith calmly took their places in the field, and even the umpires' eyes must have popped out of their sockets as Sobers peeled his sweater off to start operations. He warmed up with the first three deliveries. The fourth was a swinging yorker and Stewart's off stump leapt into the air. England seemed to be conditioned to doom. Next to the slaughter was Ted Dexter. With his score on three, Griffith hit him on the pads and Dexter stood there praying to the heavens as shattering appeals from 20,000 threats met in a thunderclap over the centre of the ground. At six he drove Griffith through the covers for four. The very next ball again hit him on the pads, and this time Dexter had to go. Bolus and Barrington took the score to 82, but by the time it had reached 95 both were gone. Sobers transformed once again from opening bowler to spinner, had Barrington L.B.W. for 32 and Bolus caught at slip for 43. By stumps Close and Sharpe had hit their way off a pair and England 113 for 4 could not have had a peaceful night.

The next day Sharpe did not last long. With his score at 13 he pushed Gibbs straight to Kanhai at short-leg. Close now joined by Parks took the score to 199. Both of them making fifties. Parks reaching his fifty by hitting Gibbs for 2 sixes. But this was nothing more than England putting up a gallant show on the gallows. Close went first, when he hooked Griffith to Solomon and then Parks went to the last ball of the morning L.B.W. to Gibbs for 57.

The mopping up of the tail took only 19 minutes. Titmus was a mile down the wicket and Murray had all the time in the world to remove the bails. Lock was caught off a Griffith bouncer and Trueman drove Gibbs straight into Griffith's hands. England were all out for 231 and the West Indies had won by 221 runs.

And now with only the final Test to be played, there was no way England could win the series. And this was mainly due to Garfield Sobers, the invalid, who turned out to be a one-armed bandit.