All authority to ICC to thwart chucking
Ramesh Joseph
The ICC illegal action committee must be given authority

Bowler who chucks the ball has action that is against the law and gets an unfair advantage over those bowlers who comply with the laws of cricket. These two factors should be the only consideration when judging the legality of a bowler's action and sooner the hype and media frenzy about it is settled the better it is.

If any umpire judges that a bowler's action doesn't conform to the laws of the game, he calls "No Ball".

It's not a judgment on the moral authority of the umpire or the bowler, but views this as a "No Ball" call the same way as a call for overstepping the popping crease or going wide of the return crease.

Children everywhere in the world see their heroes in action and want to emulate them. It is already being reported young bowlers, particularly at nets, bowl even like their heroes on television. Some of them have never even seen their heroes live, but have duplicated every action.

Slow off-spin bowlers also have a huge advantage with a bent arm action. As an off-spinner with straight arm you cannot spin the ball at all. When you bend and then straighten your arm at the point of delivery, you can make it jump and spin a great deal and at good pace.

The straightening of the arm holds the key for this and with the aid of the wrist, allows greater flexiblity and rotation.We often hear defenders of chuckers say they don't straighten the arm at the point of delivery.

There always seem to be a great deal of sympathy for bowlers who are no-bowled for throwing. To some extent, one can understand this, but what about the batsmen who have been dismissed by such a bowler?

The dramas of the last few weeks have made the authorities even more aware of the need to establish a system which can give all bowlers a fair deal. At present they believe that the laws relating to throwing are simple and quite adequate.

At present the ICC have a policy and committee to handle bowlers with doubtful actions. The umpires always retain, and rightly so, the authority and responsibility to noball bowlers whose action they feel doesn't conform with the laws of cricket.

If they, through any reason, do not want to noball the bowler on the field they can report it to the match referee and he will pass this on to the ICC committee to examine along with appropriate footage.

The committee then decides. If the action is not right remedial coaching is recommended. No bowler is ever given a permanent clearance and his action can be queried the next time he bowls if the umpires or referees feel that this is warranted.

At present some countries are very co-operative with the direction issued by the Illegal Action Committee, while others hardly seem to bother knowing that there is virtually nothing the ICC can do about it. The ICC Illegal Action Committee must be given authority and power, otherwise some countries may ignore the requests for action by the committee.

---
Spotlight falls on Lucido for the Derby
By Ismail Khan
The Derby Trial Stakes at Lingfield was worked off Saturday last in the presence of a mammoth crowd who witnessed Tony Quinn mastery on John Dunlop's 3 year colt Lucido who simply ran away with the £50,000 prize from piping hot favorite Aga Khan's Daliapour.

Daliapour you will remember won a few good events as a two year old in France, Longchamp mostly, and as a 3 year old in England too. But as was suspected he is still to go over the middle distance of 10 furlongs and Saturday's event was over 11 furlongs. F. Mathet, a man who knows about equines has already doubted Daliapour getting Epsom's difficult 12 furlong Derby distance with the Tattenham Corner, the left turn course and all that put in as minuses. Whether Aga Khan will take the tip and sidestep the Derby in favour of other events is left to be seen. But in the meantime Dunlop's Lucido stamped himself into Derby reckoning.

The ambitious programme at Lingfield started off to a good start. Henry Cecil's 3 year old Mayo virtually bowling over Imgo Jones ridden by Kierran Fallon. Keep a tab on Mayo for future progressive runs.

The Victor Chandler Oaks Trial over 11 furlongs also went to the same combine Fallon-Cecil, this time the 3 year filly Ramaruma giving Credit-A-Plenty a sound thrashing. Follow Ramaruma if she accepts for the fillies' classic the Oaks.

The race over 7 furlongs, the Gala Bingo Handicap for 4 year old and upward fell to the 16/1 outsider Deep Space (T. Quinn) from Edgar Dunlop's yard. Maktoum owned 4 year old won in a close finish from Family Man and Alpen Wolf. Horse to follow: Family Man who with a clear run would have certainly got the better of the winner. The 6 year old's turn is not too far away. Also follow Alpen Wolf who looks bang in form just now having won on 29/4 at Brighton at 10/1 and third in this race right on the heels of the winner and the runner-up.

John Dunlop's Lucido gave Richard (Tony) Quinn a well deserved double as he beat French invader Daliapour in taking style. Lucido is now setting himself on the blocs for the Derby. So watch out.

The Tote Sprint Stakes over 6 furlongs saw another bolt from the blue - Midhish Two (14/1) ridden by claimer R. Mullen getting his head in front of 6/1 favourite Cubism from Bartholomew and Accicula. The run of this race suggests that Cubism over the minimum of 5 furlongs looks a certainty whatever the weight. But with an outside draw he likes to race all by himself.

Other horses to follow from Lingfield track: P. Makim's Presumed who collected her second win in 22 days is worth keeping in mind for Royal Ascot's big events over a mile. She looks poised to have a good season.

Clive Brittain's Gino Spirits runner-up to Gypsy was not given her head till very late. Over an extended trip Gino Spirits should have her way provided she is set alight at the right time. Sam Wood's Evergreen Venture ridden by Pat Eddery won a well judged race after finishing 6th to Kuster at Epsom on 21/4. He looks a stayer in the making at 3 years. Follow him over 10 furlongs to 12 furlongs for the moment. Also take England's Rose into your short list. This is one of Henry Cecil's surprise powerpacks.

Follow these columns next week too for more insight into form horses.

---
Layton Cup first trial for SAF GAMES
The Layton Cup boxing meet conducted by the Amateur Boxing Association (ABA) on June 2, 3 and 4 will serve as the first trial for selection for the SAF Games in Kathmandu, Nepal from September 22 to October 4.

This trial meet will be held at the Sugathadasa Indoor Stadium.

The clubs expected to participate at this meet will be Army, Navy, AirForce, Police, Prisons, Arethusa BC, Mirigama BC, Nugegoda BC, Veyangoda BC, Peradeniya BC, Stanley Jansz BC, Kalutara BC, Seevali BC, Colombo and Kandy YMCA, and schools, Vidyartha, St. Sylvesters, Kingswood and Dharmaraja.

Entries will close on 31st May with the Secretary ABA Col. J. Jayasuriya at No. 53/2, Temple Road, Kalubowila, Dehiwela.

All boxers must possess their medical book duly signed by a MBBS qualified doctor.

The weigh-in will be held at the Sugathadasa Indoor Stadium at 8 a.m. on Wednesday June 2.

---
Remembering an ace athlete-John Akii-Bua
Born December 3, 1949, died June 22, 1997. John Akii-Bua, will be remembered as the first Olympic gold medallist from Uganda. More still, he will be remembered as an extremely talented hurdler who could never fully realise his potential.

Akii-Bua's high point was of course the 1972 Munich Olympic Games. He was in the news by then but not as the favourite in the 400 metre hurdles. That tag went to the defending champion and world record holder, David Hemery of Britain.

By coming fourth in the 1970 Commonwealth Games, Akii-Bua had given notice of his talent and in 1971, won the US-Africa match in an impressive 49.05, the second fastest time that season. He was thus no rookie. Yet, Hemery's was the name on everyone's lips by the time the Olympics came around.

Despite clocking the fastest semi-final time (49.25s), Akii-Bua was drawn in lane one for the final, with Hemery in lane five and American Ralph Mann, another strong contender, in lane six. Hemery led up to the 200 metres in an incredible 22.8 secs, but Mann and Akii-Bua were close behind at 23.0 from the eighth hurdle, Akii-Bua taking over even as the Briton began to fade.

The 22-year-old Ugandan was in a class of his own as he negotiated the ninth and tenth hurdles and powered through to the finish. His time: an astonishing 47.82s, world record, with Mann coming in for the silver at 48.51s and Hemery taking the bronze at 48.52s. Uganda was put on the Olympic rostrum for the first time.

The world was stunned: the Ugandan had won with nearly six metres to spare and moreover he had obliterated the world mark by three -tenth of a second without the advantage of altitude. Hemery's world record of 48.12s had come while winning at the Mexico City Olympics in 1968.

Akii-Bua's world record stood for the next four years, till someone named Edwin Moses came along to shatter it with a 47.64s effort at the Montreal Olympics to signal a new era.

Akii-Bua went onto lead the 1973 rankings with a time of 48.49s, but unfortunately faded away after that. He could have been in contention for another Olympic medal in 1976, having clocked a 48.67 the previous year and a personal best of 45.82 for the 400m flat a few weeks before the Montreal Games. The African boycott ensured that Akii-Bua will go out with that one historic gold medal. John Akii-Bua belonged to Lango, from the north of Uganda, where a local sports stadium is named after him. A road in Kampala was also named after him by dictator Idi Amin. Akii-Bua fled the country in 1979 and settled in West Germany and did not return till 1987. Whether he escaped Amin's oppressive regime or simply fled when anti-Amin forces took over is debatable. It has been reported that Amin provided him with a house in Kampala following his Olympic victory.

John Akii-Bua was one among the 43 children, his father sired. At least that was the story at the time of his Olympic triumph. At the time of his death in a Kampala hospital, where he was admitted with abdominal pains, it was also reported that he was one of 50 children, his father had by nine wives, Akii-Bua leaves behind his wife and 11 children. Even before Little John took to athletics, he had a few elders to look up to in the sport. One of his elder brothers, Lawrence Ogwang had finished sixth in the triple jump at the 1954 Commonwealth Games. There were others, too, who were engaged in some athletics activity or the other. But nothing that could attract world attention. Akii-Bua was a good decathlete as well and at the time of his run-up to the Munich Games he was under British coach Malcolm Arnold who was to later to shape high hurdler Colin Jackson's climb to super stardom. By N.T. Kumarasinghe
---
Briefly
ABA in search of sponsor
The Clifford Cup boxing meet will be the second trial to pick Sri Lanka's boxers for the SAF Games in Kathmandu in Nepal from September 22 to October 4 this year.
Already a pool has been picked and they are in training with a hope of winning more medals for Sri Lanka, the Secretary of the Amateur Boxing (ABA) Col. J. Jayasuriya said.
All boxers are trained by Lt. R. K. Indradasa who is tipped to be the National Coach.
The ABA is planning for training in high altitude as the games to be held in Nepal will be of this climatic conditions and hope to train in Diyatalawa a few weeks before the Games.
The ABA is also exploring the possibility of finding a sponsor.
Army win Hockey Sevens
Prasanna Abeyratne was the match winner for Army in their third annual Charles Robinson memorial Seven a side hockey championships conducted by the Matale Old Thomians Association (Colombo Branch) played at Police Park, Bambalapitiya.
Army beat CH & FC by a solitary goal to nil.
In the semi-finals, CH & FC beat Malwatta SC by 2 goals to nil and Army beat Police 2 nil.
R.B. Kulasekara scored both goals for Police in their third place play off while Malwatta's solitary goal was scored by E.P. Gunawardena.
Musaeus College beat Sirimavo BMV by 2 goals to 1 in a women's exhibition match.
S. Jayasinghe of the Army was selected as the Most Outstading player of the championships.
The champion, army team comprised: A Manjula (Captain), D. Dharmasiri, M.D.P.L. Perera, M. Abeywickrema, S. Jayasinghe, J. Abeyratne, N.Cramer, M. Wilwalarachchi, N.Jeewanda and B. G. Mendis.
The champion Army team was awarded the trophy and Rs. 5,000 while the runners-up was awarded Rs. 3,000 and the third placed team was awarded Rs 2,000 .
Ravi Irugalbandara and Mahes Abeywickrema umpired the final.
Wekadapola Best Boxer
W.M.R. Wekadapola of the YMCA Kandy was picked as the best boxer who excelled in the light weight class at the ABA Novices meet held at the Police Field Force Headquarters ring at Bambalapitiya.
The best losers trophy was won by K.A.C.N. Alexander of Seevali MMV.
Army won six of the ten final bouts.
Results:
Feather Weight -
R.W.M. Wekadapola (YMCA Kandy) bt. S. Nishantha (YMCA Colombo);
Light Middle Weight -
T.M.W. Indika (Army) bt. N. Sanjeewa (Army);
Bantam Weight -
T. Chandrasekaram (YMCA Kandy) bt. N.S. Fernando (Navy);
Fly Weight -
S.S. Bandara (Navy) bt. Pradeep Chaminda (YMCA Colombo);
Light Fly Weight -
M. Chandika (YMCA Colombo) bt. T.C.K. Weerasinghe (Navy);
Light Weight -
W.M.R. Wekadapola (YMCA Kandy) bt. W.M.P. Ratnayake (Pilimathalawa MV);
Welter Weight -
N. Bandara (Army ) bt. A. Wijesinghe (Seevali MMV);
Light Welter Weight -
S. Kumara (Army) bt. R.C.B. Weerasinghe (Nugegoda BC);
Middle Weight -
W. Piyasiri (Army) bt. C.P. Weerasinghe (Mirigama BC);
Light Heavy Weight -
M.K. Sunimal de Silva (Army) bt. M.W.K. Saliya (Prisons).
Captain, N.R. Samaratunga of the Navy was the Chief Guest and gave away the awards.
World Cup Score Book A reputed marketing company D and D promotions in an effort to make aware the values of scoring and keeping statistics in the game of cricket has published a special score book for the 1999 World cup. The book contains valuable statistics from the last World Cup , the itinerary of the present tournament and facts one should know about the people who are going stand in the middle and officiate. The first copy of the book was handed over to Sri Lanka's first Test captain Bandula Warnapura by D and D Promotion's managing director ,Palitha Dediwela at a press briefing held at the P. Saravanamuttu stadium last Tuesday. Warnapura who spoke at this press conference stated that the book will help youngsters to study the game better as the current trend is only to watch the match . This 130 page book is priced at Rs 100 per copy. (RN)
---
Coup d'etat of 1992 and Police rugby
The progress of Police rugby was further hampered in 1962, in addition to the financial difficulties, due to the attempted coup d' etat in the beginning of the year in which several senior police officers who were outstanding sportsmen were either taken into custody or sent on compulsory leave. They were Sydney De Zoysa, C.C Dissanayake, W.E.C Jebaneson, V.E Perera, Colin Vandendriesen, Bede Johnpillai, L.C Jirasinghe, Terry Wijesinghe, Cossy Orr, David Thambiah, C.R Arndt, M.B Dedigama, F.H Brohier, V. K. Arumugam and S.D Sirichandra.

From the army too some of the most senior and colourful officers such as Colonel F C de Saram, Lt. Co. Maurice De Mel, Lt. Col. W.S Abrahams, Major B.I Loyola, Major Basil Jesudasan, Major Victor Joseph, Major W.G White, Capt. Nimal Jayakody, Capt. Tony Anghie, and Cpt. Don Weerasinghe were taken into custody in connection with the investigations into the abortive Coup D'etat.

The then Commander of the Navy, Rear Admiral Royce De Mel too was a taken into custody in this connection.

Fred Brohier who was responsible for moulding the police rugby team into a powerful machine during the previous few years too was sent on compulsory leave and was prohibited to have anything to do with the training of the police rugger team which was a severe set- back to the progress of police rugby.

But the "never say die" police rugby players continued to play their rugger undaunted in real cavalier fashion and made a big impression during the season, spending their own money and using their holiday warrants to travel for their rugby games.

This bunch of dedicated rugby players were P. Mahendran, the Captain and pro-forward who was known as 'Brute' in rugby circles, S Sivendran, the hooker who was the Vice-captain. The other forwards were James Senaratne, Rahula Silva, Munidasa Gomes, Rodney Aluwihare, K.B. Pussella, Alahakoon, R.P Linton, G. Thirumany, Rajapakse and Punchi Banda Seveviratne. The scrum half was Tony Mahath, with Raja Pothuhera, the Royal College scrum half too joining to strengthen the police side. The back division had Mike Shockman as fly half playing with raw talent, Cecil Hewawasam, Sumanasiri Ranaweera, Rahim and Buddadasa. Full back was the mighty atom A. Dharmaratne. Their names should be written in letters of gold when one writes the history of police rugby as they were responsible for all the glory that police rugby achieved during the last four decades.

Police this season beat Kelani Valley by 37 points to nil, lost to Havelocks 3-Nil due to a last minute try by Havies, lost to CR&FC by 19 points to 3 points, lost to CH&FC by 18 points to 5 points and won the balance up country games and 'B' division games. The press sang praises of the police rugby team with headlines "Assault and battered by Police", in The Daily Mirror of July 30 ,1962 "CR shakes seasons Blues at Police Park", in The Daily Mirror of July 14, 1962 and "Snap Try Helps Havelocks overcome Police" in The Sunday Times.

The Police ended the 1962 Rugby season in a happy note having gone through some trying times thanks to the encouragement given by C.P Wambeck who was DIG in charge of Administration and Tommy Kelaart who was the Senior Superintendent in charge of Police Depot.

At the end of the Rugby season I was transferred back to Kandy where many changes had taken place in the Police. Emil Ephraums has taken over as S.S.P in charge of Central Province from Carl Van Rooyan who had gone on retirement. ASP Eddie Bultjens has gone on transfer to Trincomalee and was replaced by T.S Bongso as ASP in charge of Kandy. Inspector K.S. Kadigawa who fought in the Second World War in Europe as a paratrooper and whose name was mentioned in several despatches for his daring acts of bravery during the war and who was awarded the "Oak Leaf", a decoration in the British Army, took over as Headquarters Inspector in charge of Kandy.

The DIG in-charge of Kandy was Michael Lembruggen who could be easily mistaken for a foreigner when in civvies because of his height, colour and his blue eyes. Many a cop on duty on the streets of Kandy had mistaken him for a foreigner when in civils and has struck up a conversation with him, addressing him as "Johnny". But later on learning that he was the DIG in-charge they trembled. But the DIG laughed it off as the constables on beat had only tried to give the "foreigner" a vivid account of Kandy in their own style.

During the latter part of 1962 DIG Administration, Cecil Wambeck came on inspection to Kandy and during his inspection I was summoned by him and was asked whether I would like to come back on transfer to Colombo in order to further build up the police team and I readily answered in the affirmitive. On his return to Colombo, he sent a message to Kandy transferring me to Colombo from 1.1. 63 and posted to the Pettah police station.

---
CH in blazing start: beat Air Force
By Bernie Wijesekera
CH and FC are simply raring to go this season, said coach Tony Amit when interviewed by The Sunday Times.

The Gymkhana Club has produced several national players in rugby, cricket, hockey, tennis and squash but it is in rugby that they have created an awareness amongst the sports loving people with their superior brand of play.

The picturesque Maitland Crescent Club, today has at its helm, Sunil Peiris a diehard sportsman from S. Thomas'.

According Amit, who was the coach of the CH rugby team who dominated the sport in the local scene from 1990 to '93 winning the triple championship, they were tagged as Kings of Sri Lanka rugby during this period.

Amit, himself a utility player, took over the mantle of coaching from 1987 to '93 when the club reigned supreme.

Q: Any outstanding players during this era who helped the club to reign supreme?

A: Many. But players like Hisham Abdeen, Chandrishan Perera, Apsi Nagata, Sudash Abeysinghe, Rohan Abeykoon, Jude Dimitri, the present captain Nazim Mohamed, Bimal Perera and Naren Perera were the nucleus of the side.

It was an unstinted team effort allround that helped the club. Its a team sport and all have to contribute. There may be individual brilliance. But in the end to plant a try the ball has to change several hands he added.

Q: What made you come back to CH to again?

A: I was invited by the captain Nazim Mohamed and the rugby committee headed by Faiz Hamdoon. I am delighted to be back with them and getting 100 percent support from the hierarchy. This makes my task much easier, he said. The boys are dedicated and are committed to the sport and work hard to achieve their objective.

The team has already won two matches against the Air Force and the strong Havelocks S.C. With this 100 percent commitment by the players, I am confident that CH will be concerned in the finish. Both the forwards and the backs are co-ordinating well, with Nazim Mohamed leading from the front.

Q: Any promising schoolboys, who have joined the club?

A: Quite a number of them. Among them are Manjula Damith a Nalandian, who plays as fullback and centre. Royalist R. Atukorale Thomians Sriyan Wickremasinghe (a utility player) and Varuna de Silva, Nuwan Kumara (Thurstan), Nishanta Kumara (Isipatana). They are all talented players.

Q: How many in the squad?

A: About 25 in the 'A' squad. Its a blend of youth and experience. Among the seniors - the captain, Jude Dimitri - a versatile player, who also excels in the spot kicks and Bimal Perera the No. 8 are still in the forefront. Special mention must also be made of Asanga Seneviratne, who has staged a come-back. He is an inspiration to the youngsters.

Q: What have you got to say about foreigners being barred from playing this season?

A: There are mixed feelings. But its good for the young local players, on the longer run, to improve their skills and get playing opportunities. It will also help harness talent for the future. It's no point playing foreigners in the local tournaments, if they are barred from playing in the national team like in other countries. Take the on-going championships. Without foreigners it's more competitive.

---
Equality in one nation
The Sportsmen and women in the area of disabled sports have achieved international standards and they have proved that they are equally capable as the non-disabled sportsmen and women in Sri Lanka.

We therefore appeal to the society that this sector should not be segregated but should at all times be integrated or included as members of one Nation, says Major Rajeeva Wickramasinghe, the newly elected President of the National Federation of Sports for the Disabled for the year 1999.

The AGM was held recently and all members of the executive committee were elected unanimously. Six out of eleven committee members including the President the two vice-Presidents and the asst. secretary are sportsman and woman with disability.

Office Bearers:

President: Major Rajeeva Wickramasinghe (Ranaviru Sevana)

Vice-Presidents: 1. Premadasa Dissanayake 2. Alex Jayawardana, Rehab Lanka Sports Club, National Federation for the Visual Handicapped)

Secretary: Ananda Ekanayaka. (Vocational Training Centre)

Asst. Secretary: Major Rajitha Ammpemohotty (Sri Lanka Light Infantry Regiment)

Treasurer: S. Wanniarachchi (Sri Lanka Council for the Blind)

Committee Members:

G.K.R.S. Bandara, Major Pradeep de Silva, Mr. D.S.K. Athulathmudali, S.Kamalawathie, K.P.A. Kulasiri Kulendra.

---
Letters to Sports Editor
Swimming against the tide
It is around this time of the year the organising body for swimming and diving in Sri Lanka becomes activated. Meets are held, details and corporate sponsorships are released at media conferences and importantly Sri Lanka's participation at the forthcoming Asia-Pacific Games and the number of participants scheduled to make the trip create headlines. However, the euphoria accompanying this hoopla is shortlived.

The murmurs begin; the NAASU does not have funds, the corporate sponsorship does not cover foreign trips and so on.

The murmurs soon turn to rumblings: the Ministry of Sports cannot come up with funds as this is not a FINA recognized meet and then the unkindest, ultimate and inevitable cry from NAASU "All selected participants will be issued with letters confirming their selection and they can now find their own sponsors" (How boys and girls in the Age Groups 12-19 can juggle visits to corporate offices, find rich uncles, attend school and continue training only the super brains at NAASU have figured out) Still, the upshot is that parents have to come up with money if children are to participate. (Since the meet is to be held in India, the cost per participant for Airfare and accommodation is expected to be around Rs. 35,000/=)

This is the stress filled and frustrating exercise, parents of talented swimmers and divers have to encounter year after year.

I know for a fact, that a few of these parents are still paying back debts they have incurred during the past few years.

Some parents are rich but believe me the vast majority aren't. Yet, this body keeps foisting this burden on parents on a regular basis. (In fact, in one year the parents were encouraged by the organising body to organise a Musical Fiesta to find funds for participation. The commitment of the parents towards the sport was exemplary; They readily obliged, formed committees, used their time, resources and contacts and obtained a part of the required funds).

Why does a body insist on selecting large numbers of participants if they have no funds? Is it because there are officials who must have an annual trip to spruce up their wardrobe and engage in business? Is it that the larger the contingent the larger the number of free airtickets and free hotel rooms? I trust the new President of NAASU will make a personal detailed study (without relying on reports from his officials and Past Presidents) of what has happened before and then work out a course of action (well in advance) which is fair, just and has the future of the sport uppermost in his mind.

Over to you Mr President.

Gratien De Silva
Ratmalana

---
Will Tendulkar's magic work?
When he was 14 he hit a triple century for his school team. At 15 he hit a century in his maiden first class innings for Mumbai. A month later he made it to the Wisden roll of honour for a world record partnership. Before reaching the age of 17 he had become the youngest Indian to play Test cricket. And before his 18th birthday, he had become the youngest in India and the second youngest cricketer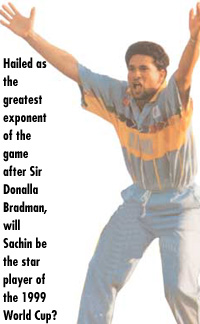 ever in the world to score a century.

In fact when, as a 1O-year-old boy, Sachin Tendulkar had watched Kapil Dev and his team win the World Cup at Lords, little did he know that a few years from then he, along with Kapil, would be India's main cricketing hope. In cricket, so dominated by statistics, Sachin has come as a whiff of fresh air. While the cricketing world has seen a new crop of youngsters take centre stage, the motley Indian crew led by Sachin Tendulkar comprising Sadgopan Ramesh, Rahul Dravid, Saurav Ganguly and Ajit Agarkar have made old timers look like fading visages.

For almost a decade now, cricket lovers have been watching Sachin's performance with awe and disbelief. He has been hounded by fans for autographs and photographs. But the 18-year-old cricketing wonder-kid is continuing his task unfazed. From England to Sharjah to Australia, New Zealand, Sri Lanka, Pakistan, Zimbabwe and South Africa, Sachin Tendulkar's firebrand aggression has become a topic of hot debate, his feats on the turf an essential part of modern day cricketing folklore.

Hailed as the greatest exponent of the game after Sir Donald Bradman, Sachin will most likely be the star player of the 1999 World Cup. A cricketer whom every cricket playing nation will be watching. Why? Because Sachin can blow away any pace attack and propel India on the way to victory. His strokeful display has already sent shivers down the spines of the world's best bowlers. Says Clive Rice, "Sachin plays a very important role in the overall Indian game plan." A cricketing authority as great as Richie Benaud recently said: "Tendulkar is one of the most exciting batsmen I have seen in years."

Before his Test debut the teenage prodigy's ultimate ambition was to play for his country and "score a lot of runs and create records."

True to his words he began to fulfill them right from his initiation — becoming the youngest Indian to play Test cricket — when he made his debut during the Indian tour of Pakistan in 1989 at the age of 16 years and 100 days.

Ever since then he has been in the process of breaking every record in the cricketing books. Recently he became the highest centurion in the one-dayers when he shattered the record of West Indian Desmond Haynes with a crackling 127 not out against Zimbabwe at Bulawayo on September 26, 1998 — his sixth of the nine one day centuries of 1998. Tendulkar equalled Haynes' world record with his match-winning 128 against Sri Lanka in the Independence Cup at Colomho on July 7, 1998.

Interestingly, Sachin made his 18th. hundreds in four years and 17 days whereas it took all of 16 years — between February 1978 and March 1994 — for Haynes to make 17 centuries. The genius of the Indian master is evident in such stark comparisons.

Though Sachin has been singularly unlucky in not making a one-day century against England, he has nonetheless shown that as far as opponents go he doesn't play favourites. He has hit centuries against Australia, Sri Lanka, Pakistan, New Zealand, Kenya, Zimbabwe, South Africa and the West Indies.

Sachin's best came against Australia when he hit 143 in 131 balls at Sharjah on April 24, 1998. A week before his second best too came against Australia when he cracked an exact 100 in 89 balls at Kanpur. In fact on six occasions he has scored a run or more than a run a ball while racing to his century. With his unique feat Sachin has effectively silenced his critics who had charged that he lacked commitment to the country after India's disastrous outing at the 1998 Commonwealth Games. Taking an obvious potshot at his detractors, Sachin said, "I have never rated my hundreds above the team's performance. For me it is a special pleasure even if I score 10 runs and the team is a winner than the other way round." Even in Test cricket he has notched up 19 centuries the last coming in the India-Sri Lanka Test in Colombo where he scored a strokeful 124 not out on February 24, 1999.

I love to go for strokes and hit the ball all around," says Sachin of himself and adds, "Personally I like one-dayers more than Test matches." Which is one of the reasons why he will have all of India's hope riding on him in the 1999 World Cup. Born on April 24th, 1973, the Mumbai lad appropriately idolises Sunil Gavaskar and Vivian Richards. He himself started wielding the willow at the age of 11 at Shivaji Park in Central Mumbai. Coached by Ramakant Achrekar, it was in 1988 that the whiz-kid caught the fancy in the cricketing circles of the country.

Together with his schoolmate Vinod Kambli from Shardashram Vidyamandir he broke the 74 year old world record to establish an unbroken third wicket partnership of 644 runs in the Harris Shield semi-finals. In the finals he capped his performance with another unbeaten triple century, thereby knocking at the doors of first class cricket. Rules at the Cricket Club of India were modified - since players under 18 were prohibited from using the dressing room at CCI - when Milind Rege, the Mumbai selector and former Ranji player, decided to incorporate Sachin into the club. His performance did them proud and he was soon initiated into Mumbai's Ranji team. His selection for the match against Gujarat at the Wankhede Stadium in 1988 made him the youngest player to make a Ranji debut. Playing true to reputation he scored a century and became the highest run-getter in the Ranji Trophy that year averaging 87.25. Since then he has been displaying immaculate temperament and technique and plays every stroke in the book. He revels attacking any bowling and says, "I like to play against faster bowlers. It is easier to score runs against pacemen." And that is exactly what he has proved facing the quickies from bowlers ranging from Wasim Akram and Allan Donald to Curtley Ambrose and Craig McDermott.

Sachin's greatest asset is his total obsession with the game. Perhaps, obsession is not the right word. Cricket dominates his life so much so that if not playing he is busy taking tips from senior players even now. The whiz-kid has greater glories in mind like wanting to win the World Cup for India. So far he's played two — 1992 and 1996 — and India has lost both. But in both he featured among the leading run scorers in the world. Considering the potentialities Sachin has, he could surely turn out to be the best man to have a go at winning the World Cup for India this summer in England.

---
'Introducing players'
Torn between rugby and war
By Ravi Nagahawatte
Army ruggerite Shiran Ganegoda does not have a choice when his presence is needed both in the sports and the battlefields at the same time .

Infact he knows too well that doing the sport most often remains a dream .

Joining the army in 1991 after completing his acadamic career at Isipatana Maha Vidyalaya , Shiran had to wait for five years to get into the army pool due to his demanding work commitments.

And even though he did get into the pool in 1996 his memory holds nothing of playing as he was called to do duty in operational areas.

Ganegoda who is a Captain in the Army, is currently in Colombo on a break from operational duty.

"Officers occasionaly get breaks like this" said Ganegoda who says that he will be leaving to do duty in the north once the rugby season comes to an end.

Shiran's attention had been drawn to cadeting despite being in a school where rugby is a passion among most students.

"It is rugby all the time . The boys dabble in the game in some form even during the interval. They stop playing the game during school hours only when they have to wear longs" said Shiran who had also experienced the thrill of walking into the classroom with his clothes dirty and his body drenched with sweat.

But he had been committed to cadeting which he did for four years and rose to the rank of sergeant to lead his school platoon.

"Since I had no more to achieve in cadeting I thought I should try out rugby" said the twenty eight year old.

After three years of gruelling practice Shiran made it to the senior team as a 'number eight'in 1990 -his last year in school.

Shiran adds that he chose to do rugby as he thought that it would come in handy while in the Army.

After many years he got the opportunity to represent the Army last year.

Shiran who will occupy the number eight position in the team this season , says that he has only one thought in mind when playing -victory.

Voicing his opinion on the banning of playing foreigners in the domestic tournament , he says that his side can now give a good fight to any team.