Passing the buck on to the CIH virus
Holding true the saying nothing is perfect, man is faced with a devastating menace. VIRUSES, first biological and now with technological advances manking steps into the 21st Century with mechanical viruses that could mean annihilation of a generation of knowledge. On the other hand if mankind wishes not to be affected by these viruses and does not embrace technical advances he will be wiped out. He has to make the crucial decision which will decide his survival
One Monday morning, not too long ago, some computer users woke up to face their worst nightmare.
Pouncing on the situation many turned it into a money-spinning monster, victimizing many an innocent computer user. Though the so called timely intervention of the authorities, have been praised many were caught off guard and suffered the consequence.
But who is actually responsible? The computer user of course. Well that's what the vendors say, but still they could really have done with some help. Especially since a competent computer personality claims to have warned the relevant authorities early this year.
This particular individual said that the authorities should have taken it up much earlier and not have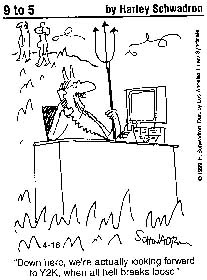 waited till the eleventh hour to raise havoc.
One more important thing, so far the notion was that pirated software and careless use of the internet posed the greatest risk of spreading the virus, but it seems that many IBM Active machines were shipped from the factories WITH THE CIH VIRUS!
A CNN report said that IBM discovered several thousand of its Active computers were exposed to the CIH virus. Aptiva PCs with model numbers 240, 301, 520, and 580 manufactured between March 5 and 17, 1999, and sold in the United States may have contained the CIH virus. IBM had contacted retailers and given them information about the virus to make sure that Aptiva PCs already in stores were not infected, the company said to CNN.
IBM has sent those users a copy of an IBM Antivirus Update CD, which will detect the CIH virus and clean it up if the computer is infected.
Coming back home Mamara Infosystems CEO, Mallika Weerawickrama, said their company alone logged about 1200 calls complaining of damages from the CIH virus over a two-week period. The number of computers reported to have been affected in Sri Lanka was far below this figure.
The virus activates on the 26 and in most cases attacks and causes damage on the 26th before becoming dormant, Ms. Weerawickrama said. In some extreme cases, the virus has been found to attack for a few days after the 26th, she said.
Looking back, the CIH virus was first located in Taiwan in early June 1998. After that, it has been confirmed to be in the wild worldwide web. As a matter of fact it has been among the ten most common viruses for several months. CIH has been spreading very quickly as it has been distributed through pirated software and pirated software is those CD's that come in flimsy packages and not in those big card board boxes and the manual to go with it.
CIH does not pose a risk to users of DOS, Windows 3.x, Windows NT or Macintosh users. It only replicates and activates under Windows 95 and Windows 98. But there are claims that a modified version of the same virus can affect these systems too.
Signs of the virus affecting the system is if the computer is dead (nothing comes to screen) then the BIOS chip has been overwritten and needs to be reprogrammed or replaced. If the screen tells you, "boot error", "insert bootable media" or "insert system disk" then the BIOS is ok but the data on the hard drive is still gone.
Running an updated virus scan might, to a great extent prevent the system from crashing. But again virus scanning software looks for patterns in the data to identify a virus, Mamara Infosystems GM, Rubesh Pillai told The Sunday Times Business. For example if you know what a person looks like (tall, thin, blonde hair, blue eyes etc), you can search for this person in a crowd. This is the same with virus removal software. However, the CIH virus splits itself into small pieces of data and attaches itself into empty spaces found in files and therefore it is very hard to search for a pattern. In virus terminology "the larger a footprint the easier to detect" However, in the case of the CIH virus we have to look for patterns in smaller footprints.
If this data was very important then you can contact a 'professional' data recovery company or take the computer to a technician who can then re-partition the hard drive and reinstall the operating system.
Surprisingly the Sunday Times Business came across two final year engineering students who claim they could in most instances save the computer and recover most of the data. Even more suprisingly they claim to have done it by reading data books about integrated chips, ROM chips and Memory mapping and handling techniques, in an effort to save their own computer.
"After two sleepless nights finally we were able to boot the burned machine recovering the damage," Vajira Ganepola and Lahiru Seniviratne said. Unfortunately for them or the affected users, many did not believe this claim. "But afterwards, when they realised that we were really capable of this task, some of them wanted us to recover their machines as well," they said.
So far they claim to have recovered nearly 35 damaged motherboards successfully. "The most difficult part we have encounter was to extract data from the primary partition as the virus itself erases both copies of file allocation table," the students said. A defragmented drive seems to make things easier for the boys, who say that it is difficult to recover 100% of the data. During their tests they have observed that there was a very good possibility of recovering damaged hard drives with FAT 32-file system totally.
At present they are concentrating on further enhancement of their methodology to recovering motherboards containing non-standard chips.
All this computer stuff might be a little too much for some to digest, but you may rest assured that the authorities most often will not inform you of the virus. Particularly since one of the competent authorities had suggested that we forget about the Y2K and go onto the year 2001. Sources say that since the 26th of April, around six viruses have come out and guess what viruses come out everyday, so boot up and upgrade your software and if you do not know how to do it ask somebody who does. It does not hurt to ask, you know.

---
SEC hot on corporate governance
By Dinali Goonewardena
The Securities and Exchange Commission will concentrate on improving corporate governance SEC director general Kumar Paul said. Investors in addition to returns now look at the manner in which companies are run, Mr Paul said. Some leading conglomerates in Sri Lanka do not have non- executive directors. Non- executive directors raise problems of continuity of employment and succession within organisations.

Corporate governance and other issues pertaining to the stock market were discussed with the ambassador of the United States Mr Shaun Donnelly during his recent visit to the Colombo Stock Exchange. (CSE)

Transaction cost associated with trading in shares in Sri Lanka are the highest in South Asia. Commissions charged by brokers are high as they have no other avenues of profit making. This situation can be improved through the diversification of their activities. New avenues being introduced are stock lending and borrowing and market making on their own account, said the director general of the CSE Hiran Mendis.

Another issue addressed, was the new delivery versus payment system to be introduced shortly. This system will ensure the delivery of shares and payment date coincide.The markets illiquidity and dependence on foreign investment was addressed. The favourability of the market being propped up through local investment was discussed. It was felt that unit Trusts which had been set up to be a conduit for the unsophisticated investor had not served its purpose. Unit trusts have not brought sufficient investors to the market. A promotion campaign designed to raise investor awareness of unit trust will kick off in mid June.

However resident manager USAID financial projects Khursheed Choksy was of the view that the Sri Lankan market has no significant correlation with the US and European markets and investors might look to the local market when those markets are not performing.

USAID financial markets project assistance has been administered by the International Science and Technology Institute Inc. It has a range of on-going tasks intended to develop the market. These include the introduction of new market areas such as stock borrowing and lending, regulation of activities such as margin trading, development of the listed corporate bond market and working with the leading chambers of commerce on corporate governance. USAID also funded the original central depository system to the CSE.

---
Sri Lanka swings into cricket holidays
By Mel Gunasekera
Is the world cup bug itching your business? Cricket crazy Sri Lankans swung into another bout of holidays with the World Cup commencing last Friday.

As we reported last week, productivity is expected to take a backseat as offices and shops are expected to close early to enable employees to catch the glimpse of Arjuna's men battle out on the cricket pitch to defend their world cup.

Some workplaces who report high rates of day offs, short leaves and absenteeism whenever Sri Lanka plays an important match, are faced with a similar situation once again.

"Some of my workers would undergo a paycut to stay at home and watch the match," one industrialist said.

He noted an urgency from buyers for goods to be delivered before 12 noon to enable employees to go home.

Even in newspaper offices, cricket fans were urging deadlines to be brought forward to catch the curtain raiser at Lords last Friday. All in all, gallons of beer, loads of good food and various merchandises are on offer to cricket fans who have been infected with the world cup bug.

Local companies are cashing in on the world cup to boost flagging sales.

The economy is not expected to pick up this year, export growth is slow and import bill is high, drones the Central Bank. But, companies are pouring in precious millions into costly advertising campaigns to lure customers.

Promotions on offer include, discounts on television, radios, PC compatible TV cards, refrigerators, car stereos, jewellery, light fittings, gym club memberships and even television boosters.

Cricket fans could also see the world cup finals live, be the Sri Lankan team mascot, win air tickets by scratching cards and answering quizzes.

There is even a special 'Cricket Soorayo' cassette and CD put out by singing sensations the Gypsies.

Colombo hotels are offering special deals with some offering discounts on food, beer and room charges.

Some restaurants and shops have erected giant screens for their patrons.

"Thank goodness the matches don't start till afternoon, so at least some work will be done in the morning," one exporter said, adding that his buyers in America were not interested in world cup cricket matches, instead of getting their goods on time.

---
AirLanka to ditch first class
AirLanka will ditch its first class service to all destinations from October 25th. The prestigious first class has been replaced by a luxury business class which will be operated together with the economy class. The move will follow the arrival of its new fleet of Airbus A330's. There has been a trend away from 1st class during the last five years. "Embassies and corporate houses are walking away from first class tickets", said the country manager of AirLanka, Chandana de Silva.

In the past, customers paying for economy and business class tickets were upgraded to business class and first class respectively this has a negative effect on profitability as customers paying for business class were given a first class service. The super business class is expected to increase profits.

---
Business Briefs
What handicrafts catch the eye
'Vogue in the handicrafts sector is products which are a combination of ability and beauty. The demand for traditional handicrafts is only as souvenirs or collectors items,' says Leo Wallage, Consultant, Centre for Promotion of Imports from Developing Countries (CBI), Netherlands.

These views were expressed at a recent workshop organised by the Sri Lanka Export Development Board, on 'Exporting Novel Handicrafts,' says an EDB news release.

The workshop was organised in order to create an awareness regarding new trends in handicrafts among the exporters. The handicrafts and giftware sector have been identified by the EDB as an area with much export potential which provides employment opportunities specially in the rural areas.

Mr. Wallage gave a presentation on new trends, market information design and product adaptation, costing and pricing of handicrafts. This programme is one in a series of programmes organised by the EDB on different product sectors.
Coats helps CLL to help women
Colombo Ladies League (CLL) was founded in 1912 to help the unemployed women and today the CLL helps over 25 by recognising their skills in needlecraft and providing them an opportunity to earn an income.

A range of neatly crafted items such as beautiful embroidery linen, frocks, baby garments etc., are among many items available at the CLL sales outlet at Sir James Peiris Mawatha, Colombo 3.

As an addition to the many projects sponsored by the company to develop the skills of talented crafters and to recognise their efforts towards self employment, Coats Tootal Lanka has now joined hands with the Colombo Ladies League to provide assistance to this worthy cause.

Many items stitched by these talented women at the CLL include eye catching embroidery such as shadow work, smocking and cross-stitch which is completed using Anchor cotton thread. Coats Tootal Lanka now looks in to the thread requirements of the CLL by providing the total shade range of 265 colours of Anchor Cotton Embroidery thread at a very nominal price.

---
Tongue-tickling rare malt whiskies
Some of Colombo's top businessmen were offered a chance to taste some of the world's rarest single grain and single malt whiskies at a "Mentor" programme jointly organised by United Distillers & Vintners and Orient Lanka Limited, foreign liquor marketer in Sri Lanka, says a company news release.

Held at the Supper Club in collaboration with Hotel Lanka Oberoi, the Mentor Programme was a Scotch tasting session where the invitees sampled and savoured a few of the exceptional single malt and grain whiskies that form the essence of Black Label whisky.

United Distillers Brand Ambassador and scotch whisky connoisseur, Tom Thomson was the guide for the evening.

Mr. Thomson with 36 years of experience in the field of scotch whisky is a promoter for the brand across Europe and the USA. He took participants on a journey through Scotland by giving the patrons of Black Label an insight into how the unrivalled Johnnie Walker Black Label blend is made.

A subsidiary of Alpha Airport Group (UK), Orient Lanka has been in the liquor business for the past 30 years. The company is the leading marketer of foreign liquor in Sri Lanka, and is the sole agent for brands such as Johnnie Walker (Black & Red), Black & White, Vat 69, Gordon's Gin, Heineken and many other leading brands.

---
A school is born
At the centre of Rajagiriya a new hotel school has been born. As we walked in we were welcomed by two receptionists, who escorted us to the director's office.

This unassuming smartly dressed director who had much academic and professional experience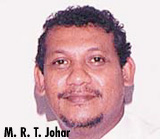 welcomed us and one could guess that he was a veteran hotelier.
He is M.R.T. Johar who was employed in five star hotels in Colombo and Middle East.
Many years ago after receiving the management diploma from the Ceylon Hotel School Johar opted to work in five star hotels from the bottom while his colleagues were holding management positions. Today he looks back on those years when life was hectic, life was tough, life was full of challenges and life was full of frustration and with an impish smile says "'lt was hard work but I have achieved my goal".
Even while at Hotel School Johar widened his horizon in the hotel trade working at Lanka Oberoi. "The work and studies were both in the same field so it was not much of a hassle, however I had to rush for the night shift after classes.''
After a few years Johar joined Holiday Inn Jeddah as an executive. Here he received the Trainers Certificate and Train the Trainers Certificate from Holiday Inn Internationl and was coached by Vice President, human resources.
"On arrival in Sri Lanka I decided to train students and joined Asia Lanka International Hotel School as a senior lecturer and eventually was promoted as an Assistant Director.
" I have been training students since 1991" and boasts that he has trained more than three thousand five hundred students and the only one to do so in Sri Lanka.
The school caters not only to hoteliers but also to those seeking employment as Air Hostesses, Ship Crew members (C.D.C), Hotel & Restaurant owners, Middle East job seekers and professional students seeking part-time employment overseas.
"We have not forgotten the housewives and working ladies. We are planning to conduct weekend classes in cookery and probably a five star executive chef will be in charge."
Ths school does not look into formal qualification and age limit. Those of the correct age, good qualification could join a five star hotel while others could join a four or three star hotel. "We also send our students to five star hotel for training. During training the students are paid and earn more than what they have spent. Successful students are guaranteed employment. We also help our students to go to the Middle East."
Johar has plans of conducting degree programmes affiliated to universities in London in the near future. Johar has been a student of Professor Chandana Jayawardana, Asoka Fernando (Chairman Hotels Corporation), F.Dias Abeysinghe and Punchihewa (Training Director- Colombo Hilton). He also paid tribute to his former bosses Nirmo Thambapillai, Mac Phillips and Mohan De Silva.
"A special thanks to Mr. Stephan Pfeiffer (General Manager, Lanka Oberoi) and Lalith De Silva (Asia Lanka) for opening the doors for me."

---
Luxury flat in Colombo 7
Mr. R. Ayaru, Chairman of Lincoln Property Holdings, responsible for funding "The Cinnamon Garden Residencies" project conveyed immense confidence in its success at the Foundation laying Ceremony of Cinnamon Garden Residencies held recently. Lincoln Property Holdings is a British owned, B.O.I. company deriving its name from the property known as "Lincoln House", owned by the family for over 75 years. The parent company "Lanka Enterprises", has invested largely in the United Kingdom and Central Africa and has built up vast experience and expertise in constructing and letting, up-market housing in these two countries.

Cinnamon Garden Residencies, 82 Luxury Condominium Apartments situated in an idyllic location in Colombo 7, is the newest project undertaken by Lincoln Property Developers and is funded with 100% foreign investment. The Chairman, Mr Ayaru, a chartered engineer, claims that a large sum of foreign currency has been brought into Sri Lanka compared to what would have been invested in property and world financial markets, due to the strong faith and confidence that foreign investors like himself have in this country and its government.

---
ANZ and Lions team up with 'Affinity Card'
An agreement has been signed between ANZ Grindlays Bank and the International Association of Lions Clubs District 306 A, B and C Sri Lanka for the issue of an 'Affinity Card" to the Lions in Sri Lanka, under the Mastercard International franchise.

Lions Clubs consist of over 225 clubs across Sri Lanka and has over 6,000 members. The club provides free health and care, cares for the blind, builds shelter for the homeless and elders and counsels children and the young.

The Lions in Sri Lanka will have this exclusive credit card with a Lions Logo, as it will distinguish them as a Lion.

Head of Retail Banking at ANZ Grindlays Zulfiqar M. Zavahir said, " that the members of the Lions Organization fall within the most affluent and respected groups in society .

The marketing of ANZ Grindlays credit card to this sector will help the bank maintain the high standard and exclusivity associated with the ANZ Grindlays credit card.