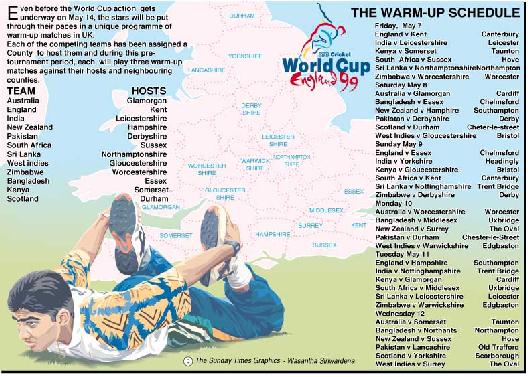 ---
Sri Lanka battles low morale in World Cup
COLOMBO, SATURDAY (Reuters) - Buddhist priests chanted hymns and tied holy threads on the wrists of Sri Lankan cricketers as they left for London on Saturday to begin their World Cup defence.
Captain Arjuna Ranatunga and his team will take on England in the first match of the World Cup championships on May 14 in a bid to become only the second nation ever to retain the title.
The odds are stacked against the world champions, but Sri Lankan cricket officials said the team, which has had a poor run in recent months, had a few new tricks that might help them retain the title.
"We have a few surprises up our sleeve, which we hope to put into operation in England," said team Manager Duleep Mendis.
But few could hide the team's low morale in the face of a court wrangle that for some time made Sri Lanka's cricket board redundant, froze its bank accounts and nearly made it impossible for the cricketers to get their visas and tickets for London.
The court imbroglio over the election of a new executive body in March is yet to be resolved, but Sri Lanka's powerful sports ministry stepped in earlier this week to set up an ad hoc committee with financial powers to enable the team's departure.
A Colombo district court issued a restraint order last month barring board president Thilanga Sumathipala from carrying out his duties after losing candidate Clifford Ratwatte alleged that gun-toting intruders prevented officials from casting their vote.
The court judgment is due on Monday.
Meanwhile, cricket authorities have issued newspaper advertisements and various sponsoring companies have organised special events to boost the team's morale.
"We were underdogs three years ago. Remember where it got us?" read one of the advertisements.
"The World Cup. They'd all like to have it, but we intend to keep it. They all fancy their chances, but we don't believe in the odds", read another of the glossy advertisements.
"If I say it (the court wrangle) will not have an effect on the players, I'll be lying," said board chief executive Dammika Ranatunga, elder brother of the Sri Lanka captain.
The board also sought the services of a Pakistani psychologist Omar Shah to motivate the team.
---
Lanka confirm
KARACHI,- Sri Lanka saved Pakistan from the embarrassment of having no international cricket at home in the coming season when they agreed to undertake the tour in 2000.
Pakistan was in danger of hosting no team after the West Indies cancelled a scheduled tour during September and October. But the PCB Chief Executive, Majid Khan, said on Monday that Sri Lanka have accepted the invitation and would tour Pakistan in February and March 2000.
The former captain said to accommodate Sri Lanka, Pakistan's tour of the West Indies would start from the first week of April.
---
Individual interests ?
Sri Lankan cricket officials were more concerned in fighting for the personal interests of some players rather than taking on issues that are in the larger interests of the country.
Sri Lanka delayed signing the agreement that will bring the country 1.5 million pounds sterling as World Cup fees which all Test playing nations are entitled to.
The reason for the delay was that Sri Lankan officials were busy fighting for the rights of two cricketers who are supposed to be on an advertising contract in which they must paste brand-name stickers on their bats.
These two players are supposed to be in a soup as World Cup organisers don't allow products to be advertised on their bats except the bat manufacturer's brand-name.
---
Royal beat Royal 171-0
By Saif Izzadeen
Royal College led by hooker Dinesh Rahim scored a record breaking 171 points (eight goals and 23 tries) to nil win over Royal Panadura in a 'A' division inter school rugby match played at Reid Avenue yesterday. At Lemons Royal led 86-0
Royal coming into the game in the wake of their hard fought win against Ananda last week swept aside the hapless Panadura school with an avalanche of tries.
Royal scored 31 tries of which 8 were converted by Dave Wijewardena. The tries were scored by winger Viraj de Silva (9), flanker Pavithara Fernando (5), Chamitha Pilapitiya (6) winger Chamith Perera (3), Rasika Wijeratne (3), Dinesh Rahim (2). One each was scored by Dave Wijewardena, Sajiv Fernando and Rasika Wijeratne.
---
Close for Trinity
By Shane Seneviratne
Bad Behaviour and foul-mouthed outbursts by Vidyartha players marred Trinity's 15 points (one goal, one try and a penalty) to 8 (one try and one penalty) win at Nittawela yesterday. At lemons Trinity led 8-3.
Trinity scored their points through second rower forward C. K. Amarasinghe and Kalum Silva. One of these tries were converted by skipper Shanka Kumar who also put over a penalty
For Vidyartha the try was scored by A.T.Nindagala while a penalty was put over by Prassana Gotabhaya.
---
Front Page| News/Comment| Editorial/Opinion| Business| Plus | Mirror Magazine