The difference in the Nations
Ranil Abeynaike Column
It is common to classify people of different nations based on what the other nations seem to see them as. Aggressive, volatile, cold, hospitable, friendly, lazy, noisy, proud, laid back, uncompromising, hard working, ruthless - are some of the terms often used. The characteristics may not be seen on the outside but over a period of time, the outsider looking in, slots in the nation to a category.
The cricket world gets attracted to the championship of the one day cricket next month. Do cricketers of different nations also have their own characteristics? They certainly do. Such differences between teams is not much of a studied subject. Although, to know the strength and weaknesses of the enemy is essential to win. That in fact is an elementary principle of warfare. It is no secret that the slump of the English - who invented this sport - was their attitude, "we'll concentrate on our game and let the opposition worry about theirs!" Let's take a look at some of the national cricketing characteristics:
Australia
The Aussies could be classed as the team that rates aggression highly, coupled with the required share of caution. High seriousness has been the tenor of Australian cricket. These days they boast of the best organised cricketing structure. They have always been motivated and driven to beat the "Mother Country' Their pride in sporting the "Baggy Green' is undescribable.
Cricket is seldom played in Australia other than intensely. The self-image (we are the toughest and the best) has often been true, for longer in their case than any other country. The unique role of cricket, has one team sport which interests all six states and the two territories, guarantees popular support for their team's endeavours.
England
Still hang on to the traditional methods of playing the game. They do not like too much change too soon. You wouldnt see many of them smack the first ball faced for six as some of the players from other nations do.
Most school and Club coaches drill youngsters in defence as the first priority and often eliminate attacking instincts. With country players the emphasis is on avoiding failure, maintaining your place and preserving your livelihood, sometimes at the cost of winning.
Like fashions the game of cricket also moves with the times. Suggestions to the country that ruled and dominated the Cricket World are tough to accept with a bow. Further, the motivation to succeed, as much as the former colonies, is not forthcoming. However, they have the ideal situation to begin a turn around this World Cup, in home conditions, where the early season holds a distinct advantage for them.
India
The nation that has the largest population amongst the cricketing nations. In fact all the other nations put together could'nt match the Indian numbers. Naturally their players do not suffer from stage shock. They are used to performing in front of large, noisy and emotional crowds.
Docile batting pitches and pitches that spin were surfaces confronted by players for ages. Most Indian batsmen are classy players off the front foot. Their production line continually produce great spinners. More than often the Indian combinations have proved inadequate overseas.
A thoughtful nation of cricketers. They are competitive but not over aggressive. This makes them not chase after victory all the time. They often wait for it to happen, than make it happen.
New Zealand
Just the opposite of India in terms of population. The least in terms of numbers amongst the "Test' nations - numbering just over three million. That is not much more than Jamaica and nobody expects them to be a "Test' country.
It took the Kiwis 26 years and 44 matches before they won their first Test. It was only during the Hadlee era of the 1980's that they were a force to reckon with. Lack of confidence that they can be winners at all times is their biggest drawback.
The cricketers have also grown up as poor relations besides the mighty "All Blacks" rugby players. Rugby is almost a religion in New Zealand and naturally stunts the growth of cricket.
Currently they are coached by an Aussie, Steve Rixon. He has proclaimed to his charges, "If I was playing for the NSW 2nd XI against Australia, we'd still believe we'd win." Will his influence be a driving force? Time will tell.
Pakistan
"Volatile" is the conventional epithet. It could be said that no International side relies so much on the spirit of the moment, perhaps, only the West Indies even approach Pakistan in this area. They play their cricket with great passion when at their best. Individual brilliance stands out. They could be described as the country that produces the most number of players with natural ability.
Often though, they bring about their own downfall. For no rhyme or reason game - plans get tossed in the bin. When one makes a mistake, the others pick it up almost as if it were contagious.
They are young nation, playing International Cricket. Yet, success has been plentiful. As the only Muslim country in the game they always refuse to bend the knee. Proof of this lies in their performances during the 1980's, when the West Indies reigned supreme. The Pakistani's battled it out to achieve three drawn series.
Will this pride and passion remain as the country ages and mellows?
South Africa
Being out in the wilderness for over two decades still smarts the South Africans. A nation that takes pride in their sporting glories. Since their readmission into the sporting flock, their sports has improved at a great rate of knots.Theirs is a will to make up for lost time.
The South Africans have the overall blend to become the best cricketing nation. Their players are physically fit, strong and athletic. They possess the drive required and the self-motivation to become top class cricketers. The infra-structure is in place to promote and develop the game. Currently they are working towards getting one step ahead and staying ahead of the other cricketing countries.
In terms of approach they are aggressive and tough. They lacked that quality of making good at the final burst. In that area too they have progressed in recent times.
It will be one of the fascinations of cricket in the next century to watch how the essential character of South African cricket changes under the impact of Cape coloureds, Xhosas, Zulus and the rest, as well as more Afrikaners.
Sri Lanka
The mid nineteen nineties was a glorious period for Sri Lankan cricket. This included winning the last World Cup. A nation with already a history of being in the game for over a century, this achievement lifted the popularity of the sport to dizzying heights.
In playing approach the Sri Lankans are close to the South Africans. Their handicap being the lack of genuine bowlers. The good batting surfaces, hot and humid weather conditions and bowlers not willing to learn the variations available have led to this situation. Junior cricket being restricted to overs games has also been a major contributor.
The initial fear of opponents which was displayed some years ago has disappeared. They take the fight to the opposition.
A weak domestic competition makes it tough for newcomers to adjust their game to fit in with the best in the game. Most require extended apprenticeships.
In recent times a power struggle has begun in the administration of the game. There is no United governing body so essential for the game to thrive. A broken marriage at the helm spreads to the ranks. It is a cancer that must be destroyed. The potential is available. The men in charge and those aspiring to be in charge must harness that, not destroy it.
West Indies
"Calypso Cricket", used to be a common term. That is the way the West Indies played their cricket. Their only form of defence was to attack. Two great leaders Sir Frank Worrel and Clive Lloyd united the players from the different islands and during their periods of leadership they provided awesome cricket.
The natural West Indian possesses a gifted eye, lightning reflexes, athletic movements, quick foot movements, strength and agility and a sense for cricket. It is that 'Sense' which was available in abundance amongst the islanders that seem to have depreciated. Why, is the question.
Professor Hilary Beckles, the Editor of the book, "A spirit of Dominance", states, that dance was about all that the slaves were allowed to bring with them from Africa, and whatever music they could remember and improvise. Dance was the first mass entertainemt - lithe, dramatic, sensual - and black cricket from the start was imbued with the same spirit.
If nowhere else in West Indian life, freedom - of expression - was allowed on the cricket field.
Zimbabwe
Formerly a part of South Africa. Newcomers to the top league. Yet hesitant, uncertain of themselves, inconsistent in performance.
---
Kavinda's secret power
By Ravi Nagahawatte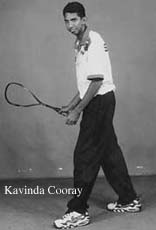 Sri Lanka junior squash captain, Kavinda Cooray is one player who is blessed in having a father who is more interested in his squash than he is.
The lanky lad who hails from Moratuwa is also aware of another aspect which has contributed to his success, the power behind his shots.
And whenever he speaks of the driving force which has been supplying him with a steady flow of 'current', those who are listening will know that he is referring to his father, Lakdasa Cooray. Lakdasa also happens to be the national coach.
Kavinda remembers how his father influenced him to take up squash. Like most kids his heart and soul was never in one sport before he thought of committing himself to squash. "In the initial stages my father sometimes had to force me to go with him to the squash courts. But now he does not have to do that," smiled Kavinda.
His enthusism was followed by the real zest to establish himself in the squash scene when his potential was realised within months .
Kavinda bagged the Under 15 Junior Nationals title with less than an year's training under his belt.
He had been younger to most contenders in the tournaments he took part. Be it under 19,17,16 or any age group tournament he took part, he got the better of his opponents who found it hard to survive against Kavinda.
But in this rich man's sport where cut throat competition is at its height, Kavinda finds that the good players normaly avoid practising with him.
"I do not get the chance to play with seniors at practices. They simply do not like to play with me," says Kavinda who thinks that the reason for this could be the fear that his opponents may lose to him.
However, despite his talents, the Junior Nationals Under 19 title has eluded him for the past two years. The seventeen-year-old student from Prince of Wales College was beaten twice in the finals in 1997 and 1998. The last defeat was suffered at the hands of Hirantha Gunasena.
But this year Kavinda started off auspiciously by playing up to expectations at the recently concluded Junior Asian Games. He marshalled the Sri Lanka side to take fifth spot in the tournament and also achieved personal glory by reaching the top twelve in Asia.
"I think this is the best performance ever by the juniors," he said.
Kavinda entered the quarter finals of the tournament and lost to the third place winner, a Pakistani.
Asked what more he has to do if he was to beat this player Kavinda said: "Stop studies and all other activites and play squash the whole day".
Kavinda currently trains under the watchful eyes of his father at S.Thomas' College Gymnasium in Mount Lavinia. However here too training is hampered when the courts are booked.
He recalled how at times he has to miss his practices. But what's inspiring is how he makes up for this by maintaining his fitness by doing some running in the gym.
"One day I will become Sri Lanka's number one, " beamed the enthusiastic youngster Ajith Weerakkody (men) and H.Bonita (women) emerged champions at the annual two mile sea swim conducted by Fishtail Aquatic Club. Above pictures show some of the swimmers who did well at the swim. From left: Ajith Weerakkody (Dolphin), H.Bonita (Devananda MV Ambalangoda), Viraj Jayasekera (Devananda), M.G.I.Sulari (Air Force) and J.A.D.R. I. Jayakody (Air Force). - Pictures by J.Weerasekera
---
In brief
Mawli excels in Table Tennis

Fourteen-year-old Mawli Prajangani of Visakha Vidyalaya created quite a sensation when she toppled Dilini Madawala, considered the fourth best national player, at the girls under 19 Tenth Chrys Gooneratne Memorial Table Tennis Championships.
Mawli entered Visakha Vidyalaya only this year. Prior to that she studied at St.Joseph's Girls School Nugegoda where she made great strides in table tennis.
Some of her achievements in TT are: Under 19 girls singles runner up in 1993 at the national junior championships. Under 17 girls runner up at the Ashok Melwani championships in 1996. Under13 girls singles runner up at the Milady Open championships in 1996. Under 17 girls doubles runner up at the junior natonals in 1997. Under 17 mixed doubles runner up at St. Joseph's Girls School 55th Year celebration TT championships.
She also claimed the under 13 championship title at the Ashok Melwani TT Championships held in 1997 and was the women's doubles runner up at the Central YMCA Open TT championships with her partner Geeshika Perera of Visakha.
Her achievements in team events: Runner up team member of under 19 A Division girls team at the all island inter-school championships in 1998. Played in the bronze medal team at the national school games in 1998. Under 16 A Division team member who won the junior championship title in 1998, under 14 A Division team member who won the junior champonship title in 1998. Both these titles were won at the All Island Inter-School TT Championships. Mawli also participated in a TT coaching camp held in Goa (India) in 1997. Her coach is Chandana Perera.
- S.M.D.Sirisena
Five golf titles for Jayakody
S.P.Jayakody, captain of the Nuwara Eliya Golf Club, was in outstanding form to win five titles at the seasonal golf matches organised by the Nuwara Eliya Golf Club where players from both Nuwara Eliya and the Royal Colombo Golf Club participated.
The results are as follows:
Keith Rollo Golf Cup winner: S.P.Jayakody (Nett 70),
runner up: Dr. (Brig.) C.Thurairajah (Nett 71),
First Nine winner: Bernard Fonseka (Nett 36),
Second Nine winner: Neil Chanmugam (Nett 32).
Carlsbergh Trophy winner: S.P.Jayakody (Nett 69),
runner up: Dr. (Brig.) C.Thurairaja (Nett 75).
Captain's Prize winner: Dr. (Brig.) C.Thurairajah (Nett 75).
President's Cup winner: S.P.Jayakody (Nett 71).
A.R.Aitken Cup winner: S.P.Jayakody (Nett 144), runner up: Dr. (Brig.) C.Thurairaja (Nett 144);
1st Day 18 holes winner: B.K.Fonseka (Nett 77);
2nd Day 18 holes winner: E.D.Jhonston (Nett 74).
Fearnly Cup competition winner: S.P.Jayakody (Nett 70),
runner up: Dr. (Brig.) C.Thurairaja (Nett 75);
First nine winner: K.Y.Uhm (Nett 43),
Second Nine winner: Neil Chanmugam (Nett 33).
Saranapala to coach Havies
Ana Saranapala, who served as the national rugby coach last season, has taken over the coaching of his former club, the Havelocks SC for the coming season.
Saranapala, an old Isipathanian, who played as a fly-half, joined the Havies in 1966 and played under Frankie David and turned out to be a utility player. A fine team man, he played for the Park Club until 1974.
After hanging up his boots he served the game in various capacities. He was a grade one referee and ended up as President of the Refs. Society. The Park Club, with a great rugby tradition in the past, in recent times have failed to live upto its reputation. Ana, when contacted by The Sunday Times, said that he has taken over the job to give back something for the club which has helped him to go places off the field.
This season there are no foreign participants, and all clubs will be on par when they take the field. My objective is to uplift the game and help the levels of the youngsters with improved rugby skills. Mental toughness is very important in any sport plus fitness. These are main ingredients for its development.
Q - How many are in the squad?
A - About 25, some of them just out of school. They are all keen and determined and are working to a plan under skipper Leonard Silva, the nippy scrum-half. Also I am fortunate to have former Sri Lankan prop forward, burly Chaminda Rupasinghe to assist me.
The club hierarchy, is giving all the assistance. He said, he was confident that the boys are a disciplined lot and will give 100 percent on the field to play clean and hard open rugby. That, too in the correct spirit and no lamenting over the final outcome. I have also stressed that the spirit of the game, should be maintained on and off the field. That's what sport is all about.
If the boys failed in the end then they are not found wanting for their efforts. But I am confident that the Havies will be concerned in the finish in the coming season, and the boys are rarin' to go.
- Bernie Wijesekera
---
Fishtail Aquatic Club's annual two mile sea swim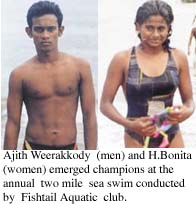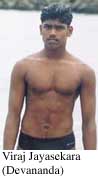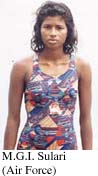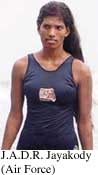 Ajith Weerakkody(men) and H.Bonita(women) emerged championships at the annual two miles sea swim conducted by Fishtail Aquatic Club. Above pictures show some of the swimmers who did well at the swim. - Pictures by J. weerasekara.
---
Susanthika in America
By Channaka de Silva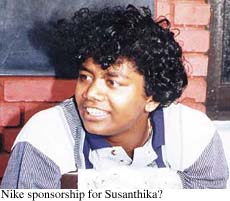 When Susanthika Jayasinghe travelled to California, United States last year, she didn't have a clue of what to expect. Having faced the wrath of the high and mighty she was virtually finding asylum in another country.
Through some of the concerned people in Sri Lanka she had managed to find a kind hearted Sri Lankan domiciled there Dr. Walter Jayasinghe, a widely respected doctor who provided her shelter.
The people who arranged her trip to California had also arranged her to train under Tony Campbell, one of the finest athletic coaches in the world.
Antonio L. Campbell, widely known as Tony is a coach with the renowned University of California and has been a widely respected figure in the world of athletics. Jayasinghe's friends have first opted for world famous coach Tom Tellez but later on turned to Campbell.
In a communication between Jayasinghe's friends in US and Sri Lanka prior to her visit, the party in contact with Campbell says "Tony Campbell called me back today. You may recall that he was highly recommended and was the second choice (behind Tom Tellez). Tony saw Susanthika run at the World Championships in Greece. He was extremely impressed with her, described her as "raw talent" and says that with adequate training she will be one of the top two female sprinters in the world. I got the impression that he would be thrilled to get a chance to coach her...It seems fairly clear that we should not have too many problems in getting her a world class coach".
However, what Campbell did not expect was to see Jayasinghe perform so well so soon. In Campbell's own words he was stunned to see her catching up smoothly. Following is an excerpt from a recent statement by him.
"After four weeks of training, Ms. Jayasinghe travelled to Germany to complete her training cycle, such as speed work. Her first competition was a 60 metre race which she won in 7.21 seconds. At that time, I thought her performance was impressive. Our next competition was in Budapest, Hungary. In this meeting she faced her toughest competitors to date (e.g. Irena Privalova). Again Susan won with an impressive time of 7.18. I was in complete amazement. Thereafter, we travelled to Stuttgart, Germany. Susan ran an Asian record in the 60 metres with a time of 7.12 in the preliminary heats. In the finals she continued to improve and won the race with a record breaking performance of 7.12. Her next competition was in Dortmund, Germany. While performing, she was injured. Nonetheless, she still finished second with a time of 7.12."
"In order to comprehensively evaluate injury, I arranged for a specialist to assess Susan's condition in England. It was recommended that Susan receive a minimum of 1-14 days of treatment. Consequently, I discontinued her track season. It was my professional opinion that further competition would be contraindicated. Upon her return, I placed her under the professional medical care of Dr. Walter Jayasinghe. Within a two week period, Susan was able to resume her training regiment. Her progress has been excellent and she is scheduled to compete in her first outdoor competition on May 3rd in Japan."
Jayasinghe was contracted by Campbell through his agency called T.C. Management, Inc. of which he is the Managing Director.
According to the "Exclusive Agency Contract" signed by Jayasinghe with Campbell's company which is valid for a period of two years, the Agent (Campbell) undertakes to carry out four functions for Jayasinghe. They are (I) Obtain invitations and entry for the athlete into track meets and competitive running events. (II) Coordinate for the athlete the scheduling and arrangements for appearance and performance at such meets and events. (III) Obtain for the athlete appearance fees, endorsements and related contracts and engagements. (IV) Act as business advisor and negotiator with respect to the athlete's track and running endeavours and all contracts, agreements, endorsements and engagements related thereto.
According to the Agreement, Jayasinghe has to pay Campbell fifteen percent of all monies received during the contract directly or indirectly relating to her track and running endeavours and activities. This includes appearance fees, bonuses and prize money. In races where there are appearance fees, she will have to pay Campbell ten percent of her prize money as well. Campbell is also entitled for commissions.
The two year contract will automatically renew for an additional two years after the original two years expire if Susanthika doesn't terminate it in writing.
Campbell has experience in coaching prestigious American colleges such as University of California - Berkeley Campus, Alameda College, Merritt College.
Among the athletes coached by Campbell is US sprint star Dennis Mitchell, 100 metres Bronze medallist and Olympic 4X100 relay gold medallist at 1992 Barcelona Olympics.
He has also coached Canada's Bruni Surin, 4X100 relay gold medallist and 100 metres silver medallist at 1996 Atlanta Olympics.
Jayasinghe has been training with Coach Barbara Edmondson at the University of Southern California, since the first week of January this year. Edmondson has been recommended by Campbell.
Training has progressed rather slowly due to the factor that her training in Sri Lanka was in contrast with her current regiment. However, according to Campbell it has picked up in recent weeks (ex. weight lifting, hill training)
Still, with all her creditable performances, finance has been a bit of a worrying factor for Jayasinghe. Since Dr. Walter Jayasinghe's house where Jayasinghe was staying was a 45-minute drive (60-70 miles) from her training venue at the University of California, she had a problem. Last month she moved into an apartment which is at walking distance from the venue with another female friend of hers. But this also has only added to her financial burdens. According to an estimate by Campbell she has to spend 500 dollars for Professional coaching services, 1000 dollars for house rent and 500 dollars on daily expenses. This is 2000 dollars per month or nearly 140,000 Rupees.
Still being under the suspension, Jayasinghe has to depend on wellwishers to make her ends meet. When an athlete is under suspension on drug charges, companies usually don't sponsor them on principle.
First, famous "Asics" company approached her for a deal and then "Nike" showed interest.
Campbell has decided that the "Nike" deal suits her best and Jayasinghe is almost about to sign the deal pending on the result of the arbitration panel's hearing result.
"Nike" has already undertaken an expensive programme to design a special shoe for Jayasinghe since medical experts have found that she has a congenital condition called "Flat Foot" which makes her prone to injuries to calf muscles. It was the problem Jayasinghe had for a long time. The new shoe, which will specially fit her foot will not only eliminate the risk of injury but also will improve her timing as "Flat Foot" causes a notable hindrance to speed.
It is interesting to quote another paragraph from a fax from Jayasinghe's US wellwisher to Sri Lankan counterpart before she left the island. ""The economic potential for Susanthika is enormous. Although there are no guarantees, the amount of money at stake are quite large. As an example, Marion Jones is said to have made close to $2 million last year. Given the money and the fame involved, you can see why every meddler, "yakko bugger" and sundry scam artist will want to get a piece of the action."
Just as Campbell wrongly thought she would take long to challenge the world's best, his perception of her ability to adapt to American society has exceeded expectations.
"She is very friendly and people have begun to love her and adore her" is how Campbell sums her up. In fact one of the main jobs for Campbell under the contract was mental health consultation and mentoring services to enhance adjustment to American lifestyle through individual orientation sessions to discuss acculturation issues. His main aims are to help Jayasinghe go under 11 seconds in the 100 metres and under 22 seconds in the 200 metres.
The first impressions are long gone and Campbell has now recognised Jayasinghe as a "phenomenal talent, ever eager to run".