Beware, bus-busters on board
By Frederica Jansz
Police swing into action to curb the 'omnibus atrocities'
Disguised as a civilian, an undercover policeman boarded a No. 100 bus when it skidded to a stop just past the bus halt at Kollupitiya, opposite the National Savings Bank. The police decoy got in as the conductor yelled at him as usual to hurry up, physically using his hand to push him and other passengers into the bus.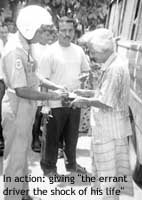 The decoy gave his fare to Fort. No ticket was forthcoming. The conductor again yelled for him and other passengers to move back along a nonexistent and infamous middle row where one is expected to stand on another's feet.
The driver of this coach with a gleam in his eye then proceeded to drive at maniacal speed down Galle Road. Sitting on his horn, he behaved as if he was in an obstacle race.
Swinging the coach off at Kollupitiya junction he sped down Dharmapala Mawatha to Flower Road junction where accelerating harder he jumped the red light, and proceeded to Union Place and the Regal roundabout in Fort.
While the decoy and other passengers on their feet struggled to stay on their feet, those seated did not fare much better, as the coach rode away recklessly. the driver again hitting the brakes hard as he stopped mere inches away from the vehicle travelling in front.
The bus swayed at a sickening pace as its driver changed lanes continuously, ignoring the wrath of angry drivers as he cut and swerved right and then left again, mindless of other vehicles in his way.
At the Regal roundabout in Fort the decoy had listed at least five offences committed by this bus driver and conductor.
He got down and was met by N. K. Seneviratne, OIC , Traffic, and a team of uniformed police officers.
They got on to the bus and gave the errant driver the shock of his life.
He was not spot fined as the offences committed were too grave.
Instead his licence was seized and the police immediately filed a plaint in the Narahenpita traffic court.
The charges against the crew were — breaking traffic signals, changing lanes, picking up passengers outside bus halts, dangerous driving, unnecessarily applying brakes, and not issuing tickets for the fares paid.
Policemen in mufti last Thursday began travelling on both private and state buses to nab those who drive dangerously.
Police Traffic chief Camillus Abeygunawardena told The Sunday Times that the decoys would travel in buses like ordinary passengers, note the offences and travel until a particular spot where a team of uniformed officers would get in and nab the crew.
Any errant crew would either be spot-fined or taken to courts, depending on the gravity of the offence.
When such tactics were adopted by police in 1990, bus crews staged a strike, but DIG Abeygunawardena vowed that police would not give in this time, though he assured that crews which did not commit blatant offences need not have any fear.
He said that the traffic police needed more manpower and resources to carry on such operations effectively.
Asked whether the fines were high enough to serve as a deterrent, the traffic chief said they had to act according to present laws until tougher penalties were laid down.
Senior Superintendent Alfred Wijeywardena, who is directly in charge of the bus-spy operation, said not only buses, but trishaws were also were often a law unto themselves — driving anywhere, parking anywhere and generally playing pucks.
He said the police would carry out their operation first in Narahenapita, Union Place and Reclamation Road areas.
SSP Wijeywardena said that besides bus and trishaw drivers, some boorish drivers of private cars also committed blatant offences that were unworthy of their ties or any post they held.
Recalling an incident involving such gentleman road thugs, he said that last month he had been escorting the visiting Polish President when a car suddenly whizzed into the path of the official motorcade.
Despite frantic signals by the police to move away, the driver continued to go at top speed down the highway.
Turning off at a junction police cars gave chase and finally managed to stop the reckless driver who was drunk and on his way back from the Royal Thomian cricket match.
His identity card revealed he was a top executive of a prestigious private firm. He was fined Rs. 3,750 and his driving license suspended for one month.
The SSP called for public support and cooperation with the traffic to curb the menace of road thugs — from trishaw drivers to top executives.
---
Police Traffic Chief slams drivers
Managing traffic in Sri Lanka is similar to conducting a symphony orchestra in a dilapidated music hall, with ineffective instruments and inadequately trained musicians, an exasperated Police Traffic Chief said.

Deputy Inspector General Camillus Abeygunawardena told The Sunday Times in an interview that to have proper traffic law enforcement there must be proper road environment. Signs and lane marking, parking facilities needed to be correctly maintained.
He said the existing road environment encouraged non-adherence to traffic laws and regulations. Adding to it was a tendency for Sri Lankans in general to be indifferent to their civic duty.
For example, he said it was a common practice to drive after drinking, indifferent to the danger that could be caused to innocent people on the road.
In addition, the traffic chief said the number of vehicles had far out-run the number of policemen available for traffic supervision while the existing roads could not cope with the excess traffic.
He regretted that in Colombo and other metropolitan areas traffic law enforcement required the physical presence of the police otherwise there was a tendency to break road rules.
He lamented that most motorists were selfish to the extent "they care only for themselves," telling others to go to hell.
He said another obstacle faced by traffic police was that they did not have adequate electronic equipment like speed cameras.
Thus the physical presence of the policemen was constantly needed. To meet the present demands, there was a need for well trained, well equipped, well experienced and well motivated traffic personnel.
Mr. Abeygunawardena said that ideally traffic police should work around the clock in three shifts, at least to monitor busy highways in Colombo, and the Colombo-Negombo highway.
Asked about the effectiveness of a new scheme where traffic police used video cameras, the DIG said this was proving difficult as it took time to trace the vehicle.
He said that what would be more effective in the long term would be the physical presence of policemen as well as unmarked police cars which could move around and immediately catch the offenders.
---
Southern PC Polls
Studded with youth and stars
By Dilrukshi Handunnetti
After several rounds of brain storming sessions to prepare nomination lists, all political parties are gearing up for heavy campaigning for the southern polls with new faces and popular stars.
The Sunday Times learns that the two main parties have opted for old faces — Mahinda Yapa Abeywardene, the outgoing Chief Minister being the PA candidate and former UNP Minister and Chief Minister M. S. Amarasiri the UNP.
The JVP has not yet announced its chief ministerial candidate.
Most parties however have been keen to include new faces, orators, youths, academics and professionals.
PA General Secretary D.M. Jayaratne said its nomination list might include a few surprises.
"We are keen to inject young blood and our list shall be a mixture of the experienced youth, professionals and graduates. We will field at least six debutantes," Mr. Jayaratne said.
The PA is likely to field popular actress Sangeetha Weeraratne though some insiders say she has not consented yet.
The UNP has also planned to nominate more youths to face the challenge from the JVP, which is strong in the south.
UNP General Secretary Gamini Atukorale said the party was keener to field people with unblemished records.
However, sources said that the UNP was also unsuccessful in introducing some 'creative people' and attempts to bring in songstress Nirosha Virajini was foiled.
While the PA and the UNP intent on using candidates attractive to the voters, JVP's Publicity Secretary Wimal Weerawansa said that they were only keen to field some hard-core politicians.
"We have never been keen on the aspect of introducing glamour to our political platform. It is meant to be an arena for exchange of ideas only, not to mislead the people by other deviatory tactics," he said.
He said the JVP was still finalizing the nomination lists and was more keen to field worthy candidates, adding that a chief ministerial candidate was not selected yet.
---
Army-WildLife fight over jumbos
By Udena. R. Attygalle
The recent death of a rogue elephant at Yala seems to have brought to the surface long standing differences between Wild Life Authorities in Colombo and the Army at the park.
While Wild life authorities claimed that giving prior notice, ( even to the relevant park warden) of the translocation of rogue elephants is not the normal practice, the Army counter claimed that as the competent authority at Yala it is required that at least they be informed.
Meanwhile Wild life sources clarified that the elephant had been released at Boraluwala at Rathmalwewa in Block 1 and not in Block 2, as declared earlier by them.
Responding to allegations that the elephant should not have been released into a park which many visit, Deputy Director Dr. Nandana Attapattu said the Eth Athuru Sevana at Udawalawe was already overcrowded with elephants.
Releasing the animal at Maduru Oya would only mean that it returns to Nachchaduwa, he added.
The fatal bullet itself has come under debate with the Wild Life Dept claiming that it was a side shot and the Army saying it was a frontal shot.
Dr. Atapattu replying to the allegation that the Competent Authority was not met by the investigation team appointed to look into the matter claimed that the investigation was to look into possible lapses by Wild Life authorities at Yala and so didn't require meeting the Competent Authority.
Meanwhile the court hearing for the three accused soldiers is fixed for mid May.
---
Festival of peace on Thursday
Thousands of youth from all races and religions are expected to take part in a festival of peace in Colombo on Thursday.
The youths from all part of the country including the north will first gather at the Centre for Society and Religion (CSR) for a peace march to the Viharamahadevi Park where a full day intercultural festival of peace will be held.
A spokesman for the CSR which is the main organizer of this festival said there would be music, song and drama items presented by Sinhala, Tamil and Muslim youth.
The peace festival is been held to mark the first anniversary of an inter cultural multi religious youth exchange programme during which youth groups from the CSR went to various part of the country for an in-depth dialogue with youth in those areas. During those dialogue a deep relationship of trust was built among Sinhala, Tamil and Muslim youth and it was sustained throughout the year through various forms of sharing.
The mass rally of the youths on Thursday is the highpoint in that process of peace through dialogue and justice. Youth groups from all provinces will present cultural dramas and other items at Thursday's festival where the speakers will include CSR director Fr. Oswald Firth, the Ven. Kalupahana Piyaratana Thero, Prof. Jayantha Seneviratne, Fr. Tissa Balasuriya and journalist S.Manoranjan. One of the themes of the peace festival will be based on the hallowed words of Rabindranath Tagore - " Racism forms a whole people towards a narrow selfish view. Once such perceptions enter their minds they are pushed towards a savageness of life and a blindness to wisdom. In such a situation I do not expect a renewal of the social structure from any other than a group of persons who have a clear, uncontaminated mind, and are inspired with noble ideals. They are spiritual well springs from whom we can expect worthy actions."
The CSR said in the search for peace during the past year they had journeyed to towns and villages and met thousands of persons with the building up of understanding and promoting peace. As a sign and symbol of this dawn of peace these persons and groups would be gathering together for the celebration of a festival of peace to give the entire country a symbol and pledge the CSR said.
---
What about "demographic balance" for Sinhalese?
By Kumbakarna
It has been reported that the se-curity forces wanted to acquiresome land near the Palaly base in Jaffna. According to them, they required this land to set up a security zone around the base. What the Kilinochchi attack proved was that a strip of land just five km wide was not sufficient as a buffer zone against artillery and mortar fire. This was a significant factor in the fall of Kilinochchi.It is obvious that an effective security system will have to be implemented in Jaffna for years to come. For this purpose, military bases protected by impenetrable defence lines are required at Palaly, Elephant Pass, Velvettiturai etc. Hence the need to widen the perimeter around Palaly.
In seeking to acquire this land, the forces pointed out that Tamil civilians were in any case reluctant to live close to military bases. After the Kilinochchi attack, the LTTE also warned Jaffna civilians to move away from military bases. In view of these factors, there would seem to be nothing wrong in acquiring land, where the civilians in the area do not want to live in anyway, for a purpose that would enhance their own protection. However, this was opposed by various Tamil politicians such as Douglas Devananda of the EPDP and Joseph Pararajasingham of the TULF, and the usual network of foreign-funded NGOs. According to them, this was "an invasion of the Tamil homeland".
It is important to understand what Tamil racists mean when they talk of a 'Tamil homeland'. It is obvious, from what has taken place over the past several decades, that they define this as an area which is ethnically pure, i.e., an area in which no other race is allowed to live. According to the terrorist leader, not even a footprint of a Sinhalese would be permitted to remain on the 'sacred soil of the Tamil homeland'. The terrorists' representatives in Colombo, catering to a more sophisticated audience, oppose the migration of Sinhalese people to these areas on the grounds that it would cause an "alteration of the demographic balance". The creation of this ethnically pure Tamil area is not just a distant dream of Tamil racists. It has already been turned into reality. According to the census of 1971, there were 20,514 Sinhalese people living in Jaffna at the time. While a significant number of them were subsequently killed by the terrorists, every single one of the remainder were evicted. As 'ethnic cleansing', it was far more effective than anything the Serbs have managed to do in Kosovo because the 'success' rate was 100%, but of course there was no international outcry. Nor was there a word of protest from the so-called 'human rights' groups, the 'womens groups,' the 'mothers groups', the 'peace groups', the Christian and Catholic churches, the NGOs and all the other individuals and organisations which now whine constantly about the 'rights of the minorities'.
It seems that the Sinhalese, being the majority, are not entitled to any 'rights', least of all the right to live anywhere they want in this country.
The last Sinhalese was driven out of Jaffna on October 7, 1987. The last Muslim followed on October 11, 1991. Ethnic cleansing was complete. All that the Tamil racists require to do now is to keep these areas 'ethnically clean', by preventing the return of these other races.
The northern and eastern areas of this country were never exclusively Tamil enclaves. There is sufficient historical and archaeological evidence to completely disprove that myth.
However, it is not the intention here to go into these in detail, as much has been written recently on this subject, but rather to examine a different aspect of this issue.Over four lakhs of Tamils have moved into Colombo city itself since 1984. Tens of thousands more have moved into other areas of the Western, Southern and Central Provinces. So those who oppose the settlement of other ethnic groups in the north and east do not themselves hesitate to settle in other areas of the country.
Does this not cause an "alteration of the demographic balance"? This is the phrase trotted out by Colombo-based Tamil racists to oppose the settlement of non-Tamils in the Northern and Eastern Provinces. Is this concept applicable only to those areas?
There is only one question on this issue which remains to be asked. When the Tamils themselves enjoy the right to live in every part of this country, what moral right do they have to prevent people of other races from living in the north and the east?