Lobby
Facing attack with sporty flair
By Dilrukshi Handunnetti, Our Lobby Correspondent
There being no ideal state, one can hardly hope for an ideal democracy. If there is the rare idealistic political threat, we are surprised by it, and more surprised when it is actually executed.
But not so when Ratnapura firebrand Vasudeva Nanayakkara carried out his threat to cross over to the Opposition with customary militancy over differences of opinion with the ruling PA, on Wednesday.
Apart from the crossing over, the day was also marked by the rising levels of water, especially in areas surrounding Parliament with many people cursing governments born and to be born for the mess created by unplanned land filling projects.
The watery threats like everything else usually affects the ordinary people- but this time Mother Nature in fairness released an abundance of water from the skies, and the House by the Diyawanna for a moment was partially threatened by murky waters.
With the drama of workers scurrying hither and thither at break neck speed to mop the water and remove sodden carpets, Vasudeva Nanayakkara was the man of the moment. All geared to cross over to the Opposition – he provided the only bright streak in an otherwise gloomy day.
The lanky parliamentarian, who whacked both the government and opposition with equal zeal was a lonely man when he arrived late owing to floods to make his statement. Although he was apologetic for being late he said he was not so to quit a government he had come to hate though he admitted he hated the UNP more.
Perhaps the government regretted losing the critical MP as they watched in silence while the opposition, careful not to show their glee in having Vasu within their folds also maintained an uneasy quiet.
In a House strangely enveloped in pin drop silence and devoid of applause, the MP crossed over to occupy a third row Opposition seat, close to his friend Neelan Thiruchelvam, with the singular government heckler being Parliamentary Affairs Minister Jeyaraj Fernadopulle censuring the MP 'for carrying a green file'.
Sparks however flew when a controversial sports bill was taken up for debate on Tuesday with many giving vent to their feelings and exercising vocal chords- perhaps in preparation for the forthcoming polls.
Sri Lankan sports seems to be getting curiouser by the day, what with the controversial Cricket Board elections and the files of the Hockey Federation being allegedly removed by its governing body.
Verbal punches by the Opposition were aplenty when the controversial Sugathadasa National Sports Complex Authority Bill was taken up for debate but the minister was determined to play it safe. So all the bouncers and the googlies were carefully treated, so unlike the bashful minister. And yes, it came as a surprise when cherubic S.B. Dissanayake maintained his cool, unlike the days of the infamous Susanthika saga when the minister displayed frayed nerves and foul temper for the Opposition to play hell with.
Tarnished as it is, he had to defend a ministry accused of corruption and irregularities, not an easy task going by the recent incidents.
The World Tel bribery scandal was superceded by the damning Cricket Board election-things the minister perhaps desired to wish away.
"What can you possibly say of an athlete in hiding and a volcanic Cricket Board hiring thugs to win elections," queried UNP'ers from the very outset, treading on dangerous ground when they prodded him about Susanthika Jayasinghe - an athlete now in 'sporty exile'.
Determined to maintain his cool, Mr. Dissanayake was full of praise for late President Premadasa for having improved the Sugathadasa Stadium to what it is today- but critiqued the UNP's management of the complex.which he termed as a 'plagued administration.'
"Here is a project nurtured carefully by the President, but mismanaged by the CMC. That is why the Government wasn't to turn it into an authority and take it directly under the wings of the Sports Ministry," he said.
"Like those wings of protection you showed some sprinters," asked silver haired Nanda Mathew, Mr. Dissanayake's predecessor from Ratnapura. But the minister continued undeterred, giving a performance record of the Ministry- of course excluding the alleged rowdyism at the Board of Control for Cricket and the corruption within.
So he made promise after promise like a marriage solemnization cerem ony- an ambitious Rs. 25,000,000,000 for a project in Trincomalee, Vavuniya and Ratnapura, improvements on Khettarama and Sugathadasa and the conversion of the Colombo Race Course into a fully equipped Sports Complex.
As he continued to gloat over in a self-congratulatory mood, no mention was made of sprinters who were denied the local arena and the fearful developments at the Cricket Board or the many threats to local sports in general.
Countering his hyperbolic speech was Kegalle's R.A.D. Sirisena, a vociferous critic of the PA. In a mood to draw parallels he listed the many UNP initiated projects like Janasaviya and Gam Udawa which he said were merely renamed due to the conceptual bankruptcy of the present government.
The Sports ministry he alleged was in turmoil despite the minister's rhetoric. He said sports had become a dirty word with scandals building up to volcanic proportions.
" We have boxers settling petty fights by actually boxing each other outside the ring, athletes being chased away from the arena and the country and rigging and violence at Cricket Board elections. The violence at the Cricket Board election almost paled the PC poll violence into insignificance," he scoffed while the sports minister maintained stoic silence.
"President Premadasa was roundly condemned for introducing flood light cricket and wasting money, but today those very same critics spend much more on less important things," he noted with disdain.
Waxing eloquently in rapid Sinhala he went on to attack Minister C.V. Guneratne. who he said was unable to save the crashing industries but was trying to save the Kabadi Association.
"Nandimitra Ekanayake who has probably never played hockey is the chairman of the Hockey Federation and is resorting to extreme measures as he reportedly did in Wayamba. When the AGM was not held, the files went missing," he charged.
He expressed disgust over the fact that sports bodies were acting like true rowdies.
The House was in for a bit of Premadasa bashing when Uva- chief ministerial designate Samaraweera Weerawanni, who clashed with the president during the impeachment motion, stood up to defend the decision to convert the Sugathadasa complex into an authority.
He held forth on the President's enthusiasm for personal sponsorships for projects, gently querying whether that was ethical.
"An angry opposition lacking credibility wants a certain driver penalized for allegedly having misappropriated Rs. 3,000. But people of this country have recollections of a time when millions were siphoned out without any documentation and families got richer while the country got poorer– which was why the impeachment was aborted in case all the dark secrets come to light," he charged.
Hot on his heels was UNP's vituperative member Mervyn Silva- who soon after the New Year made a solemn promise to the House that he would not be abusive in the House.
Determined to draw the SLFP into the soup, he said there was a time when the SLFP used people like Suriyapperuma to character assassinate UNP leaders of yore and said he did not wish to continue in that same vein, possibly to the relief of many who were present.
Mr. Silva displaying a rare streak of refined humour, compared the Cricket Board elections to the NATO attacks on Kosovo- armed with combustible matter and automatic weapons to ensure immediate results for their own benefit.
"You may be a minister", he said, freely dishing out advice to the young sports minister."and you certainly have the freedom to fall in love and the sprinter too was free to love a minister. But remember as a measure of caution, it was indecent to exchange a trophy for gratification" he opined.
The Sugathadasa Stadium, a tribute to late V.A. Sugathadsa became the focus of UNP parliamentarian Sarath Ranawaka's speech, another member who managed to bring out the worst of S. B. Dissanayake during the Susanthika scandal.
"During Premadasa's time, despite all the vitriolic speech, all stadiums were well administered and the benefits flowed to the poorer athletes, specially at Sugathadasa Stadium."
Today, he thundered, it was more or less a pub and those who came there were not people keen on sports but on having a good time at the expense of sports people. This tavern, he said, pausing for emphasis, was being run by some Hanguranketha stooges, a far cry from what it used to be.
The Bulathsinhala member in his final remarks drew the attention of the minister to the dismal performance of the Sri Lankan cricketers, the alleged scandals, and corruption- all a result of maladministration.
"Some day we will pay for all the mismanagement and the corruption" he said, warning a House suddenly gone intensely quiet. " When sports bodies conduct elections in Wayamba style, this country has little or no hope. Sports must be a motivator, a purifier and an inspiration. But the recent incidents have painted a bleak picture of a future when sportsmen would come armed and kill each other. Sports was all about preventing such developments and unless remedial measures are taken fast, we have no future," he said, with great passion.
---
From the Green Corner
Don't bet on their wait and see attitude
By: Virudda Paakshikaya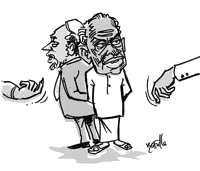 Judging by what my unseen friend Paakshikaya has written in his column last Sunday, he seems to be in a euphoric state. I don't grudge him that, of course, given the massive propaganda carried out by his government's media apparatus to portray a Peoples' Alliance victory at the April 6 elections and what can I say but, "please forgive him, for he knows not what he is saying!"
As far as we in the UNP are concerned we prefer to let Paakshikaya and his like-minded colleagues live in their political utopias, dreaming that they will emerge victors at the next Presidential or General elections. That suits us fine.
But I do have a responsibility to my readers - some of whom may be impressed with Paakshikaya's warped but apparently convincing arguments - to set the record straight about some claims made last week and that is what I intend doing today.
Paakshikaya first gloats over his "predictions" about the PA "winning" all five provincial councils, about his party's so-called pledge to hold free and fair elections and the JVP winning about five per cent of the vote.
I will concede that he got the last prediction right and as a student of politics he should be proud of that. But I beg to differ regarding the first two predictions and I will tell you why, my friend.
The PA did not win all five provinces by any stretch of the imagination and any schoolboy who can do simple arithmetic will tell you that they won less than half the seats in all but one of the Councils, the latter being the North Central Provincial Council.
The only claim the PA could make with any conviction is that they emerged the single largest party in four of the councils and that too thanks to the allocation of bonus seats in some of the councils. If you consider that a great achievement, Paakshikaya, then so be it!
But just to rouse you from your political pipe dream, Paakshikaya, I would advise you to take a look at what's happening in neighboring India. There the Bharatiya Janata Party (BJP) of Prime Minister A.B. Vajpayee also emerged as the single largest party and managed to string together a coalition of sorts containing groups with many colours and more ideas.
Coalitions, as a rule, Paakshikaya, are short lived and that is what has happened in India. And, to Paakshikaya, who attempts to ridicule my powers of political prediction, I offer this prophecy- your regional governments in the Western, Central, Uva and Sabaragamuwa provinces will suffer the same fate.
It is not a question of whether it will happen but when it will happen and that, my friend, will be decided by us in the UNP, because whenever we want, we can muster a majority to topple your provincial administrations.
Then, Paakshikaya, I have to take issue with you on the question of a fair poll. You write as if President Chandrika Kumaratunga is more democratic than even Dudley Senanayake. But, my friend, ask your conscience whether the polls at say, Kegalle, Mahiyanganaya or Hanguranketha, for example were free and fair?
The unfortunate malady that seems to have affected our collective media, the so-called political pundits who lecture and analyze results and our election monitoring non-governmental organizations is that they all seem to think this was a free and fair poll, just because the number of incidents were less than at Wayamba!
That is a dangerous trend, Paakshikaya. The Wayamba poll should never be a benchmark for democracy. It is a black mark in the annals of universal franchise in this country and that is where it belongs- and it should never be used as a yardstick for future polls because by doing so you are only displaying your ulterior motives unwittingly!
So, my friend, as I said before, irregularities did occur in this poll too. I will be honest enough to concede that in some regions, the North Central Province for example; any irregularities that did occur may not have been sufficient to alter the final outcome.
But, my point is, with the kind of tactics adopted by the PA even at the polls on April 6, you can ill afford to put a halo around President Chandrika Kumaratunga and cite her as an angel of democracy!
Then, Paakshikaya scoffs at my assertion that the UNP won many regions formerly designated as electorates saying that these electorates are non-existent now and therefore of no value in the final reckoning.
I agree with my not so learned friend when he says that those electorates do not exist now and that only the performance of a party at district level is of value. But I cannot disagree with him more when he says that they are of no value.
These results, Paakshikaya are of immense value to us in the UNP and I will tell you why. To a party in the Opposition that is the first indication that the tide is turning- for the better. If Paakshikaya- who implies that he was a confidante of J.R.Jayewardene- turns back the clock 25 years he would recall how the by-elections held during that time gave the first hint that the United Front regime of Sirima Bandaranaike would not last long. To cite two such elections, Rukman Senanayake won Dedigama and Wijepala Mendis won Katana and there were many more such victories which followed.
That, my friend is why we consider the swing at the electorate level significant. And when constituencies nursed by key ministers are lost by the PA, the message of the people is loud and clear: they don't want you! - And if you are too proud or ignorant to realize this, we in the UNP will be the last to complain.
Then, Paakshikaya you raise the issue of minority support. You argue that "left -of-center" votes- those now claimed by the JVP, the MEP, the Samasamaja Party and the Communist Party- will never accrue to the UNP.
And, you are optimistic to the point of just assuming that Saumyamoorthy Thondaman and M.H.M.Ashraff will support you because they are ministers in your cabinet- and that is the height of optimism, my friend!
Here, I think you are badly in need of some education about the facts of life in politics, Paakshikaya. As I see it, there are no longer "left-of-center" votes or "right-of-center" votes, save for a few thousand, negligible hardcore socialists. Most voters are aware that socialism is on the wane all over the world except maybe in Cuba and North Korea.
And, here in our country both your PA and our UNP are now irrevocably committed to the open economy knowing that is the best pathway to economic progress in a competitive world. So, I do not subscribe to this "Left-Right" theory of yours.
Then, as for Mr. Thondaman or Mr. Ashraff unconditionally supporting you at the next General Election that is pure wishful thinking. Paakshikaya, I knew that you, being in the PA must be having some lapse in your political foresight, but I didn't know you were so naive.
Your theory is that just because the UNP defeated Thondaman's Ministry votes in Parliament, he would support the PA at the next General or Presidential elections. The same holds true for the "Punchi Thondaman of the Muslims of the East"- Mr. Ashraff- you argue, because the UNP sponsored a vote of no confidence against him on the Galle Port issue.
This is where you need some political tuition, my friend. Have you not heard of the saying that in politics, there are no permanent friends or permanent enemies-only permanent interests!
You say, Paakshikaya that "we all know who Thondaman is" and then you say that he will support you because the UNP opposed his Ministry votes in Parliament- just proving to all and sundry that you don't know Thondaman- or Ashraff, for that matter- at all.
We in the UNP can tell you, Paakshikaya who they are because we have bargained and brokered deals with them longer than you have. They are political animals, Paakshikaya, whose only aim is survival because they know that in politics it is the law of the jungle that prevails- and I mean that as a compliment to the skills of Thondaman and Ashraff and not in any derogatory sense either.
So, I can with confidence tell you whom they will support at the next Presidential or General Election, Paakshikaya: they will support neither party! But they will make non-committal statements about things like "serving the best interests of their people," and will adopt a wait and see attitude.
Then, when they know who will be the next President and which party will form the next Government, they will support that party, Paakshikaya and this is one prediction I guarantee without any fear!
So, that is why your bubble is likely to burst Paakshikaya. By your own admission you say you will win the next General and Presidential elections only because it is you and not the UNP which will get the minority votes of Mr.Thondaman and Mr.Ashraff.
Therefore, I put it to you that if that minority support is withdrawn from the PA, by your own admission, you will not have enough votes to win any of those two elections and that is precisely what will happen, knowing the kind of games the Muslim Congress and the Ceylon Workers' Congress play.
Then, of course, there is this question which you PA supporters like to talk about so much- that of Ranil Wickremasinghe and his suitability to be the next presidential candidate.
Paakshikaya has gone to great lengths to put forward a theory that our leader is not fit enough to be the Leader of the Opposition and that Chandrika Kumaratunga will win the next Presidential election if she is pitted against Ranil Wickremasinghe. The UNP, you say, lacks a leader of the calibre of a Gamini Dissanayake.
Paakshikaya, again your slip is showing. While I disagree vehemently with your theory, I find in it a hidden implication-that Chandrika Kumaratunga will win the next Presidential election not because she has been a good President but because her rival is Ranil Wickremasinghe. In the same vein you covertly imply that had Gamini Dissanayake, for instance been her rival she would have lost anyway!
So, Paakshikaya, when you argue your case the way you are doing it now, I have little to do. I can merely say, "I rest my case" and let our enlightened readers draw their own conclusions, which I'm sure they would have done already.
But, before I do that, I have a duty to allay your fears about Ranil Wickremasinghe. I know that the state media is having a field day portraying him as a weak leader and I believe your media has taken this tactic to the point of exaggeration that the people of this country see it for what it is- a campaign to slander a potential threat to the political survival of your government.
The very fact your government is devoting so much time and energy in trying to keep Mr. Wickremasinghe's public image at a low ebb demonstrates that you take him seriously and that he is not the vacillating leader that you portray him to be.
But yes, Paakshikaya, I agree with you- Ranil Wickremasinghe has his faults. And, chief among them is the fact that he is a gentleman. He is a politician of the Dudley Senanayake- Gamani Jayasuriya mould and that is why it is easy to paint him as a weak leader.
Few people give him credit for holding a free and fair election in August 1994, for that is something he doesn't boast about. When President D.B.Wijetunge ordered General Elections it was Ranil Wickremasinghe who insisted and ensured that the polls were free and fair because he felt that the country had suffered enough by that time.
And, when the results were declared and the UNP lost, Ranil Wickremasinghe quietly quit Temple Trees unsung and without the arc-lights and TV cameras. That, my friend is the calibre of Ranil Wickremasinghe.
Then, more recently, after the PA scraped through in the Western Provincial Council and many were wondering whether the UNP would sabotage a PA bid to set up an administration, Ranil Wickremasinghe was clear in his instructions: Do not do so; it may be good for the UNP but it wouldn't do the country any good to have another election. That, my friend, is Ranil Wickremasinghe.
And, after all that this country has gone through in recent times and having a taste of what our political leaders are like I'm sure the people of this country - despite all your propaganda- appreciate a gentleman politician. And that is why Ranil Wickremasinghe will be a much more devastating candidate at the next Presidential election, than you would ever imagine him to be Paakshikaya.
My friend, you say the PA will win the next elections because you are aware of your weaknesses and we are not. I must add to that, Paakshikaya. We in the UNP may or may not know our strengths and weaknesses- but what you in the PA think is your strength- the candidacy of Ranil Wickremasinghe- is in fact your weakness, my friend and that will be the final nail in your coffin!
---
He is Sri Lanka's Milosevic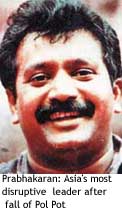 The personalities and the roles played by Slobodan Milosevic and Velupillai Prabhakaran are so close that any analysis on any one of them is valid for both as seen in the following article. This article appeared originally as the Time (April 5,1999) cover story on Slobodan Milosevic. With a few interpolations and change of names and places the role of Milosevic fitted that of Velupillai Prabhakaran like a glove. Velupillai Prabhakaran has lost almost every battle he's fought— except the one to stay in power.
With apologies to Johanna Mcgeary, senior foreign correspondent of Time, who wrote the original on Slobodan Milosevic.
Who wants to die for Velupillai Prabhakaran? He is one of the great losers of history. He failed to hold together his elusive homeland in Jaffna, and he failed to build in its place a Greater Eelam.
In the past 14 years, he has launched three wars with no success in sight. He is currently on the verge of losing a piece of real estate which is held dearly to be of strategic importance to the Sri Lankan forces as they advance in dense jungles of the north.
As Asia's most disruptive dictator since the fall of Pol Pot, he bears responsibility for the extermination of Muslims, Sinhalese, Indians (e.g. Prime Minister Rajiv Gandhi) and his own Tamils. He is also responsible for the massacres and the setting up of the first concentration camps in Sri Lanka, for the displacement of nearly a million in Sri Lanka and for the impoverishment and ostracism of his own people in the north.
Rejecting all peace offers, Prabhakaran has repeatedly chosen war. Like a shark that has to keep moving to stay alive, he is willfully exposing the withered territory of mythical Eelam to the might of Sri Lankan forces for the sake of his own power. As always, he gambled that talk, hopes, threats and destruction would wear his enemies into retreat. When that didn't happen, he put in jeopardy virtually everything left to him, courting death for his people and damage to his own dream of a homeland, the decimation of his military machine, the hastened secession of Eelam, and perhaps even the end of his regime.
For Prabhakaran, terrorism has been a way of life. The Tamil standard bearer does not talk about his family. Like Milosevic he has a son and a daughter – both in their teens and both exempted from his "baby brigades" which consist of teenagers dragged into the war much against their parents' wishes. He is a drop-out who did not progress beyond the first years of a secondary education. His best training ground was with the smugglers of the north who plied a contraband trade sneaking in goods from South India to Sri Lanka. He is a Hindu militant who has never known the art of negotiations or the democratic process.
He came into power through the gun, killing the moderate Tamils opposed to his fundamentalist fanaticism.
His first victim was the former Mayor of Jaffna, Alfred Duraiyappah, a mild-mannered, moderate politician who preferred to follow the pragmatic tradition of living in peace with all communities. He was gunned down in 1975 in cold blood when he was on his way to a Hindu temple. This launched Prabhakaran's career and since then he turned himself into a Tamil/Hindu zealot, assuming so thoroughly the image of a ruthless functionary that the international community, led by USA, has branded him a "Tamil Tiger Terrorist." James Burn of The NewYork Times (June 25,1995) went further and identified him as "the latest Pol Pot of Asia".
As he consolidated his power through sheer terror tactics his image as a "liberator" of the Tamils declined. He became the most wanted man in South Asia — wanted by the Indians (for assassinating Rajiv Gandhi), wanted by the Sri Lankan government and, most of all, wanted by his own Tamil people for slaughtering rivals or incarcerating dissidents in Nazi-type concentration camps.
En route to grab power (which he describes as being "the sole representative of the Tamils") he fell in love with an attractive recruit. But there was one hitch: unlike Prabhakaran she came from a higher caste. The girl's parents did not approve of the marriage. He was still an unknown quantity with an uncertain future at that time. Later when he wiped out his rivals and established a force loyal personally to him and not to an ideology or institution the parents forgot his inferior caste status.
His strength has been in exterminating his opponents without any qualms. By a calculated process of eliminating his closest Tamil rivals in the '80s he found his way into the national and international headlines. His weakness too is in not knowing the limits of violence. His terror tactics has alienated all his former allies. His best ally was India which provided him a fall-back position either to withdraw or to forge ahead with its political, diplomatic and military backing. But when his suicide-bomber assassinated Rajiv Gandhi he lost India for good. His second best bet was the fund of goodwill in the Western capitals manipulated by the expatriate Tamil lobby. But when his terror tactics, which targeted non-combatant civilians on a mass scale, increased he lost the support of the international community. His local political and military base could have been expanded and strengthened if he allied himself with the other Tamil militant groups. Instead he took to the gun, imitating Clint Eastwood, to behead all the potential Tamil rivals who dared to put their heads up from their bunkers. Those who survived his onslaught have teamed up with the Sri Lankan government in working out alternative programmes for peace and reconciliation.
Defender of Tamil nationalism — it was a seductive image, one that reached back to the Tamil claims of victimization. It gave him the aura that served as an express ticket to total power. Conducting a new symphony of ethnic hate, Prabhakaran stepped into the top slot which provided no space for any rival. Virtually his first act was to reject any peaceful or democratic process which, under any circumstances, would be a protracted path that tests the nerves of intransigent and impatient "fixers".
Playing up nationalist passions, Prabhakaran helped ignite full-scale ethnic war with the Sinhala majority (76%).. In the early phase, even the intellectual elite supported his nationalist euphoria. But once he had used them to enhance his position, he either liquidated them ( e.g. he has decimated the entire Tamil leadership who initially paved the way for ethnic hate in Sri Lanka) or made his fellow-travellers eat crow. Firmly ensconced in the Tamil middle-class diaspora as their cult figure, Prabhakaran has proved to be smart and cunning. He has developed a mystique by being invisible and unapproachable except to his close and dwindling coterie. He cultivates silence partly because he is laconic and partly because he relies on the political myths and guns to do the talking for him. "He does not believe in ideas," says a Sri Lankan observer. "He makes no value judgments." .
Power, according to those who know him, is the one thing he truly loves. He exercises it daily, in matters large and small. From his subordinates, he brooks no challenges. When 75,000 Muslims were pillaged, their women raped and properties grabbed and driven out of Jaffna by the LTTE cadres it was clearly at his orders. He initiated the first known ethnic cleansing in Sri Lanka long before Milosevic ever dreamt of it. When 175 Muslims at prayers were slaughtered by his gunmen in the eastern belt it was his way of saying, notes a diplomat involved, "This is my turf, and I'm boss." When Sri Lankan government representatives appear at the Tiger door for talks, he glows in the knowledge that his Eelam flag is on display as a sign of his power. He does not flaunt decorative symbols of office or stage showy ceremonies and cares nothing for state protocol. But if he shirks the glamour of power, he still loves delicious moments of control.
Though the Tamil expatriates and intellectuals exploit every available human rights institution globally, they secretly revel in his power to slaughter as the appropriate political answer to the Tamil problem. His killing machine boosts their pride and they feel it is their duty to oil the coils of Prabhakaran's mechanical guillotine.
Despite having proved himself a cunning politician, he is said to be insecure, even paranoid. Diplomats, eager to point at what they see as limits to his popularity, say he is so fearful for his personal security that he refuses to go out in public. While he may partly be cultivating the dictator's aura of mystery, some Tamils say he is fundamentally a deeply suspicious, withdrawn and secretive person.
At once immoderate and capricious, Prabhakaran has made himself one of the Sri Lankan government's most difficult enemies. Lessons learned from one encounter do not necessarily apply to the next. Delhi concluded after the Indo-Sri Lanka Agreement, when the IPKF forced him to the negotiating table, that he respected what he feared and would give in to force and threats. Prabhakaran learned something different: how to exploit the divisions between Sri Lanka and India. Diplomats who thought that Indo-Sri Lankan Agreement showed they "could work with him" discovered he rarely works well with anyone.
Certainly his Eelam strategy has been confounding. In part, says an Indian offi cial, Prabhakaran seems closed off to reality. When negotiating, he relies on a mix of charm and tirades about the victimization of the Tamils. Says the official: "Every second sentence is wrong or a lie. He withdraws into the dark recesses of his soul and lives inside it like a prisoner of his own mind." He never says yes or no, never puts his own name to a formal agreement. While his vicious behavior in Sri Lanka has evoked comparison to Hitler, those who know him say Prabhakaran doesn't dream so large. "He wants to be the tinhorn dictator of Jaffna forever," says an Indian. official. "Beyond that, nothing." —Many analysts have suggested that he wants to prolong the agony of his Jaffna Tamils just to maintain his myth that he is their saviour. He has come to believe in this myth and he sees other Tamil rivals as traitors to the cause of Eelam. "It's very Tamilian - and the Jaffna Tamils are like us.," says a Tamil Nadu observer. "Celluloid heroes of Tamil Nadu grab the centre stage in politics giving hope to the myth that they alone can be saviours."Prabhakaran has miscalculated disastrously before, but he has also brilliantly calculated his hold on power. Which will it be this time? There are those in India and Sri Lanka who hope that he has gone too far in presiding over death and destruction. Perhaps all those losses may finally convince the Jaffna Tamils that Prabhakaran's heroism will not bring them anywhere near to their political aspirations, let alone peace which has eluded them like their Eelam.
This version was by H.L.D.Mahindapala - one time Editor of the Sunday Observer.