No to highway at the cost of wetlands
By Ruqyyaha Deane
View(s):
Last Saturday (February 13), residents of the Thalangama area and the Farmers' Association organised an environmental awareness campaign calling on all environmentalists, humanitarians and nature lovers to spotlight the importance of preserving Sri Lanka's wetlands in the face of a looming threat of an elevated highway being constructed from Athurugiriya to Rajagiriya.
"The campaign was to sensitize people on the importance of these wetlands and the important multiplicity of roles that they play and also particularly the importance of this reservation which has been gazetted as environmentally sensitive and one that should not be disturbed," said Preethi Perera, a resident of Thalangama.
The Thalangama wetlands is deemed a biodiversity hotspot under the Ramsar Convention which also places Colombo as the only Ramsar accredited international wetland capital city of South Asia.
The socially distanced awareness campaign saw many residents and nature lovers lining up to raise concerns about the damage to the ecosystem if the preservation of wetlands is not considered a priority and is instead sacrificed to build highways and other urban developments.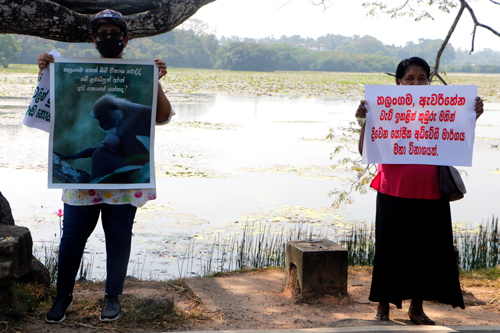 The area is not just a rich habitat for mammals and species. "There are also thousands of people living on either side of the wetlands, there is traditional farming taking place, it helps to control floods, it purifies water, absorbs carbon… it is one of the few green areas left near Colombo," Perera said, urging the authorities to consider other alternatives to the elevated highway, such as building it over existing roads, having a park and commute system, traffic control, prohibiting traffic on certain days/times, etc.
"What is most important is to look after and protect our scarce resources that are under threat for the future generations as they are treasures both nationally and internationally," he reiterated.