It took me back to ward rounds
View(s):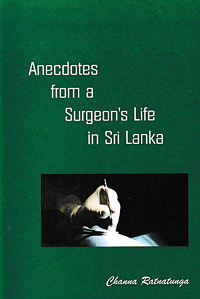 Professor Channa Ratnatunga's book 'Anecdotes from a Surgeon's Life in Sri Lanka' is one of the few books I read in one go. It is well written, in a unique style pertaining to him. Well explained, this book opens up a vivid picture of the scenario he is narrating. So much so one can live in the scene. Almost all his anecdotes have a humorous part which makes you laugh out loud. All this adds up to an enjoyable reading experience that makes you want to unfold the next page until you reach the end.
He was my 3rd year General Surgery teacher at the university in the early 80s where I was a dental student.  Those were the days the faculty was known as Medical, Dental and Veterinary Faculty. Professor Ratnatunga was a dedicated surgeon and it was a common saying among students at that time that "Sir must be eating, drinking, reading, talking and dreaming surgery'! He was immersed in the subject to that extent, we felt.
As a student who studied in the national medium to the University entrance level, I found it a bit difficult to understand his Elizabethan English during my undergraduate days and to make it worse, he spoke very fast and also swallowed words at the end of his sentences.
While reading the book it made me feel that I am following him in the ward, patient to patient, as we ritualistically did during our clinical classes. His anecdote regarding lucid interval in a head injury patient brought me nostalgic memories and I still remember him explaining this to us in the lecture room at the Peradeniya hospital. I don't think any in the class misses those points he made to date when they come across a head injury patient.
One of the salient features at that time was his red Datsun Sunny car which we never saw without a dent!  Its back seat was scattered with files, medical magazines, papers and books. He was very simply dressed and handsome with a one side lateral commissure smile.  His trousers dropped below his iliac crest line and sometimes, we feared that it might drop down. Now when I see the new generation of youth wearing their trousers the same way, I feel our beloved guru was far ahead of us when it came to dress style as well!
There are many lessons one can learn reading this book, irrespective of their profession. The anecdotes elicit the quality of the person.: Compassion demonstrated to all the patients irrespective of social status; readiness to work long hours without much rest reflecting his duty consciousness, resolving issues without confrontation which brings long lasting trust and settlements; importance of training and hard work in any profession to name a few. Right through his career his main concern was patients and students which shows his selfless character. I think what he taught us most is how to be a good person in society. 
Dear Sir, wish you all the very best in life.
 Janak  B. Abayakoon