Appreciations
View(s):

Hulftsdorp has lost a gentleman of the Bar

SURIYASENA GAMANI JAYASINGHE

It is with great sadness that I write this appreciation of my good friend – my batch mate at Law College and colleague at the Bar who left us after a brief illness on November 17, last year. I was shocked and grieved when I got a call early morning on the 18th at 5.30 a.m. to hear the sad news since I thought he has recovered from his illness and come home.

Gamani hailed from Gampaha, stayed at Gray's Inn as a law student and after passing out became a livewire at Hulftsdorp. He was also an orator of the YMCA forum which he represented frequently.

In my eyes he was a man who was the willing provider of legal service to all members of the public who may need it- he truly believed that law ought not to be a tool of control but rather a foundation for human dignity and prosperity. It was sad to note that a gentleman of such calibre, for reasons best known to him gave up appearances in the Appeal Courts and lately also in the District Court before he completely retired from practice.

He was the President of the prestigious Colombo Law Society – the biggest branch of the Sri Lanka Bar Association and held that position for two consecutive years from 1991 to 1993. In addition he was an active member of the Bar Association where he was involved in seminars and enactment of statutes especially in respect of the Recovery of Bank Loans Special Provisions Act No. 9 of 1994 where he was opposed to the draconian provisions which he considered arbitrary and passed without referring to the Bar Association since the said Act considered only the benefit of the bank and not the customers and their financial constraints.

I was privileged to continue my friendship and association legally and otherwise and in cases which I instructed him since he was specialized as a counsel in land, partition and rent and ejectment cases. He gained prominence in this field since he worked as a junior to the great Eric Amerasinghe PC, who was a leading counsel in that field.

I can never forget how he helped me immediately after the '83 riots when the house I was staying on rent at Moor Road, Wellawatte was attacked around 2 o' clock in the afternoon. My family (my wife and my elder son who was only eight months exactly on that fateful day) and I were evacuated by the Army who were sent by Daya Perera PC. We were taken at my request to my mother's residence at Bambalapitiya and while we were there during the first week after the riots, on hearing of our plight, Gamani came to Bambalapitiya with dry rations and milk food for the baby. When Gamani was leaving, my wife and I entrusted to him all her jewellery bundled in a piece of cloth since we had decided to go to Jaffna.

After we returned to Colombo, Gamani – the Good Samaritan, came home and handed over the bundled jewellery – we cannot forget his kindness.

Gamani, many friends depart but never with such suddenness and we are destined to miss you forever. We pray that you will be resting in peace for eternity at the feet of the Lord Almighty.

K. Ganeshayogan
---
One less wonderful person to love and be loved by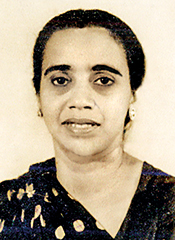 Ranee Karalliadde AbeyaratnE
Remembering a beloved grandmother on her first death anniversary,
Hers is one of the first faces you knew
A face with kind eyes and a doting smile
One of your first ever living examples of kindness …
And of gentleness, love, wisdom and grace.
"Who are you?" you looked up and asked her in your early years, when she held your hand to steady you on your feet.
"I am your grandmother," she replied smilingly.
She knew you didn't quite understand but it was enough for her that she meant something to you.
Over time, you perceived her to be some form of elderly guardian angel, a teacher with the biggest textbook of life's lessons
One of the oldest people you knew at the time, then in her sixties.
She was the life of the party but sometimes stood in the shadows watching with shining eyes
While people enjoyed the warmth of her home, her hospitality, and her legendary cooking.
As time passed and you began to sport painted nails and rings on your fingers,
You suddenly noticed how fragile her own hands had become…
You realised with ambivalence that the winds of change were taking their course
Yet, she bravely adjusted her sails, as she became widowed and her own settled in faraway lands
And as special occasions and family celebrations become quieter and less frequent
Then, one day you found yourself holding her frail, feeble hand so she could steady herself on her feet,
And she looked up and asked, "Who are you?"
You replied, "Your granddaughter," but she didn't quite understand and you hoped that if anything, she remembered how much she meant to you.
She is no longer here, she is now a memory, a vacant chair at the Christmas table,
A beautiful portrait hung on the wall which invokes an overwhelming sense of nostalgia
In her sixties at the time – did you really know her when she was that young, you wonder.
A part of herself she takes with her – her kind eyes and doting smile, her heart for people,
Her myriad skills and wealth of knowledge,
But the rest of her she has already imparted over the years to those she leaves behind
Her stories of the past, her textbook of life's lessons, her recipes, her best character attributes
Most profoundly, her zest for life and her legacy of love
And with the same ambivalence, you realise that there is now one less wonderful person in the world to love and be loved by, and
One more reason to look forward to life in Paradise.
Vashni Abeyratne Cooray
---
 He belonged to the rare breed of government servants who were in a class by themselves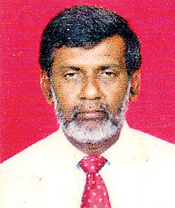 Mangala Senarath
Mangala Senarath was an extraordinary engineer and efficient project director. He passed away on 01-02-2021 at a private hospital in Colombo after a brief illness at the age of 62.
He had his primary and secondary education at Embilipitiya, Omalpe Vidyalaya and Seevali Central College in Ratnapura. Entering university in 1983, he passed out in 1987 with a B.Sc. Eng.  in civil engineering and completed his post-graduate degree in geotechnical engineering in 1991 at the same university.
In December 1987, he joined M/s ADS Engineers Ltd as a Resident Engineer in construction of bridge projects and in June 1988 joined the Road Development Authority (RDA) and was posted to the Chief Engineer's office, Bandarawela.
In May 1989 he worked as an executive engineer in RDA- Welimada and subsequently was seconded to the Uva Provincial Council.
In December 1991, he joined the Traffic and Planning Division of the RDA, at "Sethsiripaya", Battaramulla. He served in many local and foreign funded projects in the RDA as Senior Engineer, Project Engineer, Chief Engineer and Project Director.
A loving family man, Engineer Senerath can best be described as a gentleman to the core. He was a disciplined man who had the highest integrity – that rare breed of government servants who were in a class by themselves.
He was imbued with a keen scientific spirit and an extraordinarily creative mind. He saw each technical problem that confronted him as a new challenge requiring a fresh solution. There was a remarkable clarity in his analyses of problems. He had an abundance of creativity in finding elegant solutions to the problems he encountered. While his theoretical knowledge of engineering was impeccable, he was a practical engineer who could, when necessary, work with his hands. He had a remarkable confidence that enabled him to fearlessly implement his solutions.
His life exemplified brilliance and he inspired all who crossed his path. As a Chartered Engineer he contributed to the local construction industry. From the beginning of his career Eng. Senarath touched the lives of many with his kind and gentle nature, his soft-spoken words and his ever-smiling face. He was sincere, earnest and loyal in his service. He was a living proof of how a fine Project Director should be. He was not only cheerful but provided much cheerfulness to others.
The management and the staff of the Ministry of Highways and the Road Development Authority are deeply saddened by his death. He was a true friend and most of all, a great humanitarian.
Memories of him will remain with us for the rest of our lives. May he attain supreme bliss of Nirvana.
Eng. Jayantha Gunathilake
---
A modest man whose selfless deeds have impacted many
Gamini Amaratunga
Gamini Amaratunga was the eldest son of a lawyer-politician John Edmund Amaratunga and Seela Keppetipola. He was an alumnus of S. Thomas' College, Mount Lavinia along with his three brothers; Yaswant, Tissa, and Charan Amaratunga. He had one elder sister Manel who attended Visakha Vidyalaya.
He was married to Maljini Madawela, his loving wife who passed away three weeks after his demise. They have two daughters, Charini and Kushali. He is remembered fondly as a loving husband and a devoted father who held his family close to his heart.
From being an upcountry engineer for Browns and Berreck Battery, Gamini saw an opportunity in the community and started his own business, Timberlina Limited – a company that specialized in wooden products such as dollhouses, hotel furniture and especially parquet and boarded flooring. His work can still be seen gracing the floors of many important buildings from five-star hotels to homes of his close friends and prominent members of society all across the country.
Gamini was an accomplished sportsman who excelled in Rowing and Golf. He was on the winning 4s team in the Madras Colombo boat race in 1965, Oarsman of the Year and he won the HMS enterprise. He was also Secretary of the Colombo Rowing Club during its centenary year (1964). An avid golfer,  as a member of the Royal Colombo Golf Club , he won the Shakespeare Cup twice in 1983 and 1985 in partnership with Maithree Samarasinghe.
Gamini was a practising Buddhist and headed the Dayaka Sabha of the Pirivena in Mirigama.
He was well known for his charitable work and his selfless and determined spirit allowed him to see a project through. He founded the Eyecare Foundation with four others and spearheaded the Mobile Eye clinic – with a converted caravan which travelled across the island to reach and serve underprivileged communities. They had successfully screened, performed cataract surgery and provided intraocular lenses to over 80,000 patients. Gamini was also keen to provide this service in his hometown Mirigama upon retirement and built an Eye Care ward and surgical unit at the Mirigama Base Hospital which continues his great work to this day.
Most recently, Gamini's attention was focused on creating a sustainable home gardening network for underprivileged families. With the help of the local police in Mirigama, he contributed towards establishing self-sufficient home gardens for 40 families that proved especially beneficial during the ongoing pandemic. He was keen that this concept be taken up on a national level.
Gamini Amaratunga was a modest man, whose selfless deeds have deeply impacted the lives of so many around the country. Gamini's altruistic spirit radiated positivity even during the most trying of times and he will be remembered with much affection and gratitude. He often quoted Gray's 'Elegy', a poem that now rings of his essence:
"Full many a gem of
purest ray serene
The dark unfathom'd caves
of ocean bear:
Full many a flower is born
to blush unseen,
And waste its sweetness
on the desert air."
Esto perpetua
May his soul rest in peace.
Ifthikar Cader
---
A brilliant Cardiologist
Dr. Premindra Chandraratne 
When Dr. Premindra Chandraratne passed away recently, the world lost a brilliant cardiologist and I lost one of my dearest friends. I had the privilege of knowing Premindra from his schooldays when we were both educated at St. Joseph's College. He had an outstanding academic career, winning many prizes and awards.
Premindra qualified as a medical doctor in Sri Lanka in 1964 with honours. He went on to specialize in cardiology in England and the USA, where he worked as a professor in several universities. The American College of Cardiology recognized him as a specialist researcher on echocardiography, a vital branch of cardiology. Premindra is the only Sri Lankan cardiologist recognized internationally for his research on echocardiography, writing several books and research papers on this crucial subject.
During many trips to his homeland, Premindra shared important knowledge with Sri Lankan cardiologists who appreciated his expert opinions. This valuable input was also sought by many Sri Lankan patients, who benefited immensely from his analysis.
Premindra was a wonderful human being, humble and unassuming in every way. He had a comforting bedside manner and a sympathetic ear for his patients, essential qualities, sorely lacking in today's commercialized medical practice.
He will be sorely missed by his wife and two sons and his many friends in Sri Lanka and aboard. The world will not see his like again. Rest in peace dear friend.
Dr. Hemal Fernando
---