Downpours set to bring more misery
By Shaadya Ismail
View(s):
Downpours will worsen in the coming days with more than 100mm of rainfall expected in certain areas, the Meteorological Department said.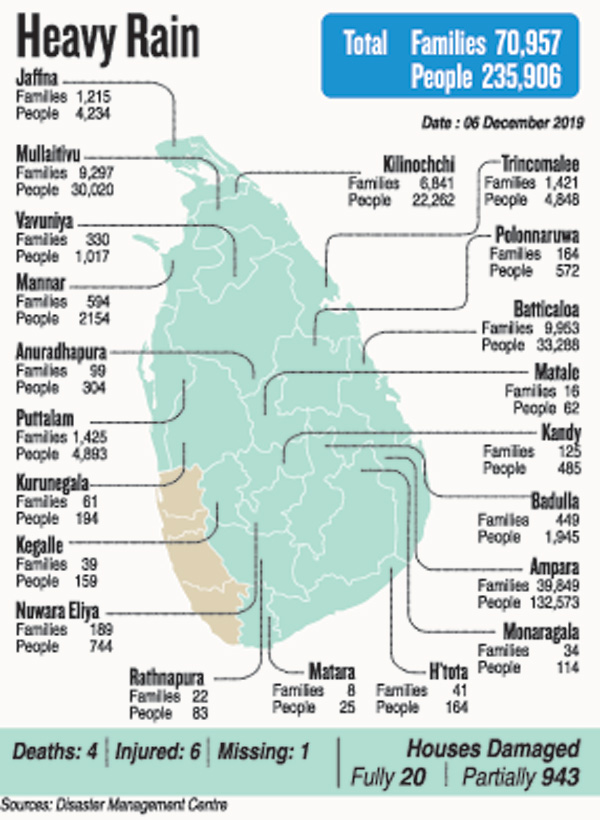 So, far nearly 46,000 people have been badly affected.
The department's deputy director, Anusha Warnasooriya, said North Central, Uva, Eastern and Northern provinces were expected to receive heavy rainfall.
Deputy Director of the Disaster Management Centre (DMC) Pradeep Kodippili, said that police and the military, and search and rescue teams are operating in the 20 districts badly affected by the heavy downpours.
"All welfare centre maintenance expenses have been covered by the authorities and the District Secretariats have been instructed to spend when the need arises in their particular district," he said.
According to the situation report by the DMC as of December 6, 45,858 people have been affected due to flash floods, heavy rains, landslides, and high winds islandwide.
Haldummulla, Passara, Lunugala, Ella, Haliela, Badulla, Haputale, Bandarawela, Soranathota, Uva Paranagama and Welimada Divisional Secretariat Divisions in the Badulla district, Ududumbara Divisional Secretariat Division in the Kandy district, Walapane Divisional Secretariat Division in the Nuwara Eliya district, Balangoda and Imbulpe Divisional Secretariat Divisions in the Ratnapura district have been alerted on the possibility of landslides, slope failures, and rock falls.
Meanwhile, eight sluice gates of the Iranamadu tank in Kilinochchi have been opened after the district experienced 288mm of rain on Friday.
Officials fear that if rains continue, more sluice gates will have to be opened.
Assistant Director of the Vavuniya DMC, S. Infarajan told the Sunday Times, that 1,017 people have been affected by floods and 554 people have been relocated to six welfare centres.
He said Vavuniya north, Vavuniya south and Vengalacheddikulam are the worst affected.
The Grama Niladhari of Pattikudiyiruppu and Oonchalkaddy of the Vavuniya District had been swept away by the floods and was later rescued by fishermen. He is reported to
have been admitted to hospital.
Assistant Director of the Trincomalee DMC, S.H.M. Sugunathas, said that the district has set up one welfare camp in which 23 families have taken refuge, and 74 other families have moved in with friends and relatives.
Secretary of the Batticaloa District Secretariat, M. Udhayakumara, said that 32,000 people have been displaced in the district and that 14 welfare centres have been set up.
Meanwhile, the Commissioner General of Examinations B. Sanath Pujitha said that, children who are sitting for the O/Level examination that began on December 2, faced difficulties in reaching exam centres due to the incessant rains.
He said in areas like Badulla, Kilinochchi, Nuwara Eliya and Anuradhapura, children were provided with alternatives such as exam rooms on higher floors of buildings and allowing students access to the nearest examination centre.
"They [the police and military] have been providing transport to the exam centres and in the Jaffna district assistance was provided by the air force to carry exam papers and answer scripts back and forth," he said.
Military spokesman, Major General Sumith Atapattu, told the Sunday Times that standby battalions are on standby in affected areas .  "Our main task is to see that GCE O/L examination candidates do not face any difficulties," he said.
Additional reporting by L. Thayalan 
Chinese-run quarry permits questioned after family deaths

By Shelton Hettiarachchie

The Nuwara Eliya District Secretary, Rohana Pushpakumara, has called on the Badulla Land and Mines Geological Department to investigate permits issued to a quarry in the area where four people were buried in a landslide in Walapane.

At a meeting chaired by the newly appointed Central Province Governor, Lalith Gamage, it was decided to close down the quarry used by a Chinese construction company involved in a road project.

Villagers of Malpaththawa in Walapane mourned the deaths of four people, including a teenage boy who was due to sit the G.C.E. (O/L) exam last Monday.

On that fateful day, from about 10.00 am, the eastern monsoon rains continued until midnight worrying the villagers.

At about 6.30 pm last Saturday, the boulder on the Padiyapalella Road, above the village Malpaththawa in Walapane moved about 200 feet and came to a halt killing four people — 50-year-old G. G. Ranbanda living at 513 Andawala, a Grama Niladhari Division in Walapane, his wife, 48-year-old K.G. Bisomenika, their son, 15-year-old school boy, Kalana Pathum, and a relative, 18-year-old girl, Dinesha Karunaratne.

About 50 soldiers led by commanding officer Asitha Ranathilaka of the Sri Lanka Army 3rd Sinha Regiment and the police began digging into the mud, often with bare hands, to search for the bodies.

They found the bodies of Ms Bisomenika and Ms Dinesha, and at about 9.30 am found the body of Mr Ran Banda. But as of December 1, the body of teenager Kalana had not been found and the search was abandoned.

Acting Magistrate Bhadra Senevirathe who held an inquiry into their deaths ordered the police to get a post mortem report from the District Medical Officer, and hand over the bodies to the relatives for burial.