We need to become a strong outfit: Packeer Ali
By Sajeewa Jayakody
2022 FIFA World and 2023 AFC Asia Cup qualifiers
View(s):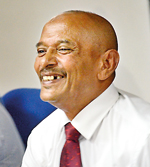 Sri Lanka football national coach Nizam Packeer Ali told the reporters that the physique of his players and the fitness level is below par compared to the players of Turkmenistan, who inflicted Sri Lanka a 2-0 defeat at the 2022 FIFA and 2023 AFC Asia Cup Qualifier match played at the Racecourse ground in Colombo on Thursday.
"Turkmenistan is a tough team. It's a commendable effort of our players, who restricted a team like Turkmenistan only for two goals. This is a morale booster for our players," Packeer Ali told reporters at the post-match press conference.
Sri Lanka, eying to form a strong outfit for the remaining qualifier matches of FIFA World Cup and AFC Asia Cup in the future, fielded a young side which included a several new players, who are just under 25 years of age.
"Our players have not much of international exposure. They are amateurs compared to other international players. So, they need the experience to go forward and face tough challenges in the future," added the coach.
Packeer Ali, one of the most experienced football coaches in Sri Lanka, had been the involving coaching in Bangladesh and Maldives before taking over the Sri Lankan side for a two-year contract earlier in 2018.
However, it was a hard fought win for Turkmenistan, the Central Asian country, which is comprised with a strong team for the qualifiers. Each team is scheduled to play twice in two segments in the two world and regional qualifiers.
Sri Lanka will host North Korea in their second of the Fixture I on September 10 (Tuesday) at the Racecourse in Colombo. The Sri Lankans will to travel to Seoul, to play against South Korea on October 10. The islanders will play their fourth Preliminary Round II match of the FIFA World Cup on October 15 against Lebanon in Colombo.
Sri Lanka will end the year 2019 with their return match against Turkmenistan in an away game on November 19. The remaining three Fixture II games will be played in March and June in 2020 against North Korea, South Korea and Lebanon as away games.