Dasuni and Minul dominate
National Junior chess Championship 2019
View(s):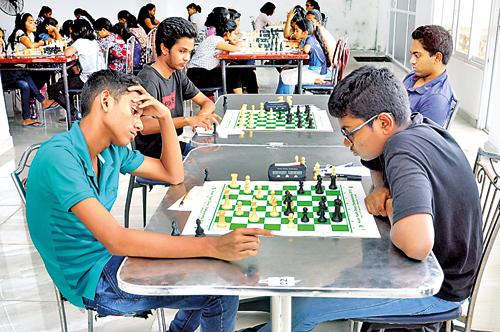 As expected junior national players Woman Fide Master Dasuni Hansika Mendis of Visakha Vidyalaya, Colombo and Fide Master Minul Sanjula Doluwewa of Royal College, Colombo won the championship awards in the Women's and Men's categories at the National Junior Chess Championship worked off at the Ransinda Recreation Hall, Delkanda Junction, Nugegoda.
In a well participated event young chess players both girls and boys island-wide tested their skills to prove their prowess in the game. Mendis achieved six points while Doluwewa achieved six and a half points to grab the Junior National titles along with gold medals.
In the boys section, a lone competitor from Jaffna Peninsula made a hectic attempt to win the supremacy over Royalist Doluwewa. But the fancied Royalist lived up to his reputation to grab the Junior Men's title and gold medal.
In the Girls category the Gold and Silver were won by Visakhians Mendis and G.P.Y. Wijesuriya while Minethma Lasandi Wijesinghe of Sujatha Vidyalaya, Matara finished in third place to win the Bronze medal. Fifty four girl players were ranked at the event and in the boys section 72 were ranked at this year's edition. - LR
Top 10 ranked players
Girls: 1. Hansika Mendis (Visakha Vidyalaya, Colombo), 2. G.P.Y. Wijesuriya (Visakha Vidyalaya, Colombo), 3. Minethma Lasandi Wijesinghe (Sujatha Vidyalaya, Matara), 4. Omaya Wilvalaarachchi Gothami Balika Vidyalaya, Colombo), 5. W.M.M.N. Wijesinghe (Girls High School, Kandy),6. H.M.M.D. Herath (Maliyadeva Balika Vidyalaya, Kurunegala), 7. Chanethma Devangi Marasinghe (Girls High School, Kandy), 8. D.A.D.T. Srilal (Maliyadeva Balika Vidyalaya, Kurunegala), 9. Nemindi Ramanayake (Veyangoda Central College), 10. W.M.M. Amodya Jayatilaka (Asian Grammer School)
Boys: 1. Minul Sanjula Doluweera (Royal College, Colombo), 2. S. Sivathanujan (Kokuvil Hindu College, Jaffna), 3. Ishara Banidu Dahanayake (Royal College, Colombo), 4. Kinon Thenuka (Nalanda College, Colombo), 5. Denuwan Theekshana (Ananda College, Colombo), 6. Mohamad Nabil Nazar (Gateway College, Dehiwala), 7. Rashmitha Liyanage (D.S. Senanayake College, Colombo), 8. W.A.P.I. Withanarachchi (Mayurapala Central,Narammala) 9. S. Anojman (Royal College, Colombo), 10. J.S. Aloka Fernando (Maris Stella College, Negombo)