Great fetes and fatigue
US-Open 2019- the 2nd week
View(s):
Preliminary rounds provided many hours of good Tennis in the 139th US-Open of 2019. The events reached the quarter finals stages on the Wednesday of its second week.  The Hard courts are favourite surface of many professionals. For the US-Open as an event, presenting good Tennis and keep it appealing to the US citizens and the Americas is their goal. This they are doing, very well. From live TV coverage to good catch write ups in news media flowed covering every session, even in rain disturbed year, this has been very good.
Women's singles
In the early rounds of the draw looked like teenage parade. Youngest of them is Coco Gauff, just fifteen old Florida resident. She has everything to play big Tennis. From strokes to stamina and speed to strategy. She has it all. The three prominent teenagers Canadian Bianca Andreescu, Japan's Naomi Osaka and USA's Coco Gauff are taking the spot light in the backdrop of shaky performances of big names.
The known names Simona Halep, Karolina Pliskova, Garbine Mugurusa, Angelique Kerber and Serena Williams have been around a good ten years or more. The Tennis season of this year is on its ninth month and players around 30 years of age are strained in one way or other and are playing prudently. For them, more than winning every match, staying in the circuit pays more. There is something called professional attitude, that is to last longer in the game. This also means professionals aim more to get into top five of the ranking than to win every match. A match win could be 'flash in the pan', ranking establishes a name that lasts. This is sensible for a professional player.
Often the style of player's stroke making decides how long a player lasts in the circuit. Some stroke making styles and playing tactics initiate injuries to the body and around 30 years of age blooms into a full-fledged issue.
Quarter finals
Johanna Konta, the British player made history, entering the quarter finals as the first Brit in 36 years. Right now her game structure is the best she ever had. It is effectively mixed with engaging to curtail opponents shot selection and hitting winners. Simple as it sounds, it is a complex formula to sustain simply because in Tennis, opponents adapt counter tactics to overcome challenge all the time. This happened to Konta and she was stopped by Ukrainian Svitolina in the quarters.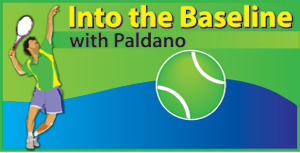 Women play their finals one day before the men. In all major events. The rain affected schedule of this year has put two into the semi-finals already. While others are trailing one round short. Serena Williams brand of Tennis is proving to be most effective again on hard courts. She stormed into quarters with a 6/1, 6/0 win to go past China's Qiang Wang. Wang, is on the trail Li Na set for her country being the first Asian number one player in Tennis. Wang is ranked 18 at the age of 27. Chances are she will be in the top ten next year.
Another player maturing late is Switzerland's Belinda Bencic. She entered the quarter finals convincingly beating reigning champion Naomi Osaka. Other quarter finalists are Croatia's Vekic, Holland's Mertens and Canada's teenager Andereescu. USA's Towsend made a good impression with her ability to play at net.
Men's singles
There are few top places going to fall free when the ageing players drop off. The player with impressive game is Daniil Medvedev of Russia. All who play them say that he is very difficult to read. His stroke making with all court ability gives him out of the ordinary shot selection possibilities. He is tall and moves very well with long strides. Right now all eyes are on him.
Most of the players play way behind the base line gaining time to reach the ball for their ground stroke comforts. Drop shot baffles them being so far from the net. Even the net players are not volleying deep but using the drop volley. This kills the ground strokes comfort to play passing shots to the base line player. Drop shot in both genders has given good dividends.
Bulgarian Dimitrov was once a big favourite among the New-Gen players dropped down to 78 in the ranking. His best year was 2014. This year he is back. He registered his first win in over Federer to a book a berth in the semi-final beating ailing Federer. Djokovic too withdrew with shoulder problem. Nadal had knee issues. Change of guards coming?
First Italian in 42 years
Italy will remember US-Open of 2019. Italian 23-year-old Matteo Berrittini has not seen one of his countryman in the quarter finals of US-Open, in his life time. The last time an Italian reach the quarter finals was 42 years ago. The legendry Italian Corrado Barazzutti in 1977. The heavily built Berrittini will have to overcome colourful entertainer Gael Monfils of France to move on
The line-up is strong in the quarters. Like all Grand slam events the second week provided close encounters and unexpected winners. Argentinian Scwartzman, Frances Monfils, Nadal, Dimitrov and Russian Medevedev will make the final rounds to be closely contested event. Medvedev has already proved to be good in the run up events to US Open, the us Open series of 2019.
George Paldano, Int. player; Accredited Coach of German Federation; National coach
Davis-Cup, Federation Cup  captain/coach–  geodano2015@gmail.com  -