New alliance with Premadasa not working out: Sirisena shifts bets back with SLPP
By Our Political Editor
View(s):
Ranil tells UNP seniors of intention to contest presidency: Kabir Hashim accused of doing deals with Sirisena
SLFP informs NEC it will put forward a candidate, but does not say who it is
Just weeks before nominations for this year's presidential election, President Maithripala Sirisena, painted a 'self-portrait' of himself at last Tuesday's 68th annual convention of the Sri Lanka Freedom Party (SLFP).
That was an epitaph of sorts on his dual role, wearing two most coveted political mantles since 2015. One is the Executive Presidency, which he has held till today for four years, seven months and thirty days. The other is the SLFP leadership which was bestowed on him just one week after the 2015 presidential election. There was a comical paradox in the latter position.
In a nation where politics is largely driven by emotions, filial sentiments and cronyism — all under the guise of rules and party constitutions — Sirisena was sacked as General Secretary of the SLFP on November 21, 2014. That was after he announced his presidential candidature for the United National Front (UNF). Then, he declared he was no more a member of the SLFP. He confessed on occasions to confidants that he expected the United National Party (UNP) to offer 'him a place.' That was not to be, and history took a different turn.
Last Tuesday, President Sirisena was unlike other SLFP leaders at an annual convention. Not for him were achievements of an SLFP president or the highlights of the service rendered to the public. Instead, he dished out a collection of invectives garnished with innuendos against his own Prime Minister, Cabinet Minister and the leader of his partner group in governance, Ranil Wickremesinghe. This is by no means to suggest that a Prime Minister should not be dealt with if there are misdemeanours or serious allegations of impropriety including corruption. That unreservedly requires action, be it a common man or someone high up the ladder. If it works for the former, it does not always for the latter category in this country.
Here is President Sirisena, the number one in Sri Lanka's elected political leadership, who together with Premier Wickremesinghe, the number two who joined hands to faithfully offer the nation a Yahapalanaya or a government with good governance. With more than four and half years in office, the pledge both gave has been blatantly violated every day. They were on "auto pilot" mode with no checks and balances. To add to it, some 5,000 delegates who packed Colombo's Sugathadasa Indoor Stadium were shown a nine-minute video that projected, among other matters, the Central Bank bond scam. That placed the Premier Wickremesinghe in poor light with suggestions that made one believe he was already a convicted criminal.
Pointing out that plans were underway to extradite the Central Bank's former Governor Arjuna Mahendran, Sirisena declared documents were ready to bring "bigger men than him" to book. On Friday, he formally signed the extradition request to the Singapore government. The remarks he made have resonated in the UNP leadership. Premier Wickremesinghe told a confidant, "We also have documents about bigger men. Let the time come." That a slanging match will follow is in no doubt. To say the least, the two Yahapalanaya leaders have together laid bare that they had failed in their pledges, a key issue on which they cannot blame any other.
In addition, it was indeed shameful, if not alarming, that President Sirisena's approval had not been obtained for the screening of the video. It came to light at a meeting a group of SLFP parliamentarians had with him on Thursday night. Mahinda Samarasinghe, a former minister, asked Sirisena whether it was not unethical for him to have approved the screening of that video where his own Premier was being disgraced. "I have not seen it," Sirisena admitted making matters worse. The President then reached out for the telephone on his table and asked his staff to get the SLFP General Secretary Dayasiri Jayasekera. When Sirisena questioned him, Jayasekera replied it did not come from the SLFP. The General Secretary said it had been produced by President's Media Division. He was unaware who had approved it.
Then he asked his staff to get the Presidential Media Unit's Deputy Director, Nishad Upendra, on the telephone. Sirisena asked him on whose authorisation the video was screened. There was no response. He admonished him in strong words. This episode showed that neither Sirisena, the SLFP leader, nor Jayasekera, the General Secretary, known lately for his ever-contradictory remarks, knew what was shown. That was the state of affairs in a party once respected for its values and now slowly but surely disintegrating. In the past four and half years, under Sirisena, there have been three General Secretaries in the party. An SLFP district leader remarked caustically, "They could have even succeeded in showing a propaganda video of SLPP candidate Gotabaya Rajapaksa and got away."
Some of the key elements in President Sirisena's 45-minute speech not only highlight his current dilemma. They also bring to the fore the serious uncertainties for his own political future. Here are key areas which underscore these factors. Though they are not in the same order as he spoke, they nevertheless transform into a profile. That it is much to be desired and is even disappointing was the talking point after the SLFP sessions.
In an apparent bid to explain his failure to become a presidential candidate, Sirisena declared, "under the 19 Amendment, the next President will be powerless, irrespective of the personal achievements of the candidate." Noting that such a President "will not even have the Ministry of Defence" he declared, "We should be eager to elect a suitable Prime Minister and not the President." On the road from the Kelani bridge to Borella, posters on lamp posts on Tuesday bore a photograph of Parliamentarian Thilanga Sumathipala with the words "Theeranaya Ada" or decision today, meaning the day of the convention. However, Sirisena declared, "Many of you have inquired who the presidential candidate is and whom the SLFP is supporting. I will provide one answer. It is forming the 2020 government after the parliamentary elections." Quite clearly, he has shifted his hopes from the presidency, after knocking at the door of the SLPP and sounding out the Premadasa faction of the UNP. Now the hopes are to become Prime Minister. More importantly, downplaying the future role of presidency was his explanation for failure to become a candidate.
President Sirisena's public contention that the Ministry of Defence will not be under the next President is factually incorrect and misleading. There is no such thing. The provisions in the Constitution have not been changed by the 19A. Thus, taking umbrage under the 19A to justify failures in the past is clearly a distraction.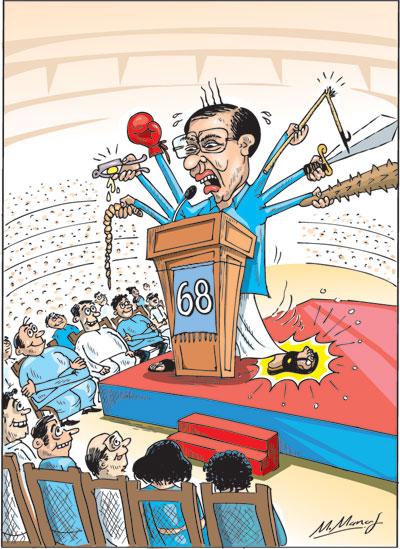 Manohara de Silva, one of Sri Lanka's leading constitutional lawyers, told the Sunday Times, "The President's powers related to defence remain unchanged after the introduction of the 19th Amendment as Article 4(b) of the Constitution which says 'the executive power of the People, including the defence of Sri Lanka, shall be exercised by the President of the Republic elected by the People' remains.
He said "this is one of the principal clauses in the Constitution and therefore the President's power over the subject of defence is the same as that existed before the introduction of the 19th Amendment. No attempt was even made to change these powers. Therefore, the interpretation that the President's power on the subject of defence has been reduced is not correct."
That there was another rationale behind hopes for Prime Ministership, however unsound it was, surfaced this week. Though unsuccessful, Sirisena loyalists have been promoting the idea of a joint alliance of their own. One source said the President had in fact sounded out Sajith Premadasa that he leaves the UNP with his backers and join them in an alliance. Thus, it has been suggested, that Premadasa could be the presidential candidate. At a parliamentary election, it was proposed that Sirisena would be the Prime Ministerial aspirant. Though highly unlikely they would accept it, a suggestion had even been made to rope in the Janatha Vimukthi Peramuna (JVP) and the Jathika Hela Urumaya (JHU) into this arrangement. This is said to be another reason why the SLFP-SLPP talks towards a partnership, despite an informal conclusion last week, had begun faltering. Newer issues are now cropping up. The parameters for this were agreed upon at one-on-one talks between President Sirisena and Sri Lanka Podujana Peramuna leader Mahinda Rajapaksa.
Pohottuwa symbol
SLFP General Secretary Dayasiri Jayasekera is now insistent on the need for SLPP to change its symbol from Pohottuwa (budding lotus flower) to that of a chair. Even to the dimmest witted, it is clear this is a difficult demand. That symbol has now become a brand name and the party is identified by it. As revealed earlier, the first move was shot down by both SLPP Chairman Prof. G.L. Peiris and SLPP architect Basil Rajapaksa. During a meeting last week with SLPP presidential candidate Gotabaya Rajapaksa, Jayasekera broached the subject again perhaps believing he could carry it through. Gotabaya Rajapaksa replied that "it is out of the question." He said the SLPP had made him the presidential candidate even when he had not obtained party membership. "The pohottuwa is recognised countrywide as our symbol. That cannot be changed," Gotabaya Rajapaksa asserted.
Yet, buoyed by hope or by a wrongful assessment of its own strength, the SLFP is not giving up. This week, in response to a letter from the National Election Commission (NEC), Jayasekera wrote that his party would be putting forward a candidate at the presidential election this year. He has been told by President Sirisena to take that step. The NEC has sought such information purely for administrative purposes. It is not legally binding on a political party, unlike in the case of a parliamentary election. Hence, there is nothing to prevent the SLFP from not handing in papers when nominations are called for the presidential election. Yet, Jayasekera believes that will enhance his party's bargaining power. Room for bargaining, however, has shrunk and the SLFP's power is shrinking by the day. Therefore, SLFP parliamentarians are headed in two different directions, some to the SLPP and the others to the UNP.
President Sirisena, in his address, described the United National Party (UNP), his partner in governance as an "aristocratic and corrupt elite that became a single faction." For four and half years, he declared, "I could not work for the country. I had to fight with them. They are still corrupt." He said corruption was high even in Provincial Councils and local councils. "The public had to give millions of rupees in bribes to have a building plan approved" he said and lamented "unfortunately, the upper class had failed to recognise the positive interventions made by a non-aristocratic President."
Yet, President Sirisena failed to say what happened to the election pledges in late 2014 to probe high profile cases of bribery and corruption by the previous administration. During his tenure of over four and half years, how many such cases have been concluded and culprits brought to book? Surely the 19A did not dilute any powers he enjoyed in this regard? He is also silent on the wheeler dealings that went on with ministers in his own cabinet soft peddling such cases. They included the re-appointment to cabinet of those against whom there were serious allegations of corruption and even perjury. They were elevated to play the role of judges and probe the Easter Sunday massacres. Sirisena is only talking about what has proliferated during his tenure, something which was much higher in volume than before. He had all the power to intervene.
Alluding to the UNP and the SLPP, Sirisena noted that "they are currently engaged in secret negotiations with politicians in the North. It was to get votes to win the elections."
A pertinent point made by President Sirisena, however, was on the conduct of future Provincial Council (PC) elections. The "first respondent" to this is Prime Minister Wickremesinghe who had delivered the "last nail," he declared. Noting that thousands of officials are on PC payrolls and these bodies had trillion rupees worth of assets, he said "the prospects of PC polls appear uncertain." It is ironic that when amendments to the PC laws were debated in Parliament, Sirisena was away in New York attending the UN General Assembly in September 2017.
He made personal telephone calls from there to some of the parliamentarians for their vote to ensure the passage of these new laws to put off PC polls. The Tamil National Alliance (TNA), whose earlier avatar, the Tamil United Liberation Front (TULF), campaigned for the PCs to "share power" at the provincial level. Now, TNA stalwart Abraham Sumanthiran MP is complaining that the ruling party had not delivered on the promises given to them – easily a pre-poll lament for Tamil votes. When for some reasons the PCs are abolished by a future government, the TNA would no doubt become the main cause for it. They killed their own baby. Personal factors seem to have overridden Tamil interests. The TNA, that has remained a proxy to the government, stands badly exposed on this issue in the eyes of the Tamil people.
President Sirisena admitted that "the entire Sri Lankan political structure is confused, pitiful and sorrowful." However, amidst all his remarks, there was an important comment that was truthful and significant. "I am proud to say no media institution was burnt or any journalist threatened" during his tenure, he asserted. I must say in all fairness to President Sirisena that unlike others in the past, he never intimidated, threatened or let loose killer squads against the media. Even criticism against him was met with a telephone call to the writer with his own view, and that too in grace and humour. This has been a strong characteristic in him that should be appreciated.
During his address President Sirisena hit all-round the wicket — at the UNF, the SLPP and the Ranil Wickremesinghe faction of the UNP. He was all but silent on the Sajith Premadasa faction. He avoided any reference — a silence that eloquently made clear the message that he still has hope on the Sajith faction. His see-saw mood was reflected in another episode this week. Premadasa accompanied UNP Chairman Kabir Hashim for a meeting with President Sirisena. This week, in what seemed a hilarious remark, Hashim said "there is no crisis in the UNP." Even he would not have believed what he said. For the Sri Lankan people, it was indeed an insult to their intelligence. Who would believe it? The meeting was to appeal to Sirisena not to take away the Ceylon Petroleum Corporation (CPC) from Hashim's Ministry and add it to the portfolio held by Minister Lakshman Kiriella. This was the result of a letter Premier Wickremesinghe had written seeking a change. Though Sirisena later told Kiriella that a group including Hashim  had met him and made the request. However, no change has yet been made despite visits by Kiriella to the Presidential Secretariat to expedite it.
Calling the 68th SLFP convention as a "great success," General Secretary Jayasekera hosted senior members including parliamentarians for dinner at his Colombo residence. President Sirisena dropped by. Mahinda Ameraweera, the General Secretary of the United People's Freedom Alliance (UPFA), the umbrella organisation led by the SLFP, asked, "Sir, what did you mean by your speech?" Replied President Sirisena: "Well, I don't place all my cards on the table." That was to tell one of his own party seniors to wait and see. Like Amaraweera, there were scores of Sri Lankans who wanted to know. Little wonder, like the President said, the whole country is confused.
Crisis within the UNP
In the fast-changing political scenario, developments within the UNP may come as a surprise, if not a shock, to President Sirisena. Upon his return from the Maldives, on Friday, Premier Wickremesinghe met senior members of the UNP at Temple Trees. For the first time, he made a declaration. He said he proposed to announce his name as the presidential candidate on behalf of the proposed Democratic National Front (DNF). He said he would, as party leader, propose at the Working Committee – the main policymaking body – his name as the presidential candidate.  He said he would also soon start his election campaign.
Minister Malik Samarawickrema, his closest confidant till recently, and now a Premadasa backer, was to point out that a public rally in Kurunegala for Premadasa drew large crowds and surveys had said he was a candidate who could win. Wickremesinghe countered the claim and said he also could produce statistics and surveys to prove that he could win the presidential election.
Also making a case for Premadasa was Minister Ranjith Madduma Bandara. However, Wickremesinghe remained defiant throughout the meeting prompting Samarawickrema to urge whether he could bring Premadasa for a meeting with him. The UNP leader agreed and the meeting will take place at 9 a.m. today (Sunday). However, a source close to the UNP leader said, "There is no way he will relent and re-consider Premadasa. His decision is final, but he will hear what Premadasa would have to say." Others, however, opined that he could work out a compromise with the offer of a Prime Ministerial position to Premadasa. To the deputy leader of the UNP, this will be a come down since he had declared he would be the candidate under any circumstance.
Sources close to Premadasa said he would not attend today's meeting with Wickremesinghe. "I have other things to do," he told a confidant.
On the other hand, Premadasa backers are still hopeful. One, who is prominent among them, was at a dinner on Friday at the residence of a former Defence Secretary, Karunasena Hettiaratchchi, who has just ended his diplomatic posting in Germany. He told guests that he was "still hopeful" that Wickremesinghe would decide on Premadasa.
The immediate issue this scenario raises is over what happens to Premadasa and his group of prominent UNPers. The source claimed, "Wickremesinghe will stand tough. He said Premadasa and his supporters will have to take a "political decision", meaning they will have to either support him or leave the party. He indicated he may even dismiss from the party those who work against its interests by not supporting his candidature. If so, have the UNP dissidents fighting for Premadasa lost their battle? The other issue of whether Wickremesinghe can win the presidential election or see the beginning of the end of the UNP is altogether another matter. It remains to be seen after the presidential election.  A party stalwart said that Premadasa may have galvanized sections of the party, but his campaign to announce his candidature before the party formally decided it and go around the country holding meetings in a show of strength was "gahala ganna hadanawa", or to take it by force.
The reasons for Premadasa's unexpected remarks at a largely attended rally in Kurunegala that he proposes to be the UNP presidential candidate with the blessings of leader Wickremesinghe and aspirant Speaker Karu Jayasuriya are now clear.  It is purely for legal reasons so he could absolve himself of any future accusations that he violated party discipline. Premadasa's media officials had been urging news outlets to give good play to this aspect when they reported on the meeting. The remarks, though totally incorrect, also fuelled speculation that he had successfully worked out a deal with Wickremesinghe.
Those taking part in Firday's meeting at Temple Trees chaired by Wickrmesinghe were Kabir Hashim, Malik Samarawickrema, Gamini Jayawickrema Perera, Daya Gamage, John Ameratunga, Lakshman Kiriella, Ranjith Madduma Bandara, Ravi Karunanayake, Ajith Perera, Akila Viraj Kariyawasam and Fielf Marshal Sarath Fonseka.
When the main issues ended with Wickremesinghe's announcement that he intends to announce his candidature, the item on the agenda was "any other business." Minister and House Leader, Lakshman Kiriella heaped a barrage of criticism on UNP Chairman Kabir Hashim on what he called four counts.
One: he had secret dealings with President Sirisena. This was together with Premadasa. The leader of the party was never kept informed of any of these secret discussions or deals, he said. Kiriella also said Hashim did not inform UNP leader Wickremesinghe that he was taking his oaths after he had resigned together with Muslim ministerial colleagues. Though he was Chairman of the party, he has thus surreptitiously by-passed the leader, charged Kiriella.
Two:  Being Chairman of the UNP, he has endorsed the conduct of public rallies in favour of Premadasa. No decision over such meetings had been taken by the party or its leader. This, he said, was in open defiance of the UNP leadership.
Three: Hashim has met SLPP candidate Gotabaya Rajapaksa secretly. Kiriella said that the matter had been made public by Minister Navin Dissanayake at a government parliamentary group meeting. He has had a three-hour long meeting.
Four: He tried to stall the Ceylon Petroleum Corporation (CPC) from being added to his own portfolio. Kabir saha Sajith Janadipathi Sirisena ekka deal daanawa or Kabir and Sajith are working deals with President Sirisena. "The President told me Kabir 'magey oluwa kanna hadanawa' or Kabir is trying to eat my head. He had come with four others to tell me not to give CPC to me," declared Kiriella. This had been conveyed to him when he visited the Presidential Secretariat. Kiriella said that the CPC was only 'parked' in Hashim's Ministry and the Premier had made it clear to him.  Before the Premier was to write to the President, he had in fact telephoned Hashim and told him about it. After the Premier had recommended to the President that he (Kiriella) should be given the CPC, he (Hashim) went to meet Sirisena and scuttled it. In my view, this is treachery, he charged. "What right have you got to defy the party leader," asked Kiriella from Hashim.
Joining in to back Kiriella were Ministers Daya Gamage and Gaminia Jayawickrema Perera. Gamage said that Kiriella should be given two portfolios and not one. Perera added that Kiriella worked both as Minister and Leader of the House – a position for which Wickremesinghe remarked that Kiriella should be given his rightful place for his hard work. Kiriella was talking of "bella kapena weda" when Hashim rose from his seat and ostensibly walked out of the meeting. Kiriella did not stop his tirade but went on to say that it is hirikithai or disgusting as it came from people who spoke of party unity. He called for Hashim's resignation. Commenting on crowds that gathered at meetings supporting Premadasa in Badulla, Matara and Kurunegala, Minister Daya Gamage remarked "Apith rasveem thiyala pennan nam" we will also hold meetings to display our crowds.
UNP Chairman Hashim also attended a meeting of local councillors yesterday. The adopted resolution calling for the nomination of Sajith Premadasa as the UNP presidential candidate. It was held at the Sugathadasa Indoor Stadium.
SLFP-SLPP talks
On the SLFP-SLPP front, a reported absence by Mahinda Ameraweera for four days from Sri Lanka, prompted an early round of talks between the two sides on Friday. Before the talks, the three members – Dayasiri Jayasekera, Mahinda Ameraweera and Lasantha Alagiyawanna – had a luncheon meeting with President Sirisena on Friday afternoon. It was Sirisena who briefed them on the outlines of their talks with the SLPP. When the talks began at the Opposition Leader's office at Sir Marcus Fernando Mawatha, questions arose whether the partnership may become a reality. SLFP General Secretary Jayasekera and his two colleagues placed a long list of demands and brought with them a set of questions to which they sought answers.
They reiterated their demand, for a second time that the SLPP candidate should contest under the Chair symbol, saying it was a request from the SLFP leader Sirisena.  In addition, even before they could sign an MoU, they wanted to know how many seats in a district would be allocated to the SLFP and how many of its members would be named Polling Agents. The SLFP delegation's position was in marked contrast to one taken by the party's deputy chairman Nimal Siripala de Silva, who celebrated his 75th birthday last Friday. He has declared though he would remain in the SLFP, he would extend his support to Gotabaya Rajapaksa at the presidential election campaign. He made his position known to many well-wishers.
Even before the SLFP delegation was able to lay bare their new set of demands, parliamentarian Thilanga Sumathipala had summoned a news conference and announced them. According to top SLPP sources, "their (SLFP) latest approach has left us with the inevitable feeling that they are, for some unexplained reason, now not keen to come to a partnership arrangement. They are placing more demands purely to accuse us at the end that we have reneged on the talks." The sources added that "their conduct is a ploy." According to these sources, SLPP architect Basil Rajapaksa had explained that most demands were "not deliverable" leave alone being "negotiated." The SLFP team comprised G.L. Peiris, Basil Rajapaksa and Dullas Alahapperuma.
The talks ended inconclusively because they had to give way for the SLFP delegation to meet candidate Gotabaya Rajapaksa. Among the issues discussed with him was an SLFP proposal that they sign an MoU with him instead of the SLPP.
The SLPP have now concluded their MoU with a number of opposition parties. This is after they accepted their updated Constitution which has now been approved. There has been a name change. They will identify themselves as Sri Lanka People's Alliance (SLPA)
The political events this week are significant. Without speculating on the polls per se,  it is pertinent to note that when Premier Wickremesinghe announces his candidature, he will be doing so amidst heavy damage caused by those within his party including the former and the present chairmen, both of whom were foisted in office by him. Thus, a campaign for him must emerge from a bruised, battered and ridiculed UNP.
Interesting enough, if not more, there is an equal fallout on President Sirisena. He has been shifting his bets from Premadasa to SLPP and vice versa. If hopes for Premadasa fade away, with Wickremesinghe still emerging as the presidential candidate, Sirisena has no option but be at the mercy of the SLPP which clearly has an upper hand. Though the SLFP has declared to the National Election Commission (NEC) that it intends contesting the presidential election, the party is well aware that such a move would only invite political disaster.  It is common sense that Sirisena did not work on a clear-cut strategy. Nor did his ill-informed advisors provide any help. It is also common sense that the SLPP could decelerate on its campaign, for others had done that job for it.