On politicians and the emperor 'with no clothes'
View(s):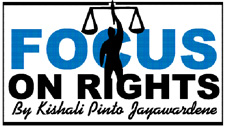 Delusions of grandeur that Sri Lanka's political class wraps around itself are much like that beloved children's tale of old, where the ruler is cajoled by tricksters into believing that he is wearing garments of stupendous beauty visible only to clever minds, whereas in actual fact, he is wearing nothing at all.
Unsurprisingly, this story by Danish writer Hans Christian Anderson has ventured far beyond the kindergarten to be adapted as biting political satire. The nakedness of the Emperor is only exposed by a child who blurts the truth out, while adults keep quiet in fear of not being thought 'clever enough' to 'see' the wonderful new clothes.
The cloak of 'political arrogance'
This week, Parliament had to be adjourned, typically due to a lack of quorum even as Ministers and their deputies were absent to answer questions. Parliamentarians protested that they were being publicly painted as wasters, given the high costs of a single sitting.  Magnanimously, some offered to forego the food given at subsidized rates, one even cackling ludicrously that he only drinks coffee in the House. Yet the call should not be to forego food but to sacrifice luxury vehicles and to refrain from guzzling of public funds entrusted to them. But this is an endless circle of corruption that is repeated regardless of who is in power. Indeed, political 'nakedness' reflected in these absurdities is only replicated on a larger scale by the political leadership on either side.
The Rajapaksa led Sri Lanka Podujana Party (SLPP, referred to as the 'Pohottuwa') and the Wickremesinghe-led United National Party (UNP) have one singularly common characteristic. This is the overweening notion that the populace of this country are fools, knaves or charlatans. That is the reason why these two leaders behave as they do, despite their seeming 'experience' in politics. The cloak of arrogance that each wraps around himself, like the Emperor's new clothes, is transparent.
It does not hide the naked bankruptcy of power and political ambition underneath. Each had been given their chance to govern Sri Lanka properly and each have failed in varying degrees. Some weeks ago, I referred to amnesia of Sri Lanka's presidential contenders in not acknowledging their failures which have weakened this country almost irreversibly.
That amnesia springs from this same supercilious arrogance. This assessment of former President Mahinda Rajapaksa applies with even more blunt force to his brother, Gotabhaya Rajapaksa. The once ferocious Secretary to the Ministry of Defence who terrified the minorities, journalists, dissenters, seized lands of citizens by a letter bypassing land acquisition laws now expounds on the Rule of Law. Both Rajapaksas cannot simply dismiss the multitude of sins committed under their watch by casual waves of their hands. If they have indeed changed, much more must be demonstrated to exorcise the demons of the past. Let us not however, hold our breath, waiting. Simply, it is felt that such explanations are not warranted.
A great crisis of credibility
Meanwhile Prime Minister Ranil Wickremesinghe thunders from political platforms that the UNP has reached the country's desperate poor through its 'Enterprise' programmes. We are sought to be persuaded that the citizenry is with his leadership. The tempo of this thundering has increased recently in the face of an inner revolt in the party in favour of Deputy Leader Sajith Premadasa as the presidential candidate. Even so, this is a delusion so stupendous that it is mind boggling. How closeted and closed to the real world can one be? And to be clear, this is not a simplistic equation of how 'popular' one persona may be against the other.
Many defenders of the Prime Minister point to the fact that his aloofness and inability to 'play' the 'common crowd' should not be held against him. That is very true. Incidentally the same can be said for the SLPP's Presidential contender Gotabhaya Rajapaksa who possesses the same charisma as a Central American boa constrictor. That is showcased starkly in the shadow of his brother, the former President who oozes charm, albeit grossly insincerely. It is also true that the Prime Minister's record on governance has many excellent markers. However it is also characterised by inept and bungling leadership which has put paid to the long boasted claim of technocratic leadership.
But a much greater crisis of credibility for this Prime Minister begins and ends with the Central Bank bond scandal. As was reflected upon in these column spaces, while the frauds themselves were scandalous, so were multiple attempts thereafter to cover it up. This worked disastrously against the party in far flung rural areas despite the scornful expectation of some in Colombo that villagers would be as unfamiliar with the 'bond scam' as they would be with James Bond. Scarcely so. Even as economic disparities widened with the poor becoming poorer, resentment at white collar criminals protected by the 'yahapalanaya' Government deepened.
The repercussions of political partisanship
That corrosive anger cannot be reversed by a hasty programme of pre-election hand-outs to rural constituencies at this late stage. And for Colombo's 'progressives' who, like the proverbial apes, preferred to hear no evil, see no evil and speak no evil of their chosen benefactors who allowed access to corridors of power but precious little on strong institutional reforms except the most hesitant of measures, there are important raps on the knuckles.
Essentially the lesson is that selectivity on the undermining of the Rule of Law brings deadly repercussions. This ranges from skimming over flawed proposals to enact a new Counter Terrorism law (what if this had been brought during the Rajapaksa decade?) to cheering on a 'four-pronged transitional justice' package that was strongly objected to by war victims in the North and East from the start. Such profound miscalculations are not incidental but emerge from that same overweening arrogance that pervades the inner circles of the UNP and its supporters.
Where the Central Bank bond fiasco is concerned, the sorry saga cannot be laid at the feet of a 'rogue' Governor whom President Maithripala Sirisena is now attempting, after a comedy of delays and false starts, to extradite from Singapore. Nor can we be naive enough to believe that this was simply a case of 'mistaken confidence' in its appointee by the UNP leadership. Farcially thereafter, we see a Minister who was accused of lying to the Commission of Inquiry  on the Central Bank bond matter, sitting on a parliamentary select committee inquiring into the April Easter Sunday jihadist attacks. Now we hear of yet another 'committee' being contemplated by the Prime Minister ostensibly in response to a call by the Catholic Church. When will this farce end?
The fight now is for the UNP to extricate itself from four years of costly mistakes and some triumphs. It must do so with grace and sincerity, not by parading around like the Emperor who was giggled at by a small child. The awful costs of failure in this regard spells certain disaster. No more and no less.