Curried rice and more to keep her memory alive
By Kaveesha Fernando
'Rasa Bojun 3', a collection of recipes that TV chef Shantha Mayadunne was hoping to publish before she was killed tragically is launched posthumously by her family
View(s):
The third book of recipes from Sri Lanka's beloved TV chef Shantha Mayadunne was posthumously launched on Thursday in the presence of many local TV personalities, family and friends. Shantha and her eldest daughter Nisanga died tragically in the Easter Sunday bomb blast at Shangri-La hotel. She is survived by her husband Kumar and younger daughter Tharanga who felt that this book that Shantha had completed before her untimely death should be published in her memory.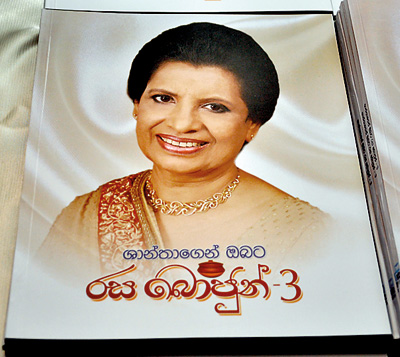 Titled 'Rasa Bojun 3' the book contains 50 recipes created and tested by Shantha over the last few years for curried rice, salads, drinks, desserts, soups and short-eats, all beautifully photographed in colour.
Known for her easy-to-make recipes which offer a quick and tasty alternative to traditional Sri Lankan food, Shantha has in this book introduced the concept of 'curried rice' – a 'one dish' alternative to the many dishes needed for regular rice and curry.
The speakers at the launch recalled their memories of Shantha. It was clear that she had impacted their lives deeply as no-one seemed to have written down a speech but instead spoke from the heart. Her abilities as a chef, her promotion of traditional Sri Lankan family values and her desire to help make the cooking process easier for busy women were highlighted. Many of the speakers also felt her beliefs and way of life made her the epitome of the traditional Sri Lankan woman; her warm and welcoming personality by far her most admirable quality.
Lankadeepa Edtior in Chief Siri Ranasinghe noted that Shantha's contributions to Sri Lankan newspapers were valuable. He recalled her many contributions to the Sirikatha begun around 1988. "We had more work to complete together but sadly now that is not to be," he said.
Sri Lanka Rupavahini Chairperson Inoka Sathyangani Keerthinanda commended Shantha's culinary abilities.
Speaking to the Sunday Times, Tharanga said the reason she and her family decided to publish the book so soon was because they wanted to fulfil Shantha's wish. "We spoke about the book launch even the evening before the bombings and everyone who knew her knew the book was coming soon," Tharanga said.
'Rasa Bojun 3′ published by Surasa Publications and priced at Rs. 1500 is available at Sarasavi, Vijitha Yapa, M.D. Gunasena and all leading bookshops. Tharanga requests that everyone tries out the recipes in the book and posts pictures of the recipes on her Facebook page along with their feedback in order to keep Shantha's memory alive.