Seven weeks on, tourism sector awaits revival
By Pravin Jayasundere
View(s):
Seven weeks after the Easter Sunday suicide attacks on churches and luxury hotels by Islamic extremists, the tourism industry and related sectors continue to struggle, industry figures say.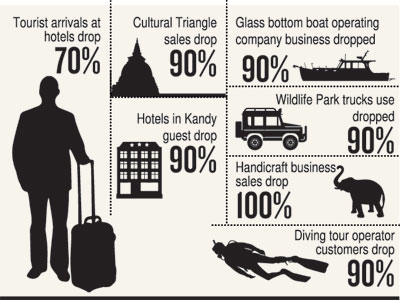 Chaminda Gamage a transport provider who rents vehicles to travel companies, said hires have fallen off, after 20 years in the business.
"Our last hire ended on April 28 , since then we have not had a single hire," said Mr. Gamage.
"We have two cars, two vans and a mini coach. Each of those vehicles used to run between 3,500 kilometres and 4,000km a month, and that was enough to keep everything in order."
Mr. Gamage said selling his vehicles was a challenge in the circumstances.
"Because there is no tourism it is almost impossible to sell the vehicles.''
He is also frustrated that not all financial institutions are supportive.
"Some associations give loans, but others are very reluctant."
Tour guides have their own challenges.
The secretary of the Sri Lanka Institute of National Tourist Guide Lecturers (NTGLs) Sumedha Chandradasa, estimates that visitors have dropped by more than 95%.
Mr. Chandradasa said that about 50% of bookings for August have been canceled and December reservations have not been confirmed.
"There must be a coordinated effort between the tourism authorities, the Ministry of Foreign Affairs and Ministry of Defence. Instead, there have been contradictory statements by the government," Mr. Chandradasa said.
Among the problems the tourist guides are facing are illegal, unlicensed foreign tour guides serving groups of more than seven.
The Sri Lanka Tourism Development Authority (SLTDA) has yet to stipulate the minimum salary for guides, or an insurance scheme.
Also, foreigners without visas, or business registrations, are operating tourism industry-related businesses.
"The state is not taking any action against them, while the foreign exchange is being smuggled out," said Mr. Chandradasa.
He said that the professional guides are facing severe financial difficulties. They are struggling to pays off loans and leases.
Mr. Asoka Dharmarathna, a manager of a company that operates safari tours of Minneriya and Kaudulla National Parks from Sigirya, said hires have dropped.
"We used to get five to six foreign hires every day. Since the attacks in April, we have only had four foreign hires."
Mr. Dharmarathna said booking for July and August, when visitor numbers are high, had been canceled, except for a few.
He said the some of his employees are making up lost income with odd jobs.
"They stick with us even though it is hard. We pay them a monthly salary but they rely on a lot on tips and commissions when there is business. But, now, some have even started working in the fields as there is not enough daily income," Mr Dharmarathna said.
"We cannot expect much for this coming season. But at least if a few tourists come they will tell their countries that it is safe to visit Sri Lanka again. We have to promote travel in any way we can."
A committee member of the Coral Sanctuary Boat Ticket Issuing Centre, Mr. H. P. Gunarathna, said businesses and those who engage in the sector have declined.
He said business had dropped by 90%, with little to no hires.
Mr. A. R. Gunathilake, the owner of a guesthouse in Sigirya, said there were no booking since the Easter Sunday attacks.
"We have no income now. They [the Government] keep saying things, but nothing is happening. We have received no benefits, or subsidies for anything," said Mr. Gunathilake.
IDC staff instructor and Trincomalee branch manager, of a diving tours company, Sashaa Fernando, shared similar concerns,
"We are in the high season now, and business is really low. We are at around 10% of the business that we normally receive."
He said some employees were let go and he is finding it difficult to pay off business loans.
Mr. Gamini Perera, the owner of a handicraft shop in Bentota who had been in tourism for over 40 years is saddened by the state of affairs. "We should be able to live in this country, not merely exist."