Rathana Thera now turns blowtorch on leaders, calls for 1m to join him
View(s):

A four day fast unto death outside the sacred Dalada Maligawa in Kandy won him his demands. A day in hospital where doctors said he was safe and sound, Venerable Athureliya Rathana Thera spent time in a temple.

He arrives in Colombo today for an adisthana pooja at the Kelaniya Raja Maha Vihraya. "My new mission will be to help people pick the right leaders for the country, not those who are rich or claim to be popular," Ven. Rathana Thera told the Sunday Times.

"We should have at least one million people who think on the lines that the leader to be elected should have policies that develop the country," he said, naming the environment and development as key issues.

Ven. Rathana Thera explained why he took the decision to begin his proclaimed death fast.

He said he and 200 fellow monks had given a memorandum to President Maithripala Sirisena on May 22 requesting the removal of Cabinet Minister Rishad Bathiudeen, Western Province Governor Azath Salley and Eastern Province Governor M.L.A.M. Hizbullah.

"We gave the President around one week to make a decision, but since there was no response I decided to go on a fast-to-death campaign," he said.

Ven. Rathana Thera said his main demands were the removal of Mr. Bathiudeen, Mr. Hizbullah and Mr. Salley from their posts, an impartial investigation by a presidential commission into allegations that a Muslim doctor was attempting to make the Sinhala race extinct, and to provide compensation for mothers who had allegedly been sterilised by this doctor.

He said that he had notified the Mahanayake Theras of every Buddhist chapter that he intended to take strong action to force the President to remove the two governors and the cabinet minister from office.

At 11.30 a.m. on May 31, Ven. Rathana Thera offered flowers at the Dalada Maligawa (Temple of the Tooth)  in Kandy and commenced his death fast.

As he began the hunger strike in front of the Dalada Maligawa other monks joined him. A Catholic businessman of Ragama, Manfred Anthony Adolphus, also joined.

As the monk's fast lengthened, many visitors called to see him, among them Catholic Archbishop, Cardinal Malcolm Ranjith, and Hindu leaders.

Other well-wishers included United People's Freedom Alliance (UPFA) MPs Dilum Amungugama, S.B. Dissanayake, Mahindananda Aluthgamage, Duminda Dissanayake, Keheliya Rambukwella, Udaya Gamanapila and Wimal Weerawansa, Minister Patali Champika Ranawaka, Deputy Minister Karunaratna Paranawithana, State Minister Wasantha Senanayake and Ms Shiranthi Rajapaksa, wife of former president Mahinda Rajapaksa.

State Minister Senanayake and SLFP National Organiser Duminda Dissanayake were booed as they arrived.

People who had suffered due to the bombs exploded at Catholic churches in Katuwapitiya and Kochchikade on Easter Sunday also visited the monk, saying he was fasting to bring them justice. Various artists also arrived.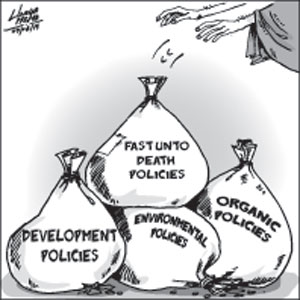 Thousands of people in Kandy, led by monks, marched in support of the fast and a crowd gathered around the area where Ven. Rathana Thera was making his protest.
Another controversial monk, Ven. Galgoda Aththe Gnanasara Thera, visited several times, saying the fasting monk would not be allowed to weaken and that there would be a "senakeliya" (carnival) if the government did not remove the two governors and get Minister Bathiudeen to resign.
On Monday (June 3), the fourth day of the fast, events unfolded quickly.
Ven. Gnanasara Thera called in again and announced that he was heading to Colombo on a protest campaign. The monk, who leads the Bodhu Bala Sena (Buddhist Power Force) and has been accused of inciting violence against Muslims, was released from jail last month on a presidential pardon after being jailed for contempt of court.
The chief Buddhist prelates, heads of the Malwatta and Asgiriya chapters, wrote to the President and Prime Minister, warning that inaction over Ven. Rathana Thera's fast could lead to violence in the country.
At around 1pm, Central Province Governor Maithri Gunaratne came to tell Ven. Rathana Thera that the two governors were going to resign. The monk demanded documentary proof of this. Governor Gunaratne left and returned around 2.30pm with documents.
Ven. Rathana Thera accepted the documents as the proof he sought of the resignations and called off his fast. He said Prime Minister Ranil Wickremasinghe should deal with the matter of Minister Bathiudeen's removal from office.
"My suffering for three four days doesn't matter," Ven. Rathana Thera said. "Even Lord Buddha Suffered for six years. I was lucky to carry out my effort in front of the Temple of the Tooth where Keppetipola Nilame gave up his life after he recited the Dhammapada, where Udahagala Thera was shot dead.
"I thank the Mahanayakas and Anunayaka Theras, Ananda Thera of Trincomalee, Hindu priests and Cardinal Malcolm Ranjith. I thank all who extended me support," the monk said.
He said he had been able to make the government kneel before the people, unite Sinhalese and awaken Buddhists – "as a single person I was able to give a message to the government", Ven. Rathana Thera said.
After drinking a glass of water, he was taken away in an ambulance to the Kandy General Hospital at 2.35 p.m.
Shortly afterwards Minister Bathiudeen resigned, and along with him all other Muslim MPs announced their resignation from their government portfolios. The 10 ministers who resigned comprised four cabinet ministers, five state ministers and a deputy minister.
Ven. Rathana Thera, responding to the resignations of the Muslim ministers, said he had wanted to hold a meeting with Muslim politicians and resolve problems.
"The Muslim politicians, like the Sinhala politicians, only think about political advantage. Yet we thought that we could come to an understanding and resolve the issue. The expectation of meeting them were shattered when I learned Muslim politicians who were elected by the Sinhalese stood by those supporting extremism," he said.
He said the other Muslim ministers had shown a bad example by sitting along with officials accused of supporting extremists.
On Wednesday, the leading chief Buddhist prelates and the Maha Sangha of the three main Buddhist chapters called for the Muslim ministers who resigned to return to the administration and resume their responsibilities.
Meeting in Kandy, they said the country needed the Sinhala, Tamil and Muslim communities to work together for the country's stability. "We think the departure of the Muslim ministers from the government should not have happened," they said in a statement.
The resignations of Minister Bathiudeen and Governors Hizbullah and Salley were celebrated with fireworks in several areas, with people also offering kiribath and kavum to neighbours in celebration.
Central Province Governor Gunaratne explained how he acted as the intermediary in the affair.
"The President called me on Sunday (June 2) when I was travelling to Galle and instructed me to go to Kandy as the situation in the area was getting to point that it could lead to violence," he said.
"On Monday I felt concerned and, along with the Governor of the Southern Province, Keerthi Tennekoon, I called Governor Salley to request him to resign from his position.
"After I convinced him that the President is also facing problems due to him remaining in his post, he agreed to give up his post.
"Afterwards I called the President and passed on this news and the president asked me to tell Mr. Salley to send in his resignation letter," Mr. Gunaratne said.
The letters of resignation of Governer Salley and Governor Hizbullah were collected and forwarded to President Sirisena by Governor Tennekoon and Northern Province Governor Suren Raghawan.
Negotiations to get Eastern Province Governor Hizbullah to resign were entrusted to UPFA General Secretary Mahinda Amaraweera.
On Tuesday, despite earlier supporting Ven. Rathana Thera, Ven. Gnanasara Thera unexpectedly criticised his actions at a meeting of the Bodu Bala Sena, saying the hunger strike had risked inflaming communal tensions and that it should be recognised that traditional Muslims had led the fight against extremist Muslims. On Friday, a magistrate lifted a travel ban imposed on the thera after lawyers argued he had been granted a scholarship in Japan.
Malwatte, Asgiriya Theras warned Govt

The Mahanayaka Theras of both the Malwatta and Asgiriya Chapters wrote directly to President Maithripala Sirisena and Prime Minister Ranil Wickremesinghe urging that urgent attention be paid to Ven. Athuraliye Rathana Thera's demands.

The government would be held responsible for any public disturbance over the health of Ven. Rathana Thera if the weakening monk continued in his declared death fast, Ven. Warakagoda Sri Gnanarathana Thera of the Asgiriya Chapter and Ven. Thibbatuwawe Sri Siddhartha Sumangala Thera of the Malwatte Chapter stated in their letter sent on June 3.

They expressed concerns over public safety, saying there was an uneasiness spreading throughout society as the government delayed acceding to Ven. Rathana Thera's demands.

The Mahanayake Theras urged the government to carry out a fair and transparent investigation into allegations that extremists were receiving support from within government.

---

Solidarity fast by Tamil politicians, monks

Tamil politicians and other monks joined Ven. Athuraliye Rathana Thera in his fast in support of his demands.

Tamil National Alliance (TNA) MP S. Viyalendran began a protest fast at Gandhi Park in Batticaloa on Saturday, June 1, and Eelam People's Revolutionary Liberation Front (EPRLF) deputy leader R. Thuregan also commenced a fast. The Chief Monk of Batticaloa, Sri Mangalarama Ampitiye Sumana Thera began a fast on June 1, and later the Dimbulagala Aranya Senansana Lekakadikari of the Buddha Srawaka Sanga Sabha, Ven. Dimbulagala Rahulankara Thera, followed suit.

All called off their fasts after Ven. Rathana Thera ended his protest.

---

Shops fly black flags in support

Bus drivers, businessmen, shop keepers and three-wheeler drivers in various areas closed shops and called strikes this week in a show of support for Ven. Athuraliye Rathana Thera.

Members of both the Sinhala and Tamil Businessmen's Associations in Kandy closed shops in Kandy city in Monday and displayed black flags to show displeasure at the government's inaction in meeting the monk's demands.

Private buses operating from Negombo commenced a strike on Monday and trishaw operators in the area also showed support.

The Dambulla, Matale and Kandy economic centres closed shops for two hours on Monday. The vegetable markets at Katugasthota and Makumbura were also closed in support of Ven. Rathana Thera. ReplyReply allForward