Terrorism: An excuse to disrupt Schools Rugby
View(s):

Schools Rugby Round 2 ground to a halt as the country stood shell-shocked with the Easter Sunday bombings. While the country struggles to get back on its feet, continuing Round 2 can have two possible outcomes. Will it prove that Sri Lanka is rebounding or, destroyed by a mere cracker, if lit among the pigeons?

As the world watched in horror, during the Munich Massacre, ABC broadcaster Jim McKay broke the news: "My father used to say our greatest hopes and our worst fears are seldom realized. They're all gone."

History records events that have threatened sports, which have always stood up and continued. The 1972 Munich Olympic Games is described as the darkest day of Sport. Eleven Athletes, a coach and a police officer were slaughtered after a 16-hour standoff. The competition went on, after being suspended for a memorial service.

Around the 1996 Olympics, there was a bomb that went off at a public concert. President Bill Clinton denounced the explosion as an 'evil act of terror' and the games went on as planned. In 1996, Australia were reluctant to play their Cricket World Cup games in Sri Lanka, but the tournament went on.

The 2008 Marathon Massacre, which killed a dozen, including a Minister and a former Olympic marathon runner and in 2009, the Sri Lanka Cricket team was fired upon in Pakistan. The Ryder Cup and the Dakar Rally succumbed under threat, but major sporting events since then have tightened security and the games held, such as the Beijing Olympics.

One of the most oft-heard clichés in Football is legendary manager Bill Shankley's assertion that, "Some people think Football is a matter of life and death. I assure you, it's much more serious than that." Unfortunately, for Colombian player Andrés Escobar, that prophecy came true.

During the 1994 World Cup, the Colombian team lost 2-1 to their American hosts, with Escobar scoring in his own goal, leading to their elimination. Upon his return home he was shot and killed. The murder is widely believed to be a punishment for the own goal, though it may well have been linked to heavy gambling losses accrued by drug lords who bet on the team. Guess, it is not that bad here in Sri Lanka, but, of late, it has to be whose head would it be?

Sri Lanka appears more than once, if you take 10 top sport terrorism acts. This, then, should be another event in the life of Sri Lanka sport history. The Sri Lanka Schools Rugby Football Association (SLSRFA) has been in consultation with the Ministry of Education and the Defence authorities, while the Minister of Sport too joined. Unlike in Munich or Atlanta, I still do not see the government making a valid point to let the game and life continue.

The effects are not limited to these schools events as an Asian 7ns Series event is billed to be played in Colombo late September. To Asian Rugby, this event can be held or hosted in any other country in the region. To Sri Lanka, it is important, as it can have a bearing on economic activity such as tourism, in addition. To play or not was a question? That question signifies importance, as they ponder Sri Lanka hosting the 3rd of the 2019 7s Series.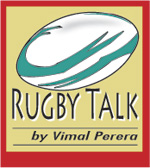 In the Top League, 5 of the 8 schools are Catholic or Christian schools. Some were worried about the Schools Rugby League, while others talked about the Royal-Trinity 'Bradby Shield' game. The Round 2 games will commence on May 31 and be over by June 30. Four matches are to be played in a day, including the Cup, Plate and Bowl segments. In the haste of fixing a schedule, it appears that an important St. Peter's-Isipathana match has been fixed for June 16, which is Poson Poya day.
With sporadic eruptions and imposing of curfew at odd intervals, what assurance can be given to the stakeholders, mainly the players and parents, that the environment is safe. The onus is on the SLSRFA, who have taken upon their shoulders a gigantic responsibility; supported by the MoE and the Defence establishment. The effort is good, but the dung in the milk is a result of some school masters and teachers, whose posts on social media, make me wonder 'what is going on'. Not necessarily that all such teachers are those involved in Rugby, but some are.
The tournament, which gets off after a break, will, I believe, be watered down, as players would have had less time to practice. With apprehension of the situation, spectator interest may be low. The successful completion of the League is not a victory for a team, but an achievement to a nation that struggles with a lack of leadership. A leadership that Rugby can provide. But divided, as explained by a senior Sri Lanka Rugby (SLR) official, there is a significant gap in discussing and planning between the SLSRFA and SLR. So let the race begin.
Vimal Perera is a former Rugby Referee, Coach and an Accredited Referees' Evaluator IRB