FIFA offers US$ 500K for Semi-Pro League
View(s):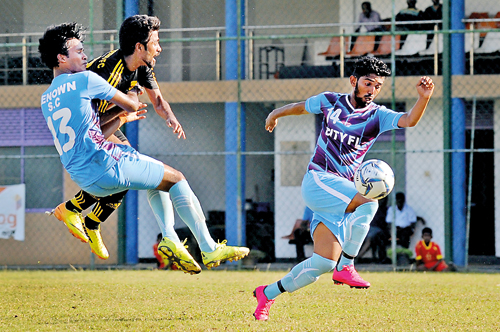 The Football Federation of Sri Lanka (FFSL) is making plans to introduce a semi-professional League tournament with FIFA, the global governing body for Football, coming in to financially assist the venture. FIFA has assured FFSL of US$ 500,000, equivalent to LKR 8 million, to conduct the intended semi-professional Football League, where the FFSL will have to draw the layout of the competition.
According to FFSL sources, the tournament will be conducted before the end of this year, with the best 10 teams from the Dialog Champions League set to feature. The selection criteria, to identify the 10 competing teams, will be discussed and drawn up by the FFSL officials in the near future.
The introduction of the FIFA supported tournament is an attempt by FFSL to put Football in Sri Lanka on the track of professionalism, according to the source.
In addition, the FFSL is planning to slim down the number of teams from 18 to 12 in the Dialog Champions League, which they intend to continue with a limited number of competitive teams.
The FFSL is making plans to kick-start the Dialog Champions League for 2019 by mid July, and the intended semi-professional League will likely follow soon afterwards, within 6 months.
The players participating at the intended semi-professional Football League will be paid a match fee by the FFSL, which only intends to obtain the financial grant from FIFA, for initiating the competition. After the introductory semi-professional tournament, in collaboration with FIFA, the FFSL plans to draw in a potential sponsor from the local corporate sector with more added features.