When Kenya reached the Semifinal of a World Cup
View(s):

The 8th Cricket World Cup (WC) was hosted for the first time in Africa, by South Africa (SA), Zambia and Kenya, from February 9-March 23, 2003, comprising 14 Teams, from the previous 12. However, there were many problems faced by the administrators. There were 10 Test teams, along with Namibia, Holland, Canada, and Kenya as the minnows.

For instance, there were problems such as boycotts of matches by certain nations, when matches were to be played in Kenya and Zimbabwe, for political and security reasons. As a result, Kenya surprisingly reached the semifinals due to wins over Bangladesh, Canada and Sri Lanka. This was the first occasion when an ICC Associate Member reached the semifinal of the Cricket WC tournament.

By increasing the number of teams, there were quite a few one-sided games as well. As Simon Wilde, a senior journalist, commented in the 2004 Wisden Cricketers' Almanack:

"The run-up to the tournament was fraught with problems, with countries courting claims for damages from the ICC, for failing to fulfill contractual commitments. An intractable dispute between the Indian Board and their players, over product endorsements, threatened their participation, while the issue of whether it was safe to play in Zimbabwe and Kenya, and whether it was morally right to do so in Zimbabwe, given the violent and repressive nature of President Robert Mugabe's regime, spilled over into the event itself. Andy Flower and Henry Olonga protested against the Robert Mugabe regime by sporting black armbands, "mourning the death of democracy in beloved Zimbabwe." Subsequently, both of them retired and went on to play overseas. Shane Warne, Australia's match-winner in the semifinal and final of 1999, had to return home after failing a drugs test taken during the VB Series in Australia during the previous month. Warne's 'A' sample, later confirmed by the 'B', showed he had taken two banned diuretics. Warne said he got them from his mum and took them out of vanity, wanting to lose weight before his return to the Australia side, after injury. But diuretics can also mask steroids, which could have expedited Warne's swift recovery from a dislocated shoulder. A fortnight into the tournament, he was handed a 1-year ban. It was the highest-profile drugs case to afflict cricket, which sent shock waves through the game but, as with everything else, the Australians rode them well."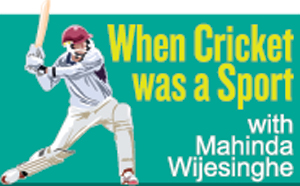 Australia, led by Ricky Ponting, won all their 11 matches comfortably, and simply trounced their opponents to win the Trophy, though they did have one scare in their final group match against England, at Port Elizabeth. England had them tottering at 135/8, needing 205 runs for victory, but Michael Bevan 74* and Andy Bichel 34*, in an unbeaten partnership of 73 runs, saw Australia home.
In the run-up, Sri Lanka simply crushed Canada for a total of 36 runs in 18.4 overs, it was the lowest total in WC cricket as at that date. None of the Canadian batsmen reached double figures, with 6 batsmen registering 'ducks'. Paceman, Prabath Nissanka 4/12 was Man of the Match in this carnage, while Vaas captured 3/34. The game was over inside two hours. In addition, Sri Lanka beat New Zealand (NZ), Bangladesh and the West Indies, and surprisingly, lost to Kenya, after having tied with SA.
The tournament saw numerous upsets, with SA, Pakistan, West Indies (WI) and England eliminated at the Group stage. SA missed by one run, after misreading the Duckworth-Lewis method rules. England forfeited their match with Zimbabwe, due to the political unrest in the country, which ultimately enabled that team to reach the Super 6s. Similarly, NZ forfeited their match with Kenya, due to security reasons, which enabled the latter to reach the semifinals, the only non-Test playing nation to do so.
In the first semifinal, Australia having won the toss, decided to bat first against Sri Lanka at St.George's Park, Port Elizabeth. Sri Lanka restricted Australia to a modest 212/7, with Symonds contributing an unbeaten 91 .Chaminda Vaas was the most successful bowler with 3/15. In reply, Sri Lanka lost both openers cheaply and play was then interrupted by rain. The Duckworth and Lewis system was then introduced for a total of 172 runs from 38.1 overs.
Kumar Sangakkara and Vaas made 47 runs for the 8th wicket – the highest partnership for the innings – but Sri Lanka managed only 123 runs in the allotted overs, falling short by 48 runs, though Sangakkara 39* in 70 balls and Vaas 21* in 50 balls batted valiantly.
The second semi-final was between India and Kenya on 2 March 20, at Kingsmead, Durban. Kenya became the first non-Test team to play in a WC semifinal. India won the toss and made 270/4. Ganguly and Tendulkar made 111* and 83 respectively. In reply, the Kenyans were bowled out for 179 in 46.2 overs, with skipper Steve Tikolo top-scoring with 56 runs, while Indian paceman Zaheer Khan took 3/14. Ganguly was adjudged Man of the Match.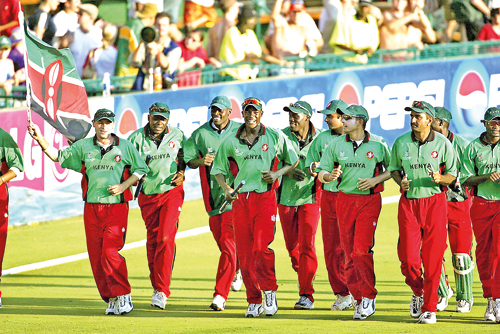 Most analysts considered Australia, undefeated throughout the tournament, to be favourites for the title. Former Pakistani captain Imran Khan thought India could clinch the WC, while former Australian skipper Greg Chappell, commented that, except for Australian paceman Brett Lee, no other Australian fast bowler was a threat to the Indian batsmen, adding that, the duel between Lee and Tendulkar would be crucial.
Indian skipper Ganguly, citing their sensational 1983 WC victory under Kapil Dev against the WI, as his inspiration for the final, commented that Australia was not unbeatable, though they are currently considered the best side in the world. On the other hand, Australia's main concern was the free-scoring Sachin Tendulkar. He was adjudged Player of the Series, having totaled 673 runs- 200 runs more than his nearest rival, his own captain Ganguly and Australian skipper Ponting. However, Lee and McGrath had "special plans" for him. Both teams had previously faced each other eight times in Cricket WCs, with Australia winning six of them. All the Indians were playing in their 1st WC final, whereas, six of the Australians had appeared in at least 1 previous final. So, experience was going to be a crucial factor. A factor that also played an important role when Sri Lanka won the WC in 1996.
The final was played on March 23, 2003, at the Wanderers Stadium, Johannesburg, on a pitch that was moist and the outfield damp, as a result of thunderstorms the previous evening. For the Umpire- David Shepherd and Steve Bucknor, it was their third WC Final. Former Sri Lanka skipper Ranjan Madugalle was the Match Referee.
Australia showed their batting ferocity in the final against the Indians, with Player of the Series Sachin Tendulkar in the opposition. Put into bat by Indian skipper Sourav Ganguly, the Australians ran up a record 359/2. There was another record, when skipper Ponting smashed an individual score of 140 from 121 deliveries. Off his last 47 balls he hit a spectacular eight sixes, and 90 runs in all! This was a record individual score for a WC final.
In reply, when Tendulkar, the highest scorer (673 runs) in the tournament, fell in the first over, India was never in the game, despite Virender Sehwag's 88 in 84 balls, as India succumbed to 234.
Australia will be remembered for their cricket, rather than the off-field dispute. These were rarely out of the headlines. There were really only two brief periods when cricket held the stage. The first was towards the end of the Pool matches, as teams fought for qualification and 4 enthralling games unfolded in as many days. Australia took US$ 2 million by winning the Trophy. However, to quote the mediamen: "There was a suspicion that the real financial winners were the Lawyers, who were rarely out of action and, unlike the players, never succumbed to fatigue."