An inspirational life story of a Cricket-crazy Anandian
By Ishan Samaraweera
View(s):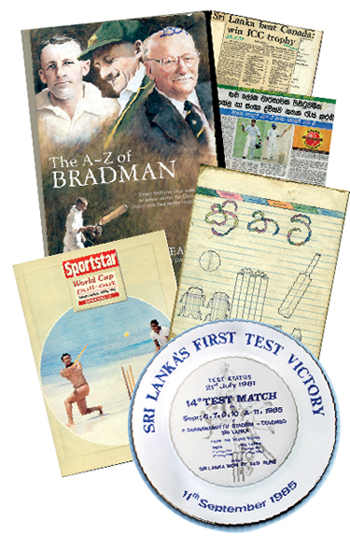 In Sri Lanka, Cricket is not just another sport. It has something beyond that, from the day Sri Lanka got Test status in 1981, Cricket has been the most popular sport in Sri Lanka. It plays a vital role in bringing people together as a nation. It gives great joy to 20 million people in the Pearl of the Indian Ocean.
Cricket has given Sri Lankan fans fond memories, which will be remembered for many years to come.
Sri Lanka is known to be a Cricket-crazy nation and we have heard many stories about our adoring Cricket loving public, that depicts the love for the sport that we have, and recall the graceful past with pride.
This is an inspirational story of a passionate Cricket fan.
Vajira Jayasanka Wickramage is an ardent Cricket fan. He has been a passionate follower of the game from his school days. He has a collection of souvenirs going back 4 decades, and he has also witnessed some of the memorable moments in the history of Sri Lanka's Cricket.
He has souvenirs of Sri Lanka's first ever Test match, up until 2016. He has held 3 exhibitions, with Michael Tissera being the chief guest at his first exhibition at the Art Gallery.
He said that it was a dream to invite one of the oldest Cricket legends that the country has produced.
" I started to adore the game since I was a schoolboy. From 1972-1995, I watched all the Ananda-Nalanda 'Big Matches'. In 1996, I did not watch the 'Big Match' because we had the 1996 World Cup, and I still remember watching the victorious tournament on the Television," he recalled.
Sri Lanka won their First ever Test in 1985. He relived some memorable moments from that memorable test match at the P Sara Oval.
"We won our first Test match in 1985 against India, to commemorate that memorable moment a book was published and dedicated to all the fans. I think I was fortunate that I was there to witness that Test match, I will cherish that day for the rest of my life."
He also remembered how passionate our people were and how they enjoyed the game. Furthermore, he went on to express his feelings about the victorious 1996 World Cup campaign.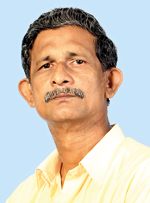 "The 1996 World Cup was the turning point in Sri Lanka's Cricket. There was a strong bond between the players and they had a proper game plan. More importantly, they never gave up and eventually, they were able to bring glory to our motherland," Vajira recalled with a sense of satisfaction.
When Bandula Warnapura scored a century in the 1972 Ananda-Nalanda encounter, Wickramage was just a young schoolboy at the time. He recalls how he felt, when the rival Nalanda batsman smashed the ball to all parts of the ground.
"I was really angry, because he was a Nalandian and, at the time, there was a record which was ours, but he broke it. When I recall it now, it gives me great joy."
In the Pre-Test era, the Sri Lankans were considered an emerging team in the cricketing world. Those were the days, when the top ranked teams came to play unofficial Test matches. According to our narrator, it was a dream to get an autograph from a cricketer.
He did not forget to express his point of view about the problematic situation within the Sri Lankan Cricket team at present.
"If we take a look at the recent performances of our team, there seems to be a problem in the mindset of our players and also, there doesn't seem to be any unity among themselves. As a passionate Cricket fan, it is sad to see our team in this crisis situation. We have shown that we can beat any team, if we play according to our instincts. We were able to beat South Africa on their home soil, which is a major achievement," he said.
He urged the Lankan fans to be patient and keep cheering our Lankan lions in their hour of need. He also emphasised the fact that the standard of our school Cricket and first class Cricket should be improved, which may do a world of good for the future of Sri Lanka cricket.
"Those days we produced many talented cricketers who played for the National team. Players such as Brendon Kuruppu, Arjuna Ranatunga and Marvan Atapattu were some of the legends that made Sri Lanka cricket proud. I am proud to say I am an Anandian."
"At present, I am working as a Graphic Painter for a website. I am hoping to start a Cricket website for Cricket enthusiasts in Sinhala, so that anyone can read and understand about the history of Sri Lanka cricket. For that to happen, I need to have financial support. So I hope somebody will help me to start a website in the near future," he concluded.
Passionate Cricket fans like Vajira help us to realise how Sri Lanka cricket has made an impact on our lives, which draws inspiration from the the motto of Sri Lanka Cricket, "One Team One Nation".