Grand Hotel Garden : A top attraction in Nuwara Eliya
View(s):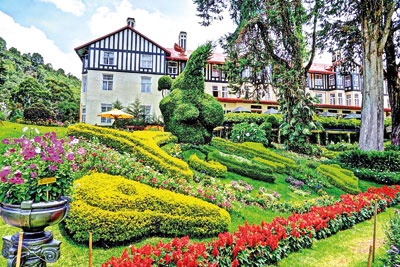 A  burst of colour at each turn, lush lawns and hedges sprawling around the iconic tudor edifice greeted not just the residents of Grand Hotel, but also the many visitors who were in town for the April festivities.
Grand Hotel Nuwara Eliya won the first place for their well maintained lawn at the recently concluded 'April Blooms 2019', annual Flower and Garden Show, organised by the Nuwara Eliya Municipal Council.  Also the Grand Hotel has claimed top honours at 'Hedges and Fences' category for their famous figures and designs, sculptured out of bush plants.
Gerberas, Chrysanthemums, Antrrihinums , Salvias, Marigolds and Pansys were all waving gracefully in the immaculately manicured gardens presented by the hotel and it's award winning Garden Team led by Amila Isurudewa , the Resident Horticulturist of  Grand Hotel. He and his dedicated team can be seen each day, tending to the English garden to ensure that visitors are treated to a breathtaking repertoire of lines and colours reminiscent of the Colonial era which the property represents.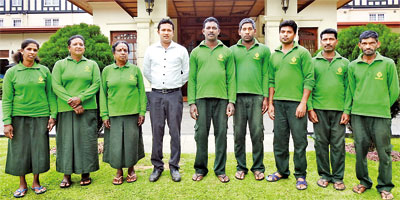 With the changing weather patterns and the often unpredictable rain it is no easy task to keep the Garden, lawns and hedges. Experienced Rajiv Kumar and Prashanth are experts at producing lush green lawns throughout the year and were rewarded by bringing home the 1st prize for lawns at the April Blooms 2019 flower show, while Ravichandran and Christopher claimed top honours for Hedges and Fences with their famous figures and designs, sculptured out of bush plants.
One of the secrets of keeping the Grand garden in impeccablethroughout the year is the plant propagation and nursery management techniques which have passed down throughgenerations of gardeners, and today Mahendran, and the three ladies, Piyaseeli, Selvarani and Vijayaluxmi excel in this aspect. This select team with the allround skills of Nagalingam, Punya Kumar and the youthful Vijendra, have yet again produced a breathtaking grounds and garden at the Grand Hotel, which is at its peak during the months of May and June, winning the hearts and minds of the resident guests apart from the many coveted awards.
For more details contact : Tyrone David, 077 2150158, rm@grandhotel.lk.