Stay Tuned: 20 protective tips during urban terrorism
View(s):
After enjoying a hard-earned decade of peace, we are back again facing the disturbed times of uncertainty, especially in our metropolises.
The incidents that happened so far and the terrorist network, their preparatory plans and armaments discovered on a daily basis paint a picture of distress and signs of challenging times ahead.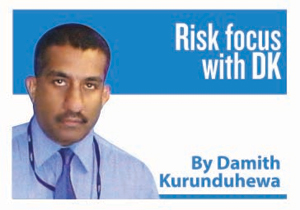 As an old adage enlightens us, 'We cannot direct the wind, but we can adjust the sails'. Thus, the below thoughts are lined-up to help you achieve better protection for yourself and your businesses.
1. If you are someone vulnerable, switch-off the location display on your smart phone when unnecessary (or all the time) as per your practicality. Also ensure that your phone cannot be used by anyone without you realising so.
2. Change your email passwords/social media passwords as often as possible. Use only the essential apps on your phone/computer. Deactivate and uninstall the rest. Also, be in control of your Wi-Fi and Bluetooth connectivity. Re-model your electronic information safeguards on device, network, server, institutional and group levels.
3. Be it an individual or a company, check with your phone service providers (both land and mobile) to verify how many phones are registered under your name. Deactivate the ones that are not authorised by you or no longer used by you.
4. Filter what you post on social media. Do not post your locations of visit in advance or while you are still there. 'Staying below the horizon' can help you to safely unify with the silhouette. Cut down all non-essential travel and walking about.
5. Unless it is essential to post your uploads as public, post with 'friends only' selection. Yet, cleanse your social media circle to ensure that your base consists only with the known and reliable. Check for deceptive profiles in your list. Verify your circle  and keep your circle tight.
6. Do not give-out your organisational security enhancements, features, layouts and procedures on social media and mainstream media. 'Need to know basis' is an evergreen fundamental that's essential to comply with. Safeguard your data archives. Introduce videography and photography controls. Cleanse your images that could be useful for terrorists on search engines. Beware of what you archive in the search engine drives and in the cloud storage.
7. Ensure that your home, vehicle and office cannot be used for activities of terrorism in disguise. Objectively check exactly what the security level is – of your home, your vehicle, your office and your organisation, especially during the lull hours.
8. As much as possible, minimise the number of luggage, baggage and other carry-on items when you are travelling for work or leisure. It will minimise the chances of your baggage being replaced with an identical baggage containing lethal substances such as explosives. Less number of carry-on items also minimises your inconvenience at the security checkpoints – and also conserve the energy on the part of security officers.
9. Be cautious before making new friends both on virtual life and real life. Stay cautious about the ones who got connected with you via third parties. Beware of those who appear from nowhere too.
10. Monitor the activities of your office peons, personal drivers, domestics and other minor staff such as janitors. They can unnoticeably be used to infiltrate your localities to gather information, listen to conversations and also to smuggle explosives, suicide jackets and other devices in, using familiarity and relationships.
11. Do not obtain services from unknown, weird service providers who appear from nowhere and offer goods and services at cut-rate prices. They can be terrorist agents or front organisations of the terrorists trying to infiltrate your organisation. Start supplier credentialing. At all possible times check the authenticity of those who appear to be Police, armed forces and other state officials.
12. Always remember, a terrorist can be someone familiar or unknown, religious or reveler, local or foreign, shabbily dressed or well dressed, small – young or elderly – and belonging to any gender, ethnicity or religion – including that of yours. They come in all colours and shapes. Escalate the benchmark of your vigil.
13. Check out your loved ones' safety frequently. When they leave home notice their dress, colours and other specific identification features. That may help you to trace them at an explosion site or in a hospital. As far as possible try to know their current or last hour location of visit. This precaution applies to you as well. Keep someone reliable updated of your whereabouts. Carry your emergency notification details of the next-of-kin (NOK) in your wallet or handbag.
14. Stay cautious with your food, water, other beverage and ingredients. Be sure of what you consume as infecting the human organism is a rudimentary facade of biological warfare. Seek professional support if so required.
15. Do not disclose your sensitive details to unverified individuals, teams and even companies. Review your company websites, maps on display and other critical details that are open to everyone. You need to transform your safeguards from peace time to urban terrorism times, until normalcy is declared by the defence authorities.
16. Minimise the number of un-checkable packages and items that are brought into the buildings such as cakes, decorations  etc unless scanning facilities are available for its clearance without disturbing the contents by manual inspection modes.
17. An explosion can be caused within your locality by way of a human bomb, timed or remotely triggered package, ramming vehicle or as a drone attack – to name a few. Check whether your organisational security posture is re-defined both for conventional terrorism and suicide terrorism.
18. Unless you are functionally required to do so, do not rush into (or remain at) explosion sites. There could be secondary or chain explosions planned by terrorists to amplify the destruction. Your approach should be 'moving away from the danger – but never rushing in towards the danger'. This principle applies for communal clashing and sword attacking scenarios too.
19. Once the authenticity is established, always co-operate with security checks. Avoid protesting when you are checked. You can only vouch for yourself, but often not for the person standing next to you. Thus, extend your support to get everyone checked. In fact, at a time of urban terrorism, you should protest only if you are not checked for clearance.
20. This generic list does not end here, nor is it everything. Devise your own personal, home, family, travel and organisational protective strategies and physical safeguards as per your specific situations during these periods of urban terrorism.
Condoleezza Rice, a former US Secretary of State, once stated: "We're in a new world. We're in a world in which the terrorism, married up with technology that could make us very, very sorry that we didn't act."
It's time that we all act in whatever the little way we can, to bring back peace to our beautiful landscape faster.
(The author is an ex-Army officer wounded in battle, a foremost enterprise risk management specialist and a corporate risk trainer who serves as the CEO of Strategic Risk Solutions. He can be reached via eMail on solutions@sltnet.lk or via web www.solutions.lk)