Foundation of Goodness partners Tokyo Cement to restore southern coral reefs
View(s):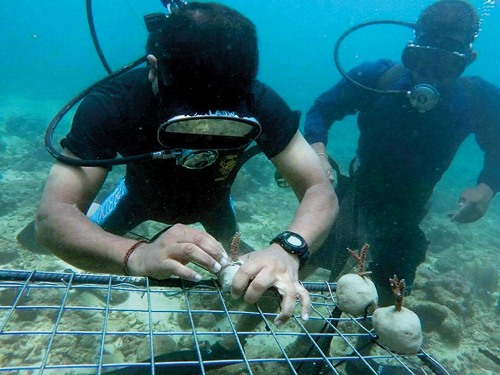 The Foundation of Goodness (FoG) recently signed an MOU with Tokyo Cement Group to extend the company's Coral Conservation project in the southern coast.
The longstanding affiliation between Tokyo Cement and the FoG saw the charitable foundation enlisting its diving and training arm: 'Dive Lanka, Dive Seenigama', to play an active role in preserving the world-famous coral reefs along Seenigama and Hikkaduwa beaches. With this MOU, the FoG joins in the ranks of the Sri Lanka Navy, Wildlife Research and Conservation Trust (WRCT) and the Blue Resources Trust (BRT) to champion Tokyo Cement Group's cause on Coral Reef Conservation, according to a Tokyo Cement media release.
Tokyo Cement Group says it's deeply involved in coral reef conservation for nearly a decade, making it one of their keystone environmental sustainability initiatives. It has formed a consortium of partners to share expertise to restore the severely threatened coral reef barrier along the Sri Lankan shoreline.
The team works with international and local volunteers and university student groups to replant and to subsequently monitor the growth and expansion of coral reefs. Tokyo Cement funds the research in addition to supplying scientific equipment and training required to conduct underwater monitoring of coral growth.
The release said that the company recycles concrete samples discarded after quality testing, to make custom-designed Reef Ball structures that are deployed on coasts where the coral barrier is severely damaged. Reef Balls act as substrate for new corals to grow on and fish to propagate, creating a natural extension of the marine habitat. Sri Lanka Navy plays a vital role in deploying these Reef Balls, along Trincomalee, Jaffna, Kalpitiya and Galle, in specific areas carefully identified by the scientific partners to replenish and maintain our natural coral diversity. Each site maintains a coral nursery where new coral nubbins are nurtured under controlled conditions, until they are planted on reef balls that gets deployed.
From now on, Dive Seenigama, Dive Lanka will join the programme by providing local diving expertise for reef-ball deployment and coral planting. The research and coral propagation programme will be carried out under the supervision of marine biologists attached to BRT and WRCT. Once FoG divers are trained on coral aftercare and monitoring, they will extend the reach and, as a result, the impact of Tokyo Cement's Coral Reef Conservation project to the Southern Coast of Sri Lanka.
The FoG Dive Lanka diving and training centre was opened in August 2008 with the objective of providing professional diving training for rural youth. It currently attracts both local and foreign tourists who come to experience the unique biodiversity of Seenigama and Hikkaduwa coral reefs. As first-hand witnesses of the Tsunami devastation, youth in Seenigama are passionate about protecting the reef barrier that not only saved their lives back then, but also supports their livelihood at present.
Tokyo Cement's affiliation with the FoG goes back nearly five years, where it partnered to uplift rural school cricket.