The humble leaf that reigns this season
By Kaveesha Fernando
Today as Sri Lankans celebrate the Sinhala and Tamil New Year, the betel leaf will play an important role in many households
View(s):
In Buddhist mythology, it is believed that after Lord Sakra painted a hare on the moon, he threw away the brush, which fell on the Naga (snake) world below the Earth, where it grew into a betel creeper. Anantha, the lord of the Naga world who had protective powers later brought it back from the Naga world to Earth.
In Hindu mythology, the Ramayana mentions how when Hanuman the monkey god reached Sri Lanka  to convey a message from Rama to his wife Sitadevi who had been abducted by Ravana, the king of Lanka, Sita in gratitude, offered Hanuman a garland made with betel leaves. In the Mahabharatha, Arjuna, one of the Pandava princes requested betel leaves from the queen of the Naga world so that the priests could begin their devotions.
Both Buddhists and Hindus thus refer to betel leaves as nagavalli/ nagvelli and the leaves are considered sacred as they represent a link between the human world, the Naga world and the heavens above.
As Sri Lankans celebrate the dawn of Avurudu/Puththandu today, customs and traditions such as the offering of betel leaves by Buddhists and Hindus continue to play a significant role, despite the incremental changes which have taken place over the years.
The customary offering of a sheaf of betel leaves (both Buddhists and Hindus use 40 leaves) to parents, grandparents, older family members, teachers and other elders as well as to religious leaders is a mark of one's respect and obeisance. Betel leaves are also used for 'ganudenu' or transactions during the New Year and children receive a coin enclosed in betel leaves. Cash gifts are also wrapped in betel leaves while the leaves are used in other Avurudu customs such as oil anointing, cooking the first meal and in setting off for work in the New Year.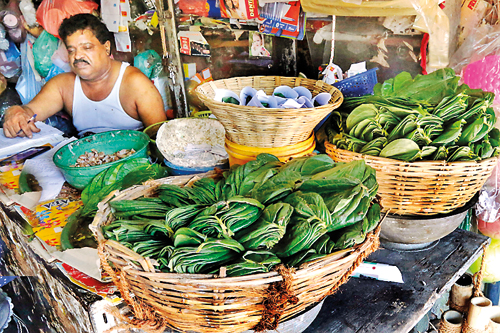 Similarly, Hindus also use betel leaves for worship and auspicious transactions. They also arrange three betel leaves with two plantains or ½ a coconut as a special religious offering.
The giving of a sheaf of betel can also be a peace offering where old wrongs are forgiven and forgotten and relationships mended with this symbolic gesture.
Have the customs dwindled or changed over the years? Professor J.B. Disanayaka, Professor Emeritus of the University of Colombo feels that while the Western influence has certainly left many convinced that they need not follow old customs, it is mainly upto parents to decide if they want to instil such values in their children. "I insist that my daughter worships me for the New Year, but some parents do not and then their children will not learn. Others still feel that independent people should not bow down to anyone, and that is their right to believe in what they wish," he says philosophically.
The time-honoured customs are still practised today says a senior priest at the Mayurapathy Sri Bathrakali Amman Kovil, Havelock Town. "Betel leaves are a vital part of our New Year and other religious and cultural celebrations and we still use them frequently," he stated.
How do young people feel about keeping to such traditions? "At first when I was asked how we use betel leaves for the New Year I was confused because I cannot imagine a household which doesn't use them," says Nethmee Goonesekara, 23, a marketing professional. She says that in her family they worship their older relatives with betel leaves.
Young humanitarian worker Anusha Nadaraja, 27, feels that the customs which the Hindus and Buddhists follow with regards to betel are fairly similar. "We give betel as an honour to our parents and older relatives when we worship them and we treat the betel leaf as auspicious," she explains. She also goes to the kovil and worships the gods with betel, and remembers worshipping her teachers with betel when she was a student.
Business is good for the betel sellers who have been quite busy during this season. Pathma Abeysekara has been selling betel leaves every morning at the Pettah market for the past 25 years and says no matter what difficulties she faces sourcing the leaves, she somehow brings them to be sold. When we visited Pettah last week the leaves (a bundle of 40) were selling between Rs. 80 and 150 depending on the size of the leaves. The current drought this year has driven prices up. "Aluth avurudda lang wenakota aniwarayen rupiyal desiiya wenakan wathwadiwei (the price will definitely increase at least upto Rs. 200 closer to the New Year)," she says. When there is an ample supply of betel leaves she can sell them between Rs. 60 and 80, she says.
Pathma remembers a time, 25 years ago when the price was between Rs. 20 and 40. She feels that the custom of offering betel leaves and worshipping has decreased with time and remarks with dismay that some people do not even know how many leaves make an atha, or hand of betel.
A.B. Rathnayake sells betel at Mallawarachchi stores in Maradana. Prices have increased drastically from the time when he was young, where they were sold for a few cents or just a single rupee, we learn. He also says that some parents buy just a few leaves for schoolchildren as they cannot afford the customary sheaf of 40 due to the high price.
J.K. Nandadasa, who sells betel at the Kirulapone market feels that the export of leaves to Pakistan and the demand from the North has driven prices up. Sourcing his leaves from Gampola and Kurunegala, he says even though he is 63 years old he still worships his elders with the traditional betel for the New Year.
While no tradition has remained exactly the same through the years, the use of betel leaves as an integral part of the New Year continues, a symbol of good fortune and a blessing for prosperity.