Intricate kolams that signify harmony
View(s):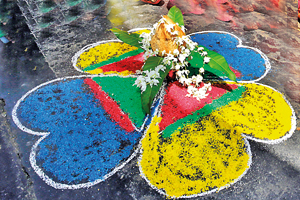 With the Sinhala and Tamil New Year being joyfully celebrated across the country, the sight of a Kolam drawn at the entrance of a Hindu home carries special meaning.
These may be abstract Kolams drawn according to one's knack for art or by connecting dots or Rangoli Kolams that are intricate and detailed. Geometric, landscapes and figurative styles are also used in creating this form of art.
"Kolams have come down over the years, from mother to daughter and each one has a meaning to what she draws. When I draw a Kolam, it is with the thought of purity in the mind. Sometimes it might be drawn with the thought of prosperity as well," says well known author Sivanandini Duraiswamy.
Traditionally created using rice flour and sometimes turmeric to add colour and dried coconut flakes to fill in the design, the kolams are drawn at dawn with the aim of bringing good luck to a home and as 'food for ants and birds'.
Explaining the reason behind this, young professional Vithushayini Selvaraj says "Hinduism focuses on helping one another and living in harmony with the creatures around, and the rice flour used to draw these designs ends up becoming a meal for the insects and birds."
But today, substitutes like Kolam powder and crushed limestone have been introduced as a means of cutting costs.
The dots, straight lines, circles, triangles and squares used to create a simple geometric styled Kolam represent the basic energies of the universe. However, when they are integrated and overlapped to form complex and detailed designs, they represent a deeper meaning of the forces incorporated into aspects of creation, evolvement and dissolution.
Kolams are also drawn to represent myths and signs like sacred pots, lotus flowers, snakes, particular gods and goddesses, floral designs etc.
The number of lines – vertical, curved, zigzag or open ended that are used in the kolam would symbolize the importance and grandeur of a celebration. So on ordinary days the number of lines would be limited to two and on special days they are increased.
Stri dharma paddhati, a 17th century Sanskrit text relays that the entrance of a home should not be left blank and should be filled with ritual designs drawn by the women in the household or a maid.
Though earlier drawn daily, this form of art is now becoming limited to special occasions like the New Year, Thai Pongal, weddings, pujas and Deepavali, with more people living in apartments and leading busy lives that leave them little time and space to observe  such customs.
M.A.