Manorathna returns with 'Handa Nihanda'
View(s):

'Handa Nihanda', veteran playwright and actor Dr. Jayalath Manoratne's theatrical presentation will go on the boards at 6.30 pm on February 3 (today) at the Western Province Aesthetic Resort in Colombo 07 (NADA).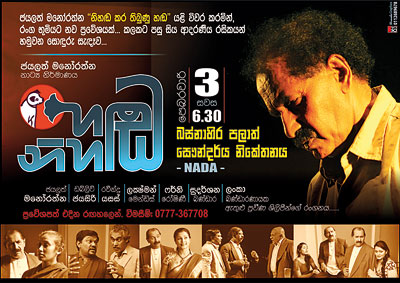 Based on the life of a musician, the drama unfolds over three eras; initially covering the period from 1900-1930, subsequently the 1960s and, lastly, the modern era. The play takes the audience on a journey from the gramophone era, to the era of iconic Sri Lankan musicians, including Amaradeva, Sunil Shantha and Ananda Samarakoon and shares with the audience the thrill of their musical experiments and, finally, introduces the birth of music infused with western influence in its present form.
The drama also addresses the necessity to establish a system dedicated to the upkeep of the senior artistes who lack financial resources. The production cleverly depict true stories as fiction, where artistes have succumbed to the innate misfortune that arises in old age due to the failure to manage their finances better during the earlier, more successful stages of their life.
The drama explores the lives of musicians, their creations and their social, economic, political and personal problems. The artistes being public figures, the drama discusses the dual lives they are forced to lead; one in the public eye and the other with their innermost circle. A not-so-subtle theme of the drama is and the tug of war between the artiste and the recording companies.
This was brought out when the humanity of the musicians who were dedicated and sacrificed their time and energy to make others happy.
The play evolves through dedication and convictions of five committed artistes in the roles of James Silva played by veteran Jayalath Manoratne, Lawrence Fernando by Laxman Mendis, Marshall Perera by Sanjeewa Dissanayaka, Hector Almeida by Ravindra Yasas, and Martin Appuhamy by Nimal Jayasingha. Other main roles are played by experienced stars like Ravindra Yasas, Ferni Roshini, Sudarshana Bandara and Lanka Bandaranayake