Final countdown as AIS cast get ready to shake things up with 'Rock of Ages'
By Ruqyyaha Deane
View(s):

It's the final countdown as we eagerly await the cast of Asian International School (AIS) to take us on the midnight train to Lionel Wendt on February 7 and 8 to watch them rock and roll as they perform 'Rock of Ages.'
A play about dreamers, music and the 80s. 'Rock of Ages' if anyone is familiar with the classic, is a musical depicting the story of city boy Drew and a small-town girl Sherrie who have both travelled to L.A. to chase their dreams of making it big. Not just a love story, 'Rock of Ages' interweaves the plot of German real estate developer Hilda trying to convert the Sunset Strip of L.A into a strip mall while the other characters try to stop her.
An energetic ensemble, they were all smiles and laughter as they zipped around between getting their pictures taken, getting interviewed and rehearsing the play as the big day approaches.There will be a few rotating characters solely due to the fact that Director Anushka Senanayake felt that each student should have the opportunity to showcase their talents. Lonny, Drew, Hilda and Franz will be played by two students whereas the rest of the cast will be played by one.
Playing Drew, the city boy whose dream of being a rocker quickly vanishes as he realises he needs to start from the bottom like every other dreamer in L.A. will be Chanchal Kapukoduwa and Radesh Vethakan. A classic musical theatre archetype, Sherrie played by Sade Greenwood is a small-town ready to make her mark in the big city. You see a huge character shift in her, from being this big dreamer to her transforming and adapting to the person she needs to be in order to survive in this new environment.Greenwood believes her character is empowering to women as the play progresses. Hriday Mohnani and Nismath Thasleem will be sharing the role of Lonny, whose dual role of omnipotent narrator and assistant Dennis Dupree has him being a constant lead in the story.
An outgoing personality with his charm and light heartedness, Thasleem describes his character to be a fulcrum to which the play revolves around. Hemali Ratnaweera and Nethmi Gunasekera speak to us about playing the antagonist of the play, Hilda. A strict, disciplined woman, Gunasekera explains that the character they play is a dreamer like the rest of the cast, íts just that her dreams are not as guileless as the rest.
Rehan Munasinha and Joshua Weerasingham play Franz, the meek obedient son to Hilda. On the character, Weeransingham believes that the audiences will be able to relate to Franz as he undergoes a transformation as he finds the courage to stop listening to others and finally become who he truly is.
Staying true to his character, Val Wedenayake who plays the bona fide rock star in the play says that he hopes people will realise the importance of rock and roll music. Rock and Roll is an incredible genre that seems to be dying right now. His wild antics on stage are something to be prepare for.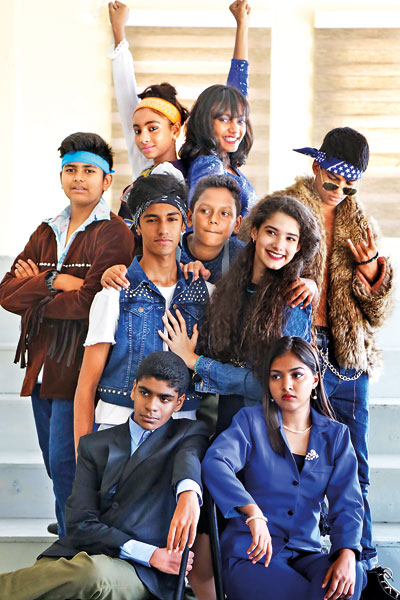 Powerful, assertive but with a certain kindness to her are the words Shyalina Muthumudalige uses to describe Justice, the owner of the Venus-A-Go-Go Dance Club. Regina, a fierce protester against the tearing down of the Sunset Strip is played by Tashiyana Devarajan. An angry strong-spirited character, I don't give up on what I believe in shares Devarajan on her role in the play.
The cast as a whole agree that audiences will definitely enjoy being taken back to the 80s and experiencing the lifestyles, fashion and music of the time. Everybody has dreams, and 'Rock of Ages' shows you that in order to pursue your dreams you don't stop believingin yourself.
As Munasinha put it "we're trying to make everyone in the audience get up on their feet and feel the groove of rock. We want to bring the whole theatre down."
Tickets for the show are available Asian International School located at 4/97 Thalakotuwa Gardens, Colombo 5 and at the Lionel Wendt. Tickets are priced at Rs. 2.500, Rs. 2,000, Rs.1,500 and Rs.1,000.