A Bold Journey from Books to Reels
By Susitha Fernando
Undergraduate of Visual and Performing Arts university makes a film for public screening
View(s):
For the first time in Sri Lanka's cinema and university history, a group of undergraduates have ventured on a bold and challenging journey to make a full length feature film not only for an academic endeavour but also to be released in public cinemas.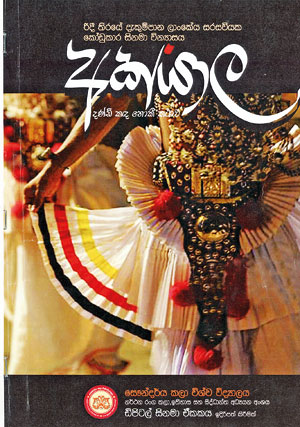 An eleven-member group, the 2013/2014 batch of undergraduates studying Digital Cinema at the University of Visual and Performing Arts, the only university for arts and aesthetic studies in Sri Lanka have launched this project under the guidance of veteran filmmaker Sudath Mahadivulwewa who also a visiting lecturer and the head of the project.
The group not only will have to undergo the arduous creative journey of filmmaking but will have to go through the mill to make it a film for the public. The young team under the shadow of group of dedicated veterans in the industry are confident about their project, "Akyala" (The first Harvest), a story about a bond between a dancing teacher and his disciple. The film also depicts a triangular love story and a young dancer who leaves the village with bitter memories but returns years later with the aim of protecting the aged old art.
'Akyala', literally meaning "the first fruit offering to the gods", would be a worthy offering to the cinema and its future. The film, is the brainchild of the experienced filmmaker Sudath Mahadivulwewa who believes that the project will bring new hopes not only to cinema but also to the entire university system. At the end of this project, the university will not produce only a group graduates armed with a degree but also with a firm knowledge to work in any visual art project.
"I always believe that tomorrow's cinema is not bleak. There is so much hope," says Mahadivulwewa who directed feature debut 'Shades of Ash'-"Sudu Kalu Saha Alu" (2004) and has scores of award winning tele-series and documentaries to his credit. "Working as a professional in cinema, this is the best gift I can offer to the university and its future," says the veteran director who has been in the industry for nearly three decades.
"I believe cinema is not a lucrative business but a part of life. Cinema teaches us how to face life. This is my reading on cinema," Mahadivulwewa said.
He was grateful to head of the university, Vice chancellor and heads of the department for their support for the project.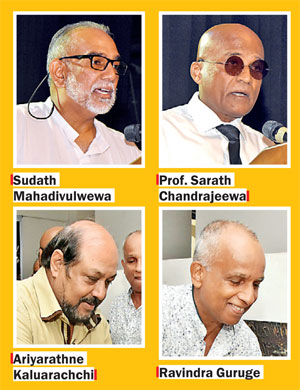 Though not a penny is ready for the expensive endevour, Mahadivulwewa is positive that the film dream of 11-member budding fimmakers would be a reality.
"We have not thought about the finances for the film but we all have the determination and courage to produce this film. That is the most beautiful and wonderful part of this project. This is how real cinema is made of and this is how cinema is preserved in the countries like ours," he told the audience at the 'Muhurath' or opening ceremony of the film .
"I am grateful to Ravindra Guruge with just one telephone call agreed to look after the post production of this film". "We don't know how successful we are going to be but one thing I know is there is a whole brigade of experienced professionals who are with us and ready to help us"
As an academic endeavour, the group will do the documentation of the project, shooting and finally sit with a group of multi-awarded experts in the field to complete the production. Head of the University Vice Chanclor Prof. Sarath Chandrajeewa, said there are many future plans to develop cinema in the university. He said agreements have already been signed with an Iranian art university to get its support. He also said, in addition to the four faculties, plans are underway to open two more faculties for for cinema, digital media and visual arts.
Dr. Sunil Wijesiriwardena, a lecturer said "we have come to a time where we have to change our understanding and interpretation of the traditional university education. A university is a ground for experiments and creativity. We saw such efforts internationally, its great that we can now see that here as well,"
Award winning editor and head of the renowned film and television production company, The Video Team (TVT) Ravindra Guruge has come forward to look after post-production of 'Akyala' and provide all the facilities of his company.
"Cinema is an extremely practical subject that needs to be learnt and practiced. I am glad that this project would help to produced cinema artistes instead of a group of youth armed with degree and some theoretical knowledge," Guruge stated.
"I know when you work with a government institutions there are lot of red tapes, but I assured Sudath that I would give the fullest support including my technicians, equipments and studios for this project," Guruge who had involved in a number of international cinema projects said.
Ariyarathne Kaluarachchi, the Dean of the Faculty of Dance and Drama who joined the opening of the project gave his blessing to the innovative concept of making a film for public screening at the end of a four-years of academic education. " As the film title suggest, 'a first fruit for gods', I believe we would have good harvest from this project".
Award winning cinema and theatre actor and the Dean of the Post Graduate Institute of University of the Visual and Performing Arts, Dr. Saumya Liyanage, opined that the university is geared to provide fullest support to create future filmmakers.
"Making a film from conceptualizing to production and post production is a complex work. The challenge we have is not only overcoming the market but also to produce an academically and artistically rich film," Dr. Liyanage said.
"As the Dean of the Post Graduate Institute I can say we are waiting for you to invite to the post graduate level and use the available facilities for your higher studies on cinema,'.
The film is to feature Imali Weerasuriya, Darshana Gunarathna, Sajith Dhanushka and Nikini Inesha, all first timers along with senior actor Chandrasoma Binduhewa.The group of veterans behind the project are Sudath Mahadivulwewa (main production supervisor), Ravindra Guruge (post production), Ajith Ramanayake (editing), Priyantha Kaluarachchi (sound mixing), Dinesh Lakdusinghe (assistant director), Gayan Rajapaksa (camera), Aruna Dharmapala (art department), Chanaka Gayan (background creation), Ajith Rohana (Lighting), Sriyan Chandrasekara (musical score), Chamath Edirisinghe (international coordinator), Dinidu Jagoda (colour grading) and Jagath Padmasiri (make up).
The entire film is to be shot in a beautiful village Silogama in Belihuloya and the 11 member group has built an entire set with a new mud and wattle house overlooking a faddy field. - Pics by Nimalsiri Edirisinghe