Tackling the dengue danger rising from major construction sites
By Kumudini Hettiarachchi
Multi-pronged effort with all stakeholders working in tandem, says Dengue Control Unit Head
View(s):
Drizzles or heavy downpours – the relentless rain is here.
With the rains, comes the fear of dengue.
"We are ready to face the onslaught of dengue," assures the Head of the National Dengue Control Unit (NDCU) and Consultant Epidemiologist Dr. Hasitha Tissera, reiterating that not only have they focused on homes and schools but they have also looked closely at construction sites which have invariably turned into mosquito breeding grounds.
Many are the stakeholders working under the guidance of the Presidential Task Force on Dengue Prevention to halt the spread of dengue from construction sites, the Sunday Times learns.
These stakeholders include the NDCU and Health Ministry as the centre-point working in close collaboration with the Registrar of Pesticides (ROP); the Construction and Housing Ministry/Construction Industry Development Authority (CIDA); the Local Government Ministry/major local authorities; the Pest Management Association of Sri Lanka; and major contractors.
Before delving into the nitty-gritty of how mosquito breeding at construction sites will be controlled, Dr. Tissera says that realizing an urgent need to widen the focus from small containers mainly in homes to larger water bodies at construction sites, they did a lot of background work.
Looking at the very high dengue numbers last year (2017), he attributes them to both technical and non-technical reasons. One of the technical reasons was that whereas the country had earlier seen the predominant circulation of Dengue Serotype 1 together with Serotypes 3 and 4, last year we were assailed by Dengue Serotype 2 causing much illness.
The other was that workers from villages converged on towns which are hubs of construction, got infected with dengue and went back home when ill, carrying the virus to their villages which had never been exposed to this virus before, spreading it there as well, said Dr. Tissera, adding that the non-technical reason was that people were collecting water in some areas as climate change was wreaking havoc in the country bringing about not only floods but also severe droughts.
Construction is booming and the background work we did involved examining 8,000 sites across the country, including 583 in the Western Province. The last of such inspections were on November 15 and 16, says Dr. Tissera, disclosing disturbing results.
60% of the sites inspected had water collections.
Of this 60%, 20% of the water collections were positive for the larvae of Aedes aegypti, the dengue-carrying mosquito.
"This is why we needed an urgent mechanism to ensure that these sites are not conducive for mosquito breeding. This warranted serious attention from all sides," he says, citing the case of a multi-storey apartment block in Colombo 5 which was full of mosquitoes as well as larvae.
These are "major" construction sites, with investments of Rs. 150 million or more going up to Rs. 3,000 million, the Sunday Times understands.
Dr. Tissera stresses that special measures are needed to control and maintain these environments as mosquito-free areas and one single institution cannot handle that. This is why all stakeholders have got together and come up with an action plan.
There was an urgent need to have some larvicide (an insecticide targeting the larval life-stage of the mosquito) which is not toxic to humans for the large water-clogged areas of sites and the Registrar of Pesticides, Dr. J.A. Sumith looked into this and a decision was taken to import four types under the 'general' pesticide category. They are Bacillus thuringiensis israelensis (Bti); Pyriproxyfen and Novaluron, insect growth regulators; and Polydimethylsiloxane, a liquid silicone film which prevents the larvae from coming up for air, it is learnt.
Dr. Tissera says that major construction sites were also informed about the problem and requested to follow a set of rules and norms, not only for the safety of their own workers and their productivity but also for the safety of their neighbours and the community. Otherwise, there would be "catastrophic" repercussions on the country.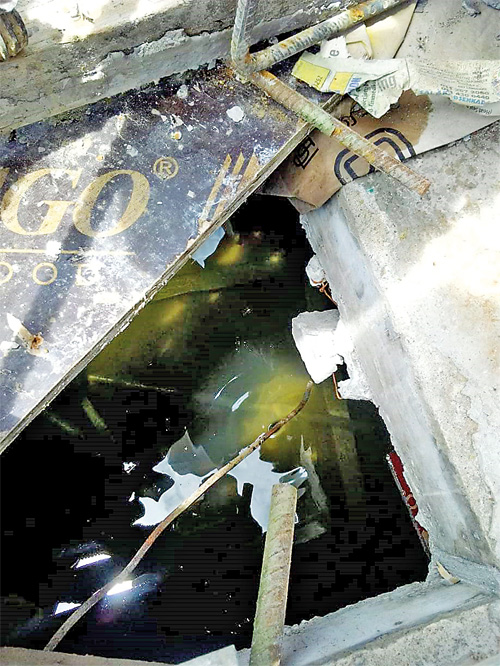 The Project Managers have been told to be in charge of activity to ensure that their sites are free of dengue mosquitoes and larvae. They have to maintain meticulous records and have been issued with a detailed 'Checklist for mosquito breeding sites to be used on regular site inspection' which should be produced when the Public Health Inspectors (PHIs) visit the sites. Once a month, a monthly summary report has to be submitted to the CIDA with a copy to the Health Ministry, according to Dr. Tissera.
The 52 companies registered by the Registrar of Pesticides and under the umbrella of the Pest Management Association of Sri Lanka have been authorized to carry out the application of the approved larvicide in the water-clogged areas of construction sites. These areas will include open tanks, curing of concrete/cement floors/slabs etc. This is while, the Medical Officer of Health (MOH) would provide technical advice on the use of the larvicides and other temporary mosquito prevention techniques, it is learnt.
"We need a paradigm shift in the prevention and control of dengue. The purpose of legislation is to ensure compliance with advice and to speed up behavioural changes. However, legislation alone is not the solution. The message about dengue prevention and control should be internalized and the community motivated to act decisively by themselves rather than being fearful of legislation enforcement. Otherwise it will not be sustainable," says Dr. Tissera, adding that everyone needs to act right now, not tomorrow.