Schoolboy crush led to murder
By Shaadya Ismail
View(s):
Investigators believe a three-month dispute over a love affair caused the stabbing murder of a boy by a schoolboy from the same neighbourhood in Matara.
The victim was a 19-year-old student of St. Thomas' College Matara described as a talented Advanced Level student by the school principal.
The seeds of the tragedy were sown three months ago when a row broke out over a girl between the victim's younger brother and another youth outside a tuition class at Elawella in Matara, Matara police said.
This disagreement eventually led to the attack on November 24 on the 19-year-old who was stabbed in the heart as well as suffering defensive cut wounds to his hands.
Several arrests were made. "One suspect surrendered to the courts while the other surrendered to the police. The third suspect had to be caught by the police," Matara police said. The accused youths, from Rahula College Matara and Matara Maha Vidyalaya, have been remanded until tomorrow.
Police are searching for the owners of a bike and a car that were at the scene. "We are trying to file a case against those persons, after identifying them, for failing to prevent a crime," an officer said.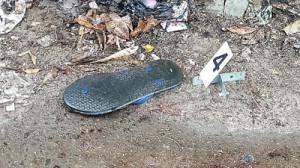 Yet another violent tragedy involving a school student was reported this month, from Beruwela, where a Grade 9 student at from Al-Humaisara National School attacked a school prefect who had cautioned him.
Beruwela police said the younger boy had kept ignoring school rules and an argument over discipline on November 21 had ended with the prefect falling and hitting his head on the floor after being pushed backwards by the other student.
The victim had reportedly come home and complained of feeling unwell. His parents took him to hospital where he underwent surgery but he succumbed to his head injury.
The accused boy was arrested and initially bailed but was arrested again and remanded at the Makola detention camp. Investigations are being led by Superintendent Upul Nilmini Ariyadasa of the Kalutara police.
Personality-building key to a good child 
Excessive use of technology and disorderly family backgrounds have damaged the modern generation, counsellors warn."Nowadays, children are more exposed to video games that have violent content like killing. Such violence is embedded in the subconscious mind of a young child and could surface any moment, with the child converting it into a real-life situation," child counsellor Safra Rimas said, adding that the age of 12 was the particular focus of psychologists.Ms. Rimas said many parents paid insufficient attention to their offspring and this put the children, particularly boys, at risk.She emphasised that while a child can be medically treated for psychological matters, this would only produce a chemical reaction.

"A child should be taught to be compassionate from a very young age and personality-building is a key factor for a growing child to face society," she said.

Commenting on the incident of the schoolboy who murdered another boy in Matara this month (see main story), Ms Rimas said: "For a child of that age to have the courage to kill is something very wrong. It may have arisen due to the bad exposure he has experienced in society."