Letters to the Editor
View(s):

The need for a potent force as the Govt. reneges on its pledges

The government has not fulfilled its pre-Presidential and General Election promises and what the masses should do unlike the Joint Opposition  efforts is not to topple the government, but to make it keep to its pledges.

It appears that the Government is incapable of arriving at a consensus on even a single crucial policy. Every issue seems to be left in suspense pending a conclusion. The Parliamentary debate on the Constitutional amendments has been postponed without fixing a date for its resumption. There is no agreement on the main features of the Constitution; President's powers, Executive Presidency, devolution of state power, unitary state, federalism, state religion, North East merger, electoral system etc., which have repercussions on the country.

Neither is there a firm decision on any of the major development projects. Even in the ongoing Expressway projects there are conflicts in nonpayment of due compensation for those who sacrificed their ancestral lands. Nobody seems to know how much of land is to be allocated for the Hambantota project. There is no transparency at all. The President says the Hambantota project is not finalized, but the Prime Minister goes ahead and starts it and receives the fury of the people in the South.

The Prime Minister's committee for reconciliation recommends the employment of foreign judges, lawyers and prosecutors to conduct the legal cases against armed forces accused of war crimes. However, a Minister who is one of the government spokesmen totally rejected these recommendations.

Some Ministers are voicing contradictory views on the next Presidential candidate stating that President Maithripala Sirisena will be the Presidential candidate of the SLFP in 2020. But Minister Rajitha Senaratne, the Cabinet spokesman says there will be no Presidential election in 2020 and President Sirisena has not changed his stance that the Executive Presidency should be abolished. Minister Susil Premjayantha speaks about the difficulties in maintaining the coalition with the UNP. These kinds of utterances reveal the deepening conflict within the government.Yet the President says no one could topple this government until it runs its course. The Prime Minister says the government is performing excellently.

These are crucial matters that may influence the people. The monetary down turn which is continuing, could have its roots in the vagueness and unpredictability of strategy, arising out of the intrinsic contradiction between the two parties. The economic development of a country cannot afford hindrance due to uncertainty within the government. In a ruthless and highly competitive world such delay could be disastrous and cause irreparable damage.

A government incapable of solving its internal problems obviously cannot have the capacity to govern a country. But it still proclaims that it will endure no matter what happens at the expense of the people. The only solution hence is the formation of a broad national force, consisting of specialists in different fields, scholars, dignitaries, intellectuals etc., to bring the country on the precise pathway to progress.

 Sunil Thenabadu  Australia
---
Apeksha – The Maharagama Cancer Hospital which lives upto its name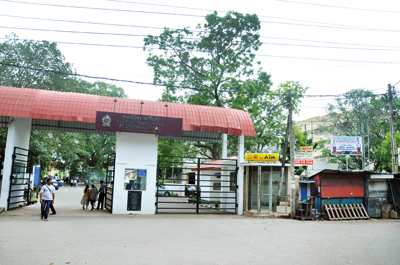 Patients and loved ones experience the true meaning of Apeksha when they enter this place.
It happened to me. The name Cancer Hospital put me off at first. This was going by my visits to see patients a long time ago. But on my most recent visit I was amazed at the change. The very appearance, cleanliness, the smiling faces of the staff and their readiness to help the helpless and above all the professional skill, which mixed with kind words and commitment boosted my morale.  The impression I have had all these years became history as I walked in.
The individual files of outdoor patients, the pharmacy, the rooms for injections are all so well organized that you need not waste time searching for records. The doctors are punctual for clinics. They encourage patients to get treatment there which is free of charge unless it is a major surgery which may involve an affordable sum.
The service includes the services of the minor staff as well. Cleaners start their work early in the morning and do all the rounds before they finish for the day. The food is substantial and has the necessary nutrients for the patients and is always served on time.
A big step in the achievements of Apeksha is the setting up of the Bone Marrow Transplant Unit. Bone marrow treatment was earlier limited only to those who could afford the treatment abroad which was a very disheartening factor to those who could not afford it. Others who belonged to the majority had to be satisfied with the short life span left for them without this treatment. The team of consultants  have done a wonderful job, giving new life to patients who would otherwise have to give up all hopes of life. You can see all details regarding this when you access the website http://www.bmtsrilanka.org/ . You will be inspired when you read the details and be proud of our very own Sri Lankan doctors dedicating themselves to save lives.
The public admires and appreciates these immensely supportive endeavours. People from all walks of life most willingly donate highly expensive medicine such as drugs given for chemotherapy and other necessary injections. There are many voluntary groups that come there to prepare tea in large quantities and take them to serve each and every patient in the hospital.
It is my earnest wish and I am sure the wish of all Sri Lankans that "APEKSHA" would fulfil its noble mission: "To provide comprehensive cancer care through collaborative training, education, and research in compliance to international standards" and realise the vision  "to be a centre of excellence for cancer care as a leader in South Asia by 2020".
 Dulini Senaratna  Via email