Appreciations
View(s):

Like the giant redwood tree his memory still towers over all of us

E.O.E. Pereira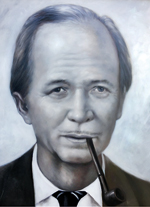 I had the privilege of attending Vidya Jyothi Professor E.O.E. Pereira's 11th annual memorial birth anniversary on September 13, conducted by the Institution of Engineers Sri Lanka, at the Wimalasurendra Auditorium. There was a packed audience. Not being an Engineer of any sort I had to cadge an invitation for this event though I did have a fleeting acquaintance in my youth with this nonpareil legend. It was an experience I still carry with fond memories. However I was fortunate enough to play cricket for our College with two of his sons, namely Lorenz and his younger brother Bryan. Their father and mother Mavis, never missed any matches their sons were playing in. I treasure those friendships. Alan, the youngest of the brothers left for Australia before I made his acquaintance.
Listening to the tributes paid by the Engineers I returned home completely mesmerized. The presenter, Engineer Palitha Manchanayake, waxed eloquently on the subject of "Water Resources & Hydrological Forecasting." Needless to say the technicalities went sailing well over my head but I did glean some of the characteristics  which 'Prof. EOE' was well-known by the Engineering fraternity – professionals and students alike.
Professor EOE richly deserved all accolades and more. For instance, when he passed away, it was not as if a mighty oak had fallen. The so-called "mighty oak" at best may not exceed 100 feet in height. However, the giant Redwood Tree (Sequoia Sempervirena), the tallest tree in the planet growing primarily in California, could well grow nearly three times higher. Additionally, this behemoth of a tree has a width of over 20 feet at its base, and can be compared in height to a 35-storey skyscraper! Professor EOE stood tall just as the Redwood Trees. He was not primus inter pares (first among equals) he was the redwood tree amongst the oaks and accepted by those who matter as the Father of Engineering in Sri Lanka.
Prof. EOE's academic accomplishments began at Royal College Colombo. He was awarded most of the College science prizes, including the Evans prize for Mathematics, the De Soysa Science prize, Mohammed Ali Arithmetic prize. Entering the University of Ceylon in 1928 he graduated with First-class honours, winning the Engineering Scholarship by securing first place in the Faculty of Science. This enabled him to win the scholarship to enter Downing College at Cambridge and he had the unique distinction of completing the 3-year course in 2 years, and needless to say with firstclass honours. Interestingly, his grandfather Dr. Edwin C. Pereira was a member of the first batch of medical students to graduate from the Ceylon Medical College in 1872/73.
Professor EOE's eldest son, Lorenz, never matched his father's academic brilliance but won the coveted Dornhorst Memorial prize at Royal College as the most outstanding student in 1959 and followed in his father's footsteps to enter Cambridge University and obtained a Master's Degree in Land Economics. Lorenz did represent Cambridge in a few games of cricket under Mike Brearley, a reputed England Test Captain.
At Cambridge, Prof. EOE's contemporaries included a future Prime Minister of Ceylon, Dudley Senanayake. It was not always work and no play. On one occasion, as related by Lorenz, Dudley was riding his bicycle in the streets of Cambridge and was stopped by a policeman for an infringement of the law. The policeman took his notepad out and asked Dudley: "Your name and address please?"  "E.O.E. Pereira….."  Naturally Prof.  EOE had to pay the fine. There were other capers too!
The good Professor, as his son Lorenz, declared, had two distinct families, one his own and the other his beloved Faculty of Engineering, the students and his staff. During this period of the setting up of the Faculty, the Prime Minister of Singapore, Lee Kuan Yew came to Ceylon, and also visited the University of Peradeniya and met Prof. EOE at the emerging Faculty of Engineering. The Singapore P.M. was so impressed with Prof. EOE's efforts, he promptly invited him to come over to Singapore and do the same. Of course there was an incredibly generous salary, and other perks on offer. Though financially not, as the saying goes, well-to-do, he turned down the offer politely saying that he still had "unfinished business" at home.
Lorenz stated: "My father remained a poor man financially all his life but was blessed with an unparalleled richness of precious human qualities."  He vehemently believed in investment in people not in materialistic assets. And may I add, this has permeated down to his children.
He drove around in an ancient motor car all his life, a car that was "put together by pieces of string and bucket loads of goodwill."  The ignition key, when parked to watch us play cricket, was placed under the carpet in front of the driving seat, and obviously the car could not be locked. I know so because once I surreptitiously took the car for a spin with his son Bryan and on returning was forced to find an alternative parking spot. It's an understatement to say that he was perplexed and confused as to how the car had travelled to another location but no questions were asked.
Although he was, on repeated occasions offered the post of Vice Chancellor of the University of Peradeniya, he turned them all down as he maintained that his passion was teaching and not administration. Eventually, the Prime Minister of Ceylon, Dudley Senanayake, himself visited him at his residence in Peradeniya and requested him to accept the post for the sake of the country. Prof. EOE reluctantly accepted the job at his former Cambridge pal's sincere pleadings.
There are so many instances of Prof. EOE's acts of compassion, humility, and his absolute devotion to "invest in people" which was his lifelong passion.
Finally, there was an instance when Prof. EOE and his wife Mavis, probably saved the lives of two youngsters and set them on a proper course in life. There was this blind student in one of the Halls of Residence at Peradeniya who unfortunately became pregnant by her boyfriend (also blind). The Warden of the Hall immediately insisted on removing her from the Hall and sending her back to her village.
Hearing of this,Prof. EOE and his wife drove up to the Hall of Residence and met the Warden and ascertained the facts of the case. As a result, the girl was invited immediately to stay at the VC's residence until a mutually appropriate time arrived to leave. This far-seeing humanitarian act resulted eventually in a happy marriage.
All the titles he received, including the Vidya Jyothi, the road opposite his beloved Peradeniya Faculty being named after him, Prime Minister Lee Kuan Yew's glowing reference to Prof EOE in his autobiography etc., etc., all these honours rested gently on his shoulders.
However, as Lorenz stated during his tribute on the same occasion at the Memorial ceremony: "It is probably the greatest disappointment that although my father tried extremely hard to make me an Engineer but failed." I can easily realize why. Lorenz was essentially a lover of sports. Be it cricket, rugby, tennis or athletics, he excelled in all of these sports. Hence right round the year he was fully involved in sports, so where was the time for him to study? Lorenz was simply a natural sportsman, and like the father, a gentleman. I am sure that Prof. EOE would have been delighted to know that a prestigious annual trophy named the Lorenz Pereira Spirit of the Game Trophy was inaugurated for the school with the best sporting discipline in rugby – a game his son excelled in and represented the country as well.
My friendship with Lorenz extends to over six decades while his disarming smile melts all our hearts and that of many a girl too! And without doubt beneath all the Pereiras there beats a heart of gold.
Prof. EOE was far more than a brilliant academic. He was a man for all seasons with a highly rounded education – albeit a brilliant one – articulate, cultured, a passionate teacher, compassionate, and a sports loving family man. Always possessing the common touch, he was noble in spirit with his feet firmly placed on terra firma, and like the giant redwood tree his memory still towers over all of us.
Mahinda Wijesinghe
---
The trusted and indispensable Visakhian
Savitri Ramani Anoja Nagodavithana
It was with profound sadness that I and many Visakhians learnt of the sudden passing away of Savitri on July 13 just three months ago after a brief illness. Professor Saroj Jayasinghe, her cousin and his medical team who was in attendance at the time left no stone unturned to rescue her, but fate was such that she had to go.
The dedicated services she rendered to her alma mater had not ceased in her mind to the very last minute, the last event being the AGM of VV OGA that she attended. Savitri is bound to be at the bosom of Mrs Jeremias Dias, the founder as an honourable past pupil of Visakha who gave her selfless services for no personal benefit or glory.
She was the third child of highly respected parents from the South, the late Edwin Nagodavithana, Director of Education at the time and Evelyn Jayasinghe, a teacher. Her four siblings Kumar, Ajantha, Vajira and Dr Preethi are yet in great sorrow over the sudden demise of their beloved sister.
She had her entire education at Visakha Vidyalaya during the tenure of principal S.G.Pulimood. As a very disciplined student, she was a senior prefect and a house captain. Having left school in 1966 she joined the Tyre Corporation and served there for 20 years and retired as senior assistant in the design division.
In 1986 during Eileen Siriwardene's principalship, a computer course was launched for students awaiting O/L results and I still remember her walking in to offer her services to see to the needs of the students while the lecturers were from DMS Colombo. I happened to be the Vice President of the OGA at the time and Savithri was a great asset. There onwards her services to her alma mater were unlimited. I doubt there was a single day she was not seen at the school premises attending to numerous duties tirelessly. She was inseparable from Visakha Vidyalaya, always ready to render her utmost services wherever required, be it the annual avurudu pola, dinner dance, Pulimood oration, the walk and many other events. Savitri was in the forefront of the arrangements but never sought the limelight, always a backbencher never to be noticed but her name is written in gold in the minds of the present and past principals, her fellow school mates and all connected with Visakha.
Her gratitude towards her ageing past teachers was admirable as she always made it a point to visit them periodically and even encouraged her friends to do so.
Savitri, dear friend, you will be remembered forever for your relentless services, integrity and honesty by all Visakhians.
With all the merit you accrued, may you attain the supreme bliss of nibbana in the shortest possible time.
Rukmani  Raddalgoda nee Seneviratne
---
She had a kind word for everyone, even the market vendor and  butcher
Norma de Silva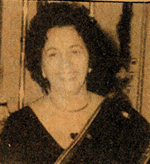 "You can shed tears because she's gone
Or you can smile because she lived"
As I once again sit down in a faraway land to write a few words in fond remembrance on Aunty Norma's birthday, thoughts flow fondly of my dear mother-in-law.
She was a loving wife to Uncle Joe, the wind beneath his wings as he always says and such a great mother to her children and to their spouses. She was a mother who taught her children love and kindness. She gave them strength and for all, she always gave her best.
Aunty Norma was always kind and caring and had time even for a quick chat with the market vendor, the butcher and the green leaves seller who would come to her door.
She had a strong faith and her faith gave her strength even in difficult times all through her life.
Family was very important to Aunty Norma. I remember how every Sunday she used to have a sumptuous meal for all of us when we used to meet for lunch. One wonders how she managed to do it all those years with her busy social life. But I know that Aunty Norma and Uncle Joe cherished those family gatherings and those memories will remain treasured with all of us.
I remember even at all her grandchildren's birthday parties she would be right in the middle trying to organise the games. She was so full of fun, always ready to have a good laugh.
Aunty Norma's influence could be seen in the manner in which her children live their lives. A few weeks ago I had the opportunity to see the affection her daughter and three sons have for each other when we all gathered at her eldest grandchild's wedding. The genuine affection between them was touching. Aunty Norma you would have been truly proud – you have shown them that above all riches, family is the most important. And I am priviled to be part of this family.
Many years have gone by and many things have changed in all our lives. Your grandchildren have all grown up and achieved so much. Although you were not there to share all these milestones, I know you would have been so happy for all of them.
They say memories are golden-well maybe that's true
So another birthday, another year gone so soon- time goes so fast
Memories of you will always stay treasured each and every one
And once again on this birthday, I will blow a kiss to heaven above
To wish you happy birthday
And send you all our love
 Sunila De Silva
---