Weather improves, but landslide warnings yet for Galle and Kalutara districts
By Shaadya Ismail
View(s):
Landslide warnings in Galle and Kalutara districts are still effective due to the prevailing weather conditions, the Disaster Management Centre (DMC) said.
Heavy rainfall together with strong winds experienced across several parts of Sri Lanka caused flash floods in 12 districts in the Southern, Western, North-Western and Sabaragamuwa Provinces.
"As of Friday about 435 families have been evacuated into 11 welfare centres in five districts due to floods and landslide risk," DMC Deputy Director and media spokesman Pradeep Kodippili said.
He added that 12 deaths were reported from five districts– eight due to landslides,two when a tree fell on them , and two others from drowning.
According to the DMC 75,689 people from 18,840 families have been affected due to the adverse weather.
Mr. Kodippili said that cooked meals were being provided to the people in the welfare centres while dry rations worth Rs. 5,000 would be given to each family when they return to their homes. Those who have lost loved ones will be paid a compensation of Rs.100,000. In addition, the National Disaster Relief Centre (NDRC) has allocated Rs. 38.51 million to the district secretariats to address the immediate needs of the affected people.
The DMC has coordinated with the Army and Police to mobilise troops for emergency response operations if needed. 48 officers and 2,260 soldiers are on standby.
According to the Meteorological Department rains will abate in the next couple of days with most parts of the island experiencing evening showers.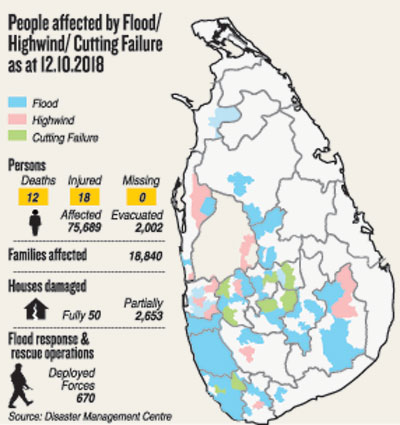 However, the southwestern coastal areas and the Ratnapura District could experience thundershowers at any time of the day, Duty Meteorologist Kasun Pasqual warned.
"Drought-stricken areas have received considerable rain in the past couple of days and we are expecting this weather condition to prevail for the next couple of days," he added.
According to the weather report on Friday (October 12), Wellawaya received the highest rainfall of 110 mm.
Agriculture Ministry Director Media, W.M.D. Wanninayake, told the Sunday Times that according to a circular issued by the Ministry in May this year, six crops such as paddy, green chilies, potato, soya beans, corn and big onions would be paid compensation for if destroyed by floods, drought or elephants.
He said a farmer will be paid Rs. 100,000 for one hectare as compensation.
"There wasn't much harm caused to paddy this time around, but we will have to compensate farmers in Dambulla as their big onion cultivations were destroyed due to the prevailing weather," he added.
Mr. Wanninayake said that it the compensation is restricted to six crops because other crops are grown everywhere in the country and it is difficult to place an estimate on them.
The recent floods in the Galle District affected 16, 372 individuals of 4, 243 families from 15 divisional secretary divisions. Two deaths were also reported from the district, while 892 houses were partially damaged and 17 completely destroyed.
Gall District Secretary, Somarathna Vidhanapathirana said the main reason for the flooding was garbage and cut bamboos that had been heaped up near the bridges along the Gin Gange.
"We have deployed rescue boats with the help of the Navy in case of an emergency," he said.
According to him, residents of Neluwa, Thawalama, Nagoda, Baddegama and Niyagama have been alerted as the areas have been identified as high-risk areas for floods.