Mihin Lanka never filed Performance Reports despite repeated reminders
By S. Rubatheesan
View(s):
Even six months after its launch in 2006, the government-funded Mihin Lanka failed to submit its Performance Report (PR) to the Dept of Public Enterprises (DPE), through the relevant line ministry, DPE Director M.C.N. Balasooriya informed the Commission of Inquiry (CoI) to Investigate Alleged Irregularities at SriLankan Airlines (SriLankan), SriLankan Catering (SL Catering) and Mihin Lanka (Mihin) this week.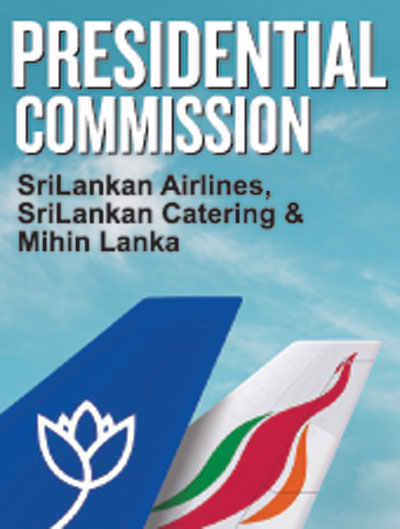 Mrs Balasooriya told the CoI that the DPE had written to the then Mihin Chairman several times, requesting for the PR, but there was no response from the management.
The CoI was told that it was mandatory for state-owned and funded organisations to submit annual PRs to the DPE, though most failed to do so.
When the Attorney General's Dept. team asked how the DPE would ensure continuous monitoring of those State-owned institutions for better performance, Mrs Balasooriya replied that the DPE can only write letters "again and again", requesting them to comply with existing regulations.
"At present, some 200 state-owned companies come under the DPE's purview for the DPE to monitor and analyse the performances and submit comprehensive annual reports, along with observations, to the Cabinet. Following Cabinet approval of the PR, it would be submitted to Parliament."
After the inception of Mihin in 2006, its management secured government funding of Rs 1. 9 billion, with Treasury approval, for its operations, through Lankaputhra Development Bank.
 State-owned Lankaputhra Development Bank, to support Small & Medium Enterprises and Mihin were both launched in 2006, and the LKR loan secured from a recently inaugurated new bank. Up to 2009, Mihin had failed to generate any significant revenue from its operations.
 The LKR loan of Rs 1.9 billion was utilised to settle 4 short term loans and due payments to various institutions including Rs 138 million to the Ceylon Petroleum Corporation.
 On March 2009, then Mihin Chairman Kapila Chandrasena sought by letter, a Treasury guarantee for an LKR loan of Rs 1.2 billion from BoC. However, BoC issued an LKR loan of Rs 170 million, after negotiations.
 Then Srilankan Chairman Nishantha Wickremasinghe had allocated Rs 2.4 million to rent an apartment in Dubai, under the cover of accommodating Srilankan executive trainees from 2012- 2014, for the private use of a Sales Support Officer (SSO).
 Srilankan Head of Finance, Yasantha Dissanayake, said that his Dept. was instructed by Chairman Wickremasinghe to allocate a monthly payment for an apartment in Dubai, claiming it was for the use of executive trainees in Dubai.
However, the Dept. came to know later that it was rented to an SSO in Dubai named Shehani Rodrigo, as all the billings were addressed to the said person, and not under Srilankan. In addition to the apartment rent, the officer was also paid a housing allowance, as requested by the former SriLankan Chairman.
Srilankan Human Resources (HR) & Administration Manager Lasantha Liyanage said the Sales Support Officer had previously served as a Flight Attendant at SriLankan and he was personally requested by Chairman Wickremasinghe to grant her a year's No-Pay leave.
Mr Liyanage said that onetime Flight Attendant Ms Rodrigo's official designations were arbitrarily changed many times, through the recommendation of the then Chairman, without the approval of the HR Dept., from SSO in Singapore to Manager- Ticket Office & Marketing in UAE.
Documents revealed that this particular SSO was paid a total housing allowance of Rs 1.3 million as per her Letter of Appointment. In addition, another allowance of Rs 826,509 was paid without any approvals from the HR Dept, and in violation of 'Standard Procedures', after the said officer requested Chairman Wickremasinghe for one-year's No-Pay leave on compassionate ground.
Under the directions of Additional Solicitor General (ASG) Niel Unamboowe P.C., State Counsel (SC) Sajith Bandara, assisted by SC Chathura Gunathilake, led the evidence of Mrs Balasooriya, for the AG's Dept.
Evidence of Mr Dissanayake and Mr Liyanage were led by ASG Niel Unamboowe P.C, assisted by SCs Chathura Gunathilake and Sajith Bandara.
The CoI comprises retired Supreme Court Justice Anil Gooneratne (Chairman), Court of Appeal Judge Gamini Rohan Amarasekara, retired High Court Judge Piyasena Ranasinghe, retired Deputy Auditor General Don Anthony Harold and Sri Lanka Accounting & Auditing Standards Monitoring Board Director General Wasantha Jayaseeli Kapugama. The hearings will continue tomorrow.