Loco motives behind train fare hike
By Kasun Warakapitiya, Shaadya Ismail, and Abdulla Shanawaz
Govt admits haphazard increases; commuters ask, where is value for money?
View(s):
Commuters vented their anger at the latest rail price hike but railway officials insisted they were heeding a call by Treasury.

Worst hit are state sector officers and middle-income earning workers in the private sector. In the state sector, officers complained they now have to pay more for a season ticket.
The last railway strike showed that such season ticket holders did not carry much cash. When hit by a strike, their journeys were delayed because the bus transport offered to them was crowded and they had to await their turn for free journeys.
Despite the rail fare hike, most commuters point out that the quality of service offered by the department is poor, with regular delays, strikes, accidents and compartments lacking adequate quality.
Sunil Ratnayake, an employee of the Ceylon Petroleum Corporation and a regular train traveller from Kurunegala to Colombo Fort, complained that although he spends Rs 2,880 for his third class monthly season ticket, most days he has to travel in a cramped compartment or even on the footboard of the train.
Despite a Rs. 720 fare increase, facilities in trains showed no improvement.
"We now pay more but we hardly ever get a seat. Many commuters are forced to travel on the footboard because they fear the next train would be cancelled or delayed, which often happens," Mr. Ratnayake said.
One of the main complaints concerned the disparity between the revised prices announced through the media and the actual price. The government claimed fares had only risen by 15 per cent but passengers worked out that in some instances prices had gone up by more than 50 per cent or even more.
"Previously I paid Rs. 40 to travel from Kalutara to Colombo: now the same ticket is Rs. 60. This is a 50 per cent increase," said. K. Charith Chinthaka.
He said his season ticket now costs Rs. 1,400 but was Rs. 920 last month. The hike was more well beyond 15 per cent, he said, adding that he could not afford the lump sum for the new season ticket.
"This formula is unfair. Why have the fares to the southern part of the country been increased?," asked T.A. Fernando, another commuter travelling from Kalutara, whose season ticket now cost Rs. 300 more. "We learned that train fares to Kilinochchi, Vavuniya and Batticaloa have only risen by a small amount such as 9 per cent," he said.
Mr. Fernando said trains had broken fans and uncomfortable seats, and some compartments leaked due to broken ceilings. Morning trains were either delayed or cancelled.
State-employed labourer Kithsiri Bulathsinhala said his salary was cut when he reported late to work – at least twice a week – because of frequent train breakdowns, faulty signals and frequent strikes.
His Rs. 14,500 salary was cut down to about Rs. 12,000 so he had to economise on family expenses. Mr. Bulathsinhala, who works at the Sugathadasa Stadium, takes the Rambukkana-Colombo train.
Regular traveller Sisira Abeyratne, who takes the train from Homagama to Colombo, said he had seen trains with side mirrors and panels held on with pieces of wire.
He said sometimes third class ticket passengers had to get into second class carriages to find room. "Then they fine us saying that we went secretly in second class compartments," he said.
A commuter from Ratgama, Amarajeewa de Silva Rajakaruna, said station platforms were several feet below the level of the train steps, making it difficult to board and disembark from trains, especially for children and the elderly.
There are many disparities in ticket price increases. The third class fare from Colombo Fort to Galle was Rs. 100 and is now Rs. 135. The third class fare to Jaffna from Colombo Fort, which was Rs. 335, has gone up only to Rs. 350.
Ven. Andhurathwila Chandrajothi Thera, who represents the Movement of Workers and Passengers for Protecting the Railway Service, said changes varied from area to area.
The monk's study showed that the journey to Pattipola, which cost around Rs. 175 earlier, has now gone up to Rs. 230 – an increase of more than 30 per cent. Further, a 35 per cent increment has been made to the Fort, Badulla and Fort, Ella fares. A ticket to Batticaloa, which had been Rs. 235, was now Rs. 315, a 40 per cent increase.
Previously, for Rs. 10 a passenger could travel 9km but now only 7km. A passenger who paid Rs. 10 to travel to Narahenpita from Fort, which is 8.9km, has to pay Rs. 15 – a 50 per cent hike.
Further, Ven. Chandrajothi commented on the 60 per cent increase to season tickets of private sector employees. Accordingly, Fort to Gampaha was Rs. 600 and is now Rs. 960.
"The railway is a service, like education and health, so it is unfair to increase prices and earn profits," he said. "Passengers, instead of being able to travel peacefully, are packed into compartments sardines in a tin.
"The fare chart is just another price formula. It is easy to introduce these as people don't really know on what basis these charts were formulated," he said.
The General Manager of the Railways Department, Dilantha Fernando, defended the fare increase, saying it was the first in 10 years.
He said the increase was not 15 per cent as claimed. "The increase is based on kilometers," he said.
He said head office calculated the fare increases for the main train stations but left the fares to intermediate substations to be calculated by those stations, and this had resulted in disparities.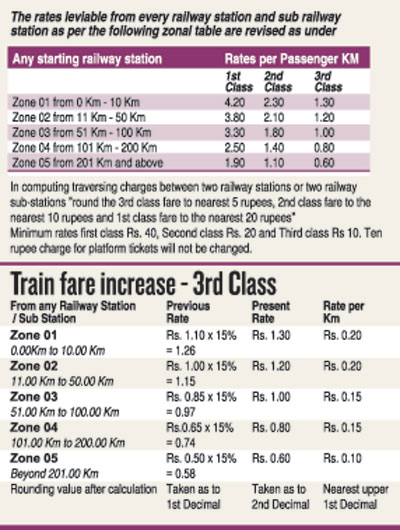 "More than 53 complaints were lodged during first week of implementation over station masters miscalculating train fares," he said.
The price revisions followed a zonal system, he said.
Distances between railway stations had been divided into to five zones: the first zone, which has a range of 0-10km, has a fare increase of Rs 1.30 per kilometer. The second zone, ranging from 11-50km, has an increase of Rs 1.20 per kilometer.
The third zone, 51-100km, has a Rs. 1 increase per kilometer; the fourth zone, 101-200km, has an 80-cent increase per kilometer, and the fifth zone has a 60-cent increase per kilometer.
"The Omanthai to Kankesanturai line was built in 2012 and we introduced new prices when it was built, so we have not increased those prices by a huge percentage," he said.
Cabinet spokesman Gayantha Karunatilake said the government was ready to revise the fares after looking into complaints.
| | |
| --- | --- |
| Don't blame us, blame Finance | |
| Transport Ministry Secretary G.S. Withanage defended the fare hike saying the decision to raise the fare had been taken by the Finance Ministry in its budget proposal and had been approved by Cabinet."From our ministry's point of view, we don't want a fare increase," Mr. Withanage said. "When one looks at the Railway Department's expenses, however, they go way above the income earned. The salaries of the workers have gone up compared to what it was when the fares were previously amended. Then, there are the losses incurred when the railway workers strike. This means the department has to find ways to increase its income."All-Ceylon Railway Union Chief S.P. Vithanage claimed the Railway Department could save around 30 per cent from its current income as well as provide a free mode of travel to all school children if the government tackled fraud within the department. | |
Hike 'justified' to bring improvements
The Deputy Transport Minister, Ashok Abeysinghe defended the train fare hike, saying the government needed funds for improvements in railway services."Our only mistake was that we didn't make the fare revision earlier. Increasing it gradually over the last 10 years would not have created such uproar as the gravity wouldn't have been felt all at once. Still, however, people would have protested it," he added with a laugh.He said projects launched to improve rail service include the introduction of an electric train service, the acquiring of new engines and coaches and improvements in tracks and railway platforms.

An electric train service will soon begin between Panadura to Veyangoda as a part of Colombo suburban project, and this would be extended to Rambukkana.

Construction of the tracks and stations had already begun, he said. Other lines would be upgraded on par with the new electric service. The Kelaniya, Polgahawela and Kurunegala tracks would be upgraded to double tracks.

"We expect completion of these projects by 2024," Mr. Abeysinghe said.

Twelve locomotives had been ordered from the United States as the current trains on upcountry lines have difficulties in pulling carriages uphill. The new engines are expected in December. "Twelve more engines will be purchased for low-country routes, as will 160 coaches and 30 flatbed rail carriages for container trains," Mr. Abeysinghe said. "Most of these are scheduled to arrive by 2020."