Free business class tickets worth Rs 7.75m to US consultancy firm
By Sandun Jayawardana and S. Rubatheesan
View(s):
SriLankan Airlines (SriLankan) had issued free Business Class tickets amounting to Rs 7.75 million (US$ 67,391) to personnel attached to a US based consultancy firm, though an agreement between SriLankan and the firm had clearly stipulated the latter will bear part of its air travel costs, the Commission of Inquiry (CoI) to Investigate Alleged Irregularities at SriLankan, SriLankan Catering (SL Catering) and Mihin Lanka (Mihin) was told this week.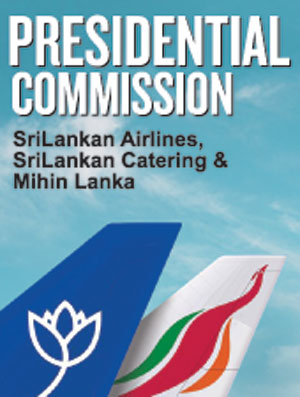 SriLankan Head of Financial Management Yasantha Dissanayake, told the CoI that, in 2011, SriLankan issued 29 Business Class tickets, free of charge, to personnel of VIA Capital, a US based consultancy firm hired by SriLankan to review and validate a 5-year Business Plan (BP) drafted for the Company. Most of the tickets were for round trips, according to airline records. "The tickets were issued despite the agreement between SriLankan and VIA Capital stipulating that it will bear the cost of 30 round trips for its representatives," Lawyers representing the Attorney General's (AG) Department said.
SriLankan's Pricing department said the cost of tickets based on prevaling Business Class rates at the time amounted to Rs 6, 933,552 which, with taxes, amounted to Rs 7.75 million. However, Mr Dissanayake said "SriLankan's interpretation of the contract was that, it had to bear air travel costs of the firm's representatives if they made their own arrangements to fly from the US to destinations from which SriLankan flew to Sri Lanka. As such, tickets were issued to the representatives from destinations in Europe, Asia and the Middle East. SriLankan only bore the cost of taxes for the tickets, which amounted to Rs 816, 813. As such, he said SriLankan considered this to be the total loss from the issuance of the tickets.
Senior State Counsel (SSC) Fazly Razik pointed out that there was an opportunity lost to SriLankan when giving away free tickets and, as such, SriLankan's interpretation of "dubious" language used in the contract had resulted in it losing revenue. It was also pointed out that the total "all inclusive" fee mentioned in the contract between VIA Capital and SriLankan was US$ 450,000. SriLankan's Board of Management had also not been notified that SriLankan would have to bear additional air travel expenses, according to its interpretation of the contract clauses.
It was earlier revealed that VIA Capital had no experience in the aviation industry, but was paid Rs 50.7 million to validate a US$ 300 million worth BP submitted by SriLankan. The firm had then gone on to submit its own US$ 510 million BP, with minor changes to the original plan submitted by SriLankan. Further highlights which came up before the CoI this week:
VIA Capital had failed to submit a preliminary report in the validation programme, as stipulated in the agreement, and the duration of the programme was further extended by 5 months, whereas the agreement explicitly detailed that the process should be concluded within 10 weeks.
VIA Capital's consultancy fee had been negotiated down from US$ 499,000 to US$ 450,000. However, when the cost of free Business Class Tickets (Over US$ 67, 000) was taken into account, the actual expenses came to about US$ 517,000. This was more than the initial bidding price, SSC Razik noted. Mr Dissanayake stressed that SriLankan maintains that the actual cost to the Company was in the taxes it had to bear (Rs 816, 813), though he admitted there had been a loss in revenue.
Former SriLankan Chairman Nishantha Wickramasinghe and former SriLankan Company Secretary Mildred Peiris had been the signatories to the contract with VIA Capital. This was a highly unusual occurrence, as the Chairman/Secretary do not normally sign such contracts.
The agreed amount of US$ 450,000 was paid without being subjected to any tax or levy charges, in violation of regulations set out in the Inland Revenue Act, when engaging in a business transaction with a foreign company in Sri Lanka.
Though being a novice in the field, VIA Capital was chosen ahead of more established and recognized consultancy firms. This was despite the Company not being able to submit a single reference to back up its claims of experience in various projects.
Five permanent management staff at SL Catering received a significant pay rise, after being arbitrarily promoted to senior positions not part of the approved cadre. Mahesh Nanayakkara, Senior Manager – Group Assurance & Advisory Services at SriLankan and SL Catering, said that, the then Chief Executive Officer (CEO) Sarath Fernando had promoted these management staff to a grade higher than their original positions, to newly created posts, in July 2015, with the promotions backdated to April 2015. This was a clear violation of the Terms of Reference (ToR) of the Company's Human Resources & Remuneration Committee (HRRC). The HRRC is a subcommittee of the Company's Board of Management and its ToR, adopted in May, 2014, noted that compensation for the CEO and senior management executives must first be reviewed by the HRRC. Though, a report of Group Assurance & Advisory Services had recommended follow-up action to rectify the situation, no such action was taken.
Chinthaka Kulathilake, one of the 5 executives "arbitrarily" promoted from HR Manager to Head of Human Resources & Administration at SL Catering by the then CEO, when asked how executives could be promoted to positions not in the approved cadre, Mr Kulathilake said that the sole authority to decide on promotions at executive and management level was vested with the CEO. SSC Razik however, pointed out that the HRRC's ToR had been adopted almost a year before the promotions were granted and, as the CEO and Head of HR, both regularly reported to the HRRC, they should have been aware of the HRRC's ToR.
Mr Nanayakkara said that former General Manager at SL Catering had approved several outsourcing contracts with a combined value of Rs 130 million, though he was not authorized to do so. He signed for contracts between Rs 15 million to Rs 55 million, though he was only allowed to approve contracts up to Rs 15 million. The official was not disciplined, as there was no proper manual set out to discipline those at the executive and senior management level, unlike there was for junior level employees.
In 2009, SriLankan called for bids to set up a fully outsourced Call Centre (CC) for a period of 3 years. Apart from enhancing its service excellence, SriLankan estimated a 50% reduction of CC staff within 3 years, and a total saving of up to Rs 77 million, through the establishment of the CC, said SriLankan General Manager- Commercial Services & Support, Duminda Weeraratne. However, when questioned by Deputy Solicitor General Shanaka Wijesinghe, Mr Weeraratne said no studies had been done to ascertain if staff had in fact been reduced by 50% and, if SriLankan had indeed saved Rs 77 million, as envisaged.
Contract to set up the CC had been awarded to HelloCorp, who had put forward and estimated cost of Rs 473 million, though Scicom, the other final shortlisted company had estimated a lower cost of Rs 445 million. Scicom was also an internationally recognized company in the industry, having provided CC services for international airlines such as AirAsia. Mr Weeraratne said Scicom's experience was in budget airlines, whose systems are far less complex compared with SriLankan. HelloCorp, meanwhile, had expertise in handling travel agents for international airlines, as well as cargo reservations.
The CoI comprises retired Supreme Court Justice Anil Gooneratne (Chairman), Court of Appeal Judge Gamini Rohan Amarasekara, retired High Court Judge Piyasena Ranasinghe, retired Deputy Auditor General Don Anthony Harold and Sri Lanka Accounting & Auditing Standards Monitoring Board Director General Wasantha Jayaseeli Kapugama.
Additional Solicitor General Niel Unamboowe P.C., Deputy Solicitor General Shanaka Wijesinghe and SSC Fazly Razik, assisted by State Counsels Chathura Gunathilake and Sajith Bandara led evidence for the AG's Department.
The hearings will continue tomorrow.