The anatomy reveals the rot within SLC system
View(s):

As head of coaching, one man who was passionate about his vocation was Jerome Jayaratne. There was hardly a frill in his work style and he knew what he was doing. Jayaratne's factory was the strip of land behind the Premadasa Stadium, where Sri Lanka Cricket (SLC) conducts its daily training sessions. There, he used to tell me, "What we have here is what we call a centre of excellence? In most major cricketing centres in other parts of the world, there is one in every state hub or province, and they are definitely bigger and better equipped than ours".

Last week, when we dwelled on the subject, "Why a change of the SLC constitution is warranted," I took up some points about our provincial and club structure but, it seems the effort was not sufficient. Many people wanted me to get to the core of the subject on how our cricket is structured. Is it sugar and spice and all things nice?"

First of all, Sri Lanka's domestic structure is top-heavy but, in reality, it is hollow inside. SLC describes its premier cricket as revolving round provincial cricket? But, it is as hollow as the tyre in my car and seemingly, it is running beautifully but, inside it is full of air. Definitely, they have carved out some hubs, the Southern Province, the North Central Province, the Uva Province, the Central Province and the Western Province, with some others being added lately.

The Southern Province: It has two major grounds within its territory, the Galle Cricket Stadium and the Mahinda Rajapaksa Stadium in Hambantota. In reality, the Galle stadium is facing an uncertain future, for the simple reason that it is owned by the Galle Municipal Council, and wrapped by a cartload of UNESCO problems. Then, the Hambantota Stadium is not accessible and in a state of utter disrepair. Yet, neither of these centres has its provincial hub based there, the cricket exported to this area from the club system is mainly based in Colombo. A lot of school cricket is played in this vicinity, but there is hardly an influential cricket club besides the Galle CC, which plays Premier 'Tier B' cricket in the major club tournament.

The North Central Province: May be it has a major cricketing centre in the Dambulla Stadium. Other than this, there is no major cricketing centre, club or school in the province. So, all cricket here has to be imported.

The Uva Province: A province run by two powerful politicians in the Government: Minister Wijith Wijayamuni Zoysa and Opposition MP Dilan Perera. Besides that, the Uva Province has no major school hub or major cricket club.

The Central Province: It has a major centre in Pallekelle and has a score of schools such as Trinity, St. Anthony's, Dharmarajah, St. Sylvester's, Vidyartha and Sri Rahula to mention a few and they play good cricket. But, the province does not have a major cricket playing club. All school cricketers who seek to pursue their cricket migrate to Colombo.

The Western Province: The real hub of local cricket. Almost 95% of Lankan cricket is based here. Also holds two votes.

However, to sustain and legitimise the system, the authorities have hijacked some lower division cricket which has already been in the system and is being run by the tournament committee under the auspices of the SLC. However, there are special financial allocations for each of the provincial entities. It is more a vote generating exercise, rather than a service project.

Besides, the SLC has also added three new Provincial Cricket Associations – North Western, Northern and Eastern, also yielding two votes each. The locations speak for themselves but, the details are not known.

Associations:  

The Defence Sports Board runs the cricket of Army, Navy and Air Force as one and has two votes. But, all three institutions play good cricket, with the Army producing cricketers such as Ajantha Mendis and Seekkuge Prasanna, to name two.

The Mercantile Cricket Association: Mercantile 'A' Division cricket engages a host of national players and fringe players. It is the biggest contributor of employment for hopeful and fringe cricketers. It has two votes.

Nationalised Services: Although it account for two votes, cricket is not as big as the above mentioned, as far as the national grid is concerned.

The Sri Lanka Schools Cricket Association: Holds two votes. But, in reality, it is a separate entity that comes under the purview of the Education Department, which runs the gamut of schools cricket. Recently, the department introduced its own provincial cricket system which could grow into a useful hub in the future. However, the differences between the SLC and the Education Department systems, is not helping the cause at all.

The Sri Lanka State Services Cricket Association: Is responsible for government corporations andGOBUs. It also has Police and Ports Authority which play top division cricket in the mainstream — boasts of two votes.

The Sri Lanka University Sports Association: Hardly a major contributor, but holds two votes.

All these associations have their own ground facilities, at different levels.

District Associations: Another vote generating exercise than a real service provider. They do not possess any major ground facility or a recognised cricket tournament to call their own, besides the Colombo DCA which is very active. The other district associations are: Ampara DCA, Anuradhapura DCA, Badulla DCA, Batticaloa DCA, Gampaha DCA, Hambantota DCA, Jaffna DCA, Kalutara DCA, Kandy DCA, Kegalle DCA, Kurunegala DCA, Matale DCA, Matara DCA, Moneragala DCA, Nuwara Eliya DCA, Polonnaruwa DCA, Puttalam DCA, Ratnapura DCA, Trincomalee DCA and Vavuniya DCA. Each DCA has two votes.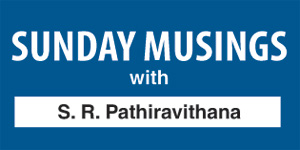 Like the Provincial Associations, the SLC also set up three District Associations recently in Kilinochchi, Mannar and Mulativu, with each carrying two votes.
Controlling clubs should be entities that are the true service providers. Here, to boast of two votes, a club should have its own ground and backup systems such as a clubhouse, practice wickets and other allied facilities. The clubs which boast of these facilities are Bloomfield C&AC, Burgher Recreation Club, Colts Cricket Club, Colombo Cricket Club, Malay CC, Dimbulla C&AC, Galle Cricket Club, Moors SC, Panadura SC, Nondescript CC, Saracens C&AC (they share the facility with the Air Force at Air Force grounds), Sinhalese Sports Club, Tamil Union C&AC and University of Colombo. Of these, Dimbulla C&AC, Malay CC and the University of Colombo have grounds of their own but, do not play top division cricket, although they all have two votes each.
Also, there are controlling clubs that do not have even ground facilities, but enjoy the benefits as other top division clubs. They are Chilaw Marians, Badureliya CC, Kalutara TC, Kurunegala SC, Moratuwa SC, Negombo CC, Nomads SC, Sebastianites C&AC, Bohra's SC, Catamarans SC, Kolpetty Play Grounds, Leo CC, Liberty CC, Matara SC, Mutwal SC, Peterson Lane Playground SC, Antonians SC and Badulla CC. Here, only Chilaw Marians, Badureliya and Kalutara TC play top division cricket.
Among the top clubs, the clubs with cricketing facilities such as grounds do incur expenses for maintenance, but they receive the same allocations as clubs which do not have grounds or other cricketing facilities.
Then come the affiliated clubs with only one vote but, in all cricket sense, are much more active than any of the provincial or district associations.
The best case study is Ragama CC. They play in the higher premier division and have also won several important tournaments down the line. Yet, they are slotted with the not-so-important group of cricket through SLC assertions. At the same time, the Sebastianites C&AC (2 votes) – even SLC is not sure if they are engaged in any of the tournaments conducted by them — and the Kalutara PCC has one vote each, but they are not depicted in the list of tournaments.
The list of clubs in Sri Lanka with one vote are, Kalutara PCC, Kegalle CC, Kurunegala Youth CC, Lankan CC, Nugegoda SW&C, Old Anandians SC, Old Cambrians SC, Old Dharmapalians SC, Old Trinitians, Ragama CC, Rajarata SC, Rio SC, Sinha SC, United Southern, University of Kelaniya, University of Moratuwa, Wattala CC, Wennapuwa SC and Xaviarites CC.
In conclusion, in Sri Lanka there are 29 controlling clubs and 23 affiliated clubs which play SLC-administered cricket in Sri Lanka. The rest in the potpourri are mainly part of vote-yielding gimmicks, with no significant contribution to the game but, enjoy more benefits than the clubs that plough the field. Even the under twenty three tournaments now transferred to the provinces is a direct sprout from the club system.
The reality is that the club tree has grown for a 100 years without any shaping or pruning, and now it' in a tangle. That is why those who care for the game are seeking a change of how things should happen for cricket in Sri Lanka.