Unemployed grads say case hindering their teacher appointments
View(s):

A group of unemployed graduates who claim that a case filed by a JVP provincial council member was hindering their appointments as teachers, are on a hunger strike demanding that the member withdraw the case.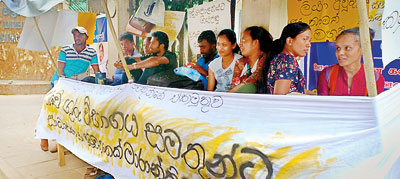 The protest that started on Thursday is being staged opposite the Uva Provincial Council.
The graduates claim that though they have passed the teacher recruitment exam their appointments have been held back in view of the case.
However, Provincial Council member (JVP) Samantha Vidyaratna claims the case was filed following a decision by the Uva Unemployed Graduates Association who is challenging the exam.
On Friday one of the female protestors was taken ill and admitted to hospital.
Pix by Palitha Ariyawansa